Building Your Dream Home: Choosing Siding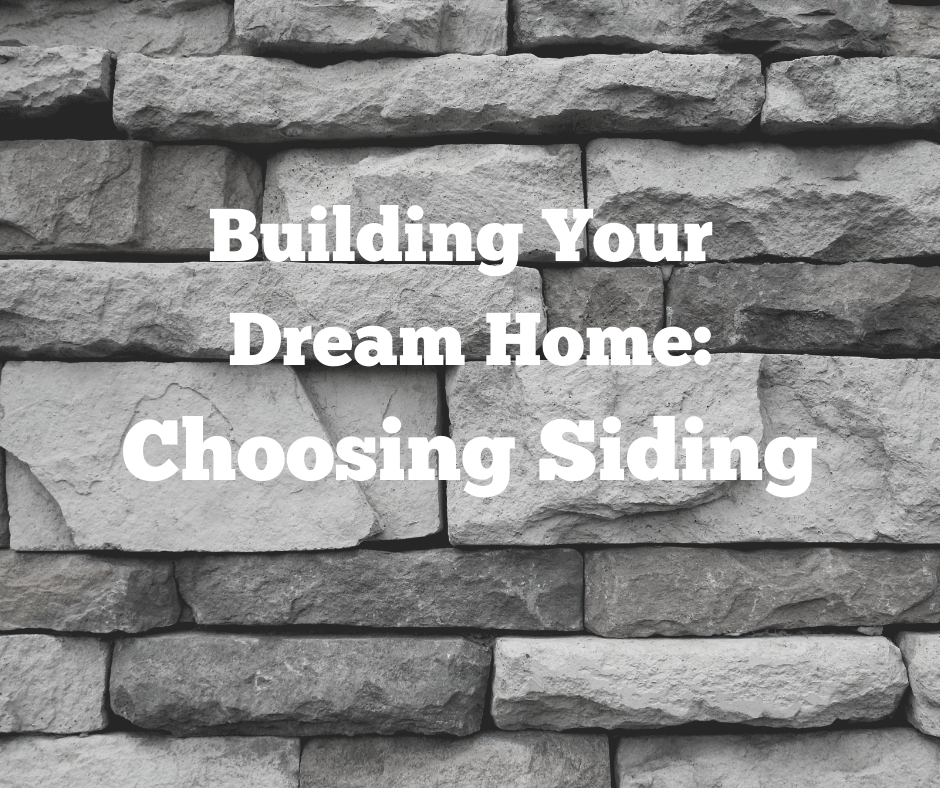 Building Your Dream Home: Choosing Siding
You're back at the worksite this week. The basic structure is there. The roof is on, the doors are in and the windows are installed. It still looks unfinished. It looks like a kid who has all of their clothes on, but the buttons aren't done up quite right. Let's get this home looking ship shape. Time to look into Siding.
Siding is the exterior covering of your home. There are a variety of different materials that it can be made out of and many different ways that it can be put on your home. You can even mix them up to create different looks!
Purpose
Siding has 3 basic purposes.
Aesthetics.

Siding makes your home look a certain way. Depending on the style of the building that you are going for, siding is an easy way to get there.

Protection.

Siding protects your home from the elements. Even before we had all these different types of materials to use to make siding, people were using different methods of protecting the structural wood of their homes. And that is exactly what siding does for you.

Not only does it keep nature from damaging the structure of your home, but it also helps make your home more energy efficient. Depending on what type of material you use for your siding, you can help your home's heating and cooling system.

Resell Value.

Lastly, depending on what type of material you use in your siding, will affect your home's resell value. Yes, I know you are just now building the home and it's going to be your forever home. Things happen. Circumstances change. Making your home look great will positively affect the value of your home. Example: We painted our porch and repaired the shutters on our house and the property value went up $1200. It doesn't take much.
Types of Siding
Siding is made of many different materials and can be installed numerous ways. I want you to be able to make a fair decision on what type of siding you want to use in your home. So, I am going to give you the pros and cons of each type of material. Remember, that having a professional install siding is always the best option. You may be a whiz with the hammer and tape measure, but siding is persnickety (which is apparently British for difficult) and I want your home to look its best and have a long life.
Wood
Wood siding is the most traditional of the siding materials. It comes in many different styles and can be customized and updated to fit your needs. It can be stained or painted and comes in many different sizes and colors.
The reason that wood has remained so popular as a siding choice is because it gives a home a beautiful and natural
look. The species of wood that are most commonly used in siding are cedar, pine, spruce and redwood. My husband is dying to redo ours with cypress which is terribly expensive but incredibly durable.
You can also use several different types of patterns to make wood look differently depending on how it is installed on your home. These patterns are called profiles and they can all make your home look radically different.
Board and Batten

This is a classic pattern that is becoming more and more popular since the farmhouse trend has taken off. This is also called barn siding. These are wide boards joined together and then a thin board put at the joint of the larger ones. Joanna Gaines loves this look.

Shingles

This is also known as shake siding. This is another classic look that is very European in origin. These are thin, lightweight pieces of wood with a tapered shape that are layered over one another like shingles on a roof.

Clapboard

This is also known as bevel, lap or weatherboarding. This was very popular in the 1800's. They are quick to install and easy to ship so they were perfect to be sold to farmers and fishermen that were farther away from civilization. In fact, clapboard is mentioned several times in the Little House on the Prairie books. These are long, thin boards that are installed horizontally with a slight overlap. This is also the cheapest type of siding.

Drop Siding

This is similar to the clapboard style. These are long, thin boards that are installed horizontally, but the top of each horizontally placed board is fitted into a groove in the lower edge of the board on top of it. Think of how vinyl siding is now installed, and you'll see drop siding as the precursor to that.

Vertical Boards

These are a series of wide boards that are placed vertically with narrow boards in between them. It gives the home a distinctive look.

Wooden Sheet Siding

This is the quick and dirty way to create siding. These are simply sheeting of plywood that are installed as exterior walls. These are usually done on inexpensive buildings.

Log

We all know what this looks like. Think of a log cabin in the woods. The exterior of the home is covered or made up of logs that are interlocked with each other.
There are many benefits to using wood as the material for your siding. It is impact resistant and naturally beautiful. It also allows you to customize it very easily because of the wide range of colors, styles and species that it can be made from.
It is one of the easiest types of sidings to install so the installation cost is inexpensive. It is also a great choice for people trying to DIY it. Also, you can check out our partners over at Bingham Lumber and see if they have some great reclaimed wood for your project!
There are a few downsides. Wood requires regular maintenance to keep it free of termites, woodpeckers and rot. Even with regular maintenance, you are going to have to replace it slowly over time. The cost of this maintenance can quickly add up and outweigh the relative low cost of installation.
Lastly, it's definitely not fires resistant. So, if you live in an area that is prone to any sort of wildfire or flare up, this is NOT the choice for you.
Vinyl
Vinyl siding is a synthetic material that has become very popular. It is low maintenance, versatile, durable and low cost. It can come in many different colors and can mimic the styles of other sidings easily including stone and shingles.
It can be installed in different patterns to enhance the look of your home similar to wood. In fact, some of the names are even the same. Ok, one of the names is the same.
Horizontal

This is exactly what it sounds like. A series of thin strips that are placed horizontally in a row.

Vertical

Again, not hard to describe this. This is a series of thin strips placed vertically in a row. You can also have it installed to look like Board and Batten with thin and thick stripes alternating.

Shingles

This is similar to how the wood shingles are installed. They are thin, lightweight pieces that slightly overlap with tapered edges.
There are many pros to using vinyl as a siding material. It is very low maintenance. Basically, all you have to do is wash it every now and again. And that is just for appearances. Vinyl doesn't need to be installed by a professional. This can lower the cost of the build or project. It can be customized into different designs and colors and if you do have it in a crazy color, the color isn't going to fade! (Unlike my hair dye, but I digress.) You can check out our partners over at Mastic, they have a great selection of vinyl siding to choose from.
It does come with a few bugs. It has a synthetic look to it. If you want your home to look natural or to blend into your lot, vinyl is not the way to go. Vinyl is bad for the environment unless it is recycled properly.
It can take damage from extreme weather like winds and high temperatures. This can cause cracks, rot and mold. Despite all of this, vinyl is quickly becoming the most popular type of siding in the world.
Metal
This is one of those materials that can work well with any home. If you choose the right type and installation profile, you could theoretically use it with any sort of home design. Most metal siding is made from either steel or aluminum.
Steel is more expensive than aluminum but lasts far longer. It's also less prone to heat damage or to dings and scratches. It also holds its natural color longer, especially if you have it treated to prevent rust.
There are many good reasons to have metal siding. It's long lasting and durable and it will outlast most of the other types of home exterior materials. It doesn't rot or mold, but it can rust if not treated properly.
It holds its color without fading and, unlike vinyl, it can be painted to match whatever décor you are going for. Bugs don't like it and storms can't wreck it. It's also fires resistant, so perfect for hot, dry climates where fires are a major consideration. Mastic also offers steel siding, so you can check that out as well.
It does have some downsides. Some of the metals that are used to make the siding may change color and appearance due to the weather, copper especially. Just look at Lady Liberty! Aluminum is soft and can dent and be scratched by hail or rocks and may also fade. Steel is heavy and may cost more to install.
Some other issues with metal are that it doesn't hold the warmth in the winter and so it increases your heating bills. It will also need to repaint it and retreat it after a few years when the paint wears off.