Building Your Dream Home: Exterior Doors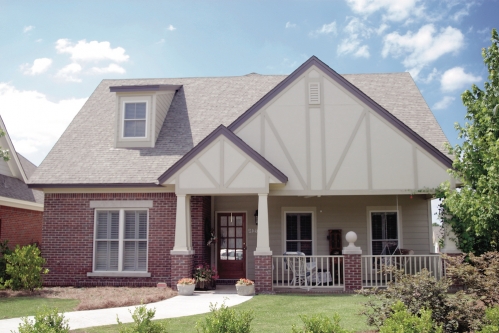 Building Your Dream Home: Exterior Doors
So here we are again. We've gotten a lot done in the last several weeks. You've got walls, a roof, some plumbing, a little electrical, and some HVAC in there. Your house is starting to look like, well, a house. We've still got a lot to do, but we're getting there. Now maybe we can get some work done on the outside of the house. So in true Salt N' Peppa style, let's talk about doors, baby!
That's not how that song goes? Oh.
House plan featured above is 596 Elm (NDG 596)
Exterior doors are something that can be hard to decide on. Maybe you don't have to worry about it. Maybe your builder is going to take care of all those decisions for you. Or maybe you want to make sure that the doors to your abode are every bit as personal a choice as the rest of the home is.
Photo provided by Panda Windows and Doors
Finding the Perfect Door
An exterior door has to do a lot of jobs. It has to welcome people into your home, but also keep people out. It has to be tough and durable. It has to withstand wind, rain, and scorching sun and still look good after years of use. A door is not something that you want to replace every few years. I know that the exterior doors at my grandparent's house have always been the same ones that I have always remembered being there.
There are many things to consider when choosing a good exterior door. You have to think about the materials the door is made of, how energy efficient the door is, and how secure the door is going to be. And you need it to look good. This is the first impression of your home. You want it to be something that will stand the test of time.
Door Materials
There are many materials that door manufacturers use. This may be the most important factor in deciding which door to purchase. Most of these manufacturers offer dozens of door styles. You can usually find these at the lumber yard.
You could also have a custom door made either at the manufacturer or with a local artisan or mill. With a premade door, you can simply pick it up and have it installed. With a custom door, you'll have to wait until it has been made to install it. Custom doors also tend to be more expensive.
Wood
Wood doors are the most common type of door. They are extremely versatile while still maintaining a natural beauty. There are many types of finishes that doors come in including oak, cherry, walnut, mahogany, maple, fir and pine. You can also find doors ready to be painted made from softwood varieties such as pine and western hemlock.
Most wood doors are made up of a composite wood interior with wood veneers on the outside. This is not a way for manufacturers to cut corners. In fact, in some cases they may be stronger than solid wood doors. They are made that way to prevent warping.
You know in really old houses with wood doors how the door sticks and creaks and is just a general pain? That's because of warping. When wood heats up and cools down it expands and contracts within the space it is given. As time goes on it slowly goes into a different shape than what it originally was.
Look for detail work. The more intricate the details and the thicker the pieces that are part of the door, the better quality the door is going to be. The materials and workmanship that have been put in the door will make the slightly higher price worth it.
When you are looking at the selection of doors that are offered, keep in mind that this is going to be a long term decision. Look for a door with a good quality paint or stain. You want a really good clear finish.
A higher gloss finish will help reflect light away from the door and keep the paint or stain from fading as quickly. Make sure that the finish has been applied to the top and bottom edges of the door. This will keep moisture from the core of the door and prevent later problems.
Steel
A steel door is the choice you should make if you are concerned about security and durability. Steel doors have an advantage over wood and fiberglass in that they are stronger and they don't warp or crack. Also, steel doors are the least expensive of your door choices.
A steel door doesn't necessarily mean that it is completely made of steel. Steel doors are usually a shell of steel with either wood or steel on the inside. When you are shopping for a steel door, they price them based on the type of steel used. Most steel doors are made with a 24-gauge skin.
I had to ask my husband about steel and steel gauges. He's a welder so he works with the material every day. He says that the lower the number on a piece of steel, the heavier the steel is.
That's a major consideration when you are looking to buy a steel door. They are heavier than regular wood doors. So you'll want to make sure that the area that you are putting the door in has a good support system underneath it.
One other consideration when you are looking into purchasing a steel door is security doors. If you install a security door, please check with the manufacturer of the steel door to verify that it's the right kind of security door. Some manufacturers will not give warranties on a steel door that is installed with an aluminum security door. That's because the aluminum security door will trap too much heat between the two doors and cause the finish to become damaged.
Fiberglass-Composite
Fiberglass-composite doors are the workhorses of the door industry. They are incredibly tough and durable. Some manufacturers will warrantee the door for the entire life of the home if you install it to their specifications. Fiberglass-composite doors are perfect for harsh and humid areas.
They can mimic the look of wood doors and can even come with the same stain colors that most wood doors have including oak, cherry, and walnut. Fiberglass-composite doors are less expensive than even a traditional solid wood door. They can be incredibly energy efficient because the voids in between the parts of the door are filled with a type of insulation foam.
Aluminum
Aluminum doors are built kind of like the steel doors. They have some sort of filler material to insulate the home that is "skinned" by aluminum. Unlike most doors, these cannot be purchased at the lumber yard. You have to go to a dealer to get an aluminum door.
Each door is custom made for the doorway that it will be going into. This also means that you can have an aluminum door in any color that you want. They can even make it look like a wood door if that is what you want for your home. Or you can have it painted bright TARDIS blue. They have plenty of options.
Aluminum doors are covered in an enamel coating that is then baked to preserve the metal underneath. Because of this they are very hard to chip. Some manufacturers offer a 20 year warrantee with their aluminum doors.
How Safe Is Your Door?
There is an idea out there that a wood door is not as safe as a steel or fiberglass-composite door. It probably comes from those crazy cop shows on TV where you see the burly detective kick the door down in one swift blow. Ok, it's not that easy. Trust me. My cousin almost broke his leg trying when we were young.
The door is going to hold up no matter if it's wood, steel, fiberglass or aluminum. The door isn't where the problem lies. The problem is actually with the latch system. An easy way to prevent a break in is to reinforce the latch system. Use longer screws to hold the base plate. That base plate is ordinarily what gives way under pressure.
The recommended length for screws for a base plate is 3". And use screws not nails. Nails are more prone to come out under pressure and that's not what we need here. We need screws to grip the surrounding wood like Rose gripped Jack in Titanic. Ok, probably not the best reference.
You can get a thicker door, if that is what concerns you, but try not to get one thicker than 1 3/4". Any thicker and you won't be able to use a standard lockset. Speaking of locksets, splurge a little on one that has a Mortise lock. They are usually made with a higher grade of steel and are stronger than the average one you can pick up from one of those big box stores.
Tips
Here are some things to consider when shopping for doors:
In door measurements, width comes first. When you are talking to a sales person make sure to tell them the width and then the length of the door. The most common door size, 3' x 6'8" is referred to as a "three-oh, six-eight".
Know which side the door is going to open on. Doors are like people; they are left handed and right handed. A right hand door has its hinges on the right side when you look at it from the outside.
Make sure that your complete door system has all of the components from the same manufacturer. Some dealers use different parts from different manufacturers to put together a door system. This will void the warranties on most doors.
If you purchase a door with a window, make sure that the window itself has low-e glazing. This will help keep the energy in your home.
If you are in the market for a steel or fiberglass-composite door, make sure that it has a thermal break. This is a weatherproofing strip, often made of vinyl, that separates the inside and outside door skins. This keeps moisture out of the door itself.
If you are in the market for a wood door, remember that a wood door does best in a covered entryway. Keeping rain and snow off of a wood door prolongs the life of it significantly.
If your entryway is going to be exposed to the sun and you are looking at a wood door, remember that it is going to require extra maintenance. A wood door that bakes in the sun more than 4 hours a day will need to have a fresh coat of clear finish every 1 to 2 years and a fresh coat of paint every 5 to 6 years.
Remember, this is going to be your home. Going in and looking at the work is something that you'll want to be doing an every phase of the construction process. The exterior door is no different. Make sure that the door matches your home's style and reflects how you want your home to appear.
Nelson Design Group is always here to help with any part of the home design process. If you are still in the planning stages of building your home, we have recommended builders from all over the country who are proven to do great work. If you are still deciding what your home will look like, give us a call today. Our sales representatives are always ready to work with you.
And don't forget that Mother's Day is this Sunday. Give your appreciation to a mother figure in your life. They do a lot, trust me. And this week is also Teacher Appreciation Week here in the United States. Give some love to your kids' other moms.
We want to wish a Happy Mother's Day to all the wonderful people who give love to children who need it. And give a huge THANKS to teachers everywhere for their dedication and service to the next generation.