Building Your Dream Home: Loans and Permits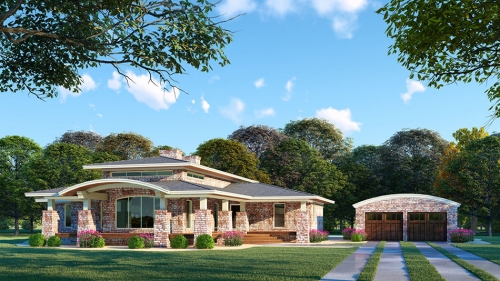 Building Your Dream Home: Loans and Permits
Building your dream home should be as easy as falling off a log. This article is all about the second stage in the process: Getting your construction loans and permits ready. The world runs on red tape; let's try to make it less confusing.
The house plan featured above is our Main Street Villa plan.
Construction Loan
Now that you have your land and your plan and you're ready to get started, what's next? Your next step should be a bank or credit agency. It's time to get a loan for the construction.
Check Your Credit
But, wait! How is your credit? If you just did the "I don't know" shrug, it's time to check it. And if you think you know, it's time to check it anyway. Experian, Equifax and TransUnion are the 3 credit bureaus. It's a good idea to have your credit run by all of them.
Right after my husband and I got married, we went to buy a new car. We went in with check stubs, bank statements, social security cards and ID's ready to purchase. We found a nice car and the lovely salesman collected our documents and went to the office. Soon enough he returned. "Mrs. Ford, are you sure this is your social security number?" I double checked it. "Yes."
"Well according to two of the three agencies, you're dead."
Shocking, I know. Two days of being on the phone with every government agency and financial institution I had ever had contact with and I had been resurrected (legally). I also had the full story. My dad and I were on a bank account together. He passed away and the bank sent that the account holders were deceased. Moral of the story, check your credit. Crazy stuff happens.
Get Your Paperwork
Once you have your credit ready to go, get your documentation together. When you are going for your loan, you'll need to have some proof of your financial history. Take your tax documents for the last couple of years. That will give them a way to pull your annual income.
You'll also need information about any debts you already have, investments, assets and 401k funds. This will show the financial institution that you have a good financial history and can handle a loan.
Now you're ready to go to the financial institution of your choice. I recommend someplace that you already have a history with. Maybe the bank you use regularly, maybe your car insurance company has a bank as well. This will make it easier for them to look up your information. It will also give them a heads up on how good of a bet giving you money would be.
There are all types of loans out there for buying or building a house. The institution will figure out which loan is best for you to get pre-approved. You will be pre-approved for a certain amount. You will need this amount to take to your builder, if you decide to use one.
Find a Builder
I highly recommend that you use a builder instead of trying to handle the process yourself. A builder has more experience and has a great deal of insider knowledge. On our website, we have a great "Find a Builder" tool that can help you find a great one. All of these builders have great reputations and we know that they will take great care of you.
There are a lot of benefits to hiring a builder. Once a builder is on contract with you, the contract will provide:
The builder's individual responsibilities
Expected dates for beginning and end of the project
Payment expected
Estimated Cost Breakdown for supplies, manpower, etc.
Provision for changes.
The builder will usually handle the subcontracting and securing permits.
Get the Loan
Now that you have a builder, he will construct a plan that will show the cost of building and all of the relevant details. Now you can take your builder's plan back to the financial institution and get approved. You'll generally need some information on the builder at this point such as his/her work history, insurance and references.
You'll also need:
The blueprints
Specifications for the home
Material list
A line item budget (should be provided by the builder)
A draw payment schedule
A copy of your signed contract with the builder.
One thing that may make the process go smoother is to work with the builder's preferred banking institution. This way you don't have to have all of the background into the builder. While that may make the process smoother, it isn't something that you have to do.
To Mortgage, or Not to Mortgage?
Once you are approved for the loan that rights for you, you can apply for a mortgage. This will depend on who your lender is. Most will allow you to roll the loan into a mortgage payment. This will allow you to only need to pay your finance charges and closing costs once. This type of loan is called a construction to permanent loan. If this isn't possible, you will need to apply for a separate mortgage through another institution.
Construction loans are paid directly to the builder. While these payouts are being made, you are only responsible for the interest on the draw amounts.
Insurance
So you have your land, your plan, your builder, and your money. What's next? We build! No, you need insurance. Most builders have their own insurance, but it only covers their materials, tools and employees. You should have insurance on your home from the beginning. This will help protect your home in case something happens to it during construction.
I recommend adding your new home onto any existing insurance policy that you may have. Yes, it does sound like a bad commercial, but trust me. Our family has used the same insurance company for years. When we bought our house, we just called them up and had them set up a plan for the house. It's was as easy as pie. And we actually do save about 15% on our combined policies. That's a lot of money when you consider it.
Denied Coverage
Before you buy or build a home, make sure it can be insured. There are some things that prohibit insurance companies from creating a policy. Unlike auto policies, homeowners insurance isn't required by law. While that is the case, mortgage lenders usually won't close on a loan without there being a policy in place.
Usually the only time a homeowner will be turned down for insurance is if their home is in a high risk area or it's considered a high risk home.
Homes with outdated electrical or plumbing
Older homes
Homes located in a disaster prone region
Homes in a neighborhood with a high crime rate.
Sometimes none of these apply and the homeowner is still denied coverage. The insurance company may have turned them down for another reason. Some of the other instances where the homeowner might be denied include:
Vacation home/empty property – having no one living in the home all the time is bad for the property. These kinds of homes are more prone to vandalism, arson and theft.
At home employment – if you work from home on a regular or full time basis, the company may deny you coverage. This is because homeowner's policies only cover belongings and liability. You may need to purchase a separate business owner's policy.
A homeowner's personal history – if the homeowner has criminal convictions, a poor credit score or has had to declare bankruptcy, the insurance company might not insure them.
Getting Coverage after Being Denied
If you've been trying to get homeowners insurance and you keep getting denied, don't panic. It all depends on why you were denied, but if you can fix that then you can usually get insurance.
First, try other options. Find an independent insurance agent. They usually work with multiple insurance companies and may be able to get you on board with one of them.
If you got denied because of the location, talk to your neighbors. They'll more than likely have had the same problem. Find out who they've gotten insurance with.
If you're still not able to get insurance, contact your state's insurance department. They usually have a list of high-risk insurers that offer coverage in your state.
Find out if your state participates in a shared market plan. Fair Access to Insurance Requirements (FAIR) plans are part of a program that offers property insurance to those who can't get homeowners insurance from a private company. These plans are usually for those who live in high risk neighborhoods. FAIR plans are usually more expensive and have lesser coverage, but they fill a niche so that no one has to go without coverage.
Permits
If you didn't contract a builder or you're just doing some remodel work, it's time to look into getting permits. Generally, anything that changes the structure of your home or represents a real estate improvement requires a permit. Permit costs are based on a percentage of the anticipated cost of the project.
Local Office
If you don't know if you need a permit, call the local planning office. They want to hear from people who want to do it right. When it comes down to it, we are in a people business no matter which business it is. They will be able to tell you which permit are needed for your project and what steps you need to take to ensure that you have everything done before an inspector comes in. Permits and the required use of them change from town to town and county to county. I know that where I live, which is outside city limits, I didn't have to have a permit to build a shed. In city limits, I would have.
Inspections
Some people, when they are building or remodeling, are afraid of getting a permit, or rather an inspection. Inspections are nothing to be afraid of. The inspector's job is to ensure that everything is being done safely and up to code.
Sometimes there will be two inspections, one after the initial work is completed and one after the finish work is completed. Failing an inspection doesn't mean the end of the project. The inspector just wants to make sure everything is safe. They will tell you what to fix and come back and give it a seal of approval once the issue is resolved.
No Permit?
Not having a permit when you need one can cause problems later. If you did work without a permit and inspection it could be a potentially hazardous situation. The worst case scenario is that subpar work causes a fire or a flood. Now not only do you have a severely damaged home, but once your homeowner's insurance find out about what caused the disaster, they might deny your coverage. The best case scenario is that you have to tear out some walls or drywall and have your work inspected. Oh, and you still have to buy that permit, plus penalties.
CCR
If you are building in a subdivision, a planned community, or a planned unit development, you may have to deal with CCR's. CCR stands for conditions, covenants and restrictions. These are rules that the community or builders has set for the homes there to be uniform or up to a certain standard.
Now that you've got your land, your plan, your insurance, your money and your builder, the actual building process can begin. Don't just sit back and wait on your builder to give you an update. Go out there and keep an eye on things. In future articles, I'll let you know what to be looking for.