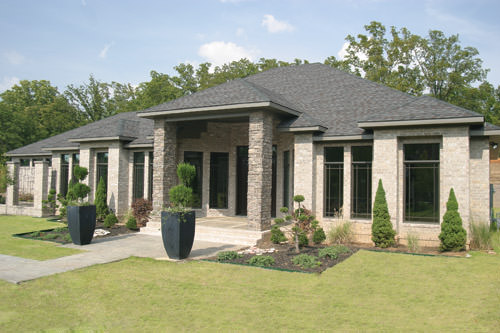 Contemporary Design
Spring is the time of year when things begin anew. Flowers bloom, animals are born, new life is shown all around us. Spring cleaning can lead you to thinking of beginning anew, too. Maybe it's time your decor took on a fresh new look. You don't have to build a whole new home to have one that looks new. Maybe you built (or bought) the home several years ago...when you did, you loved the design. However, now...not so much. So, if you are considering a large project such as a remodel or even a smaller undertaking such as buying new furniture, consider some of the latest trends as possibilities.
One area of the home that you may not think of first, but does receive a lot of day to day activity, is the bathroom. Let's face it: you spend a lot of time there for various things. How long has it been since your bathroom received a facelift? Create an environment that is tranquil, clutter-free, and is a place you can go to relax. Simplicity is key in contemporary design choices. The color white also helps add to the minimalistic and clean style. The current trends in bathroom design point toward creating a spa-like environment. In terms of fixtures, appliances, etc, trends include free-standing tubs and showers with a rainfall or cascading head. To maximize the natural light in the space, consider adding a skylight.
Another room in your home that can be simple to update is the main living area. Furniture that features clean lines and is functional will keep with the contemporary vibe. This is the area that your family gathers the most. So, functionality is key. After all, you don't want to end up with a room that your family is not comfortable in for game night! Incorporating natural elements like a stone fireplace or wooden mantle can add to the simplistic scheme created by contemporary style.
The possibilities are virtually endless. Keep your own personal preferences in mind. You could have the most contemporary home on the block, but if you don't love it...then it is worthless. Remember, this is your home. Small touches or full scale remodels can give your home that fresh new look. It is all up to you!
Need some help redesigning for a remodel? Want a whole new home? Give us a call! We will glad to help with anything you need! 870.931.5777
Check out the SMN Collection by designer Seth M. Nelson. This collection is the perfect blend of contemporary and traditional southern styles. Open floor plans, an abundance of windows, and a mix of materials come together to create innovative designs that are sure to impress. http://www.houseplans.ninja/plan-collections/seth-m-nelson-collection