Corporate Spotlight: Rinnai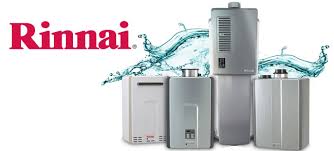 Corporate Spotlight: Rinnai
Nearly one hundred years ago, a young man's fascination with a dancing blue flame would inspire him to found what is now one of the largest companies in the world. Rinnai Corporation is a household name. By 2019, the company has sold over 30 million Tankless Water Heaters worldwide and is hailed as one of the greenest companies in the world. Humble beginnings created monumental success.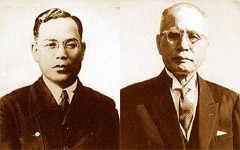 Sweet Inspirations
On a cold winter day in November of 1918, Hidejiro Naito stood and watched, amazed, as a cook prepared imagawayaki in a store window. He was not in awe of the traditional Japanese sweet buns, but rather how the cook was preparing them. He was using an imported oil burning stove that burned clear and hot with a bright blue flame.
Naito convinced the shop owner to part with the stove. He used its design to begin development on a petroleum-fueled stove. Naito worked on his invention for the next 2 years.
Humble Beginnings
In 1920, Naito left his job at Nagoya Gas (now called Toho Gas Company, Ltd.). He enlisted his childhood friend, Kanekichi Hayashi to go into business with him. They started Rinnai & Company.
When you are deciding what to name a company, you have to consider the long term. Hayashi and Naito did just that. The "Rin" from Rinnai comes from Hayashi. In Japanese Kanji, "Rin" is another way of reading Hayashi. The "Nai" comes from Naito.
In 1923, Rinnai & Company began to sell and export gas appliances to utility companies. These included gas ranges, oven, hot water units and the Japanese traditional tabletop stove. This was their bread and butter for 15 years until 1938. Like most companies during this time, the Japanese military took over the Rinnai factory. Instead of producing gas appliances, they made airplane parts for the war effort.
After the war, the Japanese military returned control of the factory to Rinnai & Company after 8 long years. The company rebuilt their Head Office Factory and by 1946 were back to making gas appliances.
Four years later, Rinnai & Company reorganized their company as a limited company to expand and promote their operations. Just eight years after getting their business back, Rinnai & Company opened their second office in Tokyo in 1954. In 1958, they formed a technology agreement with German Schwank GmbH. This lead to the development and consequential sale of infrared burners for their appliances.
1960's
This decade heralded a trend of rapid expansion that wouldn't slow for another 30 years. Over the course of 10 years, Rinnai & Company would open 2 factories, 3 offices, and a new technology development center. The offices were located in Fukuoka (established in 1961), Sapporo (established in 1963) and Sendai (established in 1963).
The company opened a factory in Asahi in 1960 and another in Oguchi in 1964. The Technology and Development Center is still located in the Oguchi factory and was opened in 1967. They were also the recipient of Japan's first JIS certificate for Gas Appliances.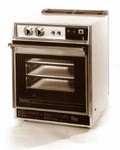 1970's
The 70's were a decade of rapid fire expansions. Over the course of this decade, Rinnai & Company, which became Rinnai Corporation in 1970, established 10 new subsidiaries around the Globe. The locations of these subsidiaries included Australia (established in 1971), Malaysia (established in 1973), Korea (established in 1974), North America (established in 1974), New Zealand (established in 1975) and the United Kingdom (established in 1976).
In 1971, Rinnai began a product development pact with Osaka Gas Company, Ltd., and successfully produced the world's first high speed gas oven. Nicknamed the "Convec", it became a huge seller. This same year, Rinnai began to produce and sell many new products including gas air heaters, drum type clothes dryers, bath and shower water heaters and instant water heaters for storing hot water.
In 1972, Rinnai Corporation received the Ota Award from the Japan Gas Association. The award was presented to the company for their Gas High Speed Cooking convection Oven. They would go on to receive a second Ota award in 1984 for their development of a hot water heating unit with a safety mechanism to prevent incomplete combustion.
At the end of the 1970's, in 1979, Rinnai was listed on the Second Section of the Nagoya Stock Exchange. Just three years later, in 1982, they would be listed on the Second Section of the Tokyo Stock Exchange. Coincidently, Rinnai Corporation opened a new factory in Seto in 1979 and went on to open a Training Center there in 1982.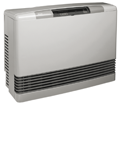 1980's
The 1980's were a time of expansion and recognition starting with the establishment of Japan Ceramics, Co. Ltd., in 1981. Just two years later, they were listed on the First Section of the Tokyo Stock exchange. Not only did they receive recognition from the Japan Gas Association in 1984, but that same year they launched a new product line driven by infrared heat.
Two years later, in 1986, they received the Excellence in Technology Prize from the Japan Gas Association. That same year they also received the first Chunichi Industrial Technology Award for their innovative ultra-compact bath heating unit. In 1987, Rinnai North America's headquarters was relocated from Los Angeles, California to LaGrange, Georgia. They also established subsidiaries in Indonesia and a representative office in Hong Kong in 1988. The next year Rinnai launched their direct vent wall furnace.
1990's
Expansion boomed in the 1990's for Rinnai. Over the next decade, Rinnai will open two new research centers. One was opened in Tuskuba and the other was Nato Tech Co., Ltd. Both were opened in 1990.
Rinnai established seven new subsidiaries throughout the 1990's. A few of those locations were in Singapore (established in 1991), Shanghai (established in 1992), a new Pacific Division in Singapore (established in 1996), Hong Kong (established in 1998) and Vietnam (established in 1999). Meanwhile, in 1991, Rinnai unveiled their forced flue gas heating units.
In 1995, Rinnai received ISO 9001 certifications for all of their Japanese factories. Two years later they received an ISO 4001 certification for the Oguchi Factory and Technology Development Center. In 1999, Rinnai sold their first Tankless Water Heater.
2000's
The 2000's were a period of worldwide recognition for Rinnai Corporation's technology. Over the next decade Rinnai won six different awards for their innovations.
Ministry of International Trade and Industry's Energy Conservation Award for its highly efficient condensing type gas hot water appliances (2000).
Technology Prize from Japan Gas Association for its highly efficient condensing type gas hot water appliances (2001).
Chairman Prize from Energy Conservation Center for glass-top stoves with internal flame burner (2003).
Rinnai LS Series Tankless Water Heaters voted #1 as Builder's Magazine's "Most Popular Product" (2004)
Rinnai LS Series Tankless Water Heaters voted #1 as Builder's Magazine's "Most Popular Product" (2005)
Rinnai Corporation LS Series Tankless Water Heaters voted #1 as Builder's Magazine's "Most Popular Product" (2006)
Rinnai Corporation LS Series Tankless Water Heaters voted #1 as Builder's Magazine's "Most Popular Product" (2007)
Technology Prize from Japan Gas Association for condensing type dual hot-water/heating units "Eco Jozu" (2005).
Technology Prize from Japan Gas Association for bathroom heater/dehumidifiers with mist sauna function (2008).
Six models of Rinnai Corporation Tankless Water Heaters earn the Energy Star Rating for energy efficiency.
In 2000, they received ISO 4001 certification for the Seto factory and in 2003 they received ISO 4001 certifications for the rest of their Japanese factories. In 2001, the office for Rinnai Corporation North America was moved from LaGrange, Georgia to Peachtree City, Georgia. That same year, Rinnai Corporation sold their first commercial water heaters. In 2006, the Designer Plus Series of Rinnai Tankless Water Heaters is introduced to the market. That same year Rinnai Corporation began manufacturing OEM Tankless Water Heaters for GE and Bradford White.
In 2007, Rinnai Corporation unveiled a brand new CSA certified engineering lab equipped with a 110 ton chiller and 28 test stations in their North American Headquarters in Peachtree City, Georgia. That same year the Hydronic Air Handler was unveiled. It was designed to work with the tankless water heaters.
In 2008, they received the same certification for the Head Office. That year was the year that they introduced the new Rinnai Condensing Tankless Water Heaters and Condensing Wall Mounted Boilers. They went on the establish RBS Thermo Technology Co. Ltd., in 2006, Rinnai Italia in 2008 and a brand new Integrated Logistics Center. One year later they expanded and established a subsidiary in Canada.
2010 – Present
While the early 2000's were all about recognition, the next decade starts with expansion. A new Production Technology Center opens in 2010 and a Customer Center in Western Japan in 2011. In 2013, they opened their new Akatsuki Factory in Japan.
In 2010 Rinnai Corporation launches product lines at Lowe's retail locations in the United States. One year later, the second generation of Rinnai Condensing Tankless Water Heater was launched. In 2013, Rinnai Corporation launched the Hybrid Tank-Tankless Water Heater. This was a combination boiler and hot water heater that was idea for residential home heating and water heating needs. That same year the development of a commercial hot water heater was completed.
The new Tankless Rack System (TRS) launches. This was a fully modular commercial water heating solution for light and heavy applications. They could be used in hotels, schools and restaurants. One year later Rinnai Commercial business unit is formed.
In 2014, Rinnai Corporation donated 5 Luxury Series Tankless Water Heaters to Clark Howard and his Habitat for Humanity team. This brought their total units donated to Habitat to Humanity to more than 1,250 since 2006. That same year began the assembly of the Commercial Tankless Rack System at the Rinnai Corporation facilities in Peachtree City, Georgia.
In 2018, Rinnai Corporation established a brand new United States manufacturing center in Griffon, Georgia. By 2020 this facility will be fully integrated and produce units with locally sourced components.
The recognition for Rinnai Corporation's innovations didn't stop in the early 2000's. This decade offers plenty of praise including:
Builder's Magazine's 2010 Brand Leader in Quality
Green Builder Magazine's Hot 50 products of 2010 for RC80HPe Models.
Bestcovery.com Best Whole House Tankless Water Heater for R75LSi (2010)
Rinnai Ultra Series Condensing Tankless Water Heaters are recognized with the "Top Products" Award from Building Operating Management Magazine. (2012)
David Weekly Homes honors Rinnai American Corporation with the coveted "Partners of Choice" Award (2012).
Rinnai Corporation receives an "A, A" ranking, the homebuilder's top designation for both quality and service. (2012)
Ryland Homes Houston Division recognizes Rinnai Corporation's luxury series tankless water heaters with its distinguished "Product of the Year" designation. (2013)
Ultra-Series Condensing Tankless Water Heaters recognized with a 2013 "Money-Saving Products" Award from Builder's Magazine.
Professional Builder, one of construction's top building and design magazines names the Hybrid Tank-Tankless Water Heater "One of the 100 Best New Products of 2014".

Looking to the Future
I believe that the secret to Rinnai Corporation's success has been the philosophy behind it. Rinnai Corporation was founded on a philosophy of Harmony, Spirit and Truth. Each symbolized a different part of how they approached their business. Harmony reminds them to foster people with a rich sense of humanity. Spirit encourages them to set aims in accordance with the philosophy. Truth reminds them to apply thinking backed by the fundamentals of science.
Rinnai Corporation also has a charter that includes 7 pledges.
We shall maintain a completely customer-focused approch based on the tenet that "our livelihood depends on the quality of our products."
We shall provide product that offers "safety", "comfort", and "convenience" and we are friendly to the environment.
We shall strive to enhance people's lives by acquiring extensive know-how related to achieving harmony between "heat" and "lifestyles".
We shall work to strengthen the bonds between domestic and overseas members of the Rinnai Group and thus achieve mutual prosperity.
We shall build trust as a member of society to benefit the prosperity of our local communities.
We shall prioritize our commitment to harmony, spirit and truth and target corporate prosperity in an effort to achieve growth of our own company.
We shall, as decent members of society, abide by the law and behave in accordance with ethical values.
All of these contributed to Rinnai Corporation's overwhelming success. With over 30 million products sold worldwide, Rinnai Corporation has become a household name. For nearly a century, Rinnai Corporation has always pushed innovation and technology and looked to the future. Rinnai Corporation is one of the products we, at Nelson Design Group, encourage you to look at for your new home. You won't be disappointed.