Great Recipes for Your Superbowl Party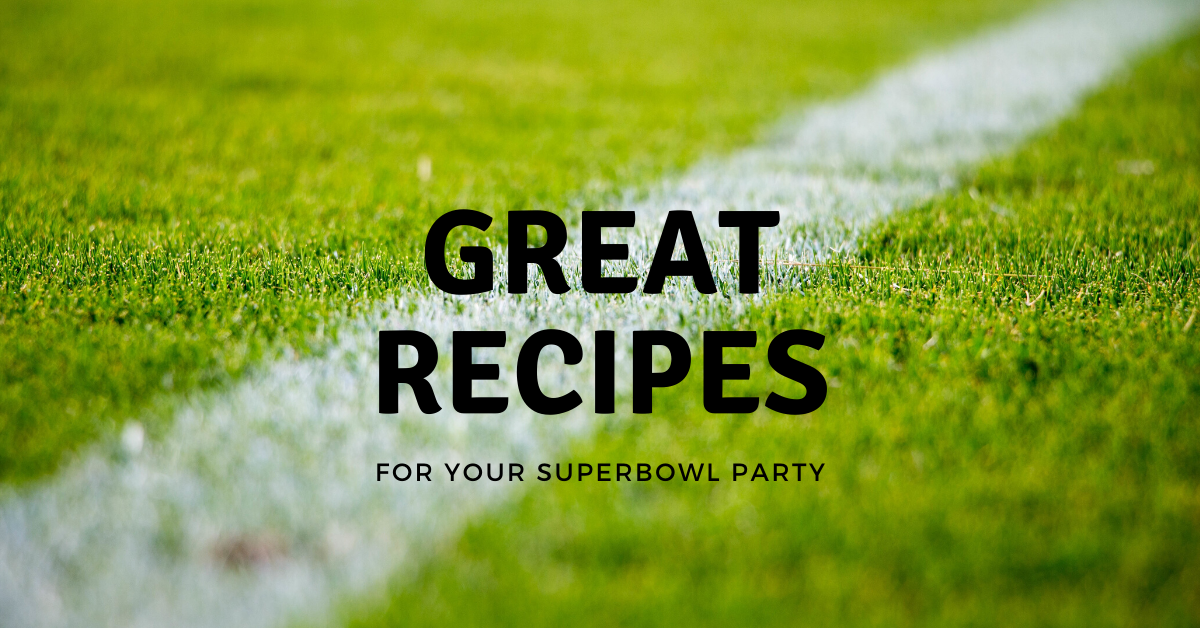 Great Recipes for Your Superbowl Party
Well this Sunday is the big game. This year the Superbowl is featuring the Kansas City Chiefs and the San Francisco 49ers. Two teams that haven't seen the Superbowl in a long time and honestly, I think I would be stoked for either one of them to win. So, this year, instead of focusing on the rivalry between the teams or which team might be better or worse than the other, lets just cook some great food and enjoy the game!
One thing about the Superbowl is that you have to have really good food ready to go. You can't just have salsa and chips and some plain sandwiches. If you want people to remember that your house is the place to be, then you got to have some really impressive recipes. Here's some that I've found that look amazing!
Is it Superbowl or Souperbowl?
One thing about the Superbowl is that its usually cold during the game. So, you don't want to serve anything that's going to contribute to that. You want to serve something warm that will thaw out the insides of your guests and family. So why not serve a nice soup? Here's a couple of great recipes to serve during the game.
Pressure-Cooker Chicken Tortilla Soup
TOTAL TIME: Prep: 10 min. Cook: 30 min. YIELD: 10 servings.
Ingredients
1 tablespoon canola oil
1 medium onion, chopped
3 garlic cloves, minced
1-pound boneless skinless chicken breasts
1 carton (32 ounces) reduced-sodium chicken broth
1 can (15 ounces) black beans, rinsed and drained
1 can (14 ounces) fire-roasted diced tomatoes
1-1/2 cups frozen corn
1 tablespoon chili powder
1 tablespoon ground cumin
1 teaspoon paprika
1/2 teaspoon salt
1/4 teaspoon pepper
1/4 cup minced fresh cilantro
Optional: chopped avocado, jalapeno, and lime wedges
Directions
1. Select sauté setting on a 6-qt. electric pressure cooker and adjust for high heat; add oil. Add onion; cook and stir 6-8 minutes or until tender. Add garlic; cook 1 minute longer. Add remaining ingredients, except cilantro. Stir. Lock lid; close pressure-release valve.
2. Adjust to pressure-cook on high for 8 minutes. Allow pressure to naturally release for 12 minutes, then quick release any remaining pressure.
3. Remove chicken from the pressure cooker. Shred with 2 forks; return to pressure cooker. Stir in cilantro. If desired, serve with toppings.
Taste of Home
Contest-Winning Hearty Hamburger Soup
TOTAL TIME: Prep: 15 min. Cook: 30 min. YIELD: 8 servings (2 quarts).
Ingredients
1-pound ground beef
4 cups water
1 can (14-1/2 ounces) diced tomatoes, undrained
3 medium carrots, sliced
2 medium potatoes, peeled and cubed
1 medium onion, chopped
1/2 cup chopped celery
4 teaspoons beef bouillon granules
1-1/2 teaspoons salt
1/4 teaspoon pepper
1/4 teaspoon dried oregano
1 cup cut fresh or frozen green beans
Directions
1. In a large saucepan, brown beef; drain. Add the next 10 ingredients; bring to a boil.
2. Reduce heat; cover and simmer for 15 minutes or until potatoes and carrots are tender. Add green beans. Cover and simmer 15 minutes longer or until the beans are tender.
Taste of Home
Make It Taste Like You're A Chef
I cook every day for my family, so I pretty much know my way around the kitchen. And my daughter loves to watch food network, so we're constantly seeing new things to try and new techniques to make our food better. But what if you don't really know how to cook all that well? Maybe you don't cook that often or you only cook things when you have to? Don't worry, I found some super easy recipes for you.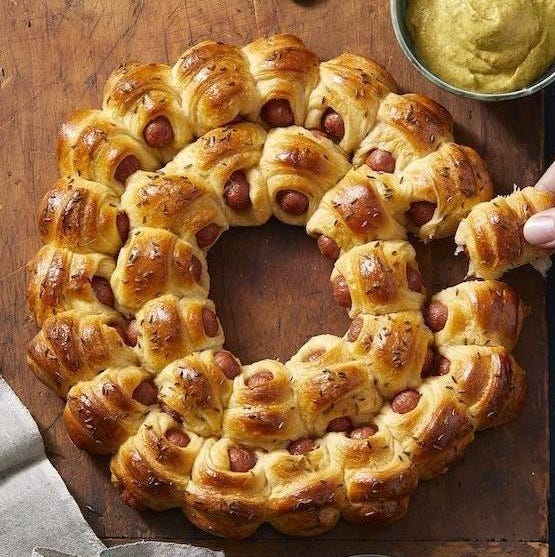 Easy Pigs in a Blanket
Ingredients
1 12-oz package cocktail franks
2 tubes refrigerated crescent roll dough
2 tbsp. Dijon mustard
1 large egg
1 tsp. caraway seeds
Mustard, for serving

Directions

Heat oven to 375°F. Line baking sheet with parchment. Unroll dough and brush with mustard. Cut each triangle in half lengthwise to create 2 skinnier triangles.
Place 1 frank on each wide end of dough, then roll up and arrange on prepared sheet in two concentric circles, making sure dough on both circles' touches.
Beat egg with 1 Tbsp water, brush over dough and sprinkle with caraway seeds. Bake until golden brown, 18 to 22 min. Serve with mustard.

*If you like this recipe, be sure to go check out the website. They have a ton of ideas to take this classic meal and turn it into something more gourmet.

Good Housekeeping

Easy Nachos

Ingredients

6 oz. tortilla chips (about 7 cups)
1 15-ounce can low-sodium black beans, rinsed
8 oz. extra-sharp orange Cheddar cheese, coarsely grated (about 2 cups)
1 15-oz can refried beans
1/4 c. sour cream
1 c. shredded romaine lettuce
1/2 c. fresh Pico de Gallo
1/2 c. guacamole

Directions

Heat oven to 450°F. On rimmed baking sheet, toss chips, black beans, and half of Cheddar.
Dollop refried beans on top and sprinkle with remaining Cheddar.
Bake until beans are heated through and cheese has melted, 6 to 7 minutes.
Dollop sour cream over nachos and top with lettuce, Pico de Gallo, and guacamole.

*Good Housekeeping never fails to give you everything that you need to make a gathering amazing. Be sure to check out their website for more great recipes, and decorating ideas.

Good Housekeeping


Adventurous Eats

If you're like us, then you like to have something out of the ordinary sometimes. Sometimes you're tired of the same old chili recipe. So, here are some more adventurous recipes for you to try with your crowd this weekend.



White Chicken Chili

TOTAL TIME: Prep: 15 min. Cook: 25 min. YIELD: 10 servings (2-1/2 quarts)

Ingredients

1-pound boneless skinless chicken breasts, chopped
1 medium onion, chopped
1 tablespoon olive oil
2 garlic cloves, minced
2 cans (14 ounces each) chicken broth
1 can (4 ounces) chopped green chiles
2 teaspoons ground cumin
2 teaspoons dried oregano
1-1/2 teaspoons cayenne pepper
3 cans (14-1/2 ounces each) great northern beans, drained, divided
1 cup shredded Monterey Jack cheese
Sliced jalapeno pepper, optional

Directions

1. In a Dutch oven over medium heat, cook chicken and onion in oil until lightly browned. Add garlic; cook 1 minute longer. Stir in the broth, chiles, cumin, oregano and cayenne; bring to a boil.
2. Reduce heat to low. With a potato masher, mash one can of beans until smooth. Add to saucepan. Add remaining beans to saucepan. Simmer for 20-30 minutes or until chicken is no longer pink and onion is tender.
3. Top each serving with cheese and, if desired, jalapeno pepper.
Freeze option: Freeze cooled chili in freezer containers. To use, partially thaw in refrigerator overnight. Heat through in a saucepan, stirring occasionally; add broth or water if necessary.

Taste of Home

Korean Pineapple

Ingredients

1/4 c. pineapple juice
1 clove garlic, grated
2 tbsp. low-sodium soy sauce
1/2 tsp. red pepper flakes
1 tbsp. grated fresh ginger
1 tbsp. honey
1 tbsp. toasted sesame oil
1 lb. sirloin, strip steak, or boneless short rib, frozen until just solid (45 to 60 minutes)
2 tbsp. canola oil
Kosher salt
Lettuce leaves, cooked sticky rice, scallions, red chiles, and chopped peanuts for serving

Directions

In medium bowl, combine pineapple juice, garlic, soy sauce, red pepper flakes, ginger, honey, and sesame oil. Thinly slice frozen meat, add to marinade and toss to coat. Let marinate 30 minutes or cover and refrigerate up to 3 hours. Remove from refrigerator 30 minutes before cooking.
Heat large stainless-steel skillet on medium-high. Add 1 tablespoon canola oil. Transfer half of beef mixture to skillet, arrange in even layer, season with 1/4 teaspoon salt and cook without moving until lightly browned, 1 minute. Toss beef and continue to cook until just cooked through and crisp at edges, 2 minutes. Transfer to plate. Repeat with remaining tablespoon oil and beef.
Serve immediately with lettuce leaves, sticky rice, scallions, chiles, and peanuts, if desired.

Good Housekeeping