Life Long Vacation: Tips for Rustic Decor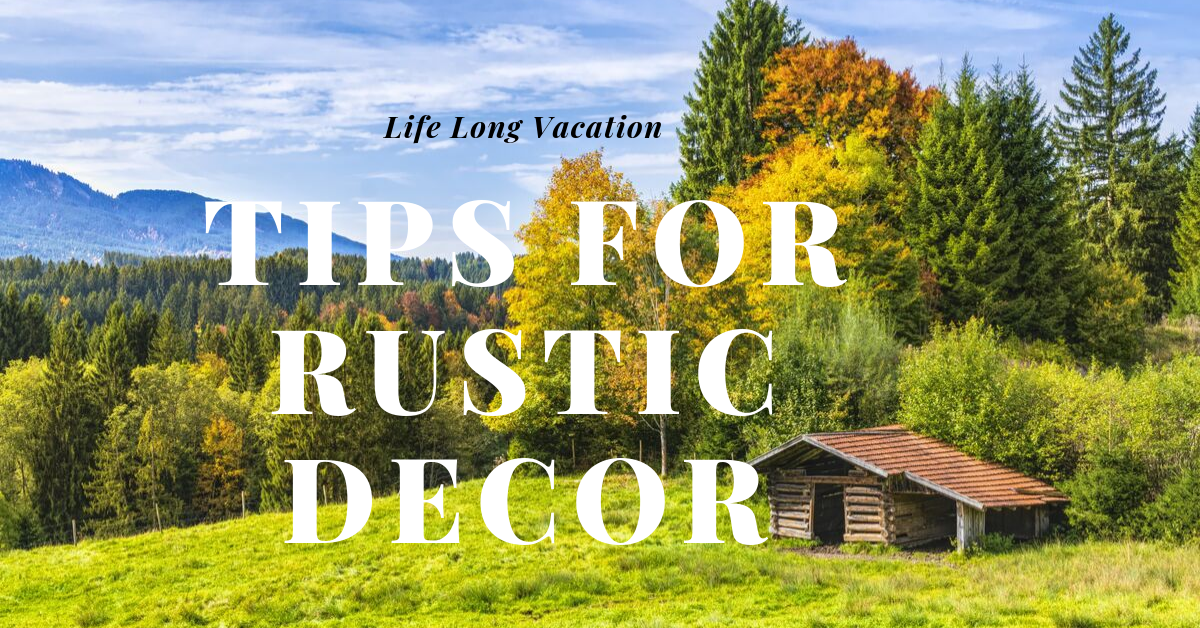 Life Long Vacation: Tips for Rustic Decor
The Rustic style is something that evolved from farmers and pioneers and has become something that is very stylish and popular. So, what if you want this style for your home, but you don't know where to start? What if you are absolutely in love with the idea of a beautiful cottage style home, but you live in a cramped little apartment in town?
Don't worry. I have you covered. I'm going to take the basics of the rustic décor and break them down so that you can find the perfect mix of styles that work for you. This list is not all encompassing, by any means, but I hope that it can help you bring a little bit of that country charm into your home.
15 Tips for Rustic Décor
The best thing about rustic décor is that most of the time, the elements that are being used in them are either incredibly cheap or can be brought over from something else. Repurposing items is very popular right now and this type of décor uses that to its full advantage.
Rustic décor developed from farmers and pioneers. They didn't have the money to buy everything that they needed, so they made as much as they could. Take that same approach to decorating. Luckily, this style is very popular right now, so you can find dozens of tutorials on how to make things.
Baskets
One of the things that is so popular with this type of décor is using baskets. Not just as storage items, but also just for decorative purposes. Baskets are perfect for holding magazines and miscellaneous items, but they also make a great centerpiece for a table.
Baskets can also be used for everything from dishes to books to toys and games. They make a great way of holding stuff and keeping it out of sight.
Mason Jars
Oh, the small, but mighty mason jar! How we love thee! I have you in my bathroom holding all assortment of small things that have a tendency to get lost in a house full of girls. (I'm looking at you, hairbands.)
Mason jars are great. They can be used as glassware, as storage mediums, or for organization. My husband likes to have one to keep miscellaneous nails and screws in. With Rustic décor, you can display these little glass wonders everywhere and show the world how organized you can be.
Iron Accents
A lot of the farming implements that were used in the past were made of iron and so a lot of the materials that people had available were what was leftover from farming and brought it indoors. So, the metal that accentuates the rustic décor is usually iron or a worn brass.
Some of the newer styles even use stainless steel or the newer looking steel mixed in with the older look to achieve an even more rustic design. Basically, whatever strikes your fancy.
Reclaimed Wood
This is very popular for the Rustic style décor as well as for any of the other styles that are very similar. We use far too much new wood in products and actually the products that are produced with this newer wood is not as strong. Reclaimed wood is much stronger because it has been weathered.
It also has lovely characteristics that will make it more unique for your home. Reclaimed wood has knots and burls in it that you just don't see in modern products or newer wood. There are some woods that are not being used in any modern products at all and you can only find them in reclaimed wood.
Wood Furniture
Which brings us to the next part of rustic décor. Rustic décor centers around wood furniture. The best part about this is that you don't have to go out and spend $2000 on a brand-new kitchen table and chair set just so you have the right kind for rustic décor.
Some of the best pieces are going to be those that you find second hand. They are going to have the wear and tear on them which makes them look like they are, well, old. And while that may be the case, a good coat of paint or stain can make all the difference.
Matte or Chalk Paint
The use of matte or chalk paint actually comes from the tradition of using whitewash. Whitewash was made of a mixture of lime and water. (No lime in the coconut, yet, I'm still working.) This created a matte paint that was easy to apply and use.
This tradition has carried over and has evolved to become matte and chalk paint. This is an easy way to take a piece of old furniture or an inexpensive accent item and turn it into something that looks rustic and brand new.
Rope Accents
On the same note, rope was a common item used to make curtain rods and ties and it was used to hang items from the walls and the ceiling. You can take some rope and do the same things. Rope is great for hanging pictures and to make towel holders.
You can also take inexpensive items and glue rope to them. This makes them look like a basket and can take something that may have cost $1 and make it look like you picked it up in a boutique. Now that's my kind of shopping.
Color Your World
The colors for the rustic style are very calm and soothing. Think browns and taupe. The colors should be something that reflects the world around you. They are very muted. The walls shouldn't be really white, instead think of a nice cottage feel. They should be off white or even eggshell.
Your fabrics should have a softer edge to them. They shouldn't have harsh patterns or color shifts in them. Nice, fluffy throws in warm shades.
Lace and Crochet
Did you know that lace used to be made by hand and that it would take at least 300 hours of work to make one piece of lace to make a wedding veil? Crocheting was an easier way of getting that same look without as much work.
Both of these were handicrafts that were done during long winter evenings on farms around the world. So, it makes sense that this would be used in decorating. This also adds to the softer feel of the rustic home.
Quilts
Another handicraft that was very popular was quilting. This was a way to use up scraps of fabric and make them into something that would keep you warm and toasty on winter nights. I remember my grandmother quilting and just being fascinated by the process.
They come in all sorts of colors and patterns. Check antique and thrift stores. I'm sure you will find something that will compliment your décor nicely.
Floral Accents
No style is complete without having some floral element brought in. For a modern home, that would be dark ferns and bright flowers. With a farmhouse home, you would want bright daisies and sunflowers. For a luxurious look, roses are the go-to while you can scrimp a bit and get some violets or peonies.
For the rustic home, however, the best way to go is delicate and lightly colored. You want small flowers and light green or sage green for the leaves. Light or pastel colors go perfectly with this décor
Wood Slices
You can't walk into a rustic home and not see wood slices somewhere. These are literally pieces of trees that have been sliced horizontally so that the rings of the tree show. The bark is left on for added character. These distinctive pieces allow you to utilize them in many different ways.
You can use them as serving trays, to display pictures, to write on, etc. They are beautiful in their own way and they each have their own patterns.
Inspirational Quotes
One of the things that is becoming very popular for the rustic style is to have inspirational quotes written in beautiful script and displayed for everyone to see. I love these myself. I love calligraphy and I keep telling myself that I'm going to have time to practice it one day. (Along with writing my book, finishing the laundry and keeping the kids' rooms pristine and organized. Pipe dreams.)
These quotes can be anything that inspires you. They can be from the Bible or from a beloved children's book or just from something someone said once that was incredibly clever.