Media Rooms: TV Buying Guide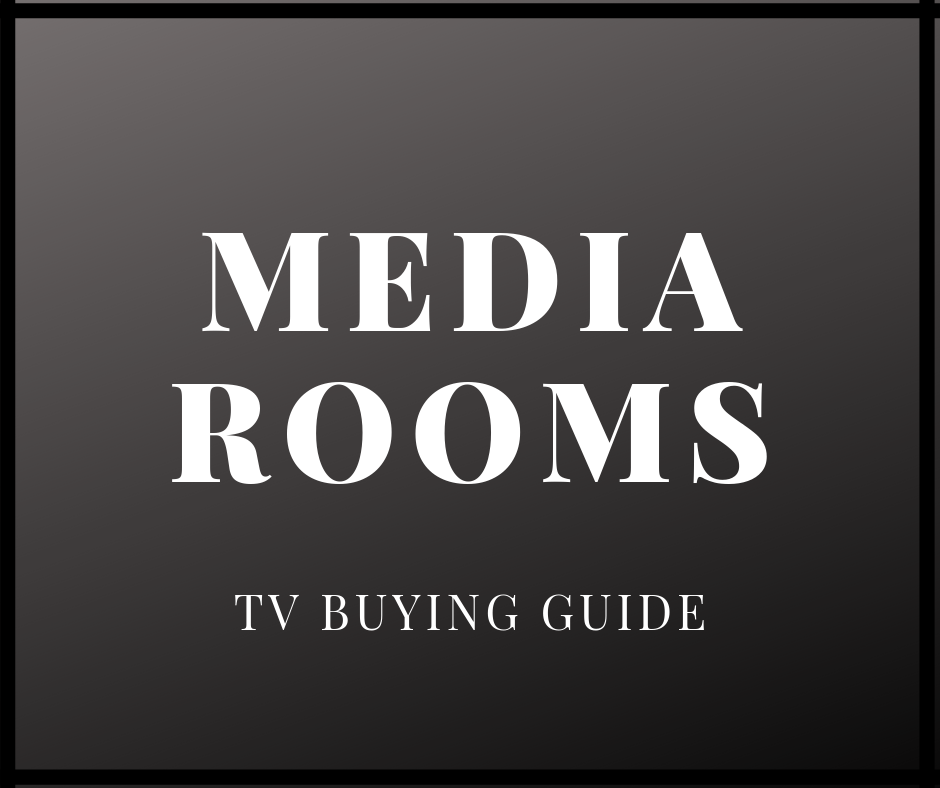 Media Rooms: TV Buying Guide
Just like our grandparents became the "Baby Boomers", I firmly believe that my generation will end up with some clever name to reflect the change in our times. Like the Baby Boomer Generation, we were the last group of kids to do some things and the first to do others. Case in point, my age group was probably one of the last age groups to use a pay phone or rabbit ear antennas. We were also the first group to start posting stuff on social media. (Hi myspace! We don't miss you!)
We were also the first group that grew up with electronics. My dad loved computers and I spent half of my childhood shuffling pc parts off the kitchen table so I could do my homework. I remember one of the first computers that my dad ever got. It was terrible.
The screen on that thing was like a 10" screen. It was completely text based, there wasn't a mouse and it used the large floppy discs. (Raise your hand if you remember those bad boys.) I can remember the first real video game I played on a pc was a Bugs Bunny game that was very reminiscent of Donkey Kong.
This early start with electronics led me to have a fascination with them. I have learned over the years what are the most important parts of most electronics purchases. How you can get more bang for your buck and what the major differences are.
One of the things that I have had to learn the hard way is to figure out what is hype and what isn't. Often, you'll see something that is a name brand and right beside it is the same item with a different name. People ignore what is a great bargain because they don't understand what they are shopping for.
Your Needs
Before you set foot in a store or look a single thing up online, you should think about what you need in a tv. There are 4 parameters to this: Location, Purpose, Connectivity and Budget.
Location
So, jumping straight into it, you need to consider where you are going to be placing the tv. Modern flat screens don't have the same limitations as the old school box sets. You can either have them sitting on an entertainment center or your can mount it on the wall.
If it is going to be the focal point of your room, you can probably go as big as the space will allow. Make sure you measure the place where you are going to put your new tv. We'll talk more about this in a little bit, but tv's are measured from corner to corner. That means that the width of your tv is actually going to be smaller than the size of the screen.
Another thing to consider is how you are going to be mounting it. If you are using a wall mount, make sure that you purchase a wall mount that will work for the type of wall you are mounting on. That was probably a little confusing.
Most inside walls of your home are built using drywall. Drywall doesn't hold anything very well. So, if you have drywall on your home's interior walls, you are going to need a mount that is specially made for drywall that can distribute the weight of the tv without it tearing out chunks of wall.
If you are getting a tv for a smaller area, like your bedroom or a kid's room, consider using a mount that will allow the tv to have more range of motion. They make mounts that allow your tv to be moved in any direction that you need it to face.
Purpose
Decide what you are going to be using the tv for. If it's the main tv in the home, that's a no brainer. Netflix and chill, anyone? If it's for a room where it won't get used as often, it might be beneficial to wait until the sales season starts or dropping the size that you were thinking of.
If the tv is going to be used outside, see about getting a cover for the tv. That way you know that you are protecting it as much as possible from the elements. If you are using it for a home theater situation and you just can't find a screen big enough, consider going with a projector and screen instead.
Connectivity
How are you going to be connecting the tv to the entertainment of your choice? How many connectors do you need? We needed a tv with at least 3 HDMI ports. We watch the majority of our entertainment on our satellite system so that's one. My husband likes to game a bit, so we needed another for the PlayStation. And we occasionally like to watch things on our chrome cast so that's 3.
That's the exact process that you need to go through with your tv purchase. We moved our older tv into our daughter's room and that was great for her because all she needed was a way to watch her movies and play some games. So, she only needed two HDMI ports.
The other thing you need to consider is whether or not you need to have a tv capable of connecting to the internet. I didn't think that we would ever need a tv that connected to the internet, but now that we have one, I don't know if I would want to give it up.
We don't have a super smart tv. It still does some really dumb things sometimes, but it does have a WIFI adapter. This means that we didn't have to run a specific cord to just hook it up. It just grabbed the connection and connects automatically. (The coolest thing is that if we are on the WIFI on our phones, we can cast whatever we are doing to the screen. YouTube is a favorite around the house.)
If you don't use the internet very much or if you are not needing your tv to connect to it at all, then you might not have to purchase a tv that will do that. Though with the way technology is going, it probably wouldn't hurt to have that anyway.
Budget
Now we come to the nitty gritty of the subject. Money is always something that is tough for people to think about before they go shopping for something. Think about how much money you want to spend on the tv. Now subtract $50. That's going to be the sticker price of the tv.
Tv's are one of those big purchase items that seem to rack up the taxes fast. (We're talking new car fast.) To make sure that you don't end up spending too much on your tv or you are shopping outside of your budget without meaning to, calculate the tax on it and take it off your budgeted amount before you set foot in the store.
The best time to buy a tv is either right before school starts back or during the Black Friday events. Black Friday is the obvious time to buy a tv, but as a former retail worker I'll tell you a little secret. The tv's that they usually have on sale during Black Friday are usually either 2-3 years older than the rest of the models or they are the absolutely cheapest thing that could be bought in bulk.
Another secret of retail is that the regular tv's are going to be marked down, too. So, ignore the hoards trying to get the flat screen for $100 and go straight for the normal tv display. There will be a cut in the prices in the days ahead of the main event so you can usually get these deals without having to risk your neck.
Back to School is the other time to get a great deal on a tv. Or rather about a month before back to school shopping. Back to School is one of the times when the warehouse and storerooms of every store are absolutely brimming with stuff. They need to make room. Tv's are big. See where I'm going here. The older models will be marked down significantly. And don't even consider going for a rent to own situation. You will end up paying twice or three times what something is worth. Just ignore those brightly colored papers when they come in the mail.
TV Particulars
When you are looking at buying a tv, there are 4 technical specifications that you will need to keep in mind. Let's look at each one of them.