Outdoor Living Week: 20 Great Grilling Gadgets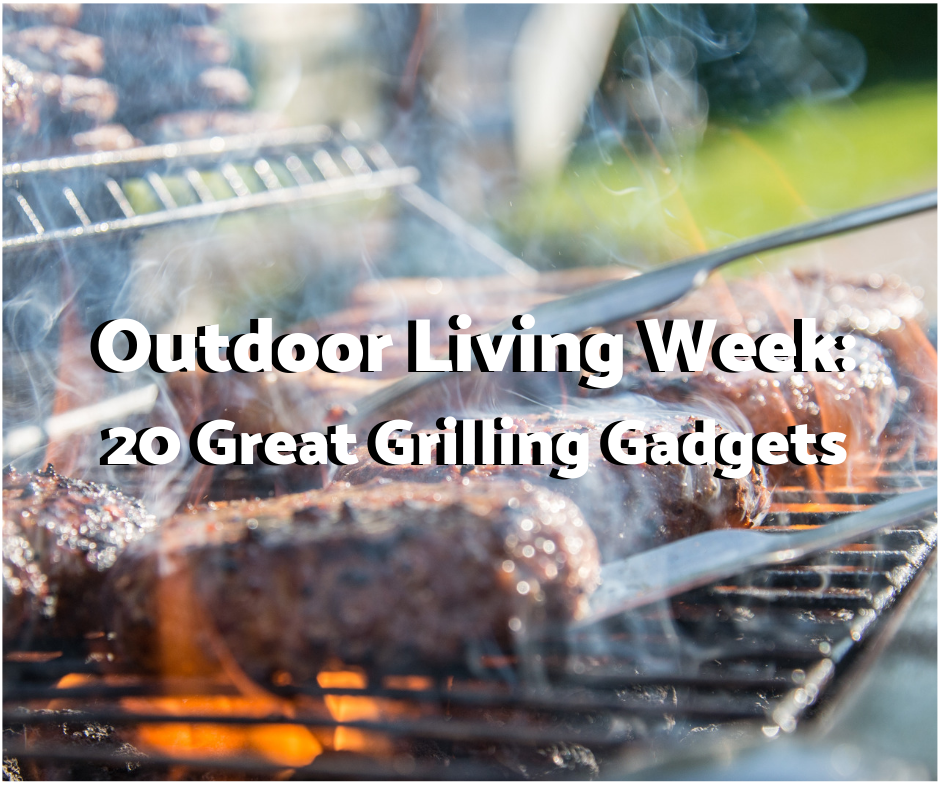 Outdoor Living Week: 20 Great Grilling Gadgets
I don't think it is any coincidence that Father's Day is in the middle of June and that June is when you really start grilling out. So in honor of Father's Day, I went and found 20 of the coolest grill gadgets. Some of them I have seen before, some we actually own ourselves and some just make me go "Oh that's cool!" And all of these products are available with Amazon Prime shipping so if you have prime, you can get it delivered in two days.
The pictures are links that will take you directly to Amazon to purchase them and the prices are accurate at the time of publication. Some of these were very popular this year, so if you like it you might want to hustle.
Weber iGrill ($25.19)
No, this is not the new product from Apple; this is a state of the art meat thermometer that connects to your phone via Bluetooth. So basically, you download this app that's available on both Google Play and iTunes and you sync your phone to the thermometer. Then you stick the meat probe into whatever you are trying to cook and you can watch the temperature in real time. Meanwhile you can just be relaxing and enjoying your day.
There are even settings on the app that will let you set it for how well you want your steak cooked. (Medium Rare FTW) It has a built in LED light that lets you see where you are poking the probe, so you can make sure you are getting in the middle of your steak. It also comes with a battery that has a 150-hour battery life. Like this thing is going to run forever. With a neat little magnetic base to hold everything together, this is the perfect gift for the Dad that is picky about how his steaks turn out.
Grill Mat ($19.95 for 2)
I admit it; I'm the mom who uses aluminum foil on every pan she owns. The bottom of my oven is coated in the stuff. I'm guilty as charged. But who has time to be scrubbing pans? I certainly don't. The same goes for the grill.
These grill mats offer the same ease as using nonstick cookware. So that veggie medley you were planning on fixing and decided not to because you didn't want the asparagus to fall through the grate? Yeah this solves that problem.
These are nonstick and they allow you to use oil on the grill without sending up a giant fireball. (We want you to keep your eyebrows.) They also have the benefit of helping to keep your grill clean so you don't have to spend hours scraping and scrubbing.
Smoke Box ($9.99)
OK, we actually have this one. We use it on a regular basis. My husband likes to smoke ribs, but our grill doesn't have a smoke box. So we got this neat little thing to help smoke the meat with. It's a really simple, but effective design.
You put damp wood chips in the box and then you set the box on the grill. As the wood smolders it produces smoke. That smoke makes your BBQ taste amazing. Trust me; we live like an hour away from Memphis. We know BBQ. And for that price, it's a perfect gift to get and tell Dad or Grandad that it came from the kids!
Sauce Bottle ($9.78)
OK this one is on here just because it is cute. When you are grilling out, sometimes you need to put sauce on the meat to keep it from drying out. Well this little bugger looks like a little octopus! It's just super adorable.
You can also store the BBQ sauce in it. This little bottle is dishwasher safe and is BPA free. So you can use it until the cows come home. It's a good price, too.
Natural Fire Starters ($11.73 for a pack of 24)
Don't you just love the taste of flame accelerant in your hot dog? That bitter aftertaste that lets you know that this was cooked lovingly on the old grill outside your parent's house. The thought of all those chemicals and petroleum by-products that could give you cancer just whetting your appetite.
Yeah, me neither. These are natural fire starters made from recycled paper and cardboard. Each one is good to light a small fire with charcoal or dry wood. These little lumps of wood fibers are soaked in wax so they will go up light a Roman candle on 4th of July. They come 24 in a pack and would make a great gift for the natural minded Dad.
Grill Basket ($16.89)
Now we have one of these little things, too. Let me tell you, it is so nifty. This grill basket lets you put veggies, tortillas, hot dogs, etc. in it, close it up and put in on the grill. We even used it to toast the hamburger buns one time.
The best thing about it is that you can turn it over to make sure everything gets a consistent heat. I've seen the grill baskets that look like a literal basket that you can put veggies and stuff in. Those don't seem as efficient as this one. This one hinges so that you can put larger items in and then close it and hold it securely over the grill.
It's well worth the money because the possibilities are endless. The next time we grill out, I'm going to try to make quesadillas in ours. I think it would be great to clamp it down over the tortilla and grill it so that none of your fillings fall out.
Bacon Rack ($13.98)
I have never met anyone who doesn't like bacon. I think that bacon is one of those universal foods that everyone has loved from their first bite. This gadget lets you cook the bacon on the grill. Normally if you are doing hamburgers and you want bacon on them, you have to cook them separately in the house. This eliminates that!
And it has the best design. The triangle shape lets the grease come off the bacon and drip down into the little drip trays on each side and not into the grill! We all know what happens when you get grease dripping into a grill. Break out the swim goggles; it's getting smoky in here.
This design also makes the bacon super easy to serve. I have a tendency to break bacon in half before I put it on a sandwich or a burger. So this little thing will give me a nice crispy crease that makes it easy to break in half. It's made of the same stuff as the nonstick skillets so clean up will be a breeze.
Grill Companion ($11.09)
This one is really tempting me to buy. This comes with three trays to help ferry stuff from the house to the grill and vice versa. Even though our grilling porch is right outside our backdoor and really close to our kitchen, we don't like to make multiple trips because of bugs. So this would be great to get everything in and out in one trip.
There are two large trays, one labeled "RAW" and one labeled "COOKED" and a smaller tray to carry implements and sauces. So you can keep everything separated and still get it in and out in fewer trips. You can also marinate your meats in the "RAW" tray. The smaller tray hooks onto the larger tray to keep everything together. I love this!
S'mores Maker ($11.47)
I follow this guy on YouTube who tests kitchen gadgets and I watched where he tested half of a dozen of these little s'mores makers. This one performed very well. You stack the ingredients for your s'mores in the little cages and then you lock it down and set it on the grill. Easy peasy lemon squeazy.
Instead of an ooey gooey mess all over everything, you just get it on yourself. It's a simple little product made for a specific purpose, but for a dad that loves to spend time with his kids and cherishes the simple things, this would make an amazing Father's Day gift.
Looflighter ($49.99)
This is one of only 3 of the products that get above $30 on this list, but its well worth the money. This is so neat! It's a lighter without lighter fluid. It uses super-heated air to light fires. It doesn't even have a flame on it. It turns off immediately when you aren't holding the "On" button so it can't be left on accidentally. It also cools to the touch within a few seconds of turning off.
You don't have to use lighter fluid at all on the charcoal with this. It is designed to use on regular charcoal without any accelerant. So no more nasty chemical taste! The downside is that it is on a regular plug in, but the cord is 10' long.
Grillbot ($99.99)
This is one of the other products that gets above $30 on this list, but everyone who ever grills is going to want one of these bad boys. It's a robot that cleans your grill for you! Yes, I know. It will probably sell out soon.
So this little guy has bristles on the bottom that are the same kind you get on one of those wire brushes. You set a timer and stick him on the grill when it is closed and walk away. It moves over and around your grill frantically scrubbing every last greasy, grimy inch.
Heat Resistant Gloves ($17.85)
So I have a confession to make. My husband is a welder and he always has welding gloves lying around. And they are amazing to get stuff off the grill or out of the oven with! Shhh, don't tell him. These are the same thing, but less bulky. They are made to grab and pull stuff off the grill or out of the oven.
They protect your hands from the heat while still giving you mobility. I will warn you, they are not meant to let you stand there and hold something. It won't stand up to that, but just pulling stuff off the grill or out of the oven will be much more comfortable with these. Now do you need one for you and one for your dad?
Grill Set ($26.99)
So we all know that one guy, the one who just moved into his first house or they just got married. They don't have much and you don't really know what to get them because they seem to need everything. This is what you get them.
When my husband and I first got married, my aunt bought him this for Father's Day. It has turned out to be the best thing ever. It has everything that you need to do basic grilling. Well worth the money.
Burger Press ($10.99)
We have one of these too. I use this little thing all the time. It is perfect for making even patties. I struggle with making my patties all the same size and thickness and this does that for me. You can even make stuffed burgers with one of these. A nice juicy burger with a center of molten cheese? Count me in!
Spice Set ($24.99)
My oldest daughter watches Food Network almost religiously. She wants to be a chef when she grows up so she calls it "early college experience." Yeah, I know, she's cute. One of the things that seem to be super hard for home cooks is to make a spice blend. Well, here you go!
This one gives you all of the spice blends you would ever need in one handy little set. Well, for barbecuing anyway. They also offer a money back guarantee. This is perfect for your "Iron Chef" at home.
Cedar Grilling Planks ($19.99 for a pack of 12)
You know when you go to a restaurant and they bring your food out on a wood plank how fantastic the food smells and tastes? Now you can do that at home! Talk about wowing your guests. They are one time use only, though. This is kind of great because you don't have to do that many dishes.
Bacon and Burger Press ($13.79)
So this is nifty little gadget that will let you press your hamburger patties down on the grill like a true chef. This weighted press features a wood handle that won't get hot on the grill so you can pull it off and move it however you need to. I've see these being used on cooking shows and they make the burgers get a great crust around them.
Syringe ($26.96)
You know how you grill some meats and they just become dry and tasteless? Not with this guy hanging around! This food grade stainless steel syringe comes with 3 flavor injector handles, 2 cleaning brushes and a nice wooden storage box. We've used these types of syringes many times. I actually use them as much inside as we do out on the grill. It's great for injecting turkey, chicken and pork with some much needed moisture and flavor.
Stainless Steel Sauce Pot and Lid with Basting Brush ($11.74)
These things are awesome. We do enjoy a good sauce on our BBQ and the best part about this one is that you can set the pot on the grill to warm the sauce before you put it on your meat. That makes it easier for the meat to absorb the sauce and get the entire flavor out of it. The basting brush is fitted into the lid so you don't have to worry about setting it down anywhere. This is an amazing purchase, especially at that price.
Coolest Cooler ($449.99)
This is by far the most expensive item on the list, but wait until you see what this thing does. It comes with a splash-proof, shock-proof Bluetooth speaker that is capable of streaming for 8 hours. It has a magnetic bottle opening, a matching corkscrew and an accessory deck for hiding your valuables while you and your friends are having fun. It even comes with a picnic set that has 4 plates and a ceramic knife!
The cooler rolls on extra wide rubberized wheels and has straps where you can put your other gear on top of it to get it from one place to the other. You can add a blender lid for those icy cold beverages or a solar lid for off grid excursions. Both of the optional lids come with USB ports to charge any devices you might need along the way. This cooler also guarantees 4-5 day ice retention. It also comes in 4 colors.
Now I know we've already got 20 items here, but this last one is just for fun.
Darth Vader Grilling Apron ($9.97)
My husband is a huge Star Wars fan and I couldn't help but squeal a bit when I saw this. He MIGHT be getting this one for Father's Day. Not telling.
Here at Nelson Design Group we want to wish you and yours a Happy Father's Day. If you are looking for house plans, give us a call today at (870) 931-5777.