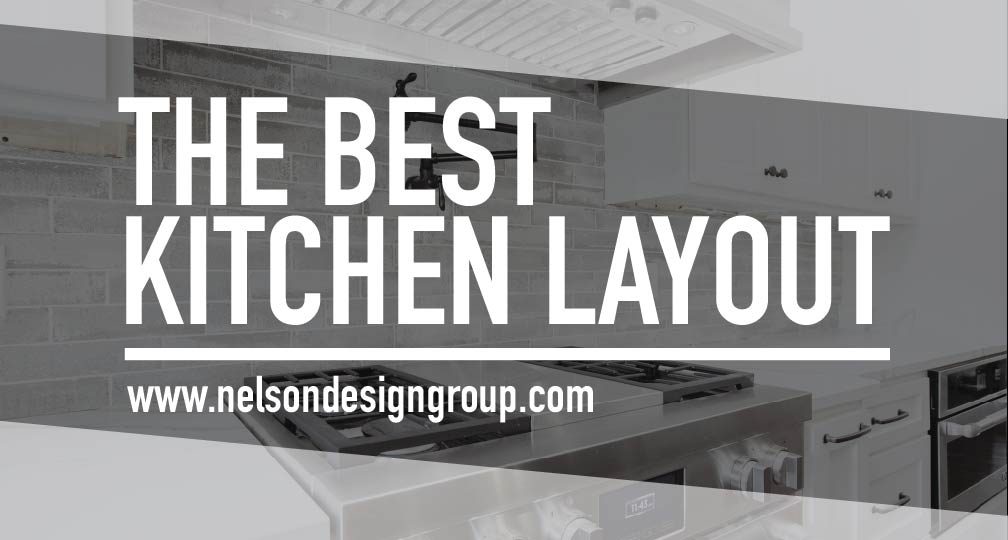 The Best Kitchen Layout
The Best Kitchen Layout
No matter what your design style may be, one thing is true across all house plans, the kitchen is one of the most frequented rooms. We're not sure if it's the company it brings or the snacks it hold, but one thing we are certain of is that the kitchen is one of the make or break areas of any house plans. Nothing stands out more in any house than the kitchen layout. In recent years, we've seen an ever-growing popularity in the open floor plan concept. This means that the days of hidden kitchens are almost unheard of now. In an open floor plan concept, your kitchen can almost always be seen the minute you walk in the front entryway. From the large island to the intricate cabinet detail, your kitchen has to function in a way that not only fits your style, but also meets your needs. Not only is entertaining space important, but storage and practicality have to work in sync with style! We're diving into what can make a beautiful kitchen also functional!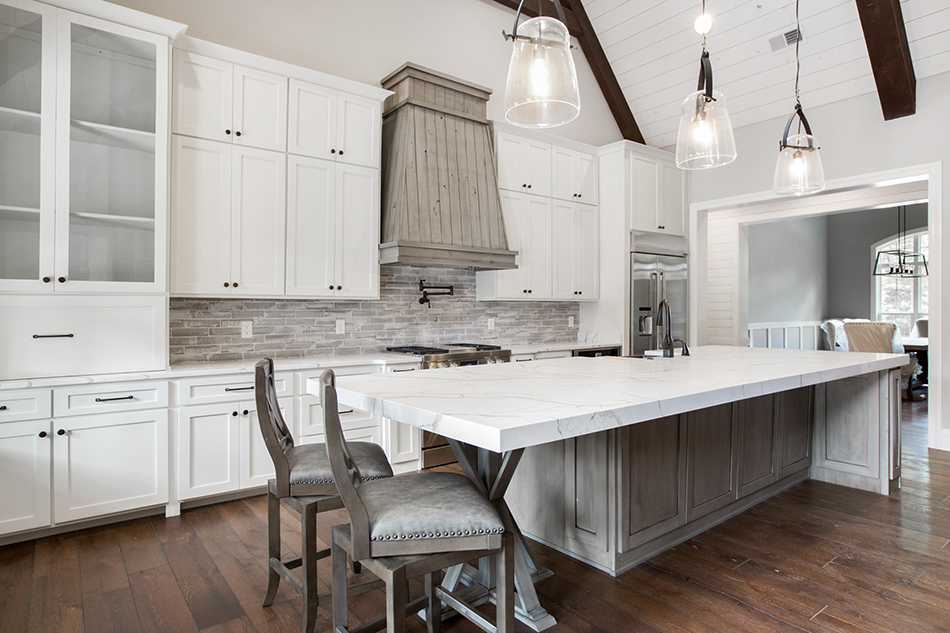 The Kitchen Island
Let's start with one of the most popular features in today's kitchens, the island. This just might be one of the most customizable features in your kitchen design. First, when designing the perfect kitchen layout, you want to make sure there is plenty of seating available. With the kitchen being one of the most frequented rooms in the house, chances are you'll have plenty of time spent in the kitchen with the whole family. You'll want to make sure everyone has room to sit while cooking up a family dinner or perhaps room for helpers in the kitchen preparing for your evening entertaining event.
In addition to the seating space, your counters need to be big enough to hold your everyday life essentials. From the mail you lay down to homework you need to check, there is bound to be plenty of items taking up space on your kitchen island. You don't want this to be something that keeps you from preparing everyone's favorite meal, so you want to make sure there is plenty of space to accommodate both.
Another essential part of your kitchen island should be your "station"! This is the one spot that you can work from while standing at the island. Some prefer their sink centered in the island to be able to centrally manage their kitchen. Others like their stove top options being placed in the kitchen island for an interactive cooking experience. Make sure that your station fits your needs!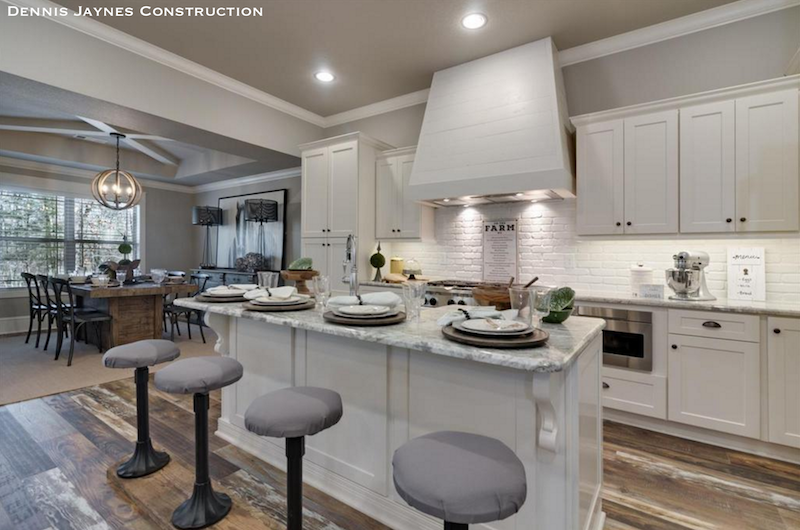 The Cabinet Space
The practicality of any kitchen stems directly from the storage opportunities it provides. This starts with your cabinets and drawers. Kitchens can't just hold your silverware and china anymore, they must offer a little than that. While having an open kitchen concept provides great communication and luxurious space, it also creates a desire to hide certain appliances inside drawers and cabinets. This means that space has to multiply as much as possible. Toasters are placed in cabinets. Can openers are stored in cupboards. Pots and pans are no longer left hanging, but stacked in drawers.
Not only do you need space, but you need practicality as well. The last thing you want is to have to maneuver and lift items out of the way to reach the lost items in the back of the cabinet. For this reason, multiple shelves inside cabinets provide the optimal storage opportunities while still providing you ease while preparing a meal. Spice racks can now be built into the cabinets to feature the ultimate storage experience. Pantry Cupboards are now a favorite ad-on for any kitchen, simply because of the luxurious storage space they provides.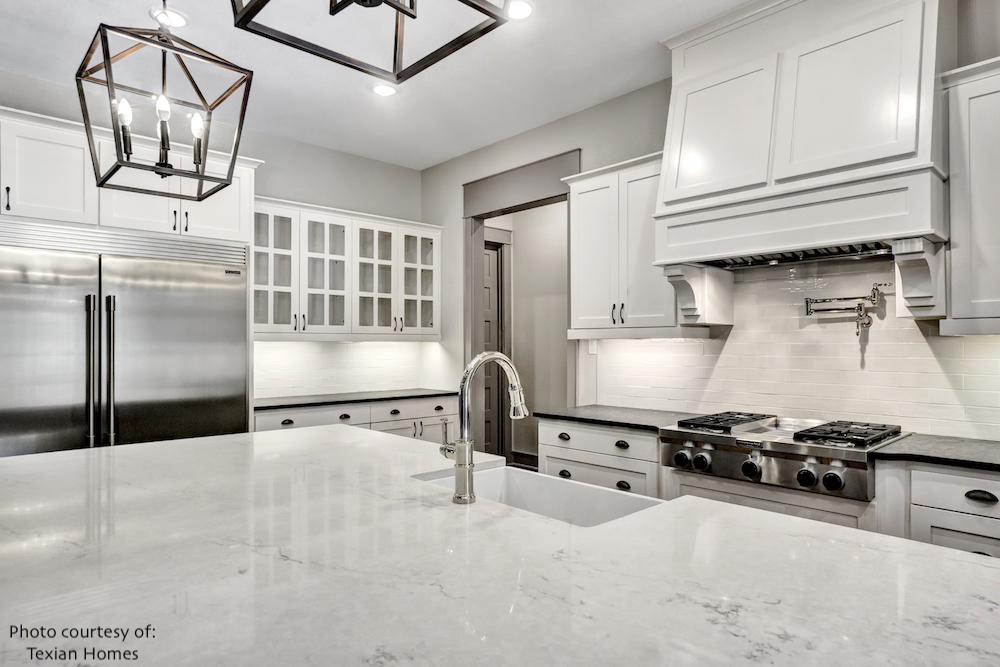 It's all about the Appliances
When picking out appliances, it's always best to start with the piece that you use the most. For almost everyone, that appliance is the refrigerator. First, you want to make sure that you find a refrigerator large enough to not only hold the essentials, but also give you room to store extras that are bound to take up space. In addition to the space, you also want to make sure that your refrigerator is centrally located. With this one appliance being the primary storage for most perishables, you want to be able to access them with ease while in a hurry or cooking your favorite meal.
Next, focus on your cooking appliances. From your microwave to your oven, these appliances are essential for any and all cooking going on in your kitchen. These also need to be accessible for ease in the kitchen. When preparing a large meal, you'll use both of these items for multiple courses and entrees. With technology ever updating on these items, you want to make sure you have up-to-date appliances for the best cooking experience.
Last but certainly not least, the dishwasher. Everyone's favorite appliance can also usually be found directly beside the sink. With every day life getting busier and busier, the last thing any of us want to do is stand for an hour washing dishes. We highly recommend the large capacity dishwashers because you'll never have too much space when it comes to this appliance.