Your Home Style: A Farmhouse Home Starter Guide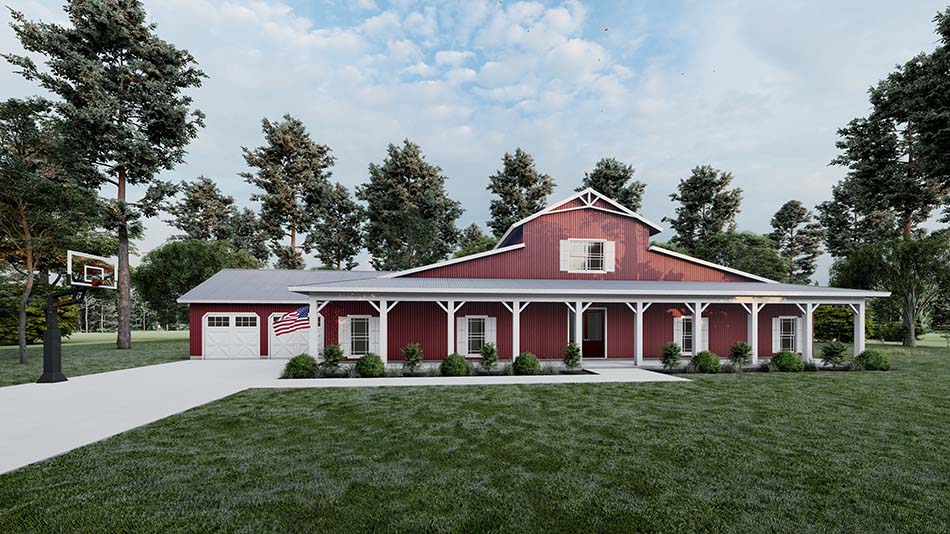 Your Home Style: A Farmhouse Home Starter Guide
The holidays are over, and we are back on our everyday task list! With Spring Cleaning just around the corner and winter coming to a close, now is a great time to think about how the rest of the year will shape up. Has the family grown? Are your living arrangements just so-so? Do you crave simpler times and clean, homey styles? Then the Farmhouse look is for you!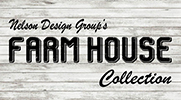 Simple Farmhouse Style
Farmhouses have been around long before HGTV uplifted the popular home interior design. The original American Farmhouse home design was birthed by modest needs for, surprise, farmers. Historically speaking, the original American farmhouses tended to keep enough space for the family, saving space for crops and livestock. Cobbled together with easily-sourced local materials, the floor plans were straightforward and simple. What we affectionately call "rustic" was the 365 norm! Wood floors, raw beams, and classic white paint. Or white-washing. Color and style were extravagant luxuries! The simplistic and handmade home décor is a romanticized by-product of leaner times. The American farmhouse stands against the test of time!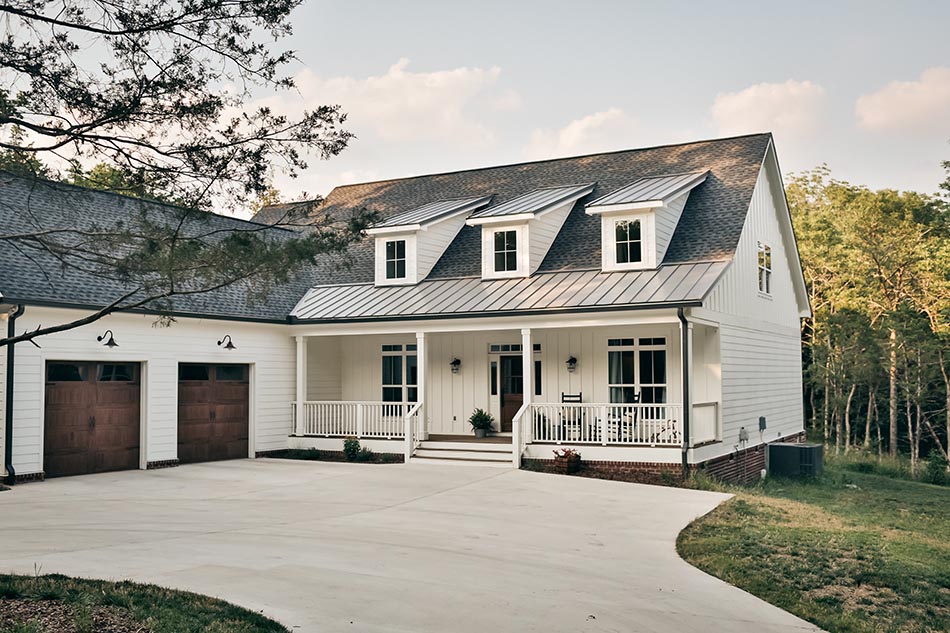 Elmhurst Place - MEN 5132
Farmhouse Staples
The Farmhouse style floor plan has evolved over the centuries, but much of the original features have stayed the same. The popular trend of revitalizing old homes allows for plenty inclusion of modern amenities while respecting the tradition that inspired the love! Both classic farmhouse and modern farmhouse will showcase these exterior and interior elements.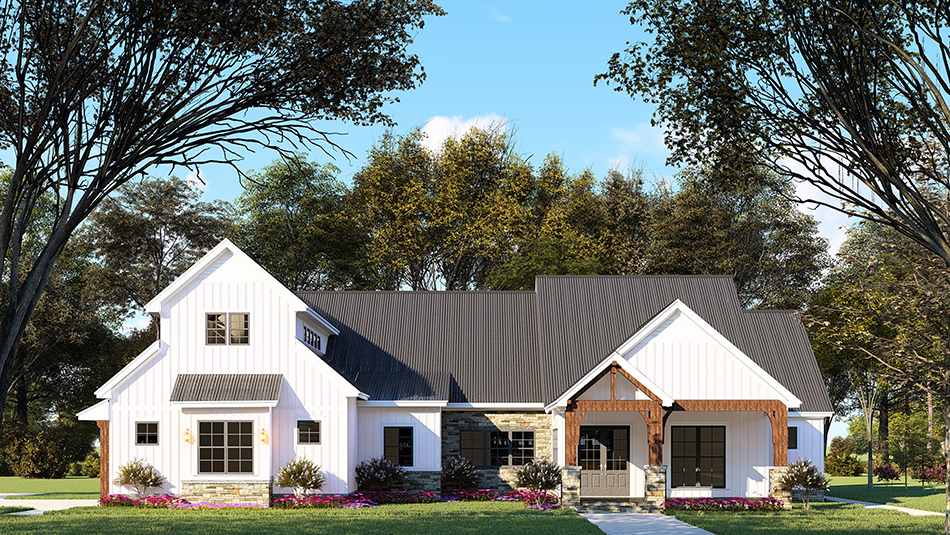 Whispering Winds - MEN 5236
A brief scan of your favorite house-hunting shows will make it clear that many home plans and house styles have incorporated the cherished farmhouse features. If shiplap and bright whites aren't your style, look for some of these elements to give your home plan a rustic aesthetic! Not every farmhouse needs to feel like Little House on the Prairie!
Clean Exteriors: At the forefront of the farmhouse style is the common tradition of white and light-colored exteriors! Something about crisp wood siding in a stark white feels so country fresh. Add a slick metal roof for an added pop! In the past, classic farmhouses might be lacking a good set of large windows. These days, big, gorgeous windows highlight all that stunning tin décor! The more, the merrier.
Porch Hangouts: A grand porch is great on any home and the farmhouse looks particularly country wholesome with some wicker rocking chairs! It's become a rather charming add-on (especially in the South) for a farmhouse-styled home to have a large front porch. Bonus points if it's a wraparound porch! Simple, widely spaced columns adorning the length of the porch emphasis the "less is more" home design.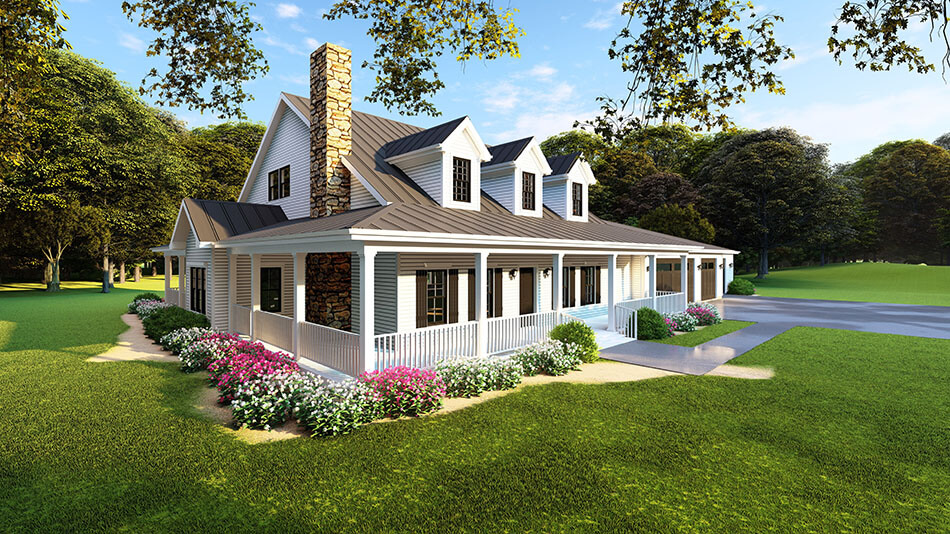 Serenity Farms - MEN 5185
Formal Spaces: Our era takes great pride in open floor plan living and each farmhouse design will vary. A great, though sometimes forgotten, feature of traditional farmhouse floor plans are dedicated formal spaces. A formal dining room is magically elevated to new heights of sophistication when delineated from the rest of the social spaces. And bedrooms nestled in the back of the home or in private wings are classically farmhouse!
Cozy Fireplaces: It's hard to decipher if prominent fireplaces are a sign of the style or a sign of the historical origins. Either way, the farmhouse style looks better with a showcase fireplace! This is the ultimate home addition to give your charming rustic décor the proper lighting. Nothing beats a home-cooked meal with homegrown veggies like a crackling fireplace in the background!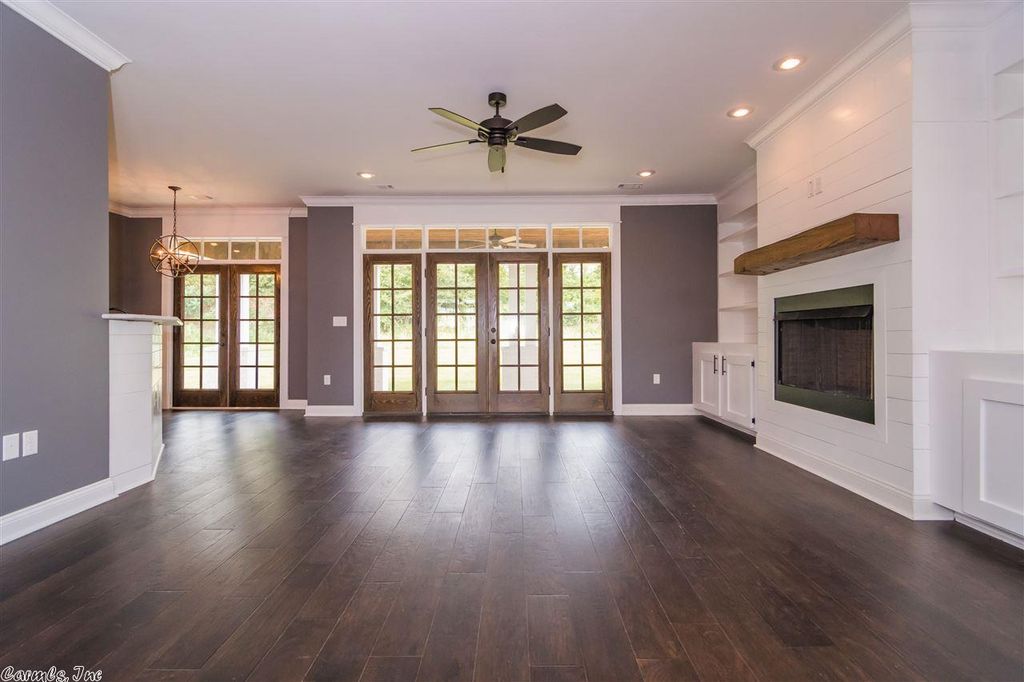 Front and center coziness
Simple Shapes: Tying in with the commonly used open floor plan design, the overall shape of a farmhouse home plan tends to keep it simple. Square or rectangular shapes made expansion a much easier task for the 18th century American Farmhouse. Even modern farmhouses are inspired by these traditional rustic elements!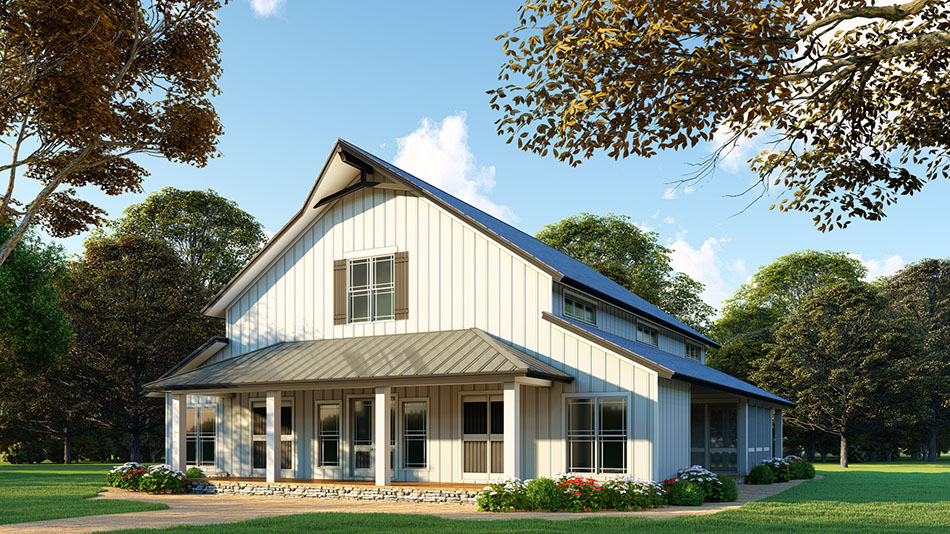 Barnwood Manor- SMN 1014
If you love the Farmhouse floor plan style but need more modern influences, call Nelson Design Group to discuss modifying your floor plan! Your customizations turn a house into a home and our design team makes that dream home a reality. Modification and customization is a breeze. Don't settle for any home when you can have it all!
More House Plan Style Guides:
Your Home Style: A Craftsman Home Starter Guide