House Plan 422 Stone Brook, Riverbend House Plan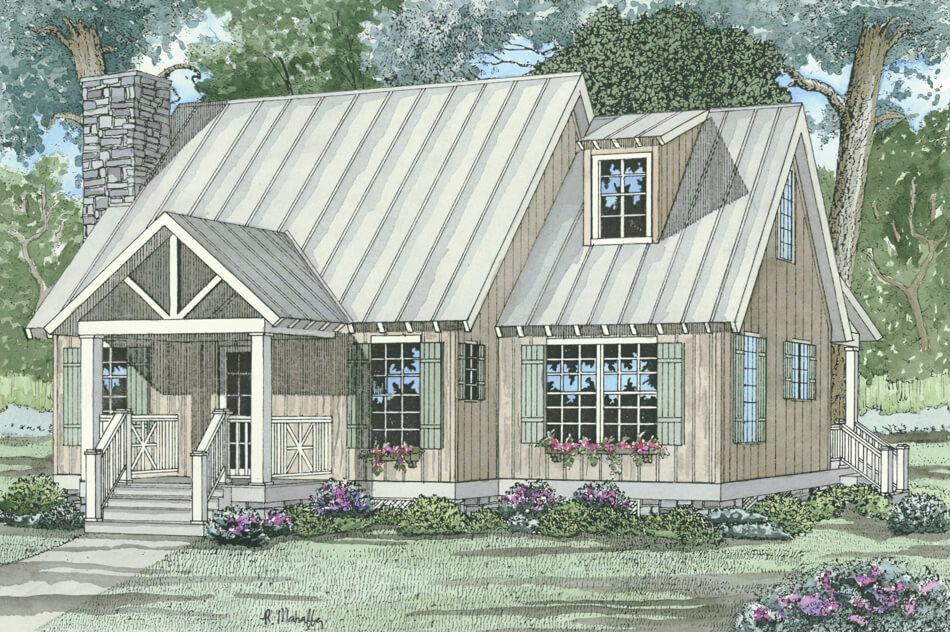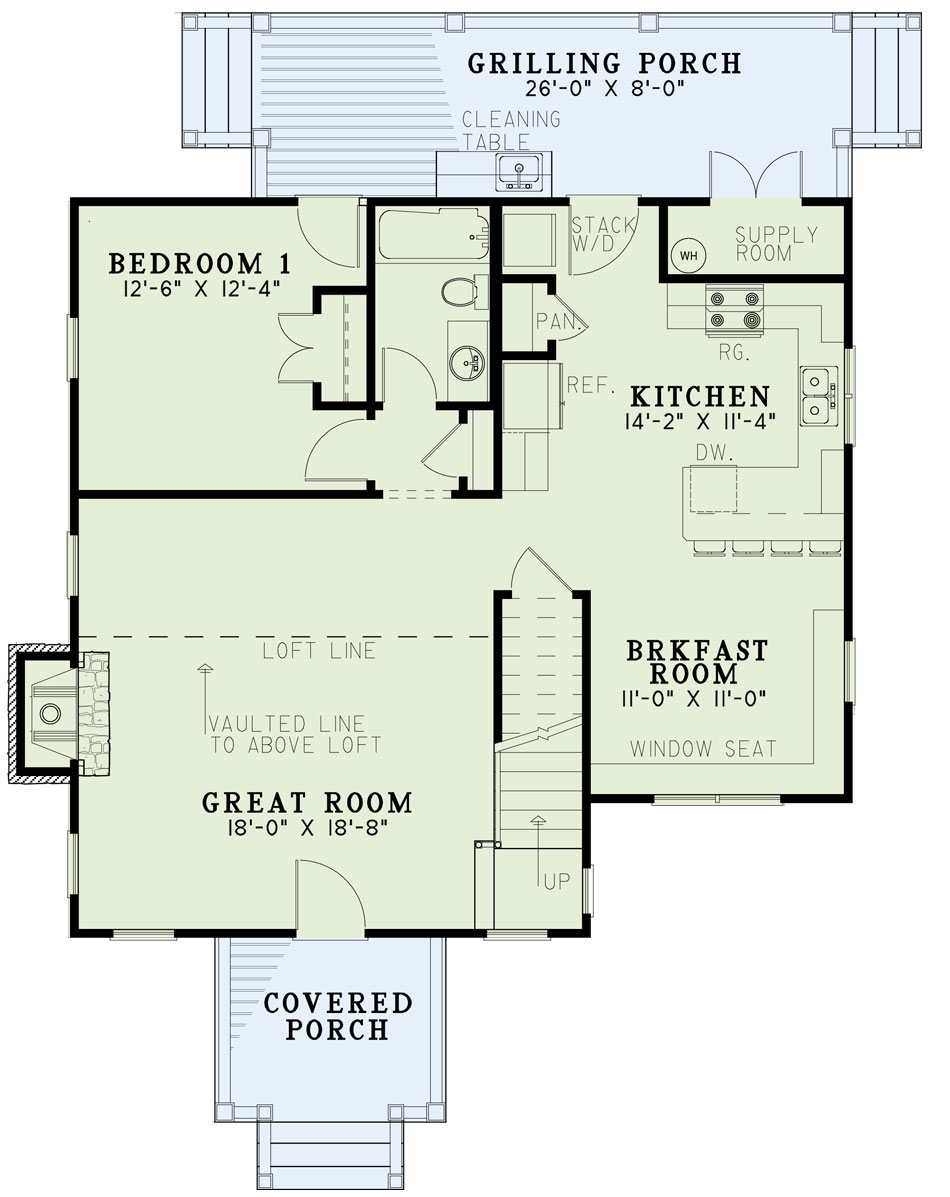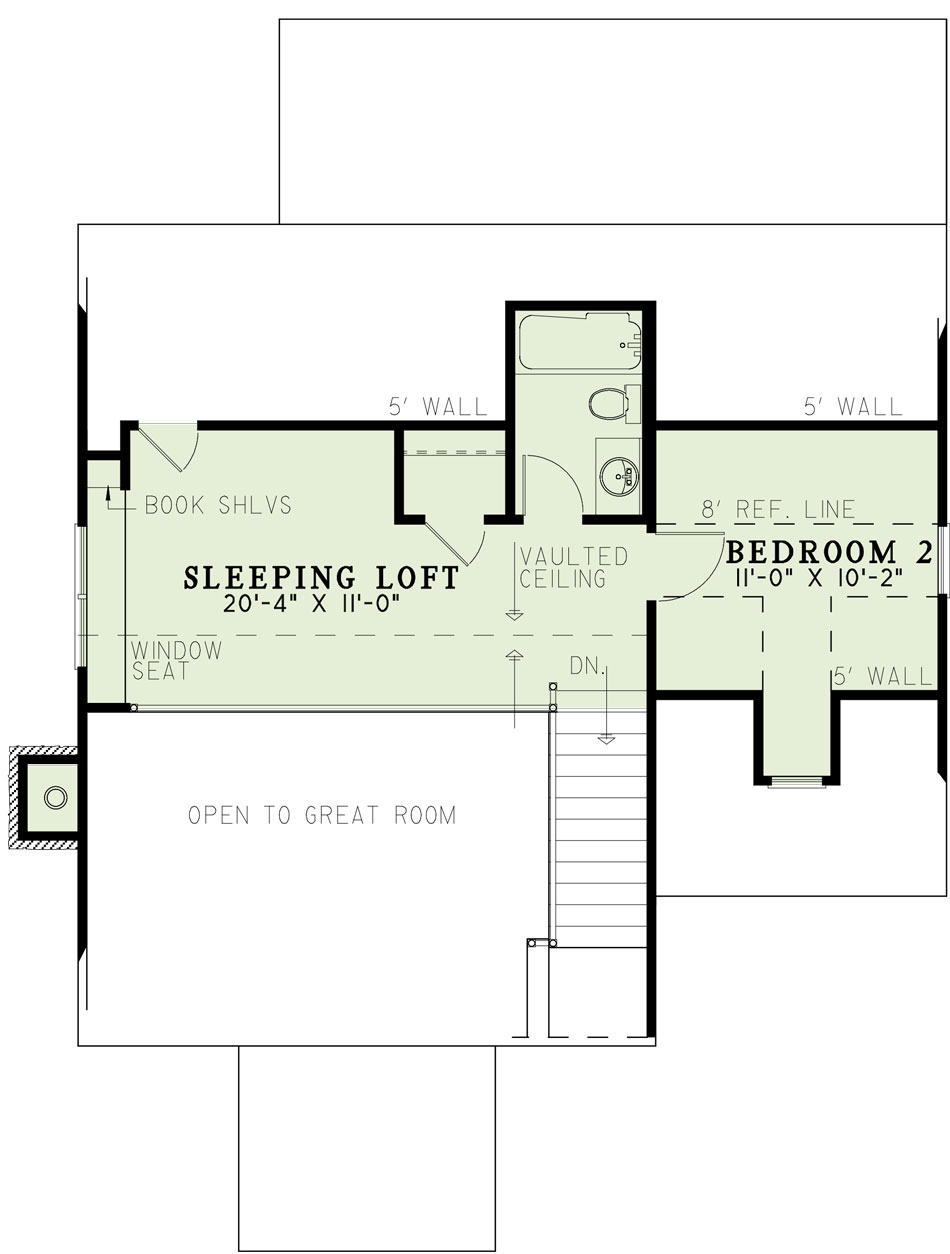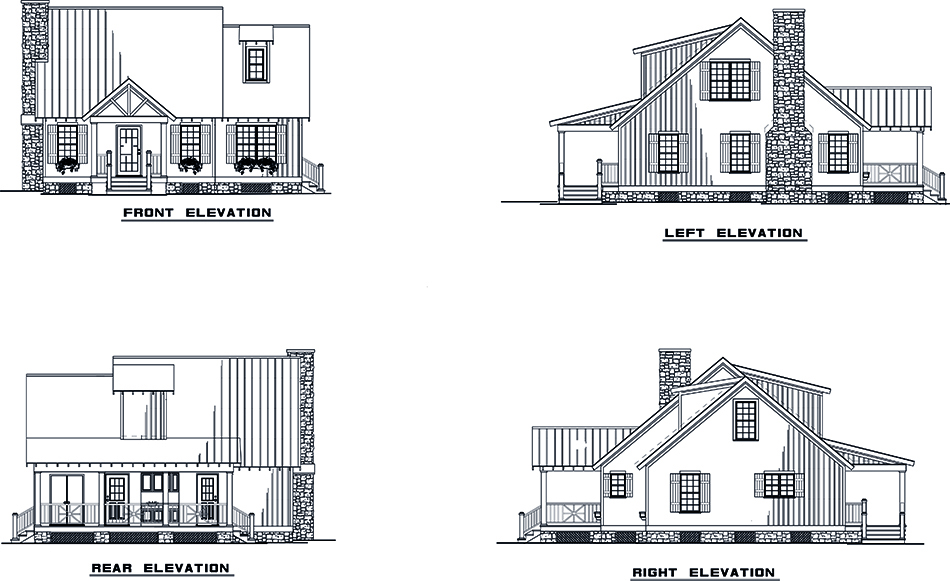 NDG 422
House Plan 422 Stone Brook, Riverbend House Plan
Plan Details
Plan Number:

NDG 422

Total Living Space:

1425Sq.Ft.

Bedrooms:

2

Full Baths:

2

Half Baths:

N/A

Garage:

No

Garage Type:

N/A

Carport:

N/A

Carport Type:

N/A

Stories:

1.5

Width Ft.:

36

Width In.:

2

Depth Ft.:

48

Depth In.:

N/A
Description
This rustic little beauty features 1,400 square feet of living space with 2 bedrooms and 2 full baths. As you come into the home from the covered front porch you find yourself in a large Great Room which features a stonework fireplace.
From the Great Room you can walk immediately into one of the bedrooms which has its own bathroom and access to the large Grilling Porch on the rear of the home. The Grilling Porch features a cleaning table with its own sink. These make this plan perfect for those who love to fish and hunt.
Moving from the Grilling Porch, you find your way in the Kitchen. The Kitchen features room for a pantry as well as for a small laundry area with a stacked washer and dryer. I had an apartment once that had the laundry area set up like that. It was incredibly convenient to be able to gather the laundry and throw it in and keep it running while I was cooking. (I spend a LOT of time cooking, FYI.)
The kitchen features lots of counter space with a bar area for seating 4. The Breakfast Room butts up against the Kitchen and has a lovely window seat giving you a place to sit and look out on your property out of three windows.
Moving upstairs, you find Bedroom number 2 with sloped ceilings. I used to have dreams as a kid of having a room with sloped ceilings. It just seemed so cool to me to be that close to the roof when it rained. This bedroom features a window that has its own dormer. Can you just imagine having a small writing desk there?
The second floor also features a sleeping loft/office area with built in bookshelves and window seat facing a large picture window. The Sleeping Loft is open to the Great Room below so even if you are working on something, you can still keep an eye on what's going on in the main portion of the house. This plan gives you plenty of windows to enjoy the beauty of the land around you.
Specifications
Total Living Space:

1425Sq.Ft.

Main Floor:

1016 Sq.Ft

Upper Floor (Sq.Ft.):

409 Sq.Ft.

Lower Floor (Sq.Ft.):

N/A

Bonus Room (Sq.Ft.):

N/A

Porch (Sq.Ft.):

315 Sq.Ft.

Garage (Sq.Ft.):

N/A

Total Square Feet:

1740 Sq.Ft.

Customizable:

Yes

Wall Construction:

2x4

Vaulted Ceiling Height:

Yes

Main Ceiling Height:

8

Upper Ceiling Height:

8

Lower Ceiling Height:

N/A

Roof Type:

Metal

Main Roof Pitch:

10:12

Porch Roof Pitch:

N/A

Roof Framing Description:

Stick

Designed Roof Load:

45lbs

Ridge Height (Ft.):

22

Ridge Height (In.):

0

Insulation Exterior:

R13

Insulation Floor Minimum:

R19

Insulation Ceiling Minimum:

R30

Lower Bonus Space (Sq.Ft.):

N/A