Building Your Dream Home: Site Prep and Grading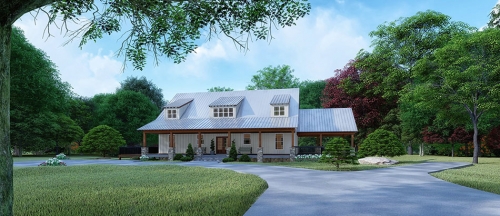 Building Your Dream Home: Site Prep and Grading
You found the perfect spot to put your dream home. You're ready to start building, but the site is covered in trees, tall grass and maybe a few old used tires. Well that's easy to fix, right? Whoa, put down the chainsaw Bruce Campbell. There are a few things we need to look at before we start hacking and slashing.
Image above is of one of our newest plans Blue Ridge Overlook (MEN 5051)
Site Preparation
Site preparation consists of clearing trees and other vegetation from the building site, doing some rough grading work to make it as level as possible and staking where you are planning to build your home to get ready for the foundation. While the ultimate goal of site prepping is to make it so you can put your foundation in, there's a lot to be done before you can start clearing the land.
Survey
The first thing you need to do is to ensure that you have had a survey done. A survey will give you a lot of useful information including where your property lines are. Something else a survey will tell you is whether you have any slopes or grades on your property.
House Plans
If you don't already have a house plan, you might want to get one now. Not all plans are created equal. Instead of going for a customized plan, some builders try to save money by getting stock plans online. These usually cost less because there wasn't any extra work put into the plan.
Image above is of one of our newest plans Blue Ridge Overlook (MEN 5051)
These generic plans may not be approved by your city and/or county/parish. And you have to have you plans approved or they won't give you a building permit. Instead of taking a risk with these stock plans, it is always best to contact a company like Nelson Design Group that can customize your plans towards the specific needs of your area.
Access
Now you will want to figure out how you're going to get to your home from the road. This will determine how you're going to face your home. You'll need to decide on where your driveway will be and how long and wide it is going to be. You'll also want to make sure that the access will accommodate very large, heavy construction vehicles. If you can have this level and smooth quickly then you will be able to switch over to a concrete access sooner which saves the contractor time and money.
Utilities
Armed with a plan, you can now start figuring out where you want your home to on your land. There are many variables to putting your plan in place on your land. One of those is utilities. If you are going to be on city water and sewer, you are going to have to plan to hook into it. The same goes for your electricity. If you are not able to hook up to the city water and sewer system, you are going to have to plan where to put in a well and septic system. You'll want to check the distances needed to run wire from the nearest utility pole. If the company needs to put a pole on your property, you can't build around it.
Zoning Regulations
When you're clearing a lot to build on, make sure you check with the zoning and building departments. Some areas may be zoned differently or be transitioning to a different kind of zoning. There is an area locally that was a purely residential zone for years and is now transitioning to a light industrial zone. If you try to build a home in a zone that is not residential, its illegal and they will issue fines. Save yourself some hassle and double check before you get started.
Easements
You'll also need to check with your county assessor's office to see if you have an easement on your property. An easement means someone else can use part of your property for something. Usually an easement is done by a utility company so that they can run poles or underground infrastructure with minimal interference. You usually can't build on an easement unless it is something small like a fence.
Setbacks
You'll also need to check with your city or county/parish's planning office to see if there is a setback. A property setback is a maintained buffer between property borders and permanent construction. They're used to maintain a feeling of openness and to prevent the spread of fires.
Before you stake out your home, you'll need to know how much distance is needed for a property setback. If there are setbacks, they'll be for all sides of your property and you'll have to make sure that all of them are accounted for.
Variances
Easements are rarely waived, but sometimes a setback can be. A variance is an officially approved exception to the zoning ordinances. If you want to build something that will violate the setbacks, you can apply for a variance with the planning office. The planning office will often consult your neighbors and they're approval might be a determining factor on the variance getting approved.
Now that you know how big your property is and how far from everything else you'll have to be, it's time to mark off where you're going to put it. If you are comfortable with blueprints and tape measurers, you can probably do this part yourself. Or you can get the surveyor or the builder out there to have it professionally done.
Rough Staking
Rough staking is going to accomplish several things:
It will help you finalize the layout of your home.

If you have to make changes to the house plan or you need it to be moved on the lot, this is the easiest time to do it. Remember the old adage "Measure twice. Cut once."? Totally applies here.

It will tell you what part of your plot needs to be cleared.

Clearing crews usually get paid by the hour. You don't want them to be out there any longer than necessary. So if you know exactly where they need to clear, you can make sure it gets done efficiently.

It helps you find trees you might want to keep.

Trees take a long time to mature to that nice shady size. You'll need to clear some trees, more than likely. You may not want to clear them all. If there is a particular tree you want to keep, rough staking gives you the ability to move your home around it.