Corporate Spotlight: DalTile
Corporate Spotlight: DalTile
Dal-Tile is the United States' largest manufacturer of ceramic and porcelain tiles. Between Dal-Tile and Mohawk Industries, their parent company, they make nearly 700 million square feet of floor coverings each year. It's amazing to think that this international leader in the production of tile started in a small hut in Dallas, Texas.

Dallas Ceramics Corporation
Robert and Juan Brittingham were born to a prominent family of cement and soap magnates that had been chased out of Mexico by Poncho Villa revolutionaries. By the 1940's the Brittingham brothers recognized that ceramic tile production in the United States for commercial use was woefully inadequate. They saw a golden opportunity.
Dal-Tile was founded in Dallas, Texas in 1947 by Robert M. Brittingham. Brittingham, a former all-star football player at UCLA, originally called the company the Dallas Ceramics Corporation. In 1955, Robert's brother, Juan R. Brittingham opened a plant in Monterrey, Mexico. This new plant in Mexico had easier access to the clay deposits needed to mass produce ceramic tile. Juan started the sister company, Ceramica Regiomontana.
That same year, the Dallas Ceramics Company opened its first Sales Service Center in Tampa, Florida. Each Sales Service Center consisted of a showroom, office space and a warehouse with space for inventory that was then sold. By 1977, the company opened its 50th Sales Service Center in Reno, Nevada. Ten years later they opened their 100th Sales Service Center in Daytona Beach, Florida.

Dal-Tile
In 1980, Dallas Ceramic Company changed its name to Dal-Tile Corporation. They also acquired Keystone Ridgway, a company that manufactured unglazed ceramic tile. Three years later, Dal-Tile purchased Edilgrass USA. Edilgrass was an exclusive producer of the 8"x8" size floor tile in their Conroe, Texas facility.
In 1990 the Brittingham brothers sold the company for $650 million cash. Between 1990 and 1995, Dal-Tile had manufacturing facilities in Texas, Pennsylvania and Mexico and 125 Sales Service Centers nationwide.
In 1994, the North American Free Trade Agreement (NAFTA) was signed into legislation. This agreement helped Dal-Tile boost sales. NAFTA ended a 19% tariff on goods produced in Mexico. This helped Dal-Tile because one of their major manufacturing facilities is located in Mexico. This meant an annual savings projected to be at least $10 million.
American Olean Tile Company
The American Olean Tile Company was founded in 1948 as a joint venture between American Encaustic Tiling Company and Olean Tile Company. In 1958, National Gypsum bought all three and merged them under the umbrella American Olean Tile Company as a subsidiary. It was sold to Armstrong World Industries in 1988 for about $330 million.
American Olean Tile Company mainly produced tile for independent distributors, though they did have about 60 company stores. The tiles they produced were mainly used in schools, hospitals, malls and offices.
In September 1995, American Olean Tile Company agreed to merge with Dal-Tile. At this time, American Olean Tile Company had 5 ceramic tile factories. American Olean Tile Company's parent company, Armstrong World Industries, became a significant shareholder and received 37% of the common stock.
HomeSource
In 1996, Dal-Tile introduced its new HomeSource line, which was a merger of their original style and the style of the American Olean Tile Company. These new product lines offered one of the industry's broadest product lines of colors, textures and finishes. It also included the industry's largest selection of trim and angle pieces.
At this time, Dal-Tile offered one of the most diverse lines of glazed floor and wall tiles, mosaic tile, porcelain tile, quarry tile, stone products, etc. The HomeSource label was aimed at the "do it yourself" buyer.
At the end of 1996, Dal-Tile's largest manufacturing facility was the one in Monterrey, Mexico. This original location, founded by Juan Brittingham in 1955, attributed about 45% of the manufacturing done for the company. In 1999, Dal-Tile unveils its Natural Stone Collection. This collection became a staple to the company. That same year they also opened the first Tile and Stone Gallery in Dallas, Texas.
Mohawk Industries
With a long and illustrious history, Mohawk Industries was no stranger to diversifying. The company was founded in 1878 by four brothers from the Shuttleworth family. The company operated one carpet mill in upstate New York by the Hudson River. They didn't actually incorporate the company until 1902 when they named it the Shuttleworth Brothers Company.
By 1920, they had bought a second company to form Mohawk Carpet Mills, Inc. This allowed Mohawk to become the only carpet mill with a full line of domestic carpets. After branching off into the furniture industry, they hit their stride in the mid 1950's. They were described as the "GM of the living room". In 2002, Mohawk Industries acquired Dal-Tile Corporation.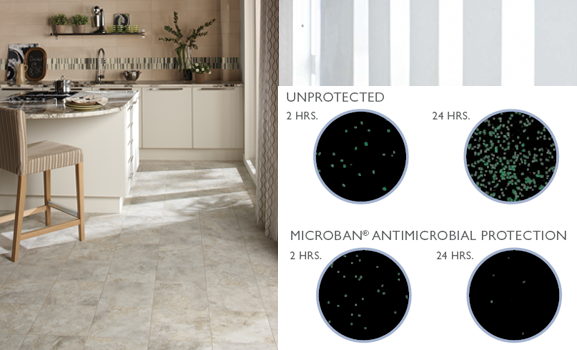 New Partnerships
In 2003, Dal-Tile opened its newest glazed porcelain manufacturing plant in Muskogee, Oklahoma. Dal-Tile reached a new market in 2007 with its Exterior Collection. This collection included Color Body Porcelain Stone Pavers and more. In 2009, Dal-Tile launched its Manufactured Stone Collection and partnerships with Microban and Dupont. Microban antimicrobial tech becomes a key component in some of the product lines. The antimicrobial is infused in the glaze of the ceramic during the manufacturing process. This allows the technology to work continuously for long lasting protection and keeps the surface of the tile cleaner for longer.
The Marazzi Group
In 2013, Mohawk Industries, Dal-Tile's parent company, acquired the Marazzi Group. The Marazzi Group is a global leader in ceramic tile. The Italian-based company has world-wide recognition for its Marazzi and Ragno brands. All of Marazzi's United States based operations were integrated into Dal-Tile.
The Marazzi Group was founded in 1935 near Modena, Italy. The first production plant, built by founder Filippo Marazzi used two rows of parallel polar trees to support the outer walls. This gave the plant the nickname "Cardboard Factory". The first Marazzi plant in the United States was in Dallas, Texas. It opened in October of 1982.
New Expansions
One year later, Dal-Tile opened a Design Studio in San Francisco, California. In 2016, Dal-Tile expanded into its newest facility in Dickson, Tennessee. Dal-Tile currently operates 11 manufacturing facilities in North America, 5 regional distribution centers and over 250 Sales Service Centers in the United States, Canada and Puerto Rico.
The Mechanics of Ceramics
Ceramic tile starts out as clay. This clay is mixed with other things such as sand, feldspar, quartz and water. This mixture is ground together and then dried until only about 6% of the moisture remains.
Now this mixture is essentially dust. The commercial process for making ceramic tile is called dust pressing, a simple name for a deceptively simple process. The dust is put into a mold and then pressed by machinery. This pressure is what gives the tile its strength and durability.
This newly pressed tile is then dried out again. Now we want to remove all traces of moisture. The next step is not always necessary but it does enhance the beauty of the piece. A glaze can be applied to the tile to give it more color or depth.
After that the tile is baked in a kiln. Industrial style kilns are specially fitted with a conveyor belt or roller system. This allows many tiles to be fired at once and for production to maintain a continuous pace.
Dal-Tile Products
There are simply too many Dal-Tile products to describe in one blog post. Dal-Tile is the industry leader in tile production. They provide tiles for both the residential consumer and for the commercial consumer. Innovative and stylish they have many beautiful pieces to choose from, each one a separate work of art.
I'm only going to talk about three of the types of products they produce. I found it unusual that they made roofing tiles. I always wondered where the European style homes in the U. S. acquired their distinctive clay roofing tiles. Roof tiles are typically hung from the framework of a roof with nails. They are often hung overlapping the row below it to make a tight weatherproof seal against wind and rain.
Our Windover Place plan is a beautiful home to use this type of roofing with. Windover place has a traditional European vibe and is perfect for a tiled roof. The mixture of stone, brick and shake siding with its wood shutters give this plan amazing curb appeal. This home has 4 bedrooms, 4 baths and over 4,000 square feet of living space. It includes a walkout basement and a 3 car garage.
Dal-Tile offers "wood" flooring that is absolutely beautiful. Since it is tile, it won't be subject to the same problems that actual wood flooring would be. You wouldn't have to worry about moisture because tile is incredibly durable. You wouldn't have to worry about having to replace it eventually. As some of the villas in Italy can attest, tile can last for a very long time. This would be a great investment for those families that have small children or pets.
And our Washington Cove plan is a perfect example of where to use it. The open floor plan in this home gives you nearly the entire first floor devoted to space for your family. The Living Room and the Kitchen are both large and flow together seamlessly. A beautiful pattern of wood flooring would give this incredible room the elegance it deserves and the durability it needs. This home also includes 3 bedrooms and 2 full baths. There is over 2,000 square feet of room for you and your family to grow. This lovely home is the perfect mixture of new and traditional and is sure to make you fall in love with it. Of course, tile would also look great on the massive fireplace in the living room.
Dal-Tile offers over 900 products designed to be used in a bathroom space. And they are all simply beautiful. Anyone who has ever redone a bathroom knows that putting tile in is the best decision you can make. Tile is perfect for the bathroom. It's waterproof, durable, and comes in every color and pattern you can imagine.
And the perfect bathroom to use Dal-Tile in is a large master bath with a freestanding tub, such as our Highfield Manor plan. This luxurious European style home gives you plenty of places to showcase tile. The master bath is just one of them. This huge bathroom with his and her sinks and its freestanding tub would look absolutely gorgeous with tilework on both the floor and the walls. Anything less would just not be perfect. This home also includes 4 additional bedrooms, 5 more bathrooms and over 6,000 square feet of living space. The home features a grand staircase, formal dining room and a library.
For over 70 years Dal-Tile has been the best manufacturer of ceramic tile in the United States. From incredibly humble beginnings they have grown to become one of greatest producers of tile products in the world. If you are looking for tile to complete your home project, give Dal-Tile a glance.