Going Back to Our Roots: Farmhouses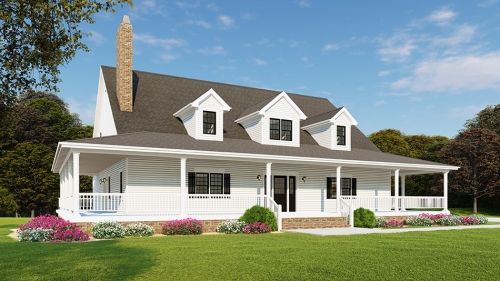 Going Back to Our Roots: Farmhouses
One of the newest trends to sweep the nation is a return to the farmhouse style. Popular shows like Fixer Upper and Pioneer Woman have made the rural style fresh and new again. So what makes up that style? Where did it come from? And how can I have my house look as good as theirs?
What defines a farmhouse?
A farmhouse is not one particular style, but rather a home in a rural setting. The modern farmhouse is homage to our rural roots. The elements of a farmhouse are simple. They are well crafted homes with plenty of space for all of the activities a family would enjoy. These sturdy homes reflected the needs of the agricultural lifestyle and the hub of the home was almost always the kitchen.
The farmhouse style is characterized by a covered front porch, large windows and an exterior that is painted white. It's a mixture of many different styles from our agricultural roots.
History of the Farmhouse
The farmhouse style originated on the farms of Europe. In Germany and Scandinavia, the homes were built to be close to the fields and livestock. Sometimes, they were built a little too close to the livestock. The Housebarn was a style of home that was actually a combined living space for both the animals and their bipedal caretakers.
Coming to America
This idea was brought to the United States in the 1700's. The early American farmhouses were built purely for function rather than style. Since the homes were built entirely by hand, the designs were simple and straightforward. Often the early farmhouses only had two rooms. One was for cooking, eating and doing work and the other for sleeping. Obviously as families grew larger and farms became more prosperous, these homes grew with them.
The farmhouse design is more of a conceptual style, rather than any hard definition. Most often early farmhouses were designed by the farmer or someone who was not a professional architect. Therefore, the designs were simple and based entirely on what the particular homeowner needed. There were often built out of cheaper, easy to source materials such as wood with a plain whitewash to protect them from the elements.(Thanks to Wikipedia for the information.)
Farmer's Journals
In the early to mid-1800's a new type of periodical emerged, the farmer's journal. This gave rural communities a way to reach their brethren from across the country. These journals encouraged their readers to send in their house plans.
You began to see a change over the years as more plans were sent in to these journals. Homes that were once only a few rooms were quickly becoming designs that included many rooms. These rooms also went from multi-use and communal to specialized and individual depending on what was needed for the home. (Want to learn more? Find this information here.)
Kit Houses
By the early 1900's farmhouses were being built from kits. These kit houses were incredibly popular from the early 1900's to just after the great depression. They were sold by several companies in the United States and Canada, such as Sears Roebuck, and featured precut, numbered boards to be nailed into place.
Whitewash
One of the core design elements for a farmhouse is its distinctive white paint. This is a carryover from the days of farmhouses being built with cheap lumber as quickly as possible. Whitewash was the quintessential paint of the time. A mixture of powdered lime and water, it was cheap and easy to make. It was also easy to use.
Remember that part of Tom Sawyer where Tom is being punished and has to whitewash the fence? While that is just fiction it does let us know that whitewash is, literally, so easy to use that a child can do it.
Whitewash also had antibacterial and antimicrobial properties. It prevented mold and mildew and kept bugs away. It was incredibly useful on a farm with lots of animals and insects.
Modern Conveniences
In the 1930's, electricity and running water became increasingly available to the agricultural community. This allowed improvements to the inside of the home including indoor bathrooms and more modern appliances.
By the 1940's nearly every rural home had electricity, running water and a radio. The radio was incredibly important to the rural community. It gave them access to news and entertainment daily. It allowed them to keep in touch with the world more easily than newspapers.
Modern Farmhouses
The core of a farmhouse design hasn't changed much from the years of our agricultural roots. The elements include a covered front or wraparound porch, white paint, dormer windows and symmetrical placement of doors and windows in the front of the home.
One of the things that make a home immediately recognizable as a farmhouse design is a covered porch. Many modern farmhouses feature a covered front porch or a wraparound front porch.
Another part of the design that makes it stand out is the traditional white paint. This paint job gives the farmhouse a crisp clean appearance and instantly makes you think of rolling fields full of planted crops.
Another key to evoking the farmhouse vibe is to have dormer windows. What exactly is a dormer window? A dormer window is a window that projects out from a sloping roof. This type of window evokes a sense of timeless elegance.
The last element of a farmhouse design is the symmetrical placement of doors and windows in the front of the home. This means that the doors and windows are all equally placed that that they match on each side of the front of the home.
New Popularity
Thanks to shows like Fixer Upper and Pioneer Woman the farmhouse style is making an amazing comeback. This newfound popularity, I believe, is brought on by a growing desire to return to the simpler life. Who wouldn't want to relax on a covered front porch sipping a cold glass of sweet tea? Or want large windows that open to allow in a warm spring breeze?
The porch isn't the only appealing quality of a modern farmhouse. The iconic white paint of a traditional farmhouse will make your home stand out in the neighborhood. Most homes today have an abundance of stone and brick, but the traditional look of the white boards overlapping one another will give your home grand curb appeal, something everyone is looking for nowadays.
Dormer windows give your home that distinctive roof line that evokes a feeling of nostalgia. This will make people take a second look at your home and appreciate its clean lines and simple design.
The modern farmhouse may seem to be simple on the outside but inside can have a host of details to give it a sophisticated feel. A claw foot tub in the bathroom, an oversized sink in the kitchen, a sliding barn door leading to an office; all of these give a modern farmhouse a feeling of luxury and refinement while staying true to their rural roots.
Making It Your Own
Recently a couple commissioned a new farmhouse to be built in Tennessee. Instead of the traditional whitewash style paint job, they decided to go with a much bolder color: black. It was a bold choice and made them very popular on social media when the pictures emerged. I think it looks absolutely gorgeous.
The modern farmhouse doesn't have to follow all of the rules, the traditional ones certainly didn't. They borrowed from any style that appealed to them. Remember, farmhouses started as simple two to three room homes. They evolved as the times changed and, I believe, that they will continue to.
The best thing about a farmhouse style home is that in its simplicity and elegance it gives you many opportunities to take risks. Just like the couple above, their home is most definitely a farmhouse, but it is one like we have not seen before. The style of the home is simple giving them a good deal of leeway for creativity.
Your Farmhouse Style
If you are building a new home, I would like to encourage you to look at some of our plans for farmhouse style homes.
Whispering Pines
This stunning example of a farmhouse has a wraparound porch and beautiful dormer windows. With three bedrooms and two and a half baths this home has plenty of room for a family to grow. When you first step in the door you walk through the foyer and into the great room with a large fireplace.
The first floor features a massive kitchen with space for dining that is sure to be a winner for anyone who loves to entertain. The large master suite gives one plenty of room to relax from a long day. The second floor features two bedrooms, a bathroom with Jack and Jill sinks and a large bonus space. The second floor also has a large space for a home theater.
Broken Arrow Farms
This gorgeous farmhouse has all the things a growing family will ever need. The wraparound porch opens to the great room and the staircase to the second floor. The master suite dominates the west side of the home with large walk in closets and a master bath with a free standing tub.
From the great room you move past a half wall and into the kitchen with two built in pantries. The second larger pantry is covered by a sliding barn door. A large dining room finishes off the kitchen area giving the home plenty of room for entertaining.
The first floor also includes a large laundry room, optional office space and two bedrooms each with their own bathrooms. The 3 car garage connects directly to the mudroom giving you a place to store your coats and shoes. The second floor includes the fourth bedroom, its adjoining bathroom and its own sitting room with sliding barn doors for privacy.
Mill Creek Farms
This beautiful farmhouse gives you tons of curb appeal and room to grow. The covered porch leads directly into the foyer which opens up into the dining room and kitchen. Off the kitchen is the breakfast room, perfect for breakfast, lunch or just dinner with the family.
The kitchen is dominated by an island with bar seating and plenty of counter space. The large master suite with its master bath, Jack and Jill sinks, freestanding tub, and glass shower can be entered from the foyer.
At the rear of the home you have a huge great room with vaulted ceilings and a gas fireplace. On the second floor you will find three additional bedrooms and one bath.
Barnwood Manor
This unique home is sure to win your heart. High ceilings dominate the home and plenty of natural light flow in from the abundance of windows. This plan features a wraparound porch in the rear of the home, as well as a screened porch for those summer nights when you just don't want to have to deal with the bugs.
When you enter the home from the front entryway, you immediately notice the dual stair cases on either side leading to the second floor. Below each of the stairways is an entrance to a room, an office and a large closet.
The room immediate opens up to an open floor plan with a great room, kitchen and breakfast nook. This home also includes a large pantry in the kitchen as well as a half bath placed near the great room.
The master suite takes up the back portion of the first floor with its large walk in closet and glass fireplace. The second floor features three balconies overlooking the great room below and two bedrooms that share a connecting bathroom with Jack and Jill sinks.
If you are renovating your home and would like to give it farmhouse flair, here are some things that you can do.
Repurpose old furniture. You can take an old dresser and make it into a TV stand, or an old chest and make it into a coffee table. Just take what you have and have fun with it.
Painted Surfaces. Farmhouse style lends itself to repainting tables with pastels and whites. You can also paint bookshelves shades that contrast to the paint colors in the rest of your home.
Whitewash your home. Maybe not literally with whitewash, but white or ivory colored paint will make your rooms feel brighter and more open.
Mix it up. Don't try to match everything too closely. You want it to have a little randomness thrown in. Remember, the look you are going for is something that looks like it evolved naturally.
Also, don't forget that Nelson Design Group can help with your renovation. We do custom work and customize any of the plans on our website. We would love to hear from you.