Back to the Basics: Farmhouse Style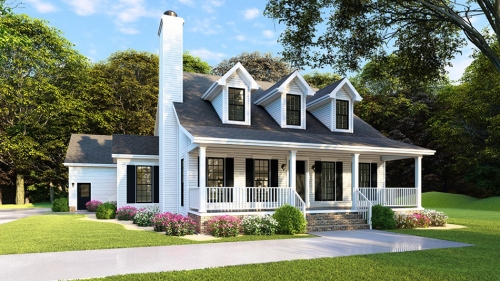 Back to the Basics: Farmhouse Style
We all love Farmhouse Style. Those wide covered porches and white rooms with the comfortable and inviting décor. That open, airy kitchen filled with color and laughter. The luxurious claw footed bathtub where you can just soak for hours to relax. We all want to have those in our home. So how do we make this rural dream a reality no matter where we live?
What makes a home have that Farmhouse Style? Is it a formula that you can follow and give your home that look instantly? Is it something that can be bought at your local big box retailer?
Not really. The thing that makes the Farmhouse Style so popular is the flexibility. This style doesn't have any set rules. You can pretty much do whatever you like.
Farmhouse Style and design is elegant, but comfortable. There are some elements that you can follow to give it that distinctive look. Most of all this style is organic. Everything should look like it just kind of lives there.
White Interior Walls
One of the most distinctive looks of farmhouse interior design is the white interior walls. This came from the tradition of white washing. Whitewashing was an easy way to guard against bugs, germs and dirt.
As a result the only color that walls were painted for a long time was white. This color gives you a gorgeous blank canvas. White walls are easy to decorate against, and if the architecture of the home naturally lends itself to that, then so much better.
Our Gilliam Acres plan is the perfect home to have this sort of décor. This classic Farmhouse is just waiting to have those white walls and the earthy rugs over wood flooring. This home features 4 bedrooms including a master suite and master bath. It also has a large laundry room, space for a mudroom, dining room, great room with fireplace and a kitchen perfect for entertaining.
This entry way idea is perfect for the Farmhouse Style. That welcoming sign against the white boards is a perfect way to welcome someone into your farmhouse. (Thanks to trendcrafts.com for the image.)
Wood flooring
Another spectacular element of the farmhouse design is the wood flooring. Traditionally homes were built with wood flooring as a much preferred alternative to a dirt floor.
The color of the wood varies, but the older a home is, the darker the wood in the flooring tends to be. Again this makes a great backdrop for designs. Many Farmhouse Style plans have this element included in the plan itself.
Our New Haven Place plan is a work of beauty. This 3 bedroom home features a magnificent open floor plan that blends the kitchen and great room together into one large space. This type of area would be perfect for wood flooring that is so reminiscent of the Farmhouse Style. This home also includes a study, built in pantry and space for a mudroom.
Our corporate partner, Bingham Lumber is a great place to get some of the most beautiful wood flooring you will ever see. Bingham Lumber has been in business for over 70 years and are proud to offer high quality, durable materials for your flooring and lumber needs.
Any of their products would be perfect in a Farmhouse Style home, but here is one of their products that I just love. The classic Red Oak wide plank flooring will go with just about any Farmhouse Style decor and look amazing with it.
Open Shelving
Open Shelving is one of the classing earmarks that you have the Farmhouse Style. Historically, farmhouses were built mainly for function with little thought to style. Shelves were for storing items. There were other pieces of furniture for displaying things.
This utilitarian approach gives plenty of room to both store and display items. Traditionally these shelves were painted with the ubiquitous whitewash, but today's farmhouse look can embrace more color.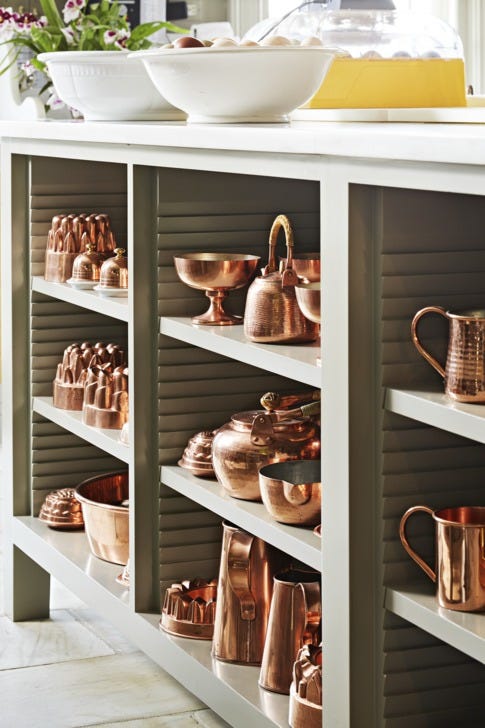 In this gorgeous home, the owner has taken the doors off the cabinets below the bar and opened them up. It's a great way to not only store the cookware but also a let us see how beautiful these copper pieces are. (Thanks to countryliving.com for the picture.)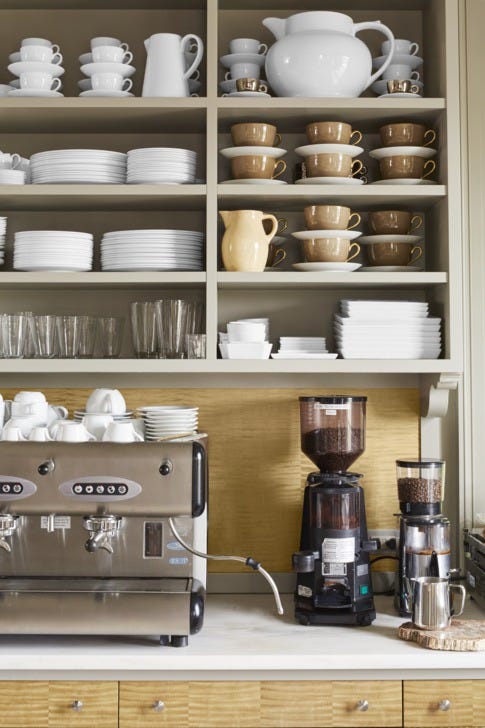 Here's another example of taking boring cabinets and creating display pieces. Why should you have to put up new shelves when all you need to do is repurpose some old cabinets? This homeowner not only took the doors and hardware off the cabinets but also added a scroll work bracket to give the illusion of a shelving unit. Painted to match the counter tops and walls, this makes a perfect display for the crisp white of the dishes. (Thanks to countryliving.com for the picture.)
Free Standing Storage
Historically farmhouses did not have closets or space for recessed storage areas. Instead they used free standing storage. Free standing storage such as wardrobes, buffets and china cabinets were used frequently to store everything from dishes and linens to shoes and clothes.
This type of free standing storage is still a great way to hide the everyday clutter. Open floor plans are great place to use these.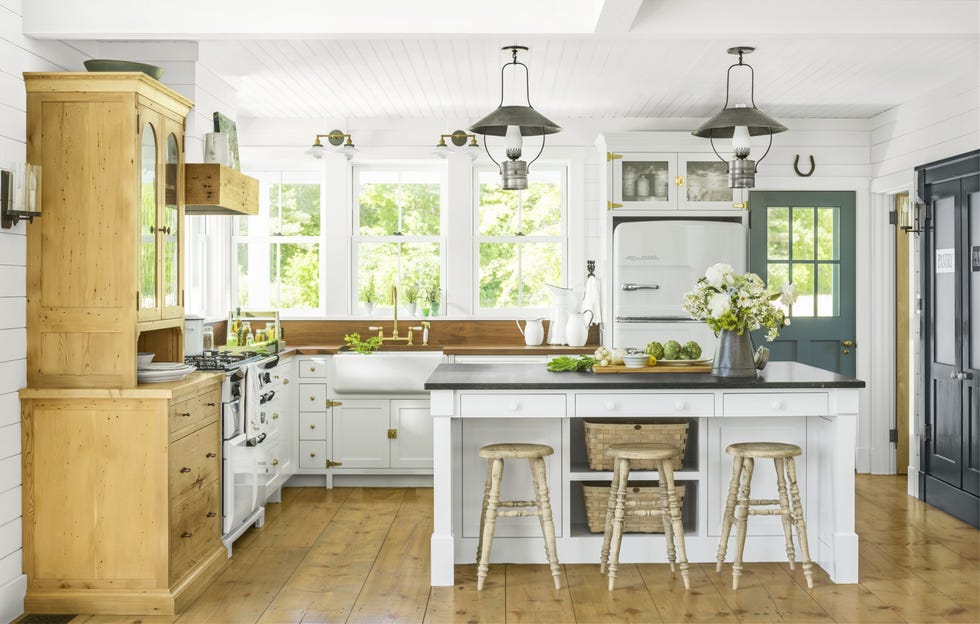 In this kitchen, a classic china cabinet is placed in a farmhouse kitchen. The contrast of the wood grain and the white painted surfaces make this room absolutely gorgeous. Just like in the days before they had a great deal of cabinet space. This free standing china cabinet is a welcome edition and a great way to organize and store your dishes. With the glass front on the upper cabinets, it's also a great way to display your dishes. (Thanks to countryliving.com for the picture.)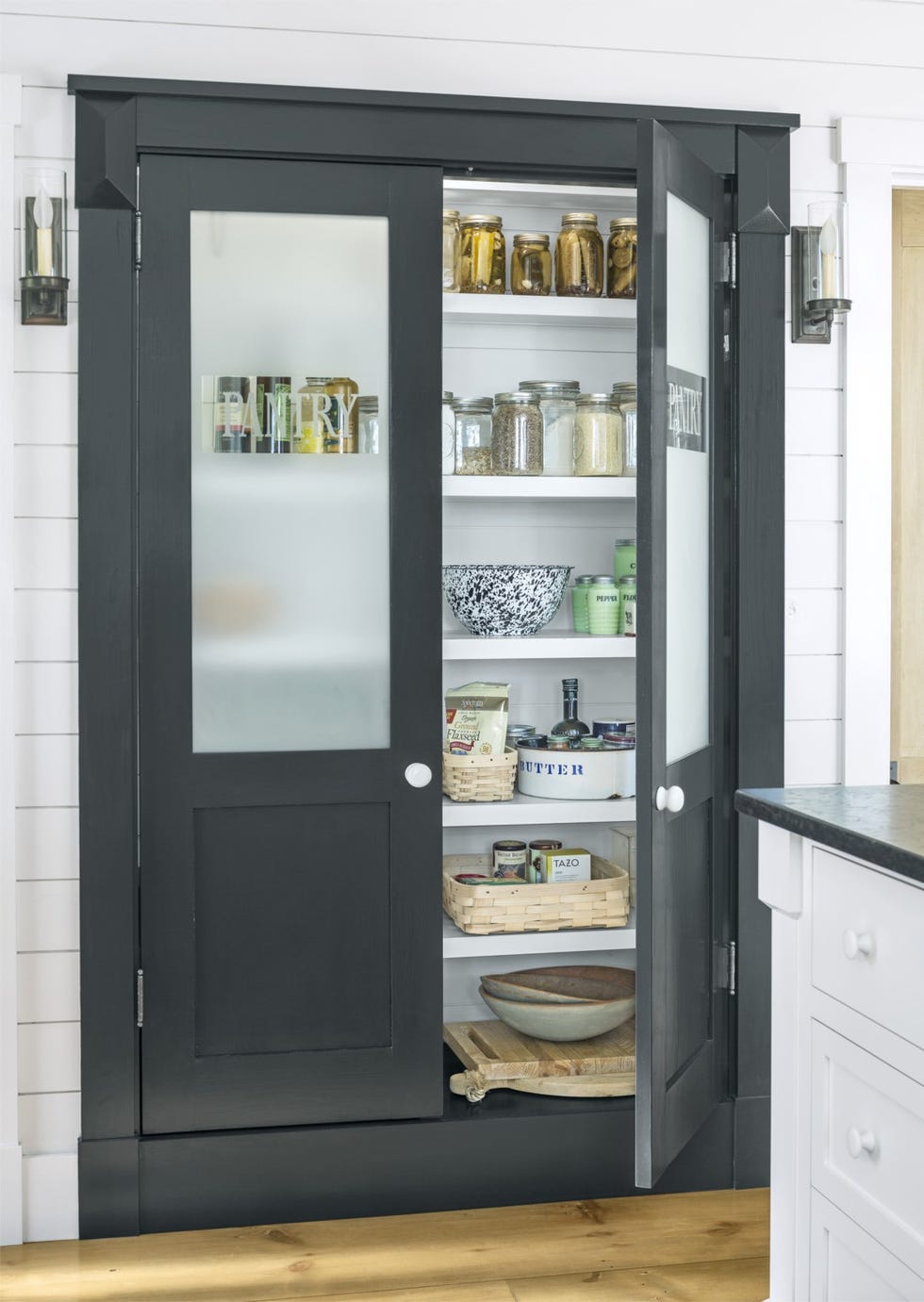 Another great idea is to make a piece of built in furniture look like its free standing. That's easy to do with a coat of contrasting paint color. Like this built in pantry painted in a graphite blue grey in this white kitchen. You can tell that they pulled the color because it matched the countertops.(Thanks to countryliving.com for the picture.)
Open Kitchen
When you think of a farmhouse kitchen, you probably envision something bright with lots of room. And that's exactly the concept you should be going for. Lots of light, open floor plans and plenty of counter space to prepare elaborate meals.
One thing to keep in mind with the Farmhouse Style is to make sure you leave plenty of space for entertaining. You want the space to feel welcoming.
Our Corbin Manor plan has the perfect kitchen for the Farmhouse Style. Featuring an open floor plan that allows the kitchen to flow seamlessly into the great room, all this home needs for that Farmhouse Style is a little paint and some accessories. This home also has a large master suite and master bath and two additional bedrooms that share a hall bathroom. That's just the first floor! The second floor, accessible by a spiral staircase gives you bedroom number 4 and space for bedroom number 5 as well as a secondary living area and media/game room.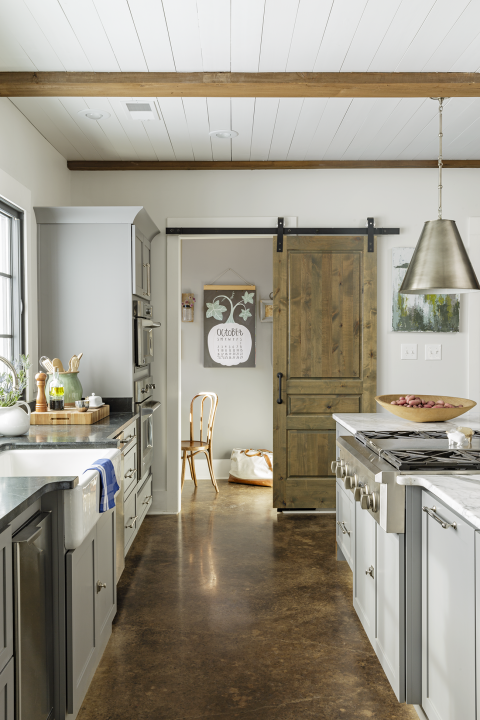 This gorgeous open kitchen design with its grey cabinetry and stainless steel fixtures is a great example of an open and airy kitchen space. The farmer's sink is a perfect addition to this room. The sliding barn door is a great piece in this room as it matches the exposed beams in the ceiling area. This room also shows that it doesn't take much to make a room have that Farmhouse Style vibe. (Thanks to countryliving.com for the picture.)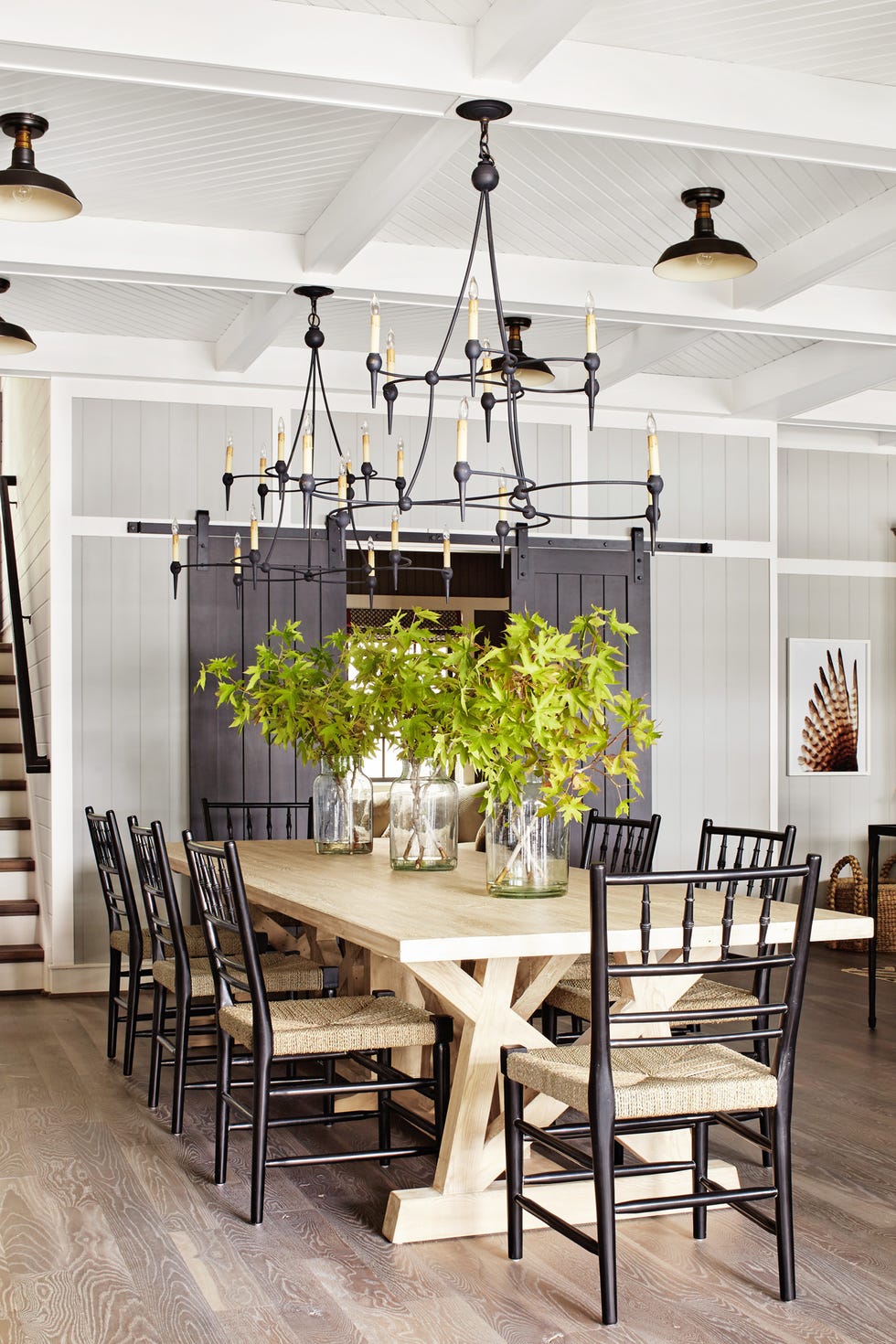 If you have a large kitchen or a dining room, just like in our Corbin Manor plan, a rustic table and chairs combo is a beautiful addition. In this stunning room, we have the classic white wash of the walls, wood flooring and this perfect table and chair combination. The light coloring of the wood and the painted backs of the chairs give this room a juxtaposition that is continued with the banister of the stairs, the lighting fixtures and the dark barn-style doors. (Thanks to countryliving.com for the picture.)
When you are doing a kitchen in the Farmhouse Style, one thing to consider is the back splash. It needs to be something that will complement the look, but if you can make it stand out, that's even better. Dal-Tile is one of the United States foremost leaders in tile. They have everything you could ever dream of.
I went and looked on their website and found this gorgeous tilework and immediately thought of a bright, airy farmhouse kitchen. The warm cream of the tile contrasts with the crisp white paint on the countertops and gives the look of depth.
Painted Surfaces
Another style element that screams Farmhouse Style is the use of painted tables and chairs. Here is another opportunity to make this style your own. These pieces could be in any room of the home and could be any color, though pastel is traditional. Whole dining room sets or just a single chair in the bedroom; it's all up to you.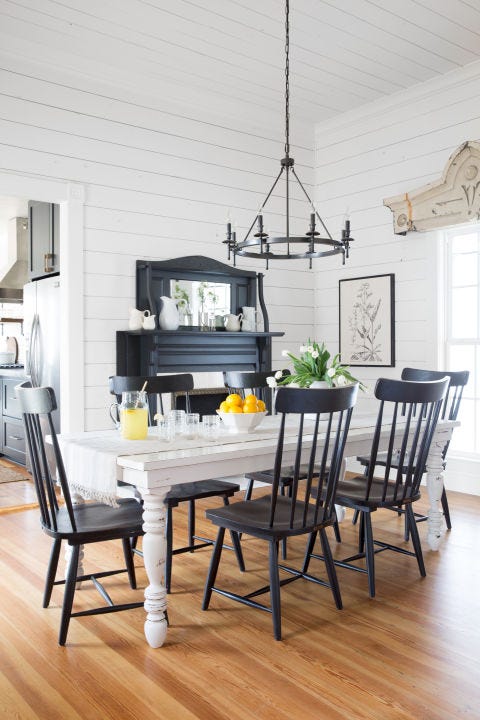 Joanna Gaines is a name that anyone who wants that Farmhouse Style knows very well. In the dining room of her Magnolia Homes B&B she puts the element of painted surfaces to gorgeous use. Pairing a large farmhouse table painted white with understated dining chairs painted a glossy black to match the mantle, this room is a stunning example of how to do a Farmhouse Style. (Thanks to countryliving.com for the picture.)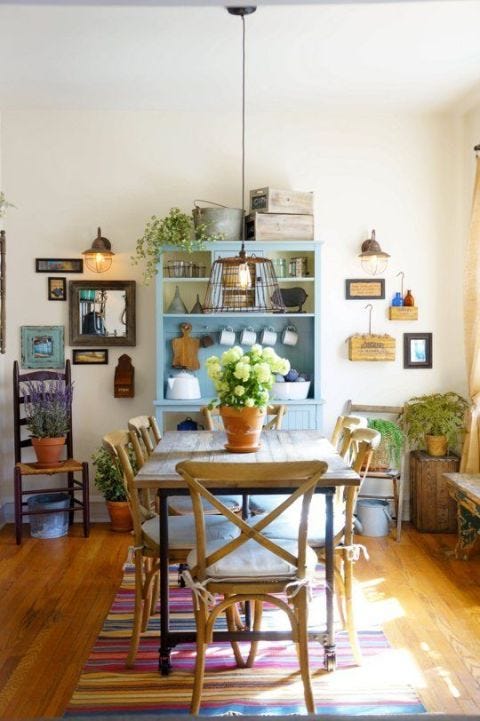 This china cabinet painted a bright robin's egg blue catches your attention as soon as you enter the room. This is a perfect example of using something that you probably already had lying around or that you could find pretty inexpensively and making it into a conversation starter. (Thanks to countryliving.com for the picture.)
Free standing tubs
Historically, the farmhouse was the staple home in the agricultural driven United States during the mid to late 1800's. When the homes were at the height of their popularity, indoor plumbing was becoming more and more accessible. Thanks to this bathrooms were being included in homes.
The most popular style of bathtub was the free standing tub. The picture a claw footed free standing tub is synonymous with the rural farmhouse. Now you can have that same look and feel with a bathroom with a free standing tub.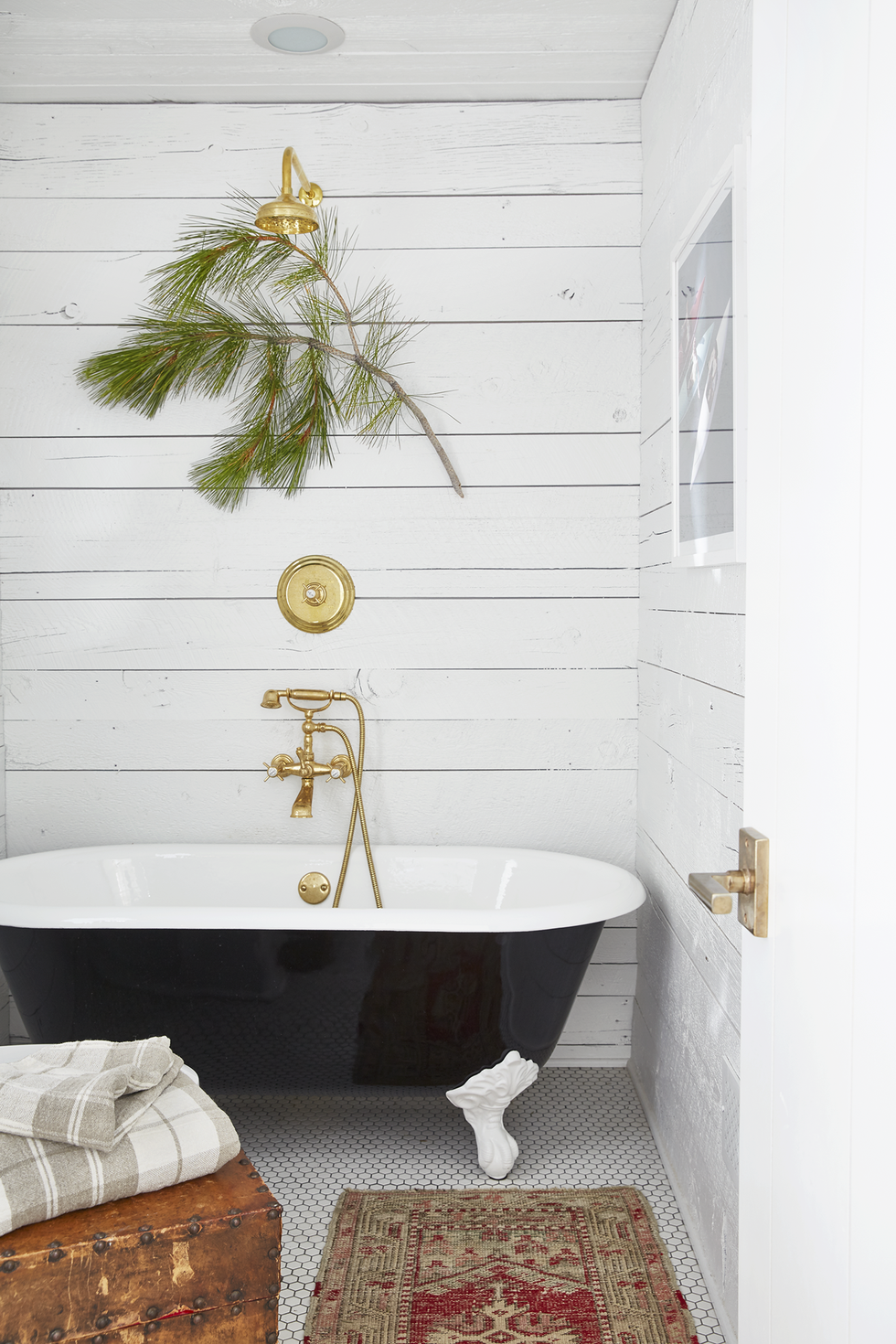 This stunning bathroom with its simple white walls and simple tile pattern are elevated to a whole new level with the brass fixtures and glossy, black free standing tub. This room looks like you are stepping back in time to a luxury hotel in the late 1800's. (Thanks to countryliving.com for the picture.)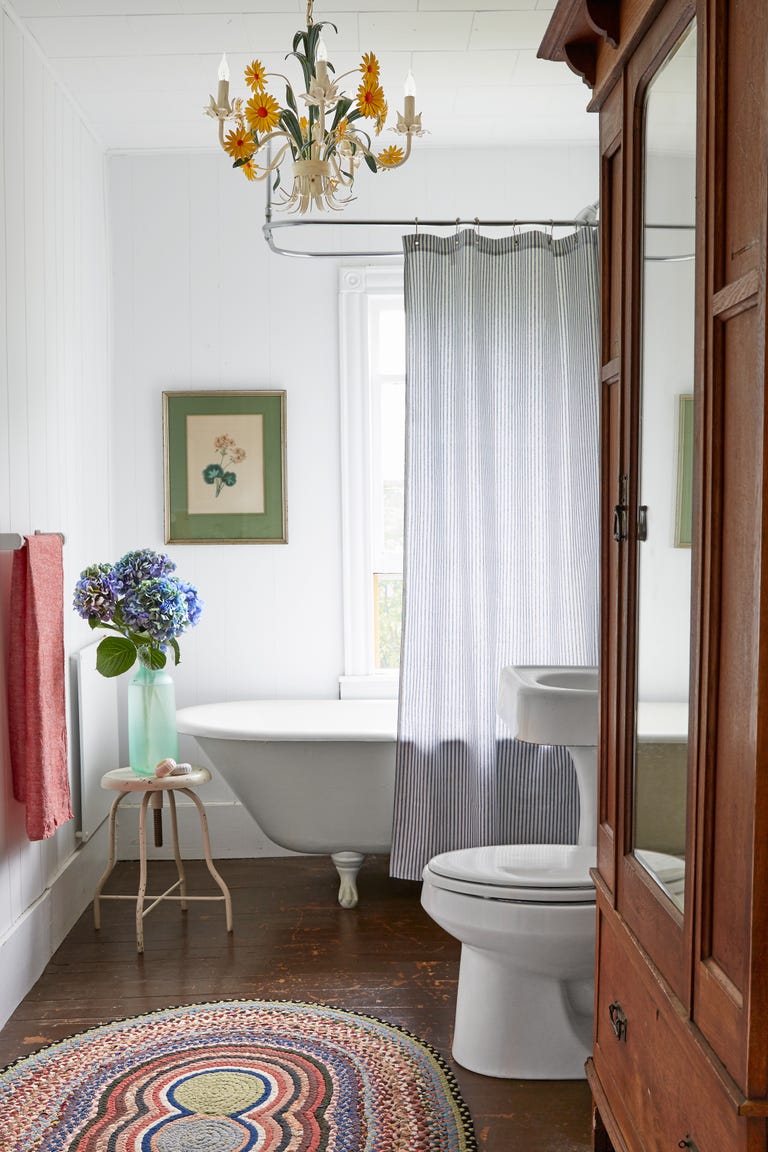 Classic and understated, this farmhouse bathroom is function with style. The free standing tub and the pedestal sink give it an old world feel. The light blue curtain and the pops of color from the rug and the painted stool keep it from appearing sterile. (Thanks to countryliving.com for the picture.)
When you are looking for tile for the bathroom, look no further than Da-Tile. They have many different styles and options for you to choose from. I found this example and just fell in love with it. The white makes you feel like you can relax and enjoy a nice long soak in this free standing tub. With a colorful curtain or rug this tile would be absolutely beautiful in a Farmhouse Style home.
Remember the Farmhouse Style doesn't follow a rigorous formula. It is flowing and organic and highly personal. Antiques can be displayed right next to modern appliances. The colors and textures should be neutral and soft, but if that bright green lamp appeals to you, by all means, put it by the couch. This is your kingdom. Make it yours.