Outdoor Cleaning: A Springtime Spruce Up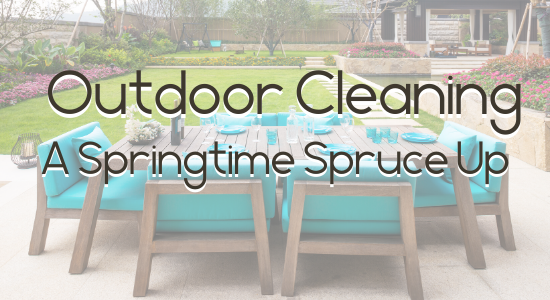 Outdoor Cleaning: A Springtime Spruce Up
It's been nothing but wet and gray for weeks here. Not only is this the first sunny day in a hot minute; it's also warming up to a toasty 80 degrees. I know we are still social distancing and isolating. If you're looking for a good excuse to sit outside or keep busy, now is the time to plan your outdoor cleaning!
Yeah, I get spring cleaning and outdoor chores aren't the way we planned to kick off the changing season. But there is a certain satisfaction to working with your hands and knowing your home is clean. In light of that, I've got a great set of starting places to keep you busy and in the fresh air for a few days. I like to start with smaller tasks as a warm-up to the heavy jobs, but you tackle your list in whatever order you prefer.
Survey The Grounds
Take your time walking around your home and property. Along the way, you can pick up any stray branches and yard debris. Make sure to look at your windows and gutters. There's no rush during a quarantine and a little outdoor work will be a pleasant distraction. Now is a great time to check on sheds and workshops, too. As you stroll about and soak up the rays, try to look for any unexpected pooling water. Check the upper corners or your carport or garage for cobwebs and nests. Lastly, don't forget to look at the exterior of your home. Look for any possible damage or gaps in your bricks and siding! After you've reviewed your home and cleared your head with the breeze, you can make your outdoor spring-cleaning plan.

Just really get in there and check things out
Trashcans and Clutter
Trashcans are way too often neglected. I'm horribly guilty of this. Summer flies and other pests are going to center on your trashcans as is. Keeping them relatively clean will help avoid attracting them. Break out the hose and some basic dish soap. If your trashcan grime is particularly intense, let it soak for a bit before hosing it out.

Bad idea. This is just a raccoon buffet.
Don't forget to give the outside a good scrub, too! Those small spills and chunks that somehow end up everywhere are part of the smelly problem. Pick up the cheap, disposable sponges to give a thorough scrub and toss them when you're done. That kind of dirt doesn't belong in your kitchen sink! With a freshly cleaned trashcan, all you need to watch for is properly closing to keep out bugs and the local scavenging wildlife!
Cobwebs, Nests, and The Circle of Life
It's a fact of life –bugs live outdoors. Whether you're a fan or afraid of our crawling cohabitants, you are bound to see signs of their existence all around. Loosely dangling cobwebs gather dust and particles (and maybe the odd remaining bug meal or two) and are generally viewed as a sign of disuse and neglect. It's not an immediate need to brush them away the second you see one, but it does make a big difference once you've cleared them off! Just grab a broom, a Swiffer, a really long stick from the yard, and whisk those dusty remnants off the ceiling. If you are feeling extra fancy, a damp cloth will pick up the leftover dirt and dust.

Yeah, a damp rag will take that riiiiiiiight off.
And while you are in bug-removal mode, keep your eyes peeled for hives or nests. Birds and wasps are fantastic builders and will use even the smallest ledge to start a home. Pop on some gloves before you handle a bird's nest, though!
Windows and Gutters
These can be a little bit trickier. For single-story homes, cleaning your windows will be fairly easy. Only washing the interior windows leaves you with a half-done job. There are a variety of cleaning products and tools special to window cleaning specifically, but a classic window cleaner and microfiber rag works well, too. You will be amazed at how much better the natural lighting in your home will shine! I leave my windows open frequently and have to take an extra step to remove and rinse the window screen. You wouldn't believe how dusty and grimy a window screen gets! I suggest cleaning these out in the yard to avoid the run-off water mess.
Windows up high in multiple story homes and your gutters are more complicated. Before you begin cleaning, make sure you have all the proper equipment. A solid, sturdy ladder is an absolute must. For gutter cleaning, you will want a set of work gloves to protect against stray sticks and debris. Plus, it's probably going to be a little gross if you don't get a chance to clean them annually. You will also want tools that reach without you leaning or stretching.

Not remotely OSHA compliant.
In all seriousness, it's better to hire a professional crew fully equipped for these kinds of cleaning jobs. It is much better to ensure your health and integrity of your home even if you end up shelling out some money for it. If cost is an issue, look for seasonal deals. Many companies offer off-season discounts or early season cleaning deals.
Your Home Exterior
It's time to make your home look like new again! If you've never had a chance to experiment with power washing, you've got an opportunity now! This is great for stone and brick exterior homes. Now, don't go crazy and blast a hole in your stone exterior. But you can rent or purchase power washing equipment easily! There are a wide range of brick cleansers, too. Find something eco-friendly cleaning products and you won't have to worry about damaging your lawn. For siding and softer facades, go for a brush hose wand. All the scrubbing, cleaning power with risking holes and cracks in your siding. Best part? Most of these tools come with extendable arms for you to safely stay on the ground.
Porch and Patio
A good sweeping goes a long way to improve your curb appeal. My patio collects leaves as if that is it's sole purpose in life. If you are primed and ready with a power washer, give your deck and porch a good scour. I thought for the longest time my deck was an ash-gray color. It's all I've ever seen. Nope! A solid wash later and I have a stunning warm wood deck again. It was mind-blowing.

No, your deck's natural color probably isn't "dirty moss."
While you're at it, now is a great time to clean off and arrange your patio furniture. A decent spray and scrub will leave your patio furniture looking like new again. They are meant to survive the weather, but dust and dirt are going to inevitably settle. Once you've given a thorough cleaning, you have a great excuse to look at new seat cushions and pillows! And now that you've worked up a good sweat cleaning, you have earned time to sit down and browse online for cute outdoor lighting accessories.
There are plenty of other outdoor cleaning options to add to your list such as the garage cleanout and driveway/carport washes. If you have the time (stay at home, folks), energy, and need to be productive during this quarantine downtime, this is a good starting place! Not only will you be satisfied with a job well done, you get to revel in the new cleanliness, too.
If you missed out NDG Talk Blog Post with our "Spring Cleaning: Inside Edition" you can read it here: http://ndgtalk.blogspot.com/2017/03/spring-cleaning.html Remember to take a break from all the news articles and social media scares. Reach out to your neighbors, your family, your friends, and your community. We are all in this boat together.
When you're stuck at home, every little thing you'd change about your current house is staring you in the face. Here at Nelson Design Group, we are always ready to help find your dream home. If we don't have the plan that is right for you, we'll make one. We are experts in our field and have been doing this for over 30 years. Give us a call today and we will be glad to help.
If you are looking at building a house, check out our Building Your Dream Home blog series. This series walks you through step by step on how to build a house and is updated regularly.
If you haven't found a builder yet, we have a Find-a-Builder tool right here on our website. These are builders from around the country that we have vetted just for you! They are skilled in their professions and do a great job.
Nelson Design Group has over 1,800 house plans for you to choose from. If you're unsure about finding what you need, give us a call at (870) 931-5777. Our representatives are always happy to help.
If you are a builder looking to buy plans, sign up for our Builder's Program. We offer discounts you won't be able to find anywhere else.
We also have resources that are just for you like access to our Master Planned Communities and Marketing Services.