Spring Greening: Eco-Friendly Home Improvement Ideas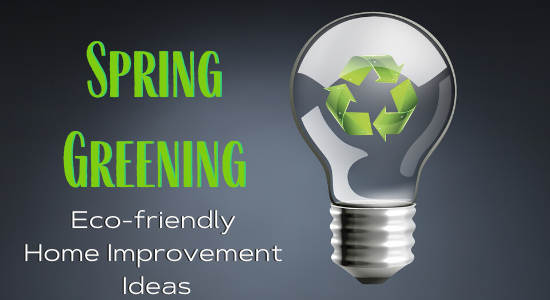 Spring Greening: Eco-Friendly Home Improvement Ideas
The weather is warming and it's time to start thinking about your spring cleaning. While you take stock of belongings to go in the yard sale, now is the best time to plan your home's necessary updates. Taking time to review home improvements preserves the longevity of your home and helps protect against costly emergency repairs. We've put together some eco-friendly home improvement ideas when building or remodeling your home.
Start Small with Energy Efficiency
Living sustainably and eco-friendly can seem like a large project. Start with energy-efficient choices. Consider opting for appliances focused on energy-saving. Energy-saving features go a long way to keeping your utility bills manageable. With environmental consciousness high, many companies are providing better options to help you reduce and reuse. Refrigerators, washing machines, clothes dryers, and dishwashers all require a lot of power and water. Energy Star is a leader in energy-efficient appliances and provides detailed information about the energy and water output required.
Your appliances are going to last ten years or longer. That's a lot of water (and money) wasted over the years. Check the energy guide labels before you purchase or install them. Your initial cost may save money on the front-end and waste in the long-term.
Smart Home Updates
With your appliances in power-save mode, look at updating your home with smart features! Smart home temperature control thermostats allow you to set a schedule for when your heating and cooling systems kick in. The Nest Learning Thermostat even works with Alexa for voice control! This thermostat notes your preferred home temps, monitors how quickly your home heats and cools, and tracks the outdoor temps.
The same can be done with smart light bulbs. Setting your lights on a schedule ensures you won't leave with all your lights blaring bright. Wyze smart home bulbs work with Alexa and has a convenient app to control your lights individually and as a group. You can also set them on Vacation Mode to periodically turn on/off on a variating schedule!
Environmentally Aware Flooring
Flooring has come a long way with environmentally aware options. Bamboo wood floors are making headlines. A high-quality bamboo wood flooring is extremely durable and generally costs less than traditional hardwood floorings. Better yet, bamboo flooring is easy to install. You can find bamboo flooring in a range of colors, too.
Your local
Home Depot
and
Lowe's
makes it easy to compare color, quality, and plank widths to fit your style.
You can also find eco-friendly linoleums that are stain-resistant and biodegradable. Marmoleum flooring is made from natural raw materials like linseed oil from pine trees. Renewable woods, ground limestone, and jute (a plant fiber) combine to create a water-resistant flooring great for kitchens and bathrooms. This is among one of the greenest flooring choices and is often used in hospitals for the antimicrobial properties! Green and clean flooring all in one. Forbo offers Marmoleum in a huge range of colors and patterns. From classic colors to concrete stains to wood patterns! These are excellent ways to create a green living space.
Skip Replacing, Try Refacing
Your cabinets are probably one of the largest expenses in your kitchen. Give those tired drawers new life with a paint job or refinishing! Using a low- or no-VOC paint is better for the environment and your family. Most paint contains volatile organic compounds (VOC) which can be a cause of respiratory problems and contributes to air pollution. Refreshing your cabinets and walls with a low VOC paint gives your home an odorless, stunning new look! Benjamin Moore carries no-VOC paint in every color!
If there is no way around tossing or demolishing pieces, look for ways to repurpose them. Deconstructing existing pieces greatly reduces the environmental impact of material waste. Plan for what must go and how it can be incorporated in a different room. Tearing up outdated floor tiles is going to leave a huge mess. How else can those tiles be worked in? Try creating a mosaic out of the broken pieces! Reuse the tile flooring for a new bathroom or kitchen backsplash. Not only will it be a creative, unique look for your home, but you will also get to keep a special bit of your journey through life as a reminder!
Talk to your Builder
When it comes to home remodeling and home building, always talk to your builder about your plan. They will very likely have ideas and suggestions to incorporate more eco-friendly options you might not have considered. Your build team can discuss your varying ability to include quality, sustainable materials during the building process. Flooring, wall paint, and roofing materials all have a range of environmentally conscious alternatives to help keep energy costs low while reducing harmful material sourcing. Double pane windows, cool roofing, and tankless water heaters are great things to ask about during the building stage! Your builder can provide insight into whether an energy-efficient alternative fits with your build.
It is important to stay aware of environmentally damaging products, but don't beat yourself up if the alternative won't work for your lifestyle. Continue to research green cleaning products, composting, and repurposing! Little changes can make a big difference in turning your home into an eco-friendly sanctum.
Here at Nelson Design Group, we are always ready to make your dream home a reality. If we don't have the plan that is right for you, we'll make one. We are experts in our field and have been doing this for over 30 years. Give us a call today and we will be glad to help.
If you are looking at building a house, check out our Building Your Dream Home blog series. This series walks you through step by step on how to build a house and is updated regularly.
If you haven't found a builder yet, we have a Find-a-Builder tool right here on our website. These are builders from around the country that we have vetted just for you! They are skilled in their professions and do a great job.
Nelson Design Group has over 1,800 house plans for you to choose from. If you're unsure about finding what you need, give us a call at (870) 931-5777. Our representatives are always happy to help.
If you are a builder looking to buy plans, sign up for our Builder's Program. We offer discounts you won't be able to find anywhere else.
We also have resources that are just for you like access to our Master Planned Communities and Marketing Services.