Your Multipurpose Mudroom and Garage Entry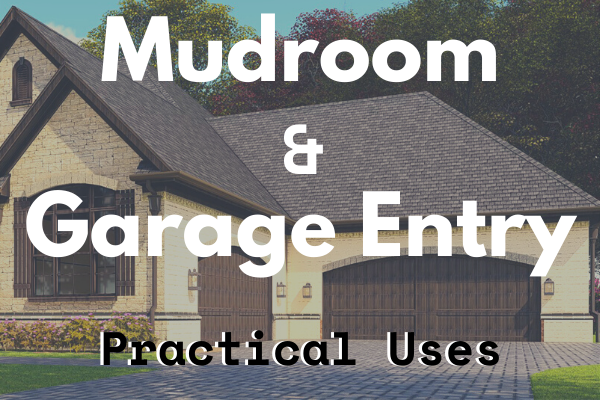 Your Multipurpose Mudroom and Garage Entry
Life is messy, generally speaking. With all your responsibilities, your hobbies, your children (furry or otherwise) requiring love, attention, and dedication. Maybe everyone else has their lives put together in a reasonable, logical fashion. Not in my house! Our constant on-the-go lifestyle has turned our garage and mudroom into a catch-all of school items, dog leashes, pantry items, and seasonal clothings. It's a disaster zone.
We could have an entire wing of our home dedicated to storage space, organization, and cleaning supplies that wouldn't make a dent in our exit and entry routine. With some serious reminding, we've managed to whip our mudroom and garage spaces into functioning multipurpose rooms! Now, I only forget something a few days a week when leaving the house! A magical transformation. You wouldn't believe how much space you have once the shoes, backpacks, and briefcases all have a proper bin!
In all seriousness, revamping the way we use our garage entry has been a wonderful change for settling into the at-home vibe. Best yet, I can better explore my growing (ha) green thumb passions. There is now ample room for the dog's gear and a smartly designed workbench. I fully believe other families struggle with a routine that doesn't end up with a junk drawer (or room) collecting the odds and ends of your week. In an effort to ease the chaos of everyday life, I put together a few ideas we considered for our garage/mudroom.
In no order of importance, these practical ideas will help you on your way to a routine simplicity:
• Hanging Clothes Rod: First things first, you need an area dedicated to your hanging items. If you frequently use your garage entry instead of the front door, especially. Traipsing across your (ideally) clean home after racing inside to escape the rain to hang your coats/scarves/umbrellas isn't going to help your peace of mind at the end of the night. You may not have a dedicated closet space here, but a hanging rod or coat hooks will make a big difference!
• Dedicated Drop-off Station: I find the mudroom is a perfect location for a drop-off station. A charming bench or buffet table to hold your purse, backpacks, and wallets makes the morning exit a breeze. Adding a corkboard or whiteboard for messages is a great addition to this mudroom upgrade, too! Even though I have a "designated spot" for my car keys, they don't always end up there after a trip out. We picked up some darling key hooks to place with the message board for an easy all-in-one morning exit!
Some people also use the drop-off corner of their mudroom/garage for a charging station. If your lifestyle allows for some device-free evenings, add a charging zone to your mudroom! Come bedtime, simply dock all your devices until the next morning or device freeplay time.
• Final Looks Mirror: With your coats, scarves, purses, and devices in hand, a mirror in the mudroom or near the garage entry gives everyone a chance to check one last time before walking out. This can help stem those teenage bathroom fights if a spare mirror is handy.
• Pet Washing Sink: Somehow, no matter what size your pup is, the bathtub is always too short or too tall to comfortably get behind their ears. You are hunched over like a goblin while those deep, sad puppy eyes penetrate your soul. No one is happy here. If your four-legged friends hate the bath routine, give everyone in the home a break with a pet washing sink in the garage! Skip the occasional grooming session and rinse them off at home. Deep, tall sinks with a large extendable shower head will help everyone relax until the soap has rinsed away. Best part? After the washing is done, a quick shake in the garage won't splatter the walls, towels, furniture, etc.! Add a cabinet above the sink and keep all the favorite treats, toys, and puppy supplies in one handy location.
• Utility Sink: A utility sink is a great idea regardless off your pet parentage! This is an ideal way to clean up after yardwork or auto repair weekends. Easily rinse grease, oil, dirt, and fertilizers in the garage without filthy hands touching everything else on the way to the kitchen. A utility sink the in garage lets you freely explore your messier hobbies without risking the cleanliness of your home.
• Storage Locker: Sports fans of all ages can benefit from a storage locker to hold all the gear! Whether you are a soccer mom or raising a herd of sports enthusiasts, a storage locker can keep those pads, cleats, bats, and balls organized without stinking up a bedroom closet. And when it's game, everyone knows exactly where to find their equipment.
This is great for other passions, too! Fisher folk can keep their rods and lines tangle-free with a storage locker. Adding a small interior shelf lets your keep tackles boxes, life vests, and boating hats in one easy location.
• Cleaning Closet: Mudrooms originally were used to quickly slip out of rain (and mud) soaked items. It makes sense to find your larger cleaning gear in the mudroom! Store brooms, mops, buckets, and vacuums in the mudroom to save space elsewhere! Your kitchen pantry doesn't need to be bogged down with your Swiffer when you've got a mudroom!
• Kitchen Extension: You will often find the garage entry and mudroom close to the kitchen, if not leading right into! Why not take advantage of this proximity and expand some of your kitchen features? Consider moving your deep freezer to the garage area. Or additional cabinets for dry goods! You might even love having another section of counterspace in your mudroom to easily unload your groceries after a shopping trip. You won't regret the extra room!

This isn't the end of your options, either! Unfortunately, you won't be able to avoid all the mess life throws at us. These ideas might be just the thing you need to jumpstart your own home upgrades! Puddle-loving pups and active artist toddlers will keep you busy looking for the right way to ease the daily routine. When you are ready to upgrade your home altogether, Nelson Design Group designs a wide variety of home plans with mudrooms and garage entries! Follow the links below for some fan-favorite floor plans!
https://nelsondesigngroup.com/content/house-plan-5041-bellington-manor-european-house-plan
https://nelsondesigngroup.com/content/house-plan-5237-st-thomas-place-farmhouse-house-plan
https://nelsondesigngroup.com/content/house-plan-5205-chandlers-place-european-house-plan
If these house plans nearly hit the mark for what you need in a home, all of our home plans can easily be modified! We also create custom home plans for anyone interested in a unique-to-you home!
Here at Nelson Design Group, we are always ready to help find your dream home. If we don't have the plan that is right for you, we'll make one. We are experts in our field and have been doing this for over 30 years. Give us a call today and we will be glad to help.
If you are looking at building a house, check out our Building Your Dream Home blog series. This series walks you through step by step on how to build a house and is updated regularly.
If you haven't found a builder yet, we have a Find-a-Builder tool right here on our website. These are builders from around the country that we have vetted just for you! They are skilled in their professions and do a great job.
Nelson Design Group has over 1,800 house plans for you to choose from. If you're unsure about finding what you need, give us a call at (870) 931-5777. Our representatives are always happy to help.
If you are a builder looking to buy plans, sign up for our Builder's Program. We offer discounts you won't be able to find anywhere else.
We also have resources that are just for you like access to our Master Planned Communities and Marketing Services.