Building Peace of Mind: Safe Rooms and Basements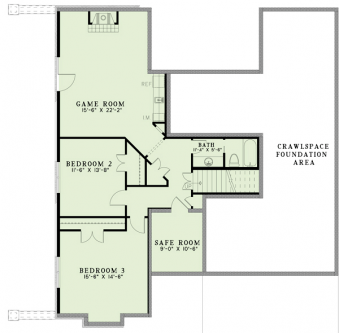 Building Peace of Mind: Safe Rooms and Basements
On March 3, 2019, Lee County Alabama was devastated by a confirmed EF4 tornado. This incredible storm left a twenty-four mile long track through Alabama and into Georgia. This storm broke a record-long 673 day streak of nonviolent storms in the U.S. It also took the lives of 23 people. Severe weather is a serious consideration when you are building a home. The main concern with severe weather is, of course, the safety of your family and loved ones.
When you are looking into ways to keep you and your family safe from severe threats, there are three basic options: the storm cellar, the safe room and the basement.
Storm Cellar
A storm cellar is usually a reinforced metal room that has been buried on your property. This type of protection has been proven effective by years and years of consumer use. They keep you safe and if you decide to put one on your property they might actually get you a Tax Break .
There are some downfalls to the tried and true storm shelter.
They cost quite a bit to install. An 8'x10' shelter can cost you between $5,500 and $20,000.
There is a significant risk to having to go outside during a severe weather threat in order to get into your "safe zone".
Also, these older storm shelters have a tendency to flood. I know that is a big deal here. We get a lot of rain and it tends to flood more here than other places.
Safe Room
An effective alternative is a safe room. A safe room is a reinforced metal room that is placed in the interior of your home. It can be placed on the ground floor, in a basement, or even just underneath the foundation of your home.
Safe rooms cost less than your typical storm cellar. An 8'x8' will cost you between $6,600 and $8,700, while a larger 14'x14' will cost you between $12,000 and $14,300.
They can be used for more than severe weather. The other name for them is a panic room. They can be used if there is a threat of a home invasion. You might even be able to utilize the same Tax Break as a regular storm cellar.
We have many plans available that our designers have included space specifically for a safe room. Our Collection of Home Plans with Safe Rooms Included.
These safe rooms are built into the home and are part of what makes our plans so great for you and your family. I've collected a few here to show you.
Windover Place
Our Windover Place plan is an ideal candidate for those families who are concerned with being safe in severe weather. It is also an absolutely gorgeous property. This 4 bedroom, 4 bath home with 2 half baths gives you nearly five thousand square feet of living space and a three car garage.
This home has an 11' x 7' safe room nestled in the finished basement. With two bedrooms on the ground floor and two in the basement there is plenty of space here for a growing family.
This plan also features a home theater with wet bar and game room in the lower level. A large kitchen adjacent to the dining room and great room provides ample entertaining possibilities. And let's not forget the master suite with attached bathroom and large walk in closet.
Ridgewood Cove
Our Ridgewood Cove plan is perfect for a new family. This beautiful 4 bedroom home has almost four thousand square feet of living space. This two story home features a full master suite on the ground floor complete with master bath and a huge walk-in closet.
Once you enter the home through the covered porch in the front, you proceed through the foyer and into the large open kitchen and great room. This plan has space for a large study with its own walk in closet that could be used for an office or even a fifth bedroom!
A two level covered porch gives you an uninterrupted view of your property from the rear of the home. This home also includes an attached two car garage with large storage room.
The lower level contains a walkout basement with three bedrooms and a separate living area with its own small kitchen. Nestled in the corner of this lower level is space for a safe room with its own hallway.
Cliffs II
Our Cliffs II plan is an absolutely gorgeous example of luxury living. This home features not one, but two full master suites with attached master bath and walk in closet.
An open floor plan on the first floor gives you plenty of space to entertain in the large kitchen with bar and dining room. At the opposite end of the kitchen is the great room with space for a fireplace.
A large outdoor living area gives you plenty of room to enjoy the beauty of your surroundings and the back deck opens directly to the ground floor master suite.
On the second level, a media/game room dominates the space. Directly off this main room is a large safe room. Along with the second master suite, there are two additional bedrooms on this floor as well as access to a large covered patio. Just like the master suite on the first floor, this second suite opens directly to the patio, as well.
Weatherwood Cove
Our Weatherwood Cove plan features 3 bedrooms and 2.5 bath with a 4 car garage. This three thousand square foot home showcases an open floor plan with ten foot ceilings in the foyer, great room and dining room.
A fireplace and boxed cedar beams give the great room style and make it perfect to show off to guests. A master bedroom suite with master bath and walk in closet give you plenty of space to relax in your whirlpool tub. The second level gives plenty of room for kids to grow in two bedrooms and a game room.
The adjacent safe room is large enough for the entire family and placed close to the bedrooms for easier access. This home has room for a large office on the other side of the master suite as well as a mudroom with adjacent closet coming in from the front garage.
The large laundry room will make daily chores a breeze and the screened grilling porch is perfect for those summer evenings.
Brittany Lane
Our Brittany Lane plan features a lovely home with extraordinary features throughout. An arched stone entry way leads you into a foyer and great room with French doors leading directly out to the back patio and grilling porch.
The large kitchen and breakfast room offer access to the laundry room as well as to the covered porch on the side of the house. This beautiful home offers a master suite with his and hers walk in closet as well as access to the safe room.
On the other side of the home the additional three bedrooms give plenty of room for guests or children to have their own space. The second floor of this home offers a bonus room that has access to a storage room and a balcony that is open to the great room below.
Basement
The last option for protection against severe weather is a basement. While a basement may not be the first thing you think of to keep you safe in severe weather they have been proven quite effective.
The National Weather Service advises during severe weather that you move to the basement or the lowest level of your home and cover yourself with a mattress or blankets and pillows. It would certainly be more comfortable to ride out a storm in a basement living area than in a drafty and damp storm cellar!
Basements are one of those features of a home that can be used for many different things. We have plans on our website that have offices, home bars, home theaters and even home gyms in the basement level of the home.
We offer two types of plans for basement living spaces: Daylight/Walkout Basements and Finished Basements.
Ainsley Manor
Our Ainsley Manor plan gives you a European design that will grab your attention as soon as you set foot onto the property. From entering the home through the foyer, you step immediate into the great room that blends into the kitchen and dining space. Vaulted Ceilings and a large central fireplace give you an old world feel.
On the ground floor you have two large pantries as well as a laundry room and mud room. One half bath is conveniently placed close to the hub of the home. The master suite and its adjoining his and her walk in closets with master bath and a second bedroom with its own adjoining bath finish out the rest of this level.
In the basement, a game room dominates much of the space with a secondary kitchen with a bar nestled by the stairs. More features on this level include the third bedroom and its bathroom, as well as an office with an attached half bath.
Two unfinished storage rooms and an exercise room with no external windows or doors finish this level of the home. The plan also includes two levels of outdoor living space.
Summers Eve
Our Summers Eve plan gives luxury a new name. Featuring an open floor plan with vaulted ceilings in the great room and a breakfast room and pantry in the kitchen, this home is ideal for entertaining.
The large dining room can hold as many guests as you would like and the laundry room is large enough to tackle any mess that might be left behind. The ground floor also contains the master suite in its own wing.
The upper floor contains an apartment with separate stairs that would be ideal to rent or to use for guests. The basement can be accessed either through the connecting stairs from the outdoor living areas or from the main stairs within the home.
The basement features a secondary master suite with and absolutely enormous closet and bathroom. An optional office and storage room adjoin a large game room in the middle of the space. The basement also contains an exercise room with a dedicated pool bath and shower.
Carolina Drive
Our Carolina Drive plan exterior simplicity is deceiving. Once you enter the home from the covered porch you step into the foyer and directly into the great room.
An open floor plan leads you from the great room to the kitchen and a dining room nestled at the rear or the home. Three bedrooms and two baths make up the bulk of this ground floor.
An enclosed master suite opens to a massive closet with a private stairway to an office on the second floor. From the kitchen you can ascend a second stairway to the game room above the great room.
A third stairwell leads to the basement and opens directly into the laundry room. From the laundry room you have access to the storm shelter. The basement also contains a large storage room and garage.
Severe Weather Safety
While a basement or safe room is the best option to keep you and your family safe during severe weather, they are not always available. Even with a basement or safe room you should follow the National Weather Service guidelines.
Get In – If you are outdoors, get inside. Move as close to middle of the building as possible. You want to put as many walls between you and the storm as possible.
Get Down – Get to the lowest level of the building. Underground is best, but safe rooms are a good alternative. If you don't have those options, make sure you are on the ground floor of the building.
Cover Up – The number one thing to worry about with severe storms, especially tornadoes, is debris. A tornado is not just wind that is moving exceptionally quickly, it picks up anything in its path. All of that metal, glass and wood is now moving as fast as the wind in the storm.
Here at Nelson Design Group, we want your family to not only be safe, but to also be completely thrilled with your new home. Our plans are customizable and we always look forward to talking with you.



Our thoughts and prayers go out to the victims of the March 3 tornado outbreak.