Building Your Dream Home: Choosing Windows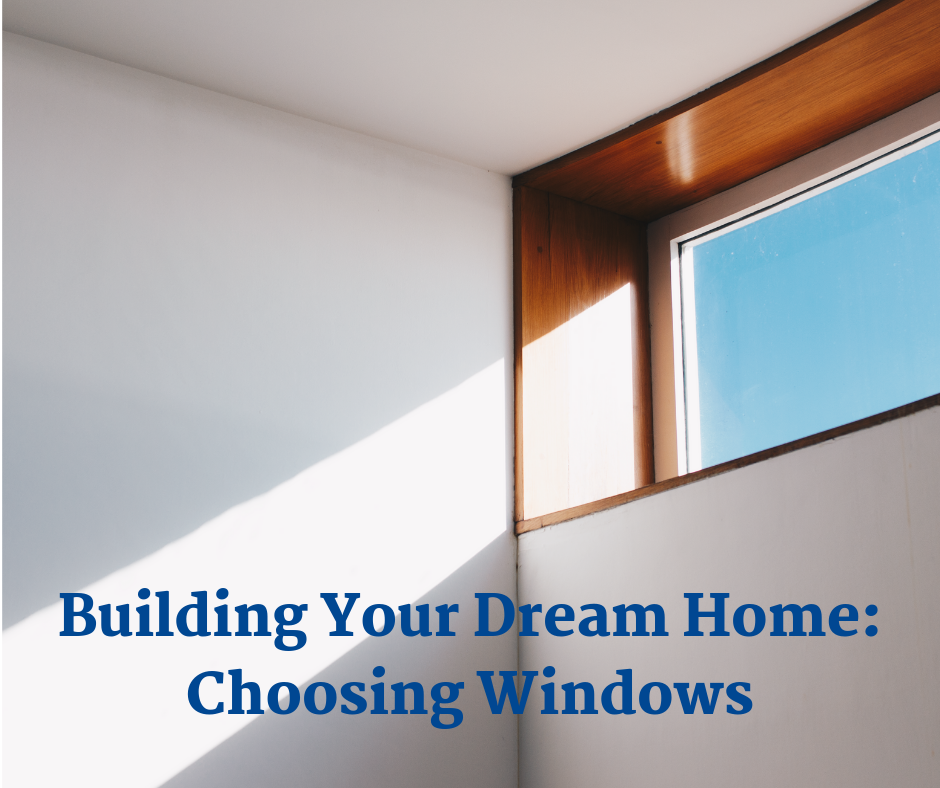 Building Your Dream Home: Choosing Windows
Coming out to the job site today, your home is starting to look more like a house and less like a kid's clubhouse. You actually have all the doors installed and the roof looks good. Now its time to think about the windows. Let's take a look at the different types of windows and their options.
You might think that you could just go into a hardware store and just say, "I would like 6 windows, please," and they would be delivered just like that. Like many things in life, this purchase comes with as many choices as buying clothes.
And for good reason! One of the areas that homeowners will try to save money on is with their windows. They usually get the more inexpensive option that may not be the best investment in the long run. Windows are something that will either make your home a safe haven or make it a place you hate to live in.
They are a contributing factor to how soundproof your home is and how energy efficient your home is. I will readily admit that our older home doesn't have the best windows. We knew it when we bought it. We have used some creative solutions to keep the heating and air costs lower in the home, but they do nothing for the sound proofing. Thank goodness, we don't live in town. Take it from me. Let's get exactly what you need, now.
Types of Window Material
There are several types of materials that Windows are made of and each has its own pros and cons.
Wood

Wood windows are the most traditional type of window. They are reasonably energy efficient and are beautiful especially in traditional homes or in farmhouse style homes. They are, however, the most expensive type of window. They also require more maintenance and if you live in an area that is termite heavy, they will require more protection and care.

There is always the potential for rot with a wood framed window. You will want to make sure that the wood is sealed and protected as much as possible and that you are checking the condition of the wood on a regular basis.

Vinyl

Vinyl Windows are the powerhouse of the window world. They are cheaper than wood windows but offer the same energy efficiency. They don't require the maintenance that wooden windows require. They come in a variety of colors and styles are easy to install.

Aluminum

Aluminum windows are much cheaper than wood or vinyl windows. They can be manufactured for a lot less and they are lighter to ship. They are also easy to maintain. Aluminum windows are practical in rainy, humid climates. They meet the very tough building codes on the coastal areas and particularly the areas that are prone to hurricanes. They are terrible on the energy efficiency. Our windows in our home are aluminum throughout much of the home. Very, very bad on our light bill.

Wood-Clad

These seem to be the best of both worlds. These windows are made with a vinyl or aluminum coating on a wood inner structure. Think of gold-plated jewelry. They are little less expensive than the traditional wood windows. They do have one major flaw. They are prone to water intrusion which can be devastating for the inner structure of wood.

This is especially bad on the sills and jambs where the water can pool. Proper installation of these windows should

include the use of waterproof rubber membranes around the cladding and a special flashing assembly called a sill pan. The sill pan drains any water that could gather in the sills and jambs helping to minimize the moisture intrusion.

Composite

These types of windows are made from scrap wood shavings and plastic resins. They can effectively mimic the look of wood and are virtually maintenance-free. And the resin that is used in the window manufacturing process often comes from recycled plastics. Very eco-friendly!

Fiberglass

These are basically high-end composite windows. They are made of a mixture of glass fibers and polyester resins. You won't hear people in the industry refer to them as "Composite". The term composite is almost exclusive used for the wood and plastic ones above.

Fiberglass windows are more expensive than their counterparts, but they have a reason behind it. Fiberglass windows come with a lot of benefits. They are extremely energy efficient because of their low thermal conductivity, that means that heat doesn't transfer easily. They are the strongest and most durable windows on the market. They can also be painted just like wood, but they don't warp like wood or vinyl windows can.
Types of Window Installations
There are many different types of ways to install windows. We are going to talk about the most common ones.
Single Hung and Double Hung Windows

This is the most common type of installation of windows. Hung windows slide up and down to open and close. Double hung windows have two operable sashes. The sash is the part that moves up and down and holds the glass in place. This means that a double hung window can be opened from both the top and the bottom.

Many people want these types of windows more than the single hung windows. These windows are easier to clean and maintain. It also allows you to open the top part of the window for some air and not worry about wildlife climbing in.

Casement Windows

These types of windows open from the side instead of sliding up and down. This means instead of lifting or pulling your window open, you can use a crank at the bottom to open and close it. The crank pushes and pulls a small lever that will open and close your window.

This type of window is great for hard to reach areas of your home, like above your kitchen sink. It is also better for those who have mobility restrictions. Instead of having to stand and push on a window to open it, you just use the little lever and crank it open.

Awning Windows

We had these in our old elementary school. Awning windows open from the top with the same sort of crank or lever system that a casement window uses. They open outward and form an "awning".

These are great for places that get lots of rain. They are the only type of window that you can open while it is raining because the rain doesn't come in. I still wouldn't recommend them in Arkansas, our rain comes in sideways.

Slider Window

A slider window is kind of like a double hung window that is placed on its side. They slide open from either the left or the right and are perfect for rooms where you want a panoramic view.

Bay and Bow Windows

These types of windows create dimension. They give depth to a room with very little effort on your part. These windows project outward. This gives you a great display and adds to the curb appeal of your home. A bay window is a bow window with a seat, or a bench added. This gives you added seating and storage.

Picture and Geometric Windows

The main difference between regular windows and picture/geometric windows is that regular windows open and the others don't. Picture/geometric windows are fixed in their frames. My grandparents had this beautiful picture window in the front of their house. The bottom two rows of which were perpetually dog slobbered over as the dogs tried desperately to get the squirrel, the kid next door, the dog down the street, the lawn mower….

Because there are no moving parts to these types of windows, they are the most energy efficient type of window to have. It's like having a see-through portion of the wall. These come in many different sizes, shapes, colors and are great for anywhere that you need a great view and you don't need excessive airflow.

Garden Windows

A garden window is kind of like a mini bay window. They jut out from your house and you can put stuff on the ledge and in the sun. Many people use them to plant tiny gardens or to grow flowers or succulents. My aunt had one of these that grew cats, apparently. They couldn't keep anything on the window because the cats would just move it until they fell into the floor.
Glass Options
Now we get to look into the energy efficiency side of the window buying. The better the glass option, the more its going to save you money on your heating and cooling bill.
Gas Fill

There's this new type of window where they take the panes of the window and pump gas in between them. So, you take a double pane window and you put gas in between the inner and outer panes. Usually Argon or Krypton (no not that show on Syfy, though its good, too) gas is used in these types of windows. They provide great insulation than air, probably because of their higher density. (Go chemistry class, FTW!) And because they are gas, they remain clear.

Low E

Low E is a type of film that can be placed on the inside of your panes. It reflects the infrared light that is coming into your home. It traps heat in the winter and keeps out heat in the summer. It can also help keep your furniture and décor from fading from the sun's rays.

Double Pane or Triple Pane

One of the big questions in the world of windows today is which is better; double or triple pane? Triple pane windows are more energy efficient and are more resistant to condensation. This makes triple pane windows perfect for cooler climates. They are great to install in homes that tend to retain higher levels of moisture in the winter months.

They are more expensive, though. So, if you are in a warmer climate, they are not that much more effective and therefor not worth the cost difference.

ENERGY STAR Certified Windows

The ENERGY STAR rating system is the Micheline Stars of the homebuilding world. These are the things that are going to be guaranteed to save you money in every way possible. In order to become an ENERGY STAR Certified Window, the windows have to meet a certain level of requirements in the four different parts of the window: the glass, the gas, the spacer and the reinforcement. The combination of these four factors make up the ENERGY STAR performance level.
Windows are another one of those elements that will make your home stand out. You'll want to make sure that the window is not just efficient but that it also matches the style of your home. A good window can make or break a great home design.
Here at Nelson Design Group, we are always ready to make your dream home a reality. If we don't have the plan that is right for you, we'll make one. We are experts in our field and have been doing this for over 30 years. Give us a call today and we will be glad to help.
If you are looking at building a house, check out our Building Your Dream Home blog series. This series walks you through step by step on how to build a house and is updated regularly.
If you haven't found a builder yet, we have a Find-a-Builder tool right here on our website. These are builders from around the country that we have vetted just for you! They are skilled in their professions and do a great job.
Nelson Design Group has over 1,800 house plans for you to choose from. If you're unsure about finding what you need, give us a call at (870) 931-5777. Our representatives are always happy to help.
If you are a builder looking to buy plans, sign up for our Builder's Program. We offer discounts you won't be able to find anywhere else.
We also have resources that are just for you like access to our Master Planned Communities and Marketing Services.