Modern Farmhouse Style and New Plan Spotlight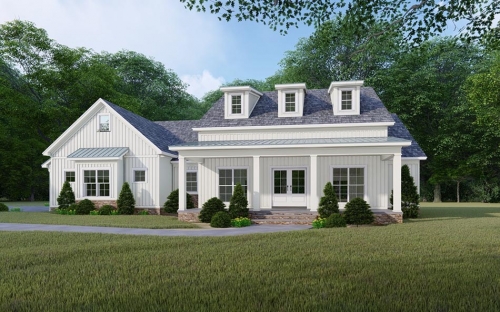 Modern Farmhouse Style and New Plan Spotlight
Simplicity: we all crave it in our hectic lives. From the moment we get out of bed in the morning until we finally get to lay down and relax at night, we are going nonstop full steam ahead. Phones are ringing, emails are coming in, kids are crying, and now the cat sees an empty spot in his food bowl. Of course, we want the simpler life. We need to have an oasis of calm and peace. For most, that is their home. And that dream leads to many different interpretations of what calm and peaceful is. For many, that interpretation looks like a Farmhouse.
Thanks to Chip and Joanna Gaines and HGTV's Fixer Upper, we have seen a surge in the popularity of Farmhouses and Farmhouse living. (Did you know they are getting their own TV channel? Yep, its right here in People Magazine.) It shouldn't be a surprise to anyone really. Farmhouses were the staple of the community for decades before the Second World War and the invention of the suburbs. Maybe it is the time to take the Farmhouse Style and bring it back to a time of glory.
This style of home gives you a place to find peace and quiet. With a large covered porch that is perfect for relaxing and large open rooms for entertaining or just giving a place for the kids to play, a Farmhouse is a great home for those of us with busy lives.
Featured is Whispering Pines (MEN 5177)
History of Farmhouses
Farmhouses started off as a build of necessity. As the population of the U. S. bloomed in the 1800's, there was a large expansion west. Many of the homes that were built during this time were Farmhouses. Imagine rolling seas of green, crops coming to fruition and large white houses in the middle like islands. That was the picture of rural America until the late 1940's.
Many of the Farmhouses were built around a kitchen and living area that took up the rear and front of the house, respectively. They were one of the first homes that were built with separated rooms for children. They often featured rooms for the many types of activities necessary on a farm such as a dairy room and a mudroom. Many Farmhouses of this time period were built to the specifications of the farmer's wife and were therefor highly customized and were often built without traditional blueprints.
Featured is Gilliam Acres (NDG 320)
What Makes a Farmhouse Modern?
So while the Farmhouse Style has become increasingly popular over the years, it has not strictly stayed the same as it was when our forefathers were building homes on the prairie. The style has evolved to include modern amnesties, different colors, and has been updated with new ideas of protecting the environment.
Some may argue that when you change a style like that, that it is not the same style any more. That when you decide that you are going to update something classic and traditional that you should separate the two. I disagree in this case. Farmhouses were always something that was a hodgepodge of whatever style was popular and whatever the homeowner could afford. And they always changed with the times.
Modern Farmhouses are no different. Think about Chip and Joanna Gaines. Their lovely Farmhouse estate has all of the bells and whistles of an urban home. Are you going to tell the Queen of Shiplap that her home isn't a Farmhouse? No, of course not.
That's always been the beauty of the Farmhouse Style, though. It's flexible. It adapts. It molds to what you need it to be. After writing several of these blogs about the Farmhouse Style, I was inspired to redo my kitchen this way. So I'm in the middle of painting several pieces of furniture and we are going to redo the kitchen floor soon to include "hardwood" flooring. (Totally going with this stuff from DalTile. So much better and a bit cheaper than actual hardwood.)
Color Me a Rainbow
One of the hallmarks of a Farmhouse Style home is the white painted exterior and white walls. That comes from an earlier time in U.S. history. The white walls and exterior paint comes from the traditional use of whitewash. For a long time, whitewash was the only available color that a house could be painted. If it sounds familiar, you're probably remembering Tom Sawyer having to repaint his aunt's fence in Mark Twain's classic novel.
Today's Farmhouse Style homes come in many different colors and with lots of different paint options. There was one built not that long ago in Kentucky that was black! Some of the popular colors for the exterior paints include grey, blue and even green.
For interior paint, the sky is the limit. You can pick any color you want to go with the white on the inside of your Farmhouse home. My kitchen that I mentioned earlier? A light peachy coral for the insides and edges of the newly painted furniture. Once again, the Farmhouse Style is incredibly flexible. You can adapt it to anything.
Modern Amenities
Another hallmark of a modern Farmhouse plan is the inclusion of modern amenities. In this day and age we can't live without electricity and the internet. Even people who built off the grid include these in their building plans. Modern Farmhouses include all of the bells and whistles. The next big thing in building new homes is to build smart homes.
Smart homes have everything built into the actual homes themselves. Security systems, internet access and digital assistants are wired into the home at the base level and give you access to many different options without having to run a single cord yourself. Forget to turn the lights off in the bedroom, just hit a button on your smart phone. Kids upstairs spending too much time on the internet, restrict their access quickly and easily.
Green Living
Another technological advancement is actually closer to the roots of the Farmhouse Style home. One of the newest considerations for a home is to have a greener home. This is not a huge change for people today. One of the easiest ways to live greener is to simply have energy efficient appliances, like a water heater from Rinnai. Or you could source the materials for building your home from places like Bingham Lumber who rescue and reuse lumber from old buildings. Greener living doesn't have to be hard work; it just takes a bit of planning to make it happen.
Farmhouse Plans
Here at Nelson Design Group, we recently released a new collection of Farmhouse plans. All of these plans are great for anyone looking to build a home and want something in the Farmhouse Style. Check them out here. And here are few favorites including the newest plan available.
Four Winds (MEN 5218)
Check out our newest Farmhouse Style house plan! This is a beauty! This house plan is the newest work of award winning home designer Michael E. Nelson. This house plan gives you over 2,000 square feet of living area with 4 bedrooms and 3.5 baths. This home features a 2 car garage that allows you to enter the home and go straight into the kitchen. No lugging heavy bags of groceries across the whole house!
From the garage you can also make your way directly to the laundry room which has a space for a large farm style sink or you can go directly to the Master Suite. The Master Suite features a boxed ceiling and the adjacent master bath has room for a glass shower as well as a freestanding tub. The walk-in closet gives you plenty of room to store all of your clothes and is conveniently located right beside the Master Bath.
From the garage you can go down the hallway directly into the open floor plan featuring the Kitchen, Great Room and Breakfast Room. This large space features a vaulted ceiling with false beams and an island that gives you seating for 6. And let's not forget the large pantry area that gives you plenty of room to store all of the goodies your family will ever need.
The Breakfast Room features a large bank of windows that give you an uninhibited view of the rear of your home. The Great Room features a centrally located fireplace so that you and your loved ones can cuddle up on a cold day. From the Great Room you can access the Dining Room and Foyer. The Foyer leads to the covered porch that greets your visitors as they enter your home.
The Foyer also opens up to a Guest Room that can also be used as Bedroom 4 or as a Study/office. This room has its own adjacent bathroom and a walk in closet. From the Great Room you can proceed to the hall leading to Bedrooms 2 and 3 which each have their own walk in closet and share the Jack and Jill hall bathroom.
The home is finished off with a large Grilling Porch with vaulted ceilings that has space for the optional gas fireplace. From this Grilling Porch you can walk under the covered walk directly into the Master Suite. This house plan also has space for an optional third garage giving you space for more vehicles or storage.
Tips and Tricks
If you are renovating your home and would like to give it Farmhouse flair, here are some things that you can do.
Repurpose old furniture. You can take an old dresser and make it into a TV stand, or an old chest and make it into a coffee table. Just take what you have and have fun with it.
Painted Surfaces. Farmhouse Style lends itself to repainting tables with pastels and whites. You can also paint bookshelves shades that contrast to the paint colors in the rest of your home.
Whitewash your home. Maybe not literally with whitewash, but white or ivory colored paint will make your rooms feel brighter and more open.
Mix it up. Don't try to match everything too closely. You want it to have a little randomness thrown in. Remember, the look you are going for is something looks like it evolved naturally.
If you love the Farmhouse Style and want to read more about it, check out these blogs featuring more house plans and more style tips.
If the Farmhouse Style isn't your cup of tea, check out these other blogs on a few more of the different styles that we offer in house plans.
And as the weather gets warmer, the building season begins. Nelson Design Group can be your one stop shop for all of your home design needs. From stock plans, to multi-family plans, to custom plans we have you covered.
Also, don't forget that Nelson Design Group can help with your renovation. We do custom work and customize any of the plans on our website. We would love to hear from you.
Give us a call today at (870) 931-5777.