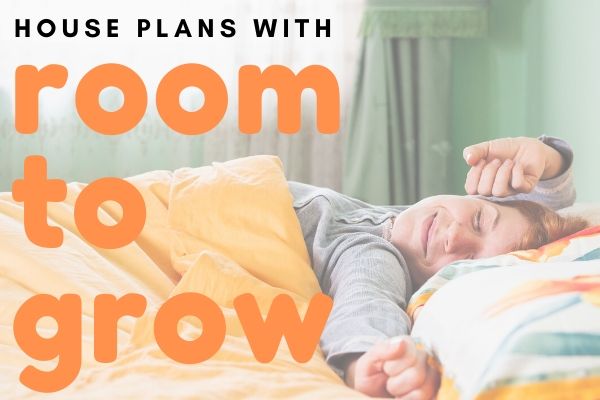 Plans With Room To Grow
Like most of the country right now, we're all spending a fair portion of our life at home. Some of us are still working from home and the paperwork stacking up is highlighting how difficult working off the kitchen table can be. Some of us are trying to keep busy with housework and truly regret not adding extra shelving and storage space, I mean, honestly, where does all this stuff go? Others yet are managing both tasks with a small entourage of youths squeaking hungry demands every 20 minutes (Hang in there, folks).
The biggest thing happening to my family is a desperate need for more space on all fronts. An active part of our time at home now belongs to organizing what room we currently and planning on expanding. That dream home Pinterest board has really come in handy after all. To make the transition easier for anyone else cramped in not-so-cozy quarters, here are some of my favorite new house plans with plenty of room to move, grow, and breathe in! Find your favorite room and start envisioning the upgrade!
I'm going to shamelessly begin with what I consider my personal favorite house plan. Let it be known, Nelson Design Group has around 1,800 house plans designed (not even counting all the specific modifications), I still think this is easily leading my Top Five Favorites. I love the shake siding elements. I love the stone exterior. I love the absolutely charming craftsmen elements and the endless gable roof peaks. I even love that, in sharp contrast to popular trends, this house plan exterior is a little dark and moody. This is all before opening the front door. I am sold. Hook, line, and sinker.
Heritage Manor – NDG 1670 is a stunning 2,683 square foot house plan with three bedrooms and 4 full baths. This house plan is designed with ample room to stretch out, even if just for one. The dedicated Master Suite spreads out in the rear corner of the home plan which is perfect for additional privacy. You can almost use this entire wing of the plan as private quarters. And I am wildly fond of the unique "corner" walk-in closet. It is fantastically large, and I adore the ability to see all my clothing options with a turn of my head instead of ducking under and around stacked clothes rods.
The first floor of this home plan has a dedicated guest room or study (your home, your choice) at the center of the house. For anyone working from home, a center-stage study office is great to keep you within easy access to the rest of the house (and the kitchen). Offices with window access are going to help keep your mental flow running smoothly. And it's a great alternative to cubicle life. Of course, as your family grows, the office/guest room is reasonably close to the Master Suite and would do well as a possible nursery or kids' room. Or a pet room. There is a huge range of possibilities with this craftsman-style house plan!
Stretch your legs and take a stroll through the incredibly spacious and expansive Bellington Manor! This 3 bedroom/2.5 bath European style house plan sports a roomy 3,274 square feet of living space. Bellington Manor is perfect for those that don't necessarily need extras rooms, but more room to live in. I've said before how much I adore European-inspired homes and Bellington Manor has it in spades. Check out those gables! This home plan exterior is designed in a mix of dark and light warm colors for an inviting, contemporary palette.
An oversized Great Room leads to a screened rear porch and separate grilling porch. More space to enjoy your yard means your home is truly a place to relax and unwind. Bellington Manor is a personal sanctuary. With over 3,200 square feet, each room is designed to maximize your living space. More rooms in a home don't always mean more space. This carefully constructed floor plan includes a formal dining room without sacrificing the privacy in the Master Suite or neglecting adequate storage!
The Master Suite includes a massive walk-in closet in the rear wing of the home plan. A 4-car garage offers room for your daily vehicle, as well as project cars or even a boat! A breakfast nook overlooking the rear screened porch and grilling porch is ideal for early morning reflection before settling into the study office. The generously open floor plan highlights valued family time and more than enough room to enjoy personal solitary time! Bellington Manor is great for introverts and extroverts alike!
Have you ever wondered why a house plan has only one Master Suite? Willow Creek Circle is your solution! This delightfully bright and crisp European-style home plan grants two separate, graciously roomy Master Suites with individual full baths and walk-in closets. Clean, sharp lines frame enormous front-facing windows in the first Master Suite. Willow Creek Circle is a 3-bedroom/3.5 bath house plan with just over 3,000 square feet of living space. I love how the Master Suites are positioned at each end of the home. There is no blurred privacy line with this layout. The kitchen has plenty of counter space, but my favorite addition in the kitchen is the separate cooking prep area. What a unique and clever idea! The ability to prepare, clean, and organize your ingredients before diving into the cooking will be incredibly helpful for all chefs (and amateurs in the making). A small side patio off the kitchen gives a breath of fresh air if all those onions start getting to you, and the rear covered porch houses an outdoor fireplace ready for s'mores after dinner!
The 2-car garage has a dedicated storage room to keep your tools and holiday gear neatly organized with plenty of space to spare! Even the Great Room has a closet for coats, shoes, or whatever else you want stored away. Upstairs, the third bedroom maintains the Willow Creek Circle specialty of privacy with a full bath. This is the only bedroom upstairs, too. Bedroom 3 has a roomy step-in closet, and a second closet area just off the staircase landing! Willow Creek Circle will keep you and your family neat and tidy!
They say the Devil is in the details, but all the details in the Willow Creek Circle plan sure seem heavenly to me. There is built-in storage under the stairs. The floor plan calls for a gorgeous open brick archway between the kitchen and Great Room. The Great Room closet has a barn door closure! You will find small, high-end details even in the reinforced saferoom walk-in closet and the gas lanterns on the rear covered porch! Willow Creek Circle is loaded down with amenities and charming additions. All of these before you add your own personal touches!
This rustic traditional house plan showcases a natural exterior before opening into a very roomy 4 bedroom/4.5 bath layout! The original design exterior focused on warm, light-colored bricks, a rich, sandy shake siding, and dark fascia and trim. All the contrast I love about Heritage Manor shaded with inviting warmth and comfort. The steep roof peaks are a lovely twist that adds a special profile to the St. Agnus house plan! With 3,385 square feet of living space, the St. Agnus home plan is a wonderful mix of all the storage and details I adore in Willow Creek Circle combined with the intentionally spacious design of Bellington Manor. If you couldn't decide which floor plan captured your heart, St. Agnus highlights the best of them all!
The Master Suite offers a secluded privacy nestled behind the garages in the rear of the home. I love this Master Suite layout. Featuring boxed ceilings, a brief hallway leads to the main bedroom, then into the Master Bath. For nearly any home, I consider the kitchen and the primary bathroom (or Master Bathroom if your plan is designed well) as the most important rooms to scrutinize. The St. Agnus Master Bath is phenomenal. An isolated linen closet in the bath means you won't be stacking awkward shelves everywhere. Not only are there dual sinks, St. Agnus sports a separate vanity make-up counter. No longer will wives be forced to share tiny vanity space! The bathroom leads to the enormous walk-in closet with a truly awesome amount of storage space. Best part? You can head straight to the laundry room from the closet!
The Master Suite isn't the only room with great attention to detail. The kitchen holds both a storage pantry and a butler's pantry for extra counter space and prep room. A formal dining room just off the foyer and accessible through the butler's pantry makes serving holiday dinners a welcome breeze! For a less important meal or for easy enjoyment, St. Agnus is designed with a casual dining breakfast area and a high-low bar island that seats up to six with full view of the Great Room fireplace. Media storage built-ins next to the fireplace allow you to display your favorite music and movies or just show off your collectibles and passions! Can anyone else picture a darling little plant corner here? Bedroom 2, 3, and 4 all house well-sized step-in closets and are situated on the opposite side of the Master Suite for additional privacy. French doors open into Bedroom 2 which gives it a great optional study office, too! I adore the separate full baths Bedroom 3 and Bedroom 4 each have. No more sibling rivalry over morning bathroom space!
Maybe you're looking for something in particular? Don't worry, we have you covered. Come check out Nelson Design Group's collection of over 1,800 house plans. Come check out more house styles to find your perfect fit:
Here at Nelson Design Group, we are always ready to make your dream home a reality. If we don't have the plan that is right for you, we'll make one. We are experts in our field and have been doing this for over 30 years. Give us a call today and we will be glad to help.