Custom Homes, Spec Houses and Modifications: Plan Spotlight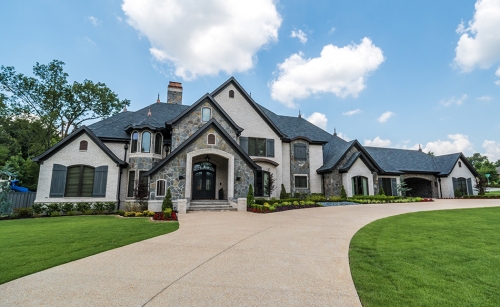 Custom Homes, Spec Houses and Modifications: Plan Spotlight
So you're thinking about building a house. You have certain things in mind for your dream home. This many bedrooms, that many bathrooms, the Great Room looks like this, etc. So you're looking through house plan after house plan, website after website and you're just not seeing what you need. You even called that friend that your granddad recommended that used to build houses and he couldn't find you one. Don't despair! We can help.
House plan featured above is our Belle Maison (SMN 1011).
Here at Nelson Design Group, we have over 1,800 house plans for you to look through and choose the best plan that fits your needs. However, we know that everyone is different and has different tastes, budgets, goals, etc. We want you to be able to build your dream home. So we offer the option of having a custom home designed or modifications to existing plans. So say you want an airplane hangar on your property or you just need a house to fit in that super narrow lot, we've got your back.
Custom Homes and Spec Houses
Over the past 30 years we have designed many custom homes for many clients. We have seen and heard it all. Some of clients are the rich and famous. Some are just everyday people. One of the latest calls that we have gotten was from a gentleman who wanted to build an updated version of his grandparents' house. He remembered the layout, but he couldn't find a plan that matched up to it. So he called us.
We have designed for a few professional athletes. A pro golfer who is a Jonesboro native asked us to design a home base for him and his wife. An NFL football star asked us to design his ultimate home. It is enormous and features a walk through shower.
We have also designed homes for those who have very specific needs. We had a lady who called us needing a home to fit on a very narrow lot. The lot was only about 20 feet wide. It was deep so the home could run as far back as she needed it to, but it had to be 15 feet wide.
We designed her plan to fit in these specifications that included 3 bedrooms, 2 bathrooms and an open floor plan Kitchen and Great Room area. It even included walk-in closets for all the bedrooms and a Laundry Room! That little plan packed over 1,300 square feet of living space.
Belle Maison (SMN 1011)
Most of our custom plans don't become stock plans. There are some that do. Belle Maison is one of them. This plan was a custom home that our designer Seth M. Nelson designed for a local client. This home features 7,500 square feet of living space with 5 bedrooms and 6.5 bathrooms. It also features a 5 car garage. Now you might think who other than Jay Leno needs a 5 car garage? This gentleman loves exotic cars and loves to show them off.
This two story home features not one but two Master Suites. The first Master Suite features a walkthrough fireplace that connects to the Great Room and the adjacent bathroom is to die for. It has a free standing tub and a shower that is big enough to wash an elephant in. The Master Suite features two walk-in closets that are both bigger than my first apartment. Her closet features a bay window and an island in the middle of the room. His closet features a picture window. Natural light in a closet? Yes, this should be the new thing.
This home also features an open floor plan for the Great Room, Kitchen, Hearth Room, and Breakfast Nook. The Hearth Room has another walkthrough fireplace that connects to the covered outdoor living area. Remember that Second Master Suite that I mentioned earlier? It has its own bathroom and walk in closet. This home also features an in-house salon!
The second floor has 3 bedrooms, each with their own bathrooms and walk-in closets. One of the bedrooms has its own balcony overlooking the front of the property. Speaking of balconies, I would be remiss if I forgot to tell you about the balcony on the second floor that overlooks the Great Rooms or the Balcony that looks over the garage.
This home also features its own private theater. Back on the first floor, you'll find a Safe Room. This home is absolutely amazing.
Modifications
We also modify our existing plans to fit your needs. Some plans are very popular to modify. These plans are so popular to modify because they have such good bones. The layout is something that is easy to move around, the footprint is nice and the homes have classic features that keep drawing customers back time after time.
Timberland Cove (NDG 1428)
One of our most popular plans to modify is our Timberland Cove plan. This is modern living with a Rustic flair. This home has 4 bedrooms and 3.5 baths in just over 2,000 square feet of living space. It also features a 3 car garage. When you walk into this home through the covered porch with a vaulted ceiling you find yourself in the foyer. On the right side of the foyer is the entrance to the formal dining room that has sloped ceiling on each side. The foyer also features a closet to store all of those coats and mucky things that we all need from day to day and season to season.
Moving through the foyer you find yourself in a gorgeous Great Room featuring a fireplace and large door and windows opening up onto the Outdoor Living Space. The Great Room merges with the enormous kitchen with an island with seating for six. On the left side of the Great Room you find a hall way leading to 3 bedrooms and one of the bathrooms in the home. Each bedroom has a walk in closet for plenty of storage.
If you move through the kitchen you find yourself in another hallway that leads to the Master Suite. The Master Suite has room for an optional door to the Outdoor Living Space. The Master Bath features a glass shower with seating, a whirlpool tub and an entrance to the massive walk in closet. If you exit the Master Suite and move back down the hallway you find the half bath, a large laundry room, the stairs to go to the second floor and the entrances to the garages.
On the second floor you have a bonus room, additional storage and a bathroom. One of the options for the second floor is to have an opened balcony that looks down on the Great Room and Kitchen below it.
Gilliam Acres (NDG 320)
This plan is very popular to customize. It's a farmhouse plan and that means that it naturally lends itself to modifications. This home gives you over 2,000 square feet of living space with 4 bedrooms and 3 bathrooms.
This home features a large wraparound covered porch that just screams for you to sit and swing a while. One you walk into the home you find yourself in the Great Room that features a large fireplace. As you move through the Great Room you find yourself in the Dining Room and Kitchen Area with a Breakfast Area in the rear. The Kitchen on this plan is huge and features a large island with room for a sink and dishwasher as well as seating for 4.
This home also has a Mudroom that goes into the Laundry area in the rear of the home. The 3 bedrooms are all in the rear of the home and share a hall bath while the Master Suite is in the front of the home and features 2 walk-in closets. The Master Bath features a glass shower and a whirlpool tub.
Austin Place (MEN 5040)
This home gives you a wonderful footprint and allows you to either go upscale or to dress it down a little. This 1,600 square foot home features 3 bedrooms, 2 bathrooms and a 2 car garage. When you pull into the home in the garage you immediately notice that it gives you space for storage in the back part of the garage. The garage opens up to the Foyer which then leads to a short entry way hall way that leads either to the Laundry Room with built in storage or the open floor plan Great Room, Dining Room and Kitchen area.
The Great Room features a fireplace and vaulted ceilings. The Kitchen gives you a large island with a setup for a gas range. It also has a closet and a corner pantry for all of your needs. Off the Great Room you find yourself in Bedrooms 2 and 3 and their shared bathroom. If you go through the Great Room your attention is drawn to the 12' patio doors that lead to the large screened porch on the rear of the home.
Off the Great Room are the Master Suite with its boxed ceilings and adjacent Master Bath. The Master Bath features a whirlpool tub and large glass shower with his and her sinks. The Master Bath leads into the large walk-in closet with built in shelving for shoes and accessories. This home is so popular to modify because it gives you a great set up that can be adjusted to whatever you need it to be.
Here at Nelson Design Group, we are always ready to make your dream home a reality. If we don't have the plan that is right for you, we'll make one. We are experts in our field and have been doing this for over 30 years. Give us a call today and we will be glad to help.
If you are looking at building a house, check out our Building Your Dream Home blog series. This series walks you through step by step on how to build a house and is updated regularly.
If you haven't found a builder yet, we have a Find-a-Builder tool right here on our website. These are builders from around the country that we have vetted just for you! They are skilled in their professions and do a great job.
Nelson Design Group doesn't just modify plans and design custom homes and spec houses. We already have over 1,800 house plans for you to choose from. If you're unsure about finding what you need, give us a call at (870) 931-5777. Our representatives are always happy to help.
If you are a builder looking to buy plans, sign up for our Builder's Program. We offer discounts you won't be able to find anywhere else.
We also have resources that are just for you like access to our Master Planned Communities and Marketing Services.
If you have any questions about Custom Homes and Spec Houses or Modifications, check our Modification FAQ page.