Mudrooms: The Super Heroes of the Home.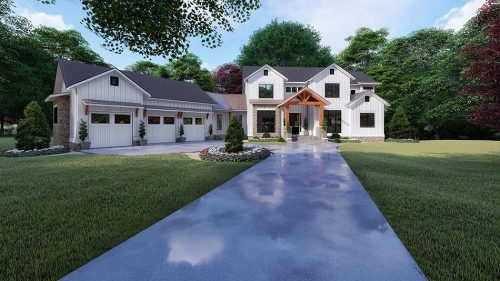 Mudrooms: The Super Heroes of the Home.
We've all had that moment. A nice leisurely trip to the store turns into a race against the impending storm clouds that you inevitably lose. So here you are trudging in with load after load of groceries and soggy feet. You finally get done with the lugging and toting and realize you have covered your lovely home with muddy footprints. If only there was some sort of special room that would solve this dilemma!
Let me introduce you to the mudroom. The mudroom has been a staple in Northeastern and Midwestern construction for decades. Though it is a relatively new concept for the Southern home, you can clearly see the appeal of such a space.
This traditional secondary entrance was usually placed coming in to the rear of the home and directly into the kitchen. The mudroom was ideal for farmers and ranchers to keep the mud and grime from their boots and clothing contained to one space.
Traditionally a mudroom was a dedicated space with a drain in the center of the floor. Today, however, there are several different versions. While there are still those dedicated rooms, we are now seeing a trend where underutilized space is now being converted into a transitional entry way. These entryways are being placed not only in the rear of the home, but also at the front doors.
No matter where the space is being pulled from or how much of it is being used, the idea is the same.
A mudroom, simply put, is a room where all the muddy stuff lives: outerwear, shoes, hats, etc. It's a room where you can come in to the home and leave all that mess behind. I feel these spaces are the unsung heroes of the home. Anyone who has a busy family life knows that dirt and mud will always appear when children and pets are near. Mudrooms keep these facts of life contained to a single area that is easier to keep clean and organized.
Dedicated Spaces
Many of our plans feature a dedicated space to be used as a mudroom. While this is closer to the traditional idea of a mudroom, there is one small difference. Most of these secondary entrances come in from the garage and allow you to move directly into the kitchen. This solves our earlier dilemma of muddy, soggy footprints all through the home. Here are just a few of the plans that offer this dedicated space to be used as a mudroom.
Oakleaf Cottage
Our Oakleaf Cottage plan features a mudroom adjacent to an optional breezeway and garage. Whether you choose to use the optional additions or not, the mudroom is in a perfect position to endear itself to the hardworking homeowner. This room has plenty of square footage and has entrances to both a breakfast room/kitchen and a laundry room.
To create a seamless look, you could incorporate the same kind of flooring from one area to another. Karndean flooring would be a welcome addition here. Incredibly durable and stain resistant, Karndean has many different styles and colors to choose from.
This dedicated space gives you plenty of room to organize all of those messy accessories that clutter up the home. A built in bench gives you a place to sit and take off your shoes and hanging hooks makes keeping coats organized a breeze. This plan also features two covered porches, three bedrooms, two full baths and a half bath.
Farmington Drive
For luxury living, our Farmington Drive plan takes the cake. Featuring three full levels of living space including a walk out basement, this plan has not one, but two fully dedicated mudrooms. This home combines ultra-modern living with a farmhouse vibe. You could almost say it was "country chic"!
On the ground floor, you have a mudroom adjacent to a three car garage and covered side entry. This mudroom opens directly to the main hallway for this part of the home. It also connects this secondary entrance to the laundry room and pantry. This ground floor space gives you a built in corner bench. This room also features a closet to store your outerwear. One can never have too many closets.
On the basement level, we have the second dedicated space for a mudroom. This large room is ideal for those with pets, or small children! This entrance comes in from the covered patio and is adjacent to the downstairs living area with its full-size gas fireplace. Either of these mudrooms would look fabulous with Bingham Lumber throughout. Bingham Lumber gives you that old country feel with modern installation and guarantees. This home also features six bedrooms, and five and half baths.
Willow Way
A mudroom doesn't have to be a large space to be effective. In fact, sometimes the best use of space is to have a small room adjacent to one of the main hubs of the home.
In our Willow Way plan we have a small but incredibly efficient mudroom coming in from the three car garage. This space opens directly to a half bath on one wall and the kitchen on another. The mudroom has a built in bench with room for hanging garments right above it. This plan would be perfect for anyone with children or pets.
It also features a foyer that opens to the main staircase and dining room, as well as a ground floor master suite and master bath with walk in closet adjacent to the laundry room. Willow Way has an additional three bedrooms and two full baths.
Redwood
Our Redwood plan showcases a grilling porch that opens into a room that would be ideal for use as a mudroom. This space is adjacent to both the master suite with walk in closet and a breakfast nook/kitchen area. It has a built in bench seat as well as storage bins for all of those little things that tend to get scattered everywhere in the home.
This secondary entrance comes in from the garage and moves directly to the kitchen area. This home would be perfect for a busy family. It also features a great room with an optional gas fireplace focal point. This plan also has three bedrooms, two full baths and a two car garage.
Rossland Farm
Our Rossland Farm plan features a large mudroom with a bench and room for hanging storage. This space comes in from the two car garage. This room is adjacent to a large laundry room with a farmhouse sink.
From the mudroom you can move directly into the home via a hallway with a large linen closet and into the kitchen and dining area or into the master bedroom with its connected master bath and dual sinks. This plan has a large covered porch with vaulted ceilings and exposed rafters.
The great room-dining room has a large corner fireplace as the focal point. This home features an additional two bedrooms and one bath and a little less than two thousand square feet of living space.
Prairie Lane
While a mudroom is traditionally its own dedicated space, there are many spaces in the home that are underutilized and could be used as a mudroom as well. Oftentimes, the best use of an entryway is to have it double as a mudroom.
Our Prairie Lane plan appeals to those who are just a little bit country and a whole lot of stylish. This palatial country manor features a covered front porch that opens to a space that is perfect for a mudroom.
A built in bench and closet gives you plenty of space to store outerwear and shoes, while the windows on each side of the double doors gives much needed light and brightness.
In the rear of the home, we have another mudroom that comes in from the three car garage with a pass through stall and storage room and opens directly to the main hallway in the home. This space has a built in bench with hanging storage. This plan also features three bedrooms and three full baths.
Transitional Entryway
Sometimes the best thing to do is to use available space in multiple ways. The laundry room is traditionally an area where dirt and mud accumulate anyway. Why not use that to your advantage?
We have two plans that are perfect for that idea. Misty Lane and Chestnut Lane both feature laundry rooms that are large enough to allow a secondary use as a mudroom.
To save space in the laundry room and to maximize the efficiency of the room, Iron-A-Way may be a perfect solution. This space saving innovator takes the iron and ironing board from the ugly and clunky to sleek and elegant.
Misty Lane
The Misty Lane plan features a laundry room with built in seating and room for hanging storage. This entrance allows you to come directly into the laundry room/mudroom from the garage and into the kitchen.
This is great for those busy families with children. This home also has a covered front porch leading into a foyer, a great room with a fireplace, dining room and a grilling porch in the back. This plan features three bedrooms, two full baths and a two car garage.
Chestnut Lane
The Chestnut Lane plan features a laundry room with built in seating and room for hanging storage. It also has room for a pantry, solving our earlier dilemma with the trip to the store.
The laundry room opens directly into the kitchen/dining room. It also has a covered front porch and a patio in the rear of the home that opens can be accessed directly from the master suite. This plan features two additional bedrooms, two full baths and a two car garage.
Flat Acres
Our Flat Acres plan also has a perfect set up for this. This Farmhouse inspired home features all of the amenities of the modern world while still maintaining the façade of a simple country estate.
With five bedrooms, three and a half baths this is country living at its finest. This home features a two car garage and over three thousand square feet of living space.
This plan showcases a laundry room/mudroom combo with all the bells and whistles. This space features a sink with counter top and a shower with room for two freezers. This room has access to the built in pantry and opens directly into the spacious kitchen-great room with a view of the spiral staircase to the second floor.
Repurpose An Existing Space
Even if you don't have the dedicated space to devote an entire room to become a mudroom, there are many ways to take a small bit of space and re-purpose it.
Install a bench or shelf with baskets to hide what you don't want seen. Corner benches are great for using some of the "wasted" spaces in your home.
Put in some hooks for coats and hats.
Make a space for everyone and make it their own. You're more likely to use something that is "yours" than if you feel you are borrowing it.
Make it a focal point by using art and paint to have it stand out from the rest of the home.
Or have it blend in with the rest of the home by using similar color schemes and cabinetry.
Use outdoor rugs to help minimize the mess. Outdoor rugs are much easier to clean that their indoor counterparts and make a stylish addition to the room.
Take a portion of your garage and turn it into a mudroom. Remember, any small space can be used.
Most importantly, make it yours. It should be comfortable and fit all of your needs.
Conclusion
A mudroom is just a useful bit of space to make the home a neater and cleaner place. Most of us today have incredibly busy lives. A mudroom may keep some of the chaos from the outside in a contained space.
The traditional mudroom is still going strong, but the non-traditional transitional entryway is taking root and growing as well. The best thing to consider is what is right for you and your family. Is it a dedicated space or a transitional entryway?
No matter which way you are leaning, here at Nelson Design Group have you covered. With nearly two thousand plans on our website, we are sure to find you the home design plan you are looking for. And don't forget, we also do custom plans and customize any of the plans on our website.
Featured Plans
The plans we featured today with dedicated spaces for mudrooms were Oakleaf Cottage, Farmington Drive, Willow Way, Redwood and Rossland Farm. The plans we featured today with combination or transitional entryways were Flat Acres, Prairie Lane, Misty Lane and Chestnut Lane. Thank you to our corporate partners featured in this post: Iron-A-Way, Karndean and Bingham Lumber.
Which idea appealed the most to you, a dedicated space for all of life's messiness or a transitional area that uses a space in multiple ways?