Examining House Styles: The Florida Collection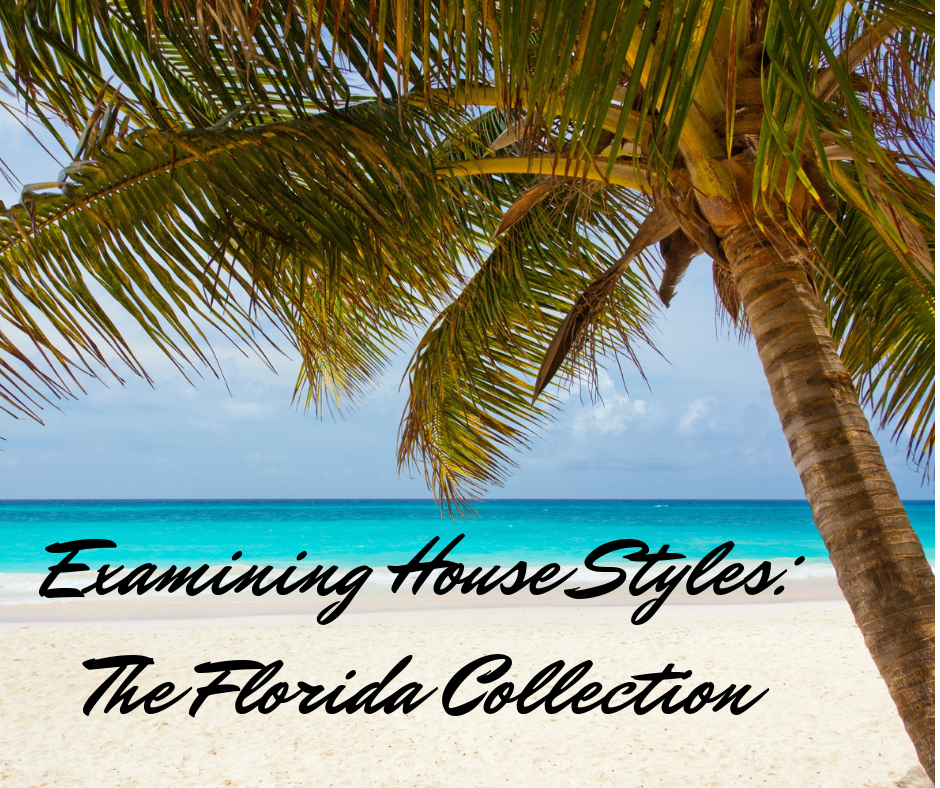 Examining House Styles: The Florida Collection
Warm sand, palm trees swaying in the ocean breeze, the smell of coconuts and suntan oil; who wouldn't want to live in a beach paradise? On the East Coast, Florida is the prime beach location. It's warm for most of the year, its mostly surrounded by the ocean and it only occasionally gets the horrific weather. Wouldn't you just love to build a home in Florida? Yeah, me too.
There's just one minor problem. I have way too much family in this part of the world to uproot and go to Florida just to be close to the beach. But have you seen these house plans? They're so pretty! I want to build one right here and just pretend I'm close to the beach. Of course, with the amount of trees around our property, I could just say it's a jungle out there.
Exterior Style
So what's makes Florida style home so different than any other style? Florida style homes are uniquely adapted to the weather patterns of the area. They are also heavily influenced by the cultures that settled the region.
Weather Influencing Style
Florida gets a lot of rain. I mean, it gets a lot of rain. It also gets hit pretty regularly by tropical storms and hurricanes. The building codes and styles of the homes in that area have been heavily influenced by this.
Most homes in the Florida panhandle, especially those close to the shore have poured concrete walls and concrete slab foundations. They are made tough to withstand the severe wind and driving rain of the storms that will come through several times a year.
Most of them also have stucco exteriors. This may not seem like it would make a difference when you are talking about rain and wind, but it does. Stucco doesn't absorb water. It just sheets off of it like water over a duck's back.
Wood walls and exteriors, on the other hand, would absorb the water and cause damage. You'll also notice that many of the beach houses have concrete patios rather than decks. This is for the same reason. Between the heat, rain and the humidity it takes a lot to keep wood dry enough that it will not rot.
The last thing, you'll notice about most Florida homes is their roof. The normally don't use shingled roofing material in Florida. Instead they use tile. Tile allows the water to sheet off the roof keeping it from collecting and causing damage.
Tile is easy to replace, too. If a storm comes through and breaks some of the tiles, you just pull out the broken ones and replace them. Much easier to do than with a shingled roof.
Caribbean and Spanish Influences
Weather is a huge factor to consider when you are building a home and the home designs in Florida reflect this. The other influencing factor to think about when you are looking at the Florida style home is the cultures that came through the area.
Many of the early settlers of Florida were Spanish. Their architectural touches can be seen throughout the state. Much of the style that is now considered native to Florida was influenced by them.
Bold columns and archways leading to open floor plan homes with tile flooring are classic interpretations of the Spanish style. The thick stucco walls to retain heat at night and the cool air during the day and the tiled roof are also a part of the Spanish style.
These are some of the primary elements of the Florida style home. Unlike most Spanish haciendas, Florida style homes are on a much smaller scale. This comes from the Caribbean natives who came to Florida. They understood that a large home with several stories was just going to be destroyed by a storm.
The other deviation from the Spanish architecture is in the color choices for the homes. In Spanish architecture the colors are bold and vibrant. They grab you and hold your attention. In Florida style homes, just like with the Caribbean homes, the colors are softer.
There are less reds and oranges and more blues and yellows. This lends to the "beachy" feel of the homes.
Taking Advantage of the Views
If you lived in Florida, you would want as much outdoor living space as possible. The Florida style home gives you that. Large open courtyards, covered verandas, patios, decks; you name it, this style has the outdoor area you need.
This style will also give you large windows to let you enjoy that perfect view from sunup to sundown. These windows will give you plenty of natural light to offset the thick stucco walls. Think gorgeous tile floors bathed in sunlight and warm to the touch.
Interior Style
Now here is where everyone can take advantage of the Florida style. Something that is becoming increasingly popular is what is termed as "Old Florida" style. This is a style that is heavily influenced by the Spanish using local materials and local colors.
Open Floor Plans
Many Florida style homes feature an open floor plan. This allows air to travel unimpeded throughout the home. Think about it, Florida is hot and humid most of the year. You need a home that will allow you to get the most out of your air conditioning unit.
The idea of the open floor plan was developed in the time before air conditioning, but I can't imagine how people managed. If you have never spent a summer day in 100 degree weather with 95% humidity, you don't understand the value of an excellent air conditioner.
Even you don't live in an area with those kinds of conditions, an open floor plan is quite appealing. It allows you to see throughout your home without having to step away from the kitchen or laundry area. As a mom of two, I can really see the usefulness of this kind of arrangement.
Single Story Homes
Many of the Florida homes are single story homes. They are built to withstand torrential downfall and extreme winds. This does mean that the Master Bedroom is on the first floor. This makes a Florida style home ideal for someone who may have trouble getting around.
Florida style homes are usually built on a concrete slab, so they have nice level floors. And everything is on the same floor, so these homes make great homes for people who are retiring or for people who may have mobility restrictions.
Elements of Old Florida Décor
One of the easiest ways to bring the style you desire to your home is to change your décor. My home is done in a Farmhouse vibe with some modern touches. (Not Martha Stewart, but I try.) If you love the look of the Florida style home, here are some ways you can bring it to your house.
Pine or Oak Floors

This lighter colored flooring is great for that beach vibe. This gives you something that is easy to maintain and has plenty of style for years to come. Now you can get this type of flooring in tile or laminate form. This makes it easier to redo your home, especially on a budget.

Leather Chairs with Nail Head Trim

This is a classic look that gives your home character. The modern leather material is much more affordable and durable than its predecessor. That makes it perfect for a home that is going to have lots of family gatherings and children running around. It also lends an understated elegance to the home.

Wicker Furniture and Rocking Chairs

The old Florida homes would have wicker furniture and rocking chairs on the verandas and lanais. The wicker material is perfect for the weather in Florida because it doesn't retain moisture easily. And who doesn't want to have a rocking chair on your front porch?

Soft Paint Colors

Unlike their Spanish influences, the Florida style is defined by soft paint colors. Think browns, greens, cream and yellow. It is always bordered with a white trim. This gives the rooms a homey feeling. That's not to say that you can't have that red accent wall, but keeping the bold, vibrant colors to a minimum is a must.

Simple Window Treatments

The old Florida décor calls for very simple window dressings. No heavy brocade curtains or frilly multitiered lace here. No, we want a light gauzy layer over the window. Something that can be pushed aside to let the air through. A light pane of lace or tulle, maybe even a light muslin curtain would be perfect for the space.

White Painted Trim

You'll want to keep any elements that have the bead-board or a high wainscoting. Just make sure they are painted white to maximize the flow of the open floor plan.

Avoid Floral Patterns

Instead of using bright florals, you will want to use solids or tiny prints. You could even throw in some plaids or stripes if they aren't too busy. Think understated. Think elegant. Think easy to keep clean.

Brick Fireplace

Despite the incredibly warm weather, you may have need for a fireplace at night. The night air can get cool very quickly next to the ocean. So having a lovely fireplace to warm up by is just a nice treat. You'll want it to be brickwork rather than stone. It's easier to make bricks than it is to find stone in Florida.

Bronze or Wrought Iron Hardware

The last design element is really one of the finishing details. Hardware and sconces should be made of wrought iron or bronze. Think of being on an old wooden ship and the hardware there. That's the type of things you are looking for. Simple and elegant but useful for years to come.
The Florida style is one of harmony. It pulls together different cultures and influences. It is made to deal with terrifying weather. And yet, it gives you a sense of comfort and peace. I don't know how you could look for anything more in a style of home or a décor.
Here at Nelson Design Group we have an entire collection devoted to the Florida style. If this style tickles your fancy, come check it out today.
Maybe you're looking for another style? Don't worry, we have you covered. Come check out Nelson Design Group's collection of over 1,800 house plans. And come check out the past blog posts in this series:
Here at Nelson Design Group, we are always ready to make your dream home a reality. If we don't have the plan that is right for you, we'll make one. We are experts in our field and have been doing this for over 30 years. Give us a call today and we will be glad to help.
If you are looking at building a house, check out our Building Your Dream Home blog series. This series walks you through step by step on how to build a house and is updated regularly.
If you haven't found a builder yet, we have a Find-a-Builder tool right here on our website. These are builders from around the country that we have vetted just for you! They are skilled in their professions and do a great job.
Nelson Design Group has over 1,800 house plans for you to choose from. If you're unsure about finding what you need, give us a call at (870) 931-5777. Our representatives are always happy to help.
If you are a builder looking to buy plans, sign up for our Builder's Program. We offer discounts you won't be able to find anywhere else.
We also have resources that are just for you like access to our Master Planned Communities and Marketing Services.