House Plan Spotlight: Pool Houses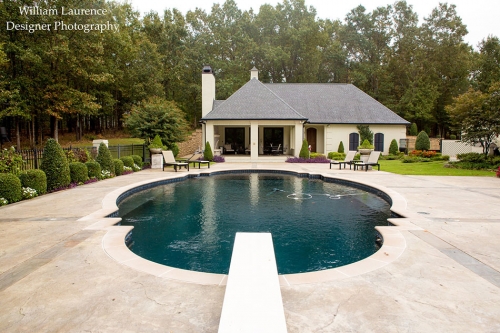 House Plan Spotlight: Pool Houses
Summer is here! The kids are out of school and the temperatures are skyrocketing. It's time to uncover the pool and get it ready. Maybe this year you won't have one of the kids tromping through the house with wet feet and walking all over your carpets. Or maybe you won't have the pile of soggy clothes sitting in the laundry room smelling faintly of chlorine and sunscreen. Who are we kidding? You need a pool house.
Luckily, Nelson Design Group has several pool house plans to fit any budget and any need. We can even custom design one or modify one that gives you exactly what you are looking for.
Featured Plan above is our Result Drive (NDG 1484).
Why You Need a Pool House
I know it seems a little unreasonable. You put in the pool and it was a large expense and here we are thinking about spending more money on a little house to sit beside the pool. A little house that won't make the swimming extra fun or make your swan dive look less like a cannonball. But trust me it's worth it.
Uses of a Pool House
A pool house isn't just about changing clothes, though that it is basic function. A pool house is put pool side so that you have a place to change into your swim suit and out of a wet swim suit without having to go back and forth from the house to the pool, goodness knows how many times.
Not only can you benefit from this, but it is very nice for visitors. They don't have to drive over in their swim suits or drive home in wet swim suits. I'm sure we've all had that moment of trying desperately to make the towel fit under our rumps and keep our car's seats from getting all soggy. And the towel never fits.
Another use for a pool house is being able to store all of the pool equipment and chemicals. If your pool has a built in pumping system, a pool house might be a good way to hide it from guests. It is also the perfect place to keep the all the flotsam that comes with having a pool or pool party.
I know I don't like to have to move the pool noodles out of the way every time I go to grab a vacuum and I don't think storing pool chemicals next to the stuff for the BBQ is a great idea. A pool house fixes all of that for you.
The other use that isn't immediately apparent is that it helps with your home's resale value. Even if you just have a small pool house, it's still going to be a great financial asset if you ever decide to sell.
Benefits of a Pool House
Pool houses are a great addition to your property. They are something that can be used in multiple ways and depending on what you need; they can be changed around over the course of your time with the property.
The obvious use of a pool house would be to store the toys and chemicals and other paraphernalia that comes with having a pool and children. This would get it out of the way and in an area where you will be able to find it easily year after year.
A pool house would be awesome for entertaining. Think of the glamorous age of Hollywood and the stars having elaborate parties around their fantastic pools. You could do that, too! With everything right in the pool house, there would never be any need of anyone going in to the main house itself. Leaving your home nice, neat, tidy, and, most importantly, dry.
A pool house is a great place to store garden and pool furniture during the winter. Once the temperatures drop and the pool has been winterized, there isn't much point in having the lounge chairs sitting out in the freezing temperatures.
In Arkansas, winter is a fickle and brutal mistress. She comes in and sometimes it's as mild as a spring day, other times its frigidly cold and we have ice coating every available surface. That kind of weather is not good for the light metals and canvas wraps that the summertime furniture is made of.
Another great use of the space in a pool house is to use it for a home gym. This way you can pound through your reps without having to worry about bothering the rest of the house. Or, in my case, trying to bounce through a Zumba routine without having to dodge the cat.
This is a great way to use the space year round, in case you were worried about the cost of building a space that won't be used for a good part of the time. It also frees up space in the main house so you can finally have that man cave put in.
Alternatively, the space outside the home would make a great yoga studio. It would give you peace and quiet and be awesome for meditation or eating the last Oreo cookie guilt free.
If you can afford it, why not expand a bit and make the pool house into more like a guest house. This gives you extra space for the holidays or for when your parents and in-laws want to come and see the kids in the middle of the summer. Can anyone say free babysitting?
Pool House Plans
Here at Nelson Design Group we have several pool house plans to choose from. If we don't have exactly what you are looking for, remember that we can modify an existing plan or create you a custom plan.
1495
This little beauty comes with a full bath that is perfect for those quick trips to the restroom or if you need to take a shower before going in to the house. This pool house not only features a full bath with a shower, but the shower area also has a bench with an area for hanging your clothes. That makes it super easy to slide in and close the door and get ready for the rest of the day. This floor plan also features a space for a stacked washer and dryer, so those wet beach towels don't ever have to make it into the house.
This plan also has a large room just for storing pool equipment as well as a large covered porch with an optional grilling area. This would be perfect for a pool party especially for little ones who won't want to be out of the pool long enough to do anything more than eat.
Maryland Drive (NDG 1482)
This pool house gives you all the storage you will ever need for all of your pool equipment. This plan features a half bath with an outdoor shower on the covered porch. So you can give yourself a quick rinse in between tanning and swimming.
The outdoor shower would also be convenient for those times when you are working in the yard and just want to cool off. I know here in Arkansas, summer can be brutal and having somewhere to just take a moment and cool off is very important.
This plan also features space for an activity room with a mini fridge. Remember that whole yoga studio or home gym idea? This is the plan for that. This would give you plenty of space to work out and also a place to keep your water cool. The storage area located on the rear of the plan is the perfect place to store the chemicals and outdoor lawn furniture.
Hagan Drive (NDG 1483)
This pool house gives you room for a guest house including a 2 car garage! This plan features 1,100 square feet of living space with 1 bedroom and 1 full bath. The first thing you notice about this little house is that it has a covered porch that wraps around to the side where it has a built in outdoor shower area.
This shower gives you the perfect place to clean up after a long day by the pool. The covered porch also gives you space for an outdoor kitchen area. Stepping into the home, you find an open floor plan combing an Activity Room with a full size Kitchen with seating for 6 at the Kitchen island. It even gives you room for a small pantry.
From the open room you can step into the full Bath which gives you a standard shower space, but also opens up into a secondary room with lockers for storage and a bench. This secondary room gives you a direct entrance to the outdoor shower. This makes it perfect for large families with kids.
From the Activity Room/Kitchen you can also access the mechanical room with room for the hot water heater and heating and air systems. Stepping down a short hallway, you find yourself in the guest room that gives you plenty of space for visitors. This plan would be perfect for a guest house or for a mother-in-law cottage.
Result Drive (NDG 1484)
This pool house gives you room for any guest that might want to come stay a while and includes a 2 car garage! This house plan gives you 1,100 square feet of living space with 1 bedroom and 1.5 baths. As you step into the home from the covered porch with its outdoor fireplace, you find yourself in an open floor plan with a combination Activity Room and Kitchen. This Kitchen gives you all the room you would need for cooking with bar seating for 6 and a pantry.
From the Kitchen you can step into the Bedroom which is set up like a small Master Suite. The Bedroom features a large bank of picture windows and opens up into a full bath with a walk-in closet and linen closet.
From the Activity Room you can make your way to a short hall way where you can find the Laundry Room with space for a full size washer and dryer. Or you can find the ½ bath with a bench and space for hanging on the other side. This half bath has a separate entrance making it perfect for quick changes from the pool.
The garage gives you plenty of storage space for all of that pool equipment as well as any luggage that your guests may bring with them.
Here at Nelson Design Group, we are the place to get your house plans. We are experts in everything to do with planning and designing homes. If you are looking for floor plans, such as plans for a nice pool house, give us a call today at (870) 931-5777.
Maybe you're looking for just regular house plans? Don't worry, we have you covered. Come check out Nelson Design Group's collection of over 1,800 house plans. And come check out the past blog posts in this series:
Here at Nelson Design Group, we are always ready to make your dream home a reality. If we don't have the plan that is right for you, we'll make one. We are experts in our field and have been doing this for over 30 years. Give us a call today and we will be glad to help.
If you are looking at building a house, check out our Building Your Dream Home blog series. This series walks you through step by step on how to build a house and is updated regularly.
If you haven't found a builder yet, we have a Find-a-Builder tool right here on our website. These are builders from around the country that we have vetted just for you! They are skilled in their professions and do a great job.
Nelson Design Group has over 1,800 house plans for you to choose from. If you're unsure about finding what you need, give us a call at (870) 931-5777. Our representatives are always happy to help.
If you are a builder looking to buy plans, sign up for our Builder's Program. We offer discounts you won't be able to find anywhere else.
We also have resources that are just for you like access to our Master Planned Communities and Marketing Services.