Energy Efficiency Week: Heating and Cooling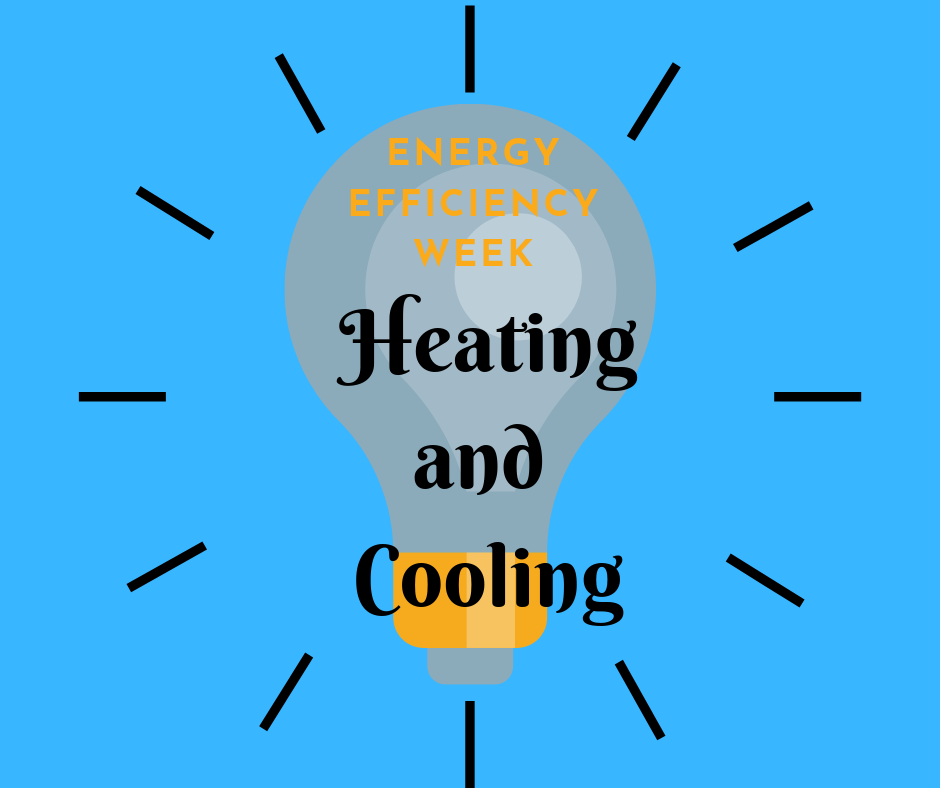 Energy Efficiency Week: Heating and Cooling
One thing that you can always count on in Arkansas is extreme temperatures. Just last week the heat index got up to 115 degrees Fahrenheit. That's incredibly hot. In contrast, last winter we had temperatures in the mid-teens and low twenties. The worst part about it was that it was clear and cold, and the wind chills were below zero for many days. Our home is our safe haven away from all of that.
We want to stay warm in the winter and cool in the summer, but that can drive that utility bill right through the roof. So how do you maintain the temperature that you want in your home while having a little wiggle room in the budget?
That's what this week is all about. We are talking about energy efficiency in the home. This is something that we want all of our clients to have in their homes. Not just for today, but for tomorrow as well. Energy efficient measures may cost a little bit more when you are getting your home built or working on your home, but they pay for themselves in the long run.
Air Conditioning
In 1902, Willis Carrier was working for a printing company in New York state. They were having trouble with the printing process and an excess of humidity. Carrier invented the first modern electric powered air conditioner. It not only cooled the air, it also helped to keep the humidity down. Thank you, Mr. Carrier, for your wonderful invention.
Types of AC Units
Modern-day air conditioning has come a long way from the early days of Mr. Carrier's invention. Today there are four basic types of AC units. Each one has its own distinct pros and cons and uses.
Central Air-Conditioning
This is the most popular type of air conditioning unit. This is a unit that is built to service an entire house from one location. These types of units are ideal for homes that are in high humidity areas. (Like Arkansas.) They circulate cooler air through a system of ducts from the air conditioner into the home. The air that becomes warmer in the home gets pulled back through the system and cooled again.
Central AC units typically come in two types: a split system and a packaged unit. The split system uses an outdoor metal unit with a condenser and compressor and an indoor unit with an evaporator. Packaged systems come with just one unit. This unit typically sits either on the roof of your home or on a concrete pad right outside.
Heat Pumps
Heat pumps are more efficient than central AC units and they can be used to both heat and cool your home. This is better for places that have a milder climate such as the Southeastern United States.
During the cooling season, the heat pumps use electricity to move heat from your cool house into the warm outdoors. Because they move the heat rather than generate it, heat pumps can provide 4 times the amount of energy that they use.
Ductless Cooling Systems
Ductless cooling systems are also called mini-splits or multi-splits. They deliver cool air to different rooms in your home without routing it through ducts first. A ductless air conditioner has two major components: a unit mounted on an inside wall that delivers the cool air to the room and a unit on the outside of the house.
A pair of lines run between the two units. One is carrying electricity and the other is taking away the condensation. Ductless systems are more expensive than a window unit, but they are much more energy efficient.
Room Air Conditioning Units
These usually cost less to buy than central air-conditioning systems or ductless systems, even if you have to buy several to cover your entire home. They are much less efficient than any of the other types of systems. If you are only needing to cool a small area or specific rooms, then they may be perfect.
Air Conditioning Tips
Air Conditioning use accounts for more than 8% of the electricity produced in the United States each year. It is something that is absolutely crucial for health here in the South. So how do you reduce the amount of energy that your air conditioner uses and still maintain a nice cool home?
Use only when other methods don't work.

Don't run your unit constantly. Try other methods of keeping cool first and use the air conditioner only when you must.

Adjust your thermostat.

Adjust your thermostat to a higher temperature when you leave or install a programmable one to do so for you.

Close Windows and Doors.

When you do have to run the air conditioner, make sure to keep windows and doors closed. This keeps all of the air flow contained in the home. (Try telling that to my 4-year-old.

Use precaution when using large amounts of hot water.

Run hot water appliances in the evening. If you are able to, use an exhaust fan while you are taking a shower. Humidity can build up quickly and make your air conditioning unit work harder.

Check the seal on a window unit.

Make sure that the seal on the window unit is intact prior to each cooling season. You don't want there to be any gaps in between the unit and the window. This type of gap can cause problems with the effectiveness of the unit.

Install a window unit correctly.

Take a minute before you install your new window unit to plan how it is going to be installed. Make sure that the unit is level. A window unit works properly when it is level. If it isn't level, then it is not going to run as effectively. Install the window unit on the north or east side of the home and try to place it in the shade. Putting a unit in direct sunlight can reduce its efficiency by as much as 10%.

Place your thermostat in a clear area.

You don't want your thermostat in a location with lots of electronics or tv's. These devices produce heat and may cause your thermostat to get an incorrect reading. This will make your ac unit run more continuously.

Setting your thermostat.

Set your thermostat as high as you can handle it in the summer and as low as you can manage in the winter. This will keep the units from working all the time and lower your energy bill. The standard number for setting your thermostat in the summer is 78 degrees. The standard number for setting your thermostat in the winter is 68 degrees.
Maintenance
You should perform routine maintenance on your unit to keep it performing to the best of its ability. The main thing you should do is replace or clean the filter on your unit when it recommended. I know its hard for me to remember to do that, too. I actually have a reminder set up in my phone for every 10 weeks to replace mine. (I get the filters that last for 3 months.) That way if I forget to do it immediately, I still have time to get it done.
Dirty or clogged air filters reduce the airflow and cause problems with your unit's efficiency. Keeping the filter clean and unclogged can lower your unit's energy use significantly. We're talking between 5 and 15 percent.
If you have pets or if you live in a dusty area, you may need to change your filter more often.
Other Options
So, what happens if you live in an older home or if you just can't afford that new unit right now? There are some other options to help with cooling your home. Ceiling fans are a great option that aid air conditioning units in their work.
You can't walk into a southern home and not see a ceiling fan. It's just part of life around here. That's because it gets so warm that sometimes even the most efficient unit needs help. There are two things that you might want to remember about ceiling fans. The first is that they actually turn in two different directions.
They turn in one direction to push cooler air down from the ceiling and pull warmer air up. They turn in the opposite direction to push warmer air down and pull the cooler air up. So, one setting is for the summer and one setting is for winter. A ceiling fan allows you to raise the temperature of the thermostat by around 4 degrees without any noticeable difference.
Another great option is a window fan. These are not as popular as they used to be. My husband's parents' house was a really old place. It had been built in the late 1800's back when this part of the country was still mostly dirt roads with just suggestions for traffic laws.
That home had used an attic fan for years. Attic or window fans are positioned in the home on the side facing away from the primary direction of the wind. This will pull warm out of the home and keep the air from becoming still and stale. You can help this by opening windows on the opposite side of the home giving the home a nice breezeway.
Heating Units
A lot of the same maintenance tips and efficiency tips that you use for air conditioning, you can also apply to heating units. A heating unit does the same thing as an air conditioning unit. It removes the humidity from the air and replaces cooler air with warmer air.
If you have a furnace, you will need to inspect your unit every year before you start using it. You want to make sure that there isn't any soot or combustible residue built up in the area. You also want to make sure that the flue is clear.
Another thing that you are going to need to look into prior to using your unit is to make sure that the filter is clean and unblocked. Just like with an air conditioner this can cause efficiency problems. Unlike with an air conditioner, this can cause a fire. Not a good situation.
Lastly, you'll want to install a carbon monoxide detector. This will make sure that the carbon monoxide levels in your home are normal and that the gas is not building up. Carbon monoxide is a swift and silent killer. It makes you sleepy and lethargic and once you are in that state, you can't fight it any longer. That's not something that you want to mess around with.
Space Heaters
Just a quick word about space heaters. I love using a space heater in the bathroom on cold winter days. I absolutely loathe being cold. A space heater lets me heat the bathroom to that perfect temperature without having to crank the thermostat to an unreasonable level.
That being said, they're not something that you can be careless with. Space heaters are safer than they used to be, but they are still not a long-term solution or something that you want to use while you are asleep or out of the home. They are a huge fire risk, and some are hot to the touch and can hurt children and pets. If you use them, please be careful with them.
Here at Nelson Design Group we want your home to feel like a safe haven away from the crazy temperatures. We also want to find you the plan for your dream home. Give us a call today!
Maybe you're looking for something in particular? Don't worry, we have you covered. Come check out Nelson Design Group's collection of over 1,800 house plans. And come check out the past blog posts in our house plan series:
Here at Nelson Design Group, we are always ready to make your dream home a reality. If we don't have the plan that is right for you, we'll make one. We are experts in our field and have been doing this for over 30 years. Give us a call today and we will be glad to help.
If you are looking at building a house, check out our Building Your Dream Home blog series. This series walks you through step by step on how to build a house and is updated regularly.
If you haven't found a builder yet, we have a Find-a-Builder tool right here on our website. These are builders from around the country that we have vetted just for you! They are skilled in their professions and do a great job.
Nelson Design Group has over 1,800 house plans for you to choose from. If you're unsure about finding what you need, give us a call at (870) 931-5777. Our representatives are always happy to help.
If you are a builder looking to buy plans, sign up for our Builder's Program. We offer discounts you won't be able to find anywhere else.
We also have resources that are just for you like access to our Master Planned Communities and Marketing Services.