Outdoor Buildings: Garages and Pool Houses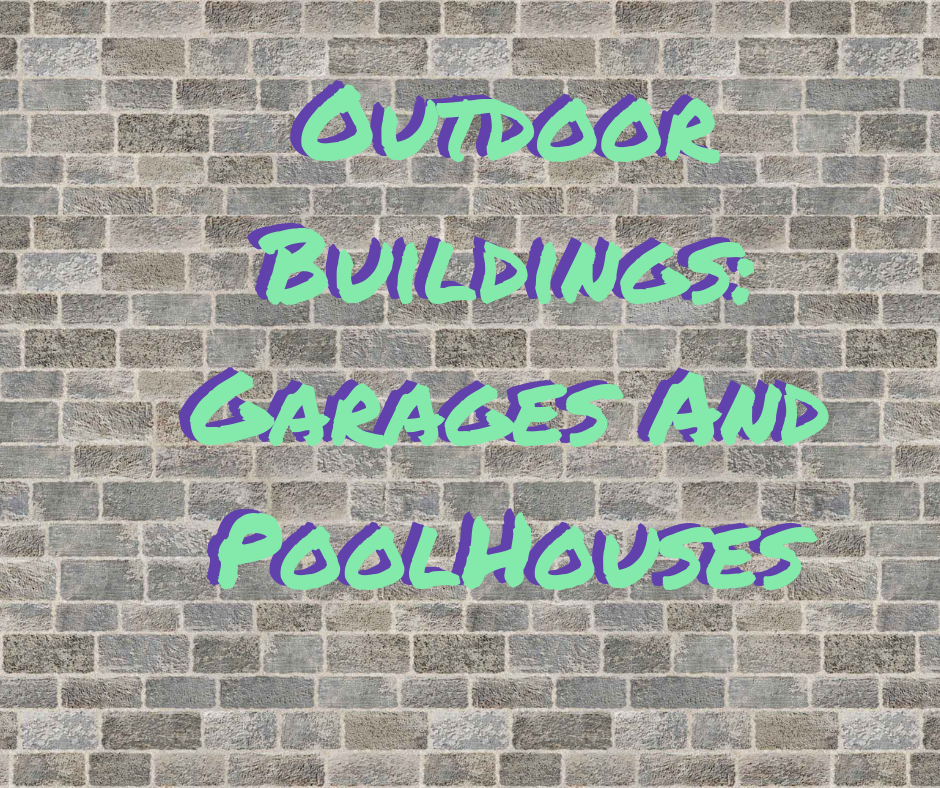 Outdoor Buildings: Garages and Pool Houses
We've all had that moment. You're walking down the hallway to check the thermostat and you trip over 3 stuffed animals, 2 naked barbies and 4 hot wheels cars. Frustrated, you start opening closet doors desperate to find a place to store the overabundance of kid stuff that your home seems to grow like a strange crop. Each door you open is something to add to the nightmare. This closet is full of holiday decorations. This one is full of winter coats and boots. And this one is full of kitchen appliances for some weird reason. Alright, that's enough! We have got to build a place to store all of this stuff!
Luckily for you, we have plans for that.
Garage Plans
If you are looking at building an external garage, we have you covered. I have found our best of the best, the crème de la crème of the external garage plans and I have them here for you.
1487
This is an external plan for a 4-car garage. But it only looks that simple from the exterior. Entering into the garage you find the space for all of the bays facing the same direction with plenty of space for all of your vehicles.
Just past that is the staircase to the second level. Yes, I said staircase. This plan gives you a bonus room above the garage. Coming up the stairs you find yourself in a large Bonus Room with several openings to Attic Storage.
This is a perfect place to store all of your holiday decorations and that badminton set that your uncle gave you several years ago. (Yeah, we got some of those types of gifts, too.) The second floor also features a full bathroom with a shower.
I would love to have a place where my husband can get the grass off of himself before he comes inside when he's doing yard work. No matter how careful he is, it ends up everywhere.
This plan also features a small kitchen area with a refrigerator, counter, and sink. This gives you a perfect place to wash up after doing some work on the vehicles and grab a cold bottle of water.
1652
Now this is a great plan. If I was single and didn't have any kids, I might think about building this one just to live in. It's very versatile. It would make a great place for a college kid to live. At first glance, this is simply a 3-car garage. But the Batcave is just a hole in the ground from the outside.
On the first floor, you not only have room for your favorite 3 vehicles, but you also have a large storage room. There is also a separate Entry to take you up the stairs to the Loft Apartment.
See? Looks like just a garage but is definitely more than that. This Loft Apartment includes access to the Attic Storage. It features a large Loft Bedroom, a full bath with a shower, a walk-in closet and a small Kitchen.
This Loft is bigger than my first Apartment and it's above a garage!
1485
I wish I had this Garage built near my house. It would be nice to have a place for guests to stay when they wanted to stay over and watch the kids. (Who am I kidding? That doesn't happen.) This Garage is built for 2 cars, but it features 2 large storage areas for all of those things that we tend to accumulate in this life.
If you go up the stairs, you'll find a surprise. This Garage has a large Guest Loft above it. This Loft includes two sets of Bunk Beds, a better functioning Kitchen than a fancy hotel room and a full Bathroom with a large shower.
The Loft also features Vaulted Ceilings and space for an HVAC unit. So, your guests won't freeze in the winter or roast in the summer. This is a lovely plan, especially for families that love to have large get-togethers.
Governor Drive (NDG 1486)
This plan is very straightforward and is a best seller. It's a garage, but it has some great storage options. Not only can you put both of your vehicles in this building, but it also has two large storage closets to give you that extra room that we all need.
1488
This plan gives you plenty of space for three cars, but once you move up the stairs you find the big surprise. The stairs are located at the rear of the garage and have a nice little design that will even give you space underneath them for storage.
On the second floor, you will find a large bonus room. This room is completely open, there are no boundaries to hold you back. It would be a great place for a gym or yoga studio or just a great space to hide all of the stuff that you just don't have room for in the house.
Pool House Plans
Here at Nelson Design Group we have several pool house plans to choose from. If we don't have exactly what you are looking for, remember that we can modify an existing plan or create you a custom plan.
1495
This little beauty comes with a full bath that is perfect for those quick trips to the restroom or if you need to take a shower before going in to the house. This pool house not only features a full bath with a shower, but the shower area also has a bench with an area for hanging your clothes. That makes it super easy to slide in and close the door and get ready for the rest of the day. This floor plan also features a space for a stacked washer and dryer, so those wet beach towels don't ever have to make it into the house.
This plan also has a large room just for storing pool equipment as well as a large covered porch with an optional grilling area. This would be perfect for a pool party especially for little ones who won't want to be out of the pool long enough to do anything more than eat.
Maryland Drive (NDG 1482)
This pool house gives you all the storage you will ever need for all of your pool equipment. This plan features a half bath with an outdoor shower on the covered porch. So you can give yourself a quick rinse in between tanning and swimming.
The outdoor shower would also be convenient for those times when you are working in the yard and just want to cool off. I know here in Arkansas, summer can be brutal and having somewhere to just take a moment and cool off is very important.
This plan also features space for an activity room with a mini fridge. Remember that whole yoga studio or home gym idea? This is the plan for that. This would give you plenty of space to work out and also a place to keep your water cool. The storage area located on the rear of the plan is the perfect place to store the chemicals and outdoor lawn furniture.
Hagan Drive (NDG 1483)
This pool house gives you room for a guest house including a 2 car garage! This plan features 1,100 square feet of living space with 1 bedroom and 1 full bath. The first thing you notice about this little house is that it has a covered porch that wraps around to the side where it has a built in outdoor shower area.
This shower gives you the perfect place to clean up after a long day by the pool. The covered porch also gives you space for an outdoor kitchen area. Stepping into the home, you find an open floor plan combing an Activity Room with a full size Kitchen with seating for 6 at the Kitchen island. It even gives you room for a small pantry.
From the open room you can step into the full Bath which gives you astandard shower space, but also opens up into a secondary room with lockers for storage and a bench. This secondary room gives you a direct entrance to the outdoor shower. This makes it perfect for large families with kids.
From the Activity Room/Kitchen you can also access the mechanical room with room for the hot water heater and heating and air systems. Stepping down a short hallway, you find yourself in the guest room that gives you plenty of space for visitors. This plan would be perfect for a guest house or for a mother-in-law cottage.
Result Drive (NDG 1484)
This pool house gives you room for any guest that might want to come stay a while and includes a 2 car garage! This house plan gives you 1,100 square feet of living space with 1 bedroom and 1.5 baths. As you step into the home from the covered porch with its outdoor fireplace, you find yourself in an open floor plan with a combination Activity Room and Kitchen. This Kitchen gives you all the room you would need for cooking with bar seating for 6 and a pantry.
From the Kitchen you can step into the Bedroom which is set up like a small Master Suite. The Bedroom features a large bank of picture windows and opens up into a full bath with a walk-in closet and linen closet.
From the Activity Room you can make your way to a short hall way where you can find the Laundry Room with space for a full size washer and dryer. Or you can find the ½ bath with a bench and space for hanging on the other side. This half bath has a separate entrance making it perfect for quick changes from the pool.
The garage gives you plenty of storage space for all of that pool equipment as well as any luggage that your guests may bring with them.
Here at Nelson Design Group, we understand that all of your property is your home. We strive to not only have the best house plans on the market, but also to have the best additional plans you might need. And remember, we can customize all of our plans to your needs. Give us a call today!
Maybe you're looking for some in particular? Don't worry, we have you covered. Come check out Nelson Design Group's collection of over 1,800 house plans. And come check out the past blog posts in our house plan series:
Here at Nelson Design Group, we are always ready to make your dream home a reality. If we don't have the plan that is right for you, we'll make one. We are experts in our field and have been doing this for over 30 years. Give us a call today and we will be glad to help.
If you are looking at building a house, check out our Building Your Dream Home blog series. This series walks you through step by step on how to build a house and is updated regularly.
If you haven't found a builder yet, we have a Find-a-Builder tool right here on our website. These are builders from around the country that we have vetted just for you! They are skilled in their professions and do a great job.
Nelson Design Group has over 1,800 house plans for you to choose from. If you're unsure about finding what you need, give us a call at (870) 931-5777. Our representatives are always happy to help.
If you are a builder looking to buy plans, sign up for our Builder's Program. We offer discounts you won't be able to find anywhere else.
We also have resources that are just for you like access to our Master Planned Communities and Marketing Services.