Energy Efficiency Week: Insulation and Tips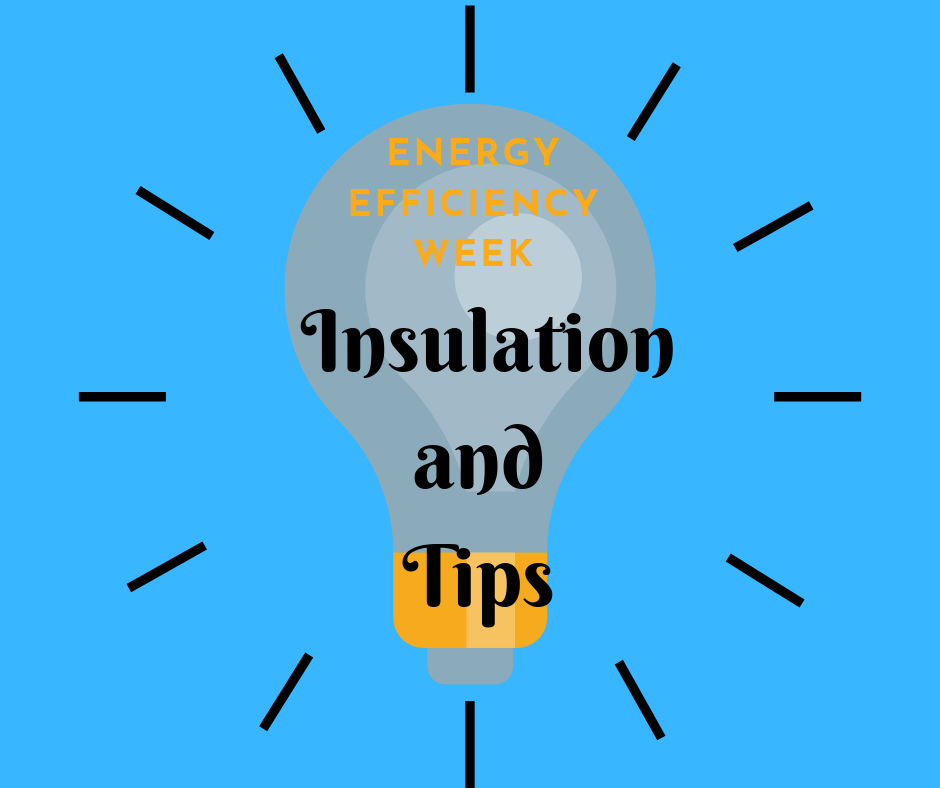 Energy Efficiency Week: Insulation and Tips
So you've got the thermostat set to the right temperature, your hot water heater is optimized and your light bulbs are changed out, but you feel like your utility bill is still too high. Well that's it! Back to candlelight and well water. Or we could just look at the insulation and some other tips for your home.
Insulation
One of the things that will raise your utility bill the most is heating. And the past several winters have been absolutely brutal. More than a third of the money that you spend on utilities goes to heating your home.
One of the ways that you can cut down on that cost is to make sure that your home is well insulated. Insulation prevents air from leaking out and helps keep the heat/cool in your home. In fact poor insulation and air leaks are the biggest causes of wasted energy in homes.
Types of Insulation
There are four basic types of insulation. They each have their own pros and cons and intended purposes. No matter which type of insulation you are using, make sure that you are using proper protective gear. Most insulation is made of fiberglass or other types of mineral mixtures. These are very hazardous to your lungs.
The minerals that are in insulation can also cause skin and eye irritation. So make sure that every part of you is covered by protective gear. I know when I helped to install some insulation up in the attic, I made the mistake of wiping my forehead with my sleeve. It itched for hours.
Rolls and Batts (Blankets)
These are rolls of insulation that are flexible and made from mineral fibers. Usually they are made from fiberglass or rock wool. Batts are made from mineral wool, plastic fibers and natural fibers like cotton and wool.
This is the most common type of insulation available and it is also one of the least expensive. It is usually precut in widths that are the standard spacing of house studs or you can purchase it in a continuous roll that you can then cut to the length and width that you need.
One of the parts to this type of insulation is the facing. This is an important component of the insulation. What the facing does is provide a barrier between the inside of the home and any air or vapor drafts. This is usually made from craft paper, foil, or vinyl. You can even get it flame resistant which is great for places that have long standing codes in place for that. (I'm looking at you, California.)
You can install this type of foundation yourself. In fact this is one of the types of foundation that I have installed. It's easy to do. All you have to do is roll it into the space and then cut it off. Or you can have a professional do it for you. If you are worried about the mineral irritants, its best to just go ahead and have someone do it.
Loose Fill Insulation
This type of insulation is made up of small bits of fiber, foam, or other materials. You can't just lay it down. It's blown into a space using special equipment. The small bits of insulation move in and fill up the space.
This type of insulation is great for closed in spaces like between walls. It does tend to settle over time. So over time the insulation becomes less and less effective. When you are installing this type of insulation you want to make sure that there are no air pockets or voids.
You also want to make sure that any gaps are filled in. Fluffing can be an issue with it as well. It can seem to fill up a space properly and then settle and you figure out that you don't have nearly the insulation that you need.
For this type of insulation you will definitely need to call in a professional. The equipment needed for this type of insulation is specialized and is not something that you can find at any hardware store.
Liquid Foam Insulation
This type of insulation can be sprayed, injected, poured or even foamed into an existing or new wall. This type of insulation can fill every available space, no matter how small. Because this type of insulation expands to fill the space, it tends to be the densest of them all. This means that it is the best at what it does.
It is a bit more costly, but because it forms itself to the space that you have put it in, it is a very effective air barrier. This seal will save you money on weather stripping or other types of insulation later.
You will need to have a professional install this type of insulation. It's installed by mixing a liquid with a foaming agent and then spraying it. To do this type of insulating you need to have special equipment and licenses.
Rigid or Foam-Board Insulation
This is exactly what it sounds like. It's insulation that comes in the shape of a board. This is the other type of insulation that I have installed. It's good stuff. It usually comes in sheets that are made to the standard widths of wall studs.
All you have to do is set the board into the space that it is going to be insulating then cut off any excess. It is great for using in the attic or in the floors of a home.
It tends to be more expensive than fiber insulation, but it can add structural strength to your home. It also reduces heat flow through structural elements like wood and steel studs. It's unique shape and thickness means that you get a great deal of insulation in a small space.
This type of insulation can be damaged by sun exposure, especially the foam-board type. So make sure that it gets covered if it is left anywhere there might be a lot of sun. It can also be damaged by insects which will reduce its affectiveness. Make sure to install it on the inside portion of any structure.
Where to Install?
The primary places that you will want to have plenty of insulation will be your attic, basement, crawl spaces and walls. All of these are places where the heat can escape from your home.
Quick and Easy Energy Efficiency Tips
If possible, wash your clothes in cold water.
Use your microwave instead of your stove when cooking.
Defrost your refrigerator and freezer regularly.
During the summer, drop your blinds and close your shades on the sunny side of your home.
During the winter, open them.
Don't peek in the oven while baking.
Use natural light when possible.
Use your lights on a timer.
Don't leave your computer, printer and monitor on all day. Only turn it on when you need to use it.
Refrigerators and freezers work better when they're full, so stock up!
Using your dishwasher or laundry units only at night will keep the house cooler.
Don't use the heated dry on your dishwasher. Let the dishes air dry.
Set up a clothesline if you can. This can cut down your electricity cost significantly.
Set your refrigerator temperature to what the manufacturer recommends.
If your home has single paned windows, consider replacing them. (We actually have put in window film to help with our costs until we can replace them.)
Don't leave your phone plugged in overnight.
Turn off your oven a few minutes before your cooking time is done. Your food will continue to cook.
Caulk up small air leaks. They add up!
Cook outside when you can. Summer is the perfect time of year to do that.
Install energy saving window treatments. Some have a backing that keeps the UV out of your home.
Here at Nelson Design Group, we want to not only find you the perfect plan for your dream home, but we also want you to be successful and happy. Try out some of these tips and tricks and see if we can't help you save a little money.
Maybe you're looking for something in particular? Don't worry, we have you covered. Come check out Nelson Design Group's collection of over 1,800 house plans. And come check out the past blog posts in our house plan series:
Here at Nelson Design Group, we are always ready to make your dream home a reality. If we don't have the plan that is right for you, we'll make one. We are experts in our field and have been doing this for over 30 years. Give us a call today and we will be glad to help.
If you are looking at building a house, check out our Building Your Dream Home blog series. This series walks you through step by step on how to build a house and is updated regularly.
If you haven't found a builder yet, we have a Find-a-Builder tool right here on our website. These are builders from around the country that we have vetted just for you! They are skilled in their professions and do a great job.
Nelson Design Group has over 1,800 house plans for you to choose from. If you're unsure about finding what you need, give us a call at (870) 931-5777. Our representatives are always happy to help.
If you are a builder looking to buy plans, sign up for our Builder's Program. We offer discounts you won't be able to find anywhere else.
We also have resources that are just for you like access to our Master Planned Communities and Marketing Services.