Corporate Partner Spotlight: Bingham Lumber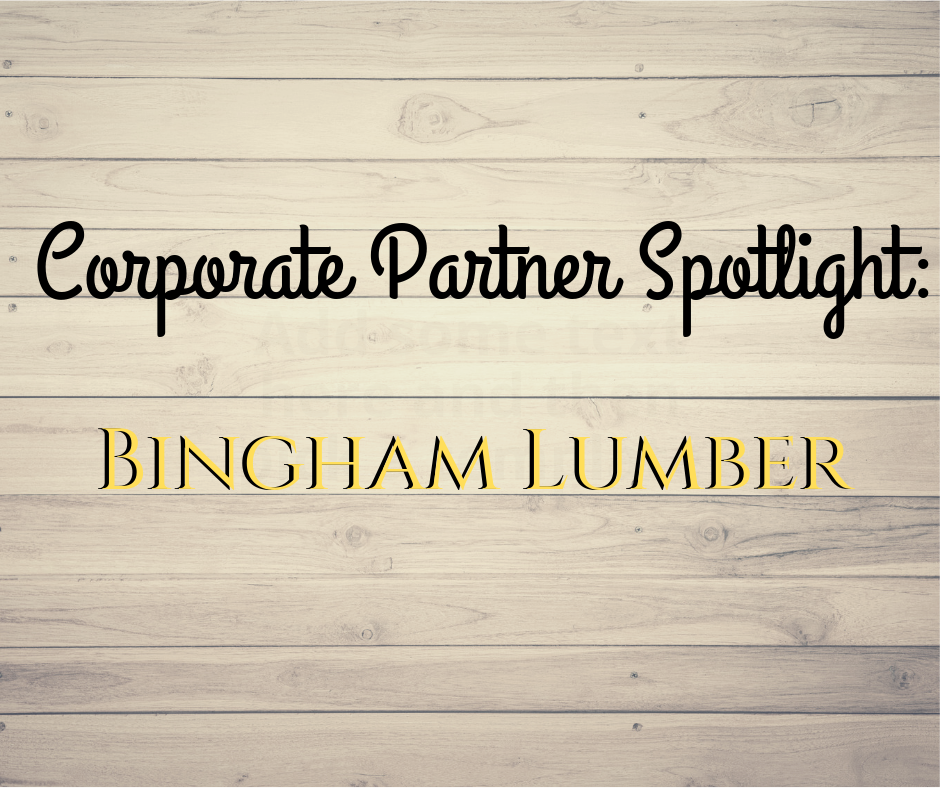 Corporate Partner Spotlight: Bingham Lumber
Just over 18 million acres of prime, old growth forest are destroyed each year. This level of destruction is incredible and can be prevented by changing simple things about our lives. One of the major contributors to deforestation is the need for lumber. This is a huge industry and it is slowly destroying the beautiful country that we live in. One of our favorite companies and corporate partners wants to help decrease this amount of deforestation with an innovative solution. Bingham Lumber is a leader in reclaimed wood and new lumber.
Reclaimed wood is lumber that has already been used in the building process and has been recycled to be used again. Wood is one of those elements that can be used over and over again and has a long lifespan when used and treated correctly. There are structures that have the same wood framing from hundreds of years ago.
History
Bingham Lumber was started in 1946 by Don Bingham. At this time, the company was simply a sawmill producing lumber in the traditional sense. During the second generation of the Bingham family, they moved the sawmill from Fitchburg, MA to Brookline, NH in 1973. The company had steady growth until the lumber industry was affected by new laws and regulations in 2000.
The new generation of the Bingham legacy, Tom, purchased the mill from his father, aunt and uncle in 2001. Tom decided to take the company in a bit of a different direction. Instead of only using freshly cut timber to create the lumber that their family was known for, he decided to use reclaimed lumber to try and bridge the gap created with the new regulations.
In 2012, Bingham Lumber had a devastating fire in one of the older buildings of their complex. It damaged the showroom and one of the older kilns. Instead of giving up, Tom decided to rebuild. It took 3 years of constant work and effort, especially during the cold and nasty New England winters to rebuild.
In 2015, Bingham Lumber opened up their new state of the art showroom which features an actual barn rebuilt inside of the showroom. This helps the sales staff show you how reclaimed wood is taken from older structures and made into beautiful pieces of art.
Now they have over 25,000 square feet of heated showroom and workshop to work with both new lumber and reclaimed lumber. They have also teamed up with smaller custom companies over the years to create unique pieces for their clientele.
For the last 70 years, Bingham Lumber has operated with the same ideals. They strive to provide Quality Lumber at a fair price and Honest Service. They are one of our corporate partners because their beliefs line up with ours. We believe in giving the best service possible for the best price.
Reclaimed Lumber
Reclaimed lumber is wood that has been used in previous building projects, salvaged and used for new purposes. Bingham Lumber Company works with a network of salvage professionals throughout the United States. This allows them to reclaim all of the wood components that went into building the structures. This keeps the wood from becoming lost.
The salvaged wood is brought to the Brookline, NH facility. All of the pieces that can be saved are sent here including timbers, boards, joists and even wood fiber. The wood is then inspected and cataloged. Bingham keeps extensive records on where the wood came from and what the previous project had been. This makes them Historians of Wood.
The reclaimed wood is now processed into usable interior finishing components. This allows the character texture and character of the wood to live another life. It also makes for amazing decorating pieces and conversation pieces.
Reclaimed Lumber is a huge part of today's market. The newest trends are always looking for a green product. With that in mind, every piece is used to the fullest extent. Bingham believes that nothing should be "left on the ground". This reclaimed lumber has now become decorated timbers, resized beams and mantles, flooring, fine furniture, wall paneling and specialty millwork.
Reclaimed Lumber has many advantages other than preserving natural resources. Some of the reclaimed wood is made up of varieties of hardwood that are not available in the market any longer. These former hardwood staples have been replaced by faster-growing woods that have a softer density.
These woods are also aged and seasoned. This means that they are stronger than a new piece of lumber. In fact, lumber mills tend to try to do this process artificially. This type of wood has already been through this process the slow and natural way.
Products
So, on that note, we are going to look at some of the products that Bingham provides. All of Bingham's products are made with the wood in mind. Many of their pieces are random lengths depending on the natural material, but they can mill it to standard lengths upon request.
Remember when you are shopping for this type of product that wood is a natural product. Bigham lumber recommends ordering samples of the products before making a final choice. Each sample will give you a good representation of the species and what each of them look like.
Wide Plank Floor
Their wide plank flooring comes in random lengths between 2' and up to 12'. The planks can be as wide as 10" for most of the species available and up to 20" for white pine. They can mill you some standardized lengths and widths if that is what you need, and they can also mill you some pieces out of other species.
I agree with them, though, that the randomized boards give the floor a more natural look. They offer 9 different species of wood for this type of flooring as part of their regular species. You can also custom order any species you need. The standard species of wood that they offer in this type of flooring are: Classic Ash, Classic Eastern White Pine, Classic Long Leaf Heart Pine, Classic Red Oak, Classic White Oak, Classic Cherry, Classic Hickory, Classic Maple and Classic Walnut.
Reclaimed Flooring
Sustainable? Check. Unique? Check. Looks great in any space. Check. Bingham Lumber offers Wide Plank Reclaimed Flooring. This is wide plank flooring made from the wood that has been reclaimed from old buildings and treated to become like new.
Each piece has its own character. It will have natural characteristics throughout each of the pieces. These are what will make your space unique. These characteristics include nail holes, insect markings, weather checking, knot structure and tannins. There is just no way to simulate this kind of look in a manufactured wood product.
Reclaimed Flooring comes in many, many different types of species. It also comes in many different lengths and sizes. Once again, Bingham recommends using the random lengths and sizes for a more natural look, but if you need it to be standardized, they will be happy to help.
Reclaimed Barn Siding
Chip and Joanna Gaines have made it fashionable to use old lumber in your home and decorating space. If you want the same sort of look that they have, this is a perfect place to get it. Reclaimed Barn Siding are the wider boards that give you that farmhouse vibe in just a few swings of the hammer.
Just like the reclaimed wide plank boards, these are all from sustainable reclaimed sources. They usually come in many different shapes and sizes, though they can be standardized for your build. The experts at Bingham Lumber can give you reclaimed barn siding and paneling in 8 different styles and species.
Remember, that these are going to have characters and flaws built into them. They are not going to look like perfect boards that have just been harvested. They are each going to be unique and will last a lifetime.
Custom Millwork and Tables
Bingham Lumber doesn't just give you pieces of lumber, they can also make you custom pieces for your home. If you have an idea for something that you just haven't been able to find anywhere, look no further than the custom mill at Bingham Lumber.
They can work you up many different pieces including custom furniture, custom stair treads, reclaimed barn beams, sliding barn doors, custom stair components, and custom tables and islands. These are perfect for your unique tastes and as a great conversation starter.
Hand Hewn Beams
Speaking of unique pieces, Bingham also offers hand hewn beams to compliment the décor in your rustic style home. These beams are quite simply long pieces of timber that have been taken from a round log to a square using only handheld tools.
This is exactly what the pioneers used to build their homes in the wild west. If you want your home to have that wild vibe, this is the perfect way to do it. Also, if you are redoing an older home and want to keep part of the tradition alive, this would be an excellent piece to use.
Lumber
Bingham is also a traditional lumber yard and sawmill. They offer all of these specialty products as well as standard pieces that you can find in any lumber yard. They are the experts in their field, so if you are unsure about what you should purchase or what exactly you are looking for, give them a call and they will be able to help you.
Here at Nelson Design Group we are proud to work with Bingham Lumber. As a family owned business, we love that they have kept the business close to their hearts and innovated it to stay current in today's market. We are proud to have them as one of our premier partners and encourage all of our employees to go visit them and take a look at all that they have to offer.
Maybe you're looking for something in particular? Don't worry, we have you covered. Come check out Nelson Design Group's collection of over 1,800 house plans. And come check out the past blog posts in our house plan series:
Here at Nelson Design Group, we are always ready to make your dream home a reality. If we don't have the plan that is right for you, we'll make one. We are experts in our field and have been doing this for over 30 years. Give us a call today and we will be glad to help.
If you are looking at building a house, check out our Building Your Dream Home blog series. This series walks you through step by step on how to build a house and is updated regularly.
If you haven't found a builder yet, we have a Find-a-Builder tool right here on our website. These are builders from around the country that we have vetted just for you! They are skilled in their professions and do a great job.
Nelson Design Group has over 1,800 house plans for you to choose from. If you're unsure about finding what you need, give us a call at (870) 931-5777. Our representatives are always happy to help.
If you are a builder looking to buy plans, sign up for our Builder's Program. We offer discounts you won't be able to find anywhere else.
We also have resources that are just for you like access to our Master Planned Communities and Marketing Services.