Dog Days of Summer: Purrfect House Plans for Pets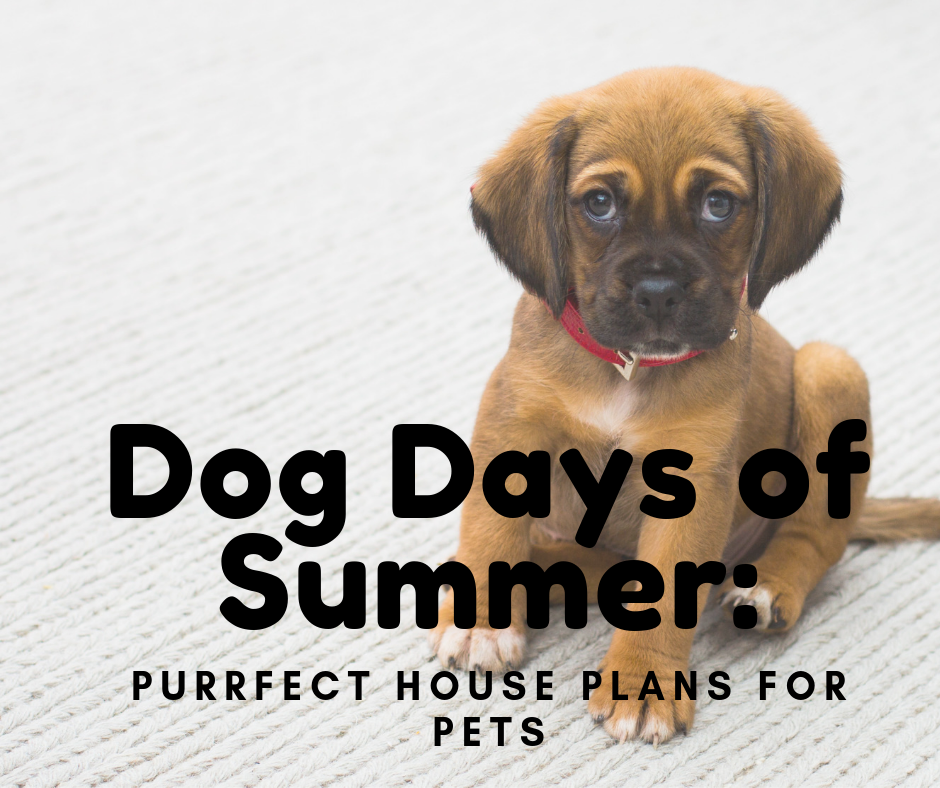 Dog Days of Summer: Purrfect House Plans for Pets
Where did the expression "Dog Days of Summer" come from? I didn't know so I looked it up. According to wonderopilis.org, this expression comes from the Romans. The Romans noticed that during the hottest part of the year, the star Sirius would be very visible. Sirius is the brightest star in the constellation Canis Major (Large Dog) and so these days became known as the "Dog Days". The "summer" bit was added on later.
It's easy to see why they would associate this time of year with the dog star. It was common to use the stars as a way to keep track of the days in the ancient world. They would have known what each of the constellations were and what they represented. It would have been easy for them to look up at the sky on a hot muggy night and blame it on the giant dog in the sky.
Purrfect House Plans for Pets
Sometimes when you are looking for a house plan, you feel like you are barking up the wrong tree. With Nelson Design Group, you never have to worry that you aren't going to find your "Furever" home. We've got some more great plans that feature spaces for your family, both the furry and not so furry.
Chandler's Place (MEN 5205)
This is one of those house plans that catches the attention of anyone who sees it. It gives you that European style of home with a gorgeous roofline and arches facing the street as you come in. This plan gives you 5,600 square feet of living space with 5 Bedrooms and 4.5 Baths. Unlike your average chateau, this home also features a 3 car Garage.
The first thing that you notice about this home is the covered Porch. This home greets you with a stonework porch and steps with beautiful arches that give it a taste of elegance and sophistication. As you enter the home from the Porch, you find yourself in a Foyer. To the left is a Study with floor to ceiling shelving along almost every wall. This also features a nook nestled under the stairs where you can read all about "The Boy Who Lived".
On the other side of the Foyer is a multipurpose room. This room can be used as a Guest Room or as a Recreation Room. It has a large closet and window and connects with a smaller Fitness Room that would be a perfect place to "sweat" it out.
From the Foyer, you can move directly across to the Great Room which features a brickwork gas fireplace and a large double door opening to the Covered Porch on the rear of the home. If you move to the left of the Great Room, you will find yourself in a hallway that will lead you to the Master Suite.
The Master Suite features large windows that look out on to the rear of the home and a corner brick work fireplace for those cozy winter evenings. The Master Bath features both a whirlpool tub and a corner shower with a seat for a relaxing evening after work. The walk-in closet is "L" shaped and will offer plenty of room for anyone's collection of shoes and accessories.
If you move to the right from Great Room, you find yourself in the large Kitchen area. The Kitchen features a wine refrigerator and 2 bar top areas for dining. One is on the island in the center of the Kitchen and gives you seating for 3.
The island also gives you space for your microwave and a warming drawer. I had a stove that a warming compartment. It was wonderful to be able to fix my husband's dinner on those nights that he had to work late and keep it nice and warm for him without having to warm it all up again.
The second bar seating area gives you seating for 6. The Kitchen has plenty of counterspace and room for both a refrigerator and a freezer. That would be perfect for anyone who loves to cook. And let's not forget the entire countertop on the front wall of the home! This features its own sink and the double range! The Dining Room/ Hearth Room is along the rear wall and gives you an entryway to the Grilling Porch/ Outdoor Living Area. The Dining/Hearth Room features a large brickwork fireplace.
Moving from the Kitchen you find yourself in the Laundry Room. This room gives you plenty of workspace and sink for rinsing and soaking as well as access to a Laundry Chute from the second floor. The Half Bath is just through the door here and also has an entrance from the Dining/Hearth Room.
A Hunting Room rounds out this floor of the home. This room features space for all of your hunting gear including a Gun Safe and a bench with hanging storage directly above it. This room is perfect for those who love to hunt and fish and will give you a place to store all of your gear. This room also allows you to reach the Safe Room/Cedar Closet.
This is a multipurpose space that can be used to store clothing and is available to you and your family in times of inclement weather. The Second Floor of the plan features a Balcony overlooking the courtyard at the front of the home that can be accessed from Bedrooms 3 and 4.
All three of the Bedrooms on the Second Floor have their own in-suite Bathrooms and walk-in closet. There is also a Balcony overlooking the Great Room and Foyer. This home gives you luxury living and is perfect for a growing family.
Flat Acres (SMN 1020)
This is not your ordinary house plan. This is a specially designed plan from Seth Michael Nelson. This plan blends the love of the farmhouse style with a bit of the modern approach that Seth is known for. This plan gives you 3,200 square feet of living space with 5 Bedrooms and 3.5 Baths. It also features a 2 car Garage.
The first thing that you notice about this home is that it kind of looks like a barn. This home is perfect for people wanting a large home to build that has plenty of space both inside and out. The front of home is faced by a large covered Front Porch that spans the length of the home.
When you walk into the home you find yourself in an open-floor plan for the Great Room and Kitchen This floor plan would be perfect for large families. I can just see kids zooming across this space at lightning speed dodging each other (mostly) successfully.
The Kitchen features a wraparound countertop that gives even the most demanding cook plenty of space to fix their masterpieces. The Great Room features the spiral stairway to the Loft and entrance to both a storage room and to the Half Bath. This a perfect place for guests.
To the left of the Great Room and Kitchen you will find the Laundry Room/ Mudroom and Pantry. The Laundry Room/ Mudroom features a large countertop for folding and sorting as well as a farmhouse style sink for soaking stubborn stains. This Laundry Room even gives you a little mini shower that is perfect for someone coming in from working outside or for your furry friends. You can also access the pantry from this side of the Kitchen.
The Master Suite resides on this side of the home as well. It is separated from the rest of the home by a set of Barn Doors. The Master Suite features two large windows overlooking the front of the home. Moving through the second set of barn doors you find yourself in the Master Bath. This gives you both a large tiled shower as well as a whirlpool tub. This plan also gives you two walk-in closets for your Master Suite.
The other side of the home could be its own house. On the right side of the Great Room you can go through another set of barn doors and it will lead you to a small Living Room that is in the center of a four-leaf clover arrangement of awesomeness. The other 4 Bedrooms make up the leaves of the clover in this case and give you space on each of the four corners.
Bedrooms 1 and 2 share a Bathroom and Bedrooms 3 and 4 share a Bathroom but each has their own walk-in closet. And can you just imagine sending a bunch of kids to their own living room? Giving you all of the peace and quiet of your Great Room for you and your significant other? It would be amazing! Or you could send them to the Loft upstairs to play which has plenty of space for a work area, play area or even exercise area.
Austin Ridge (MEN 5195)
This home from award winning designer Michael E. Nelson is rustic luxury at its finest. The first thing that you notice about this plan is the stonework and woodwork features on the front of the home. This makes sure that anyone who sees your home is going to be immediately wowed by it. This plan gives you just over 5,000 square feet of living space with 4 Bedrooms and 4.5 Bathrooms. It also gives you a 2 car Garage to store your motorized beauties.
Entering the home from its circular drive, you step onto the covered Porch featuring stonework columns. You can step into the home into the Foyer that features a 12' high ceiling. On the left side of the Foyer is the Dining Room which is perfect for entertaining. The left side of the Foyer gives you access to the Office space which has a large window overlooking the Porch. The Office also has its own storage area and gives you a perfect place to keep your sensitive files.
Continuing to the left you find yourself in the Safe Room. This is perfect for those areas that could be affected by severe weather because it gives you quick access to the Safe Room. The Master Suite is also on this side of the home.
The Master Suite features a passthrough masonry fireplace and its own sitting room. The Master Bath gives you both a linen closet and drawer storage as well as a large glass shower with a seat. The Master Suite is rounded out by two large walk-in closets.
Moving back through the home, you find the Great Room that has the other half of the passthrough masonry fireplace and exposed timber beams. The Great Room also features French Doors that lead out onto the Outdoor Grilling Porch at the rear of the home.
The Great Room connects with the large Kitchen Area which features loads of great counterspace and room for a refrigerator and a freezer. It also has bar seating for 4 that faces the Breakfast Room. The Breakfast Room has a large window that looks out on to the rear of the home. The Kitchen also gives you access to a large Pantry that is every cook's dream.
The rest of the home features a large Laundry Area with its own sink for soaking those super tough stains, a Half Bath for the kids, a Kid's Nook off of the Garage for those busy weeknights and a Dog/Cat room with its own entrance and a drain in the center. Bedrooms 2 and 3 are on this side of the home as well as the Guest Room. All of the bedrooms feature their own bathroom and walk in closet.
The second floor of the home gives you a Bonus Room and another Bathroom. This space would be perfect for a kid play area, an office or an exercise room. This plan gives you everything that a growing family would ever need.
Maybe you're looking for something in particular? Don't worry, we have you covered. Come check out Nelson Design Group's collection of over 1,800 house plans. And come check out the past blog posts in our house plan series:
Here at Nelson Design Group, we are always ready to make your dream home a reality. If we don't have the plan that is right for you, we'll make one. We are experts in our field and have been doing this for over 30 years. Give us a call today and we will be glad to help.
If you are looking at building a house, check out our Building Your Dream Home blog series. This series walks you through step by step on how to build a house and is updated regularly.
If you haven't found a builder yet, we have a Find-a-Builder tool right here on our website. These are builders from around the country that we have vetted just for you! They are skilled in their professions and do a great job.
Nelson Design Group has over 1,800 house plans for you to choose from. If you're unsure about finding what you need, give us a call at (870) 931-5777. Our representatives are always happy to help.
If you are a builder looking to buy plans, sign up for our Builder's Program. We offer discounts you won't be able to find anywhere else.
We also have resources that are just for you like access to our Master Planned Communities and Marketing Services.