Starter Homes Spotlight: Part 2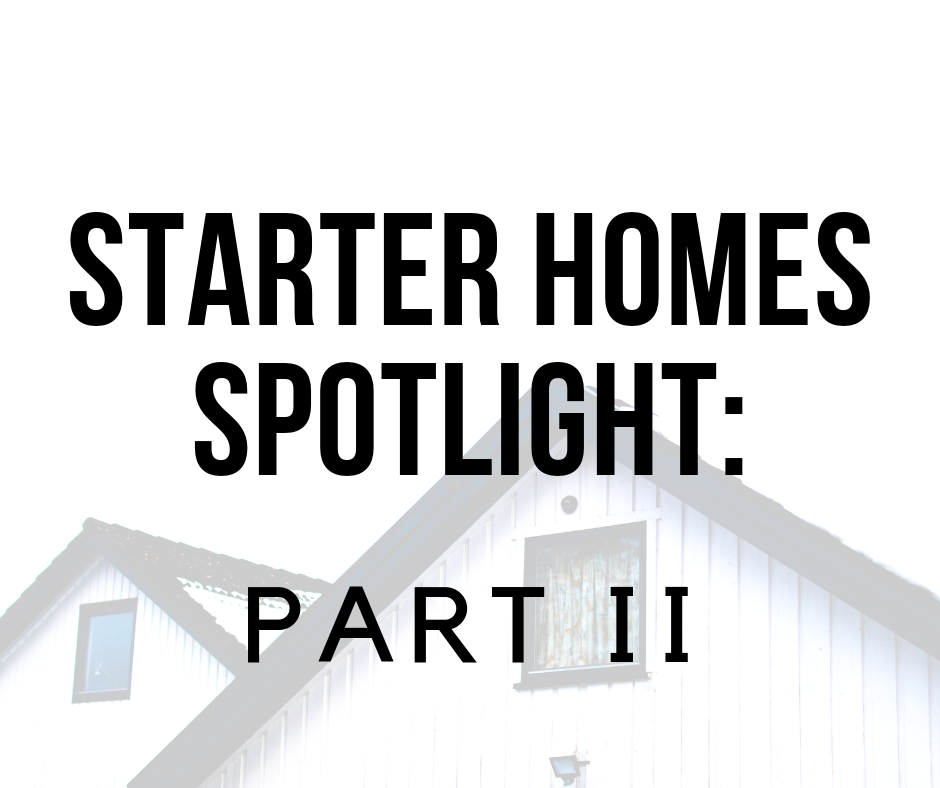 Starter Homes Spotlight: Part 2
What does a "starter home" mean to you? Is it simply a smaller home that is perfect for a family that starting out? Is it a retirement home where you can start your new phase of life after your children have moved out? No matter how you look at a starter home, it's a plan that you want to be perfect.
This is Part 2 of our series on starter home house plans. All of these plans are right at 2,000 square feet. If you didn't know, most house plans are around 2,000 square feet. That is the "happy place" for most families. We feel confident that these are going to be great plans to help you build your happy place for your family.
Four Winds (MEN 5218)
Check out our newest Farmhouse Style house plan! This is a beauty! This house plan is the newest work of award-winning home designer Michael E. Nelson. This house plan gives you over 2,000 square feet of living area with 4 bedrooms and 3.5 baths. This home features a 2-car garage that allows you to enter the home and go straight into the kitchen. No lugging heavy bags of groceries across the whole house!
From the garage you can also make your way directly to the laundry room which has a space for a large farm style sink, or you can go directly to the Master Suite. The Master Suite features a boxed ceiling and the adjacent master bath has room for a glass shower as well as a freestanding tub. The walk-in closet gives you plenty of room to store all of your clothes and is conveniently located right beside the Master Bath.
From the garage you can go down the hallway directly into the open floor plan featuring the Kitchen, Great Room and Breakfast Room. This large space features a vaulted ceiling with false beams and an island that gives you seating for 6. And let's not forget the large pantry area that gives you plenty of room to store all of the goodies your family will ever need.
The Breakfast Room features a large bank of windows that give you an uninhibited view of the rear of your home. The Great Room features a centrally located fireplace so that you and your loved ones can cuddle up on a cold day. From the Great Room you can access the Dining Room and Foyer. The Foyer leads to the covered porch that greets your visitors as they enter your home.
The Foyer also opens up to a Guest Room that can also be used as Bedroom 4 or as a Study/office. This room has its own adjacent bathroom and a walk-in closet. From the Great Room you can proceed to the hall leading to Bedrooms 2 and 3 which each have their own walk in closet and share the Jack and Jill hall bathroom.
The home is finished off with a large Grilling Porch with vaulted ceilings that has space for the optional gas fireplace. From this Grilling Porch you can walk under the covered walk directly into the Master Suite. This house plan also has space for an optional third garage giving you space for more vehicles or storage.
Riverrun (MEN 5207)
Take a look at our newest Rustic Style house plan! This home gives you all of that coveted rustic look with room for all of your modern amenities! This home gives you nearly 2,000 square feet of living space with 3 bedrooms and 2 full baths. This gorgeous plan would be great in the middle of the woods or in the urban wilderness.
As you approach the home, you notice the wrap around covered porch with stonework columns. A bay window immediately draws your eye to the right side of the home while a gabled window and chimney give the plan a good middle ground for curb appeal.
Walking into the home you are immediately met with an open floor plan featuring a Great Room with a fireplace and a stairway leading to the second floor. The stonework fireplace gives you ample warmth on those chilly, windswept nights and the perfect ambiance for a late night snuggle with your loved one.
Moving through the Great Room, you find yourself in a large open Kitchen. The Kitchen features a Dining Space as well as a bar with seating for 4. This kitchen gives you ample room for the largest of refrigerators and dishwashers and plenty of counter space. You even have a pantry built right in!
The Dining Room features large windows that open up to the rear of the home. From the Dining Room you can step out on to the covered Grilling Porch. This Grilling Porch has plenty of space for grilling and entertaining as well as a storage area for all of those pesky grill implements.
Stepping back into the Dining Room, you can take a look into the Supply Room that has built in shelving for all of your household goods. It can also be used as a pantry! To the right of the Supply Room you find a short hallway that gives you access to the downstairs Main Bath. This full-size bathroom features space for a linen closet.
Moving back into the hallway, you find space for a stacked washer and dryer. The last room on this floor is the Master Bedroom. Remember that gorgeous bay window I mentioned earlier? It is here in the Master Bedroom. It would be perfect for a window seat or to place a chair there for afternoon reading.
The second-floor features Bedrooms 2 and 3 each with their own large closet. The secondary Bathroom is also up here and it, too features a linen closet. This home is perfect for those wanting to step away from the hustle and bustle of urban life. Enjoy the simplicity of Rustic surroundings in your own living room!
Timberland Cove (NDG 1428)
Our most popular Rustic Style house plan is our Timberland Cove plan. This is one of our bestselling house plans. This is modern living with a Rustic flair. This home has 4 bedrooms and 3.5 baths in just over 2,000 square feet of living space. It also features a 3-car garage. When you walk into this home through the covered porch with a vaulted ceiling you find yourself in the foyer. On the right side of the foyer is the entrance to the formal dining room that has sloped ceiling on each side. The foyer also features a closet to store all of those coats and mucky things that we all need from day to day and season to season.
Moving through the foyer you find yourself in a gorgeous Great Room featuring a fireplace and large door and windows opening up onto the Outdoor Living Space. The Great Room merges with the enormous kitchen with an island with seating for six. On the left side of the Great Room you find a hallway leading to 3 bedrooms and one of the bathrooms in the home. Each bedroom has a walk-in closet for plenty of storage.
If you move through the kitchen you find yourself in another hallway that leads to the Master Suite. The Master Suite has room for an optional door to the Outdoor Living Space. The Master Bath features a glass shower with seating, a whirlpool tub and an entrance to the massive walk in closet. If you exit the Master Suite and move back down the hallway you find the half bath, a large laundry room, the stairs to go to the second floor and the entrances to the garages.
On the second floor you have a bonus room, additional storage and a bathroom. One of the options for the second floor is to have an opened balcony that looks down on the Great Room and Kitchen below it. This plan is also customizable to whatever you may need.
The Andrew (NDG 1400)
This Traditional Style Home is 2,000 square feet with 3 bedrooms and 2.5 baths. This home also features a 2 car Garage for all of your vehicular needs. As you enter the home through the covered front porch with the beaded ceiling you find yourself in the grand foyer. The foyer features a 12-foot ceiling that gives your home character and makes any room feel larger. To your right is the Dining Room where the ceiling drops to a modest 10-foot-high and features a large picture window facing the front of your home.
To the left of the foyer you find the half bath. This is perfect for your guests or if you have small children. Straight ahead of the foyer is a large hallway that connects the rest of the home. Immediately across from the foyer is the Great Room featuring a vaulted ceiling and a brickwork fireplace. The Great Room also has a bank of windows facing the rear of the home and showing the view of the Screened Grilling Porch. The Screened Grilling Porch has beaded ceilings and a corner outdoor fireplace making it the coziest porch in the neighborhood.
The Great Room leads you to the Breakfast Room and Kitchen Area. The Kitchen features bar seating for 6 and parallel countertops giving you plenty of space to work. Returning to the hallway and continuing to the left you find Bedrooms 2 and 3 that share the Jack and Jill bathroom, the Laundry Area, the stairway to the upper floor and the Garage.
Stepping back into the hallway and moving past the Great Room on the left you will find the Master Suite. The Master Suite features a Master Bedroom with 10-foot boxed ceilings. It also features a Master Bath with his and hers sinks a whirlpool tub, shower and an absolutely massive walk-in closet.
The second floor is all bonus room to be used however you see fit. This home is ideal for families and it's not hard to see why it is one of most popular plans.
Adirondack Place (MEN 5025)
This beautiful home gives you over 2,000 square feet of living area with 3 bedrooms and 3.5 baths. This home features timber trusses, a metal roof and a gorgeous stone lining the outside. Coming in from the entryway you enter an open floor plan with a Great Room, Dining Room and Kitchen area. The Great Room features a large stonework fireplace and gives the whole area a warm cozy feel. The Kitchen features a large high bar with room for four to sit comfortably while entertaining.
As you move down the hall from the open area you take a turn into the Master Suite with its adjoining Master Bath. The Master Suite features vaulted ceilings while the Master Bath gives you an enormous walk in shower. The walk-in closet is accessed through the bathroom. No more hunting for clothes with wet dripping hair. Just outside of the Master Suite is a laundry area and the half bath. The half bath is convenient to both the kitchen and the bedroom areas.
Moving down the hall you find Bedroom 2 and 3. The bedrooms both feature a closet with a sliding barn door to give you that country feel. They also feature a window seat, not just in both bedrooms, but in the hallway as well. These window seats give you a comfy place to read or listen to music and enjoy the scenery on those days when you just don't want to go outside. Both bedrooms also have access to an adjoining bathroom. The first floor is completed by a grilling porch just outside of the Great Room.
The basement, which is accessed by the stairs located between the Master Suite and Kitchen, opens up into a large Game Room with an attached full bath with a walk-in shower. A covered porch gives you the perfect place to sit in the shade on those super-hot summer days. Space for a refrigerator and sink makes this the perfect multi use space.
Maybe you're looking for something in particular? Don't worry, we have you covered. Come check out Nelson Design Group's collection of over 1,800 house plans. And come check out the past blog posts in our house plan series:
Here at Nelson Design Group, we are always ready to make your dream home a reality. If we don't have the plan that is right for you, we'll make one. We are experts in our field and have been doing this for over 30 years. Give us a call today and we will be glad to help.
If you are looking at building a house, check out our Building Your Dream Home blog series. This series walks you through step by step on how to build a house and is updated regularly.
If you haven't found a builder yet, we have a Find-a-Builder tool right here on our website. These are builders from around the country that we have vetted just for you! They are skilled in their professions and do a great job.
Nelson Design Group has over 1,800 house plans for you to choose from. If you're unsure about finding what you need, give us a call at (870) 931-5777. Our representatives are always happy to help.
If you are a builder looking to buy plans, sign up for our Builder's Program. We offer discounts you won't be able to find anywhere else.
We also have resources that are just for you like access to our Master Planned Communities and Marketing Services.