Building Mistakes that can Haunt You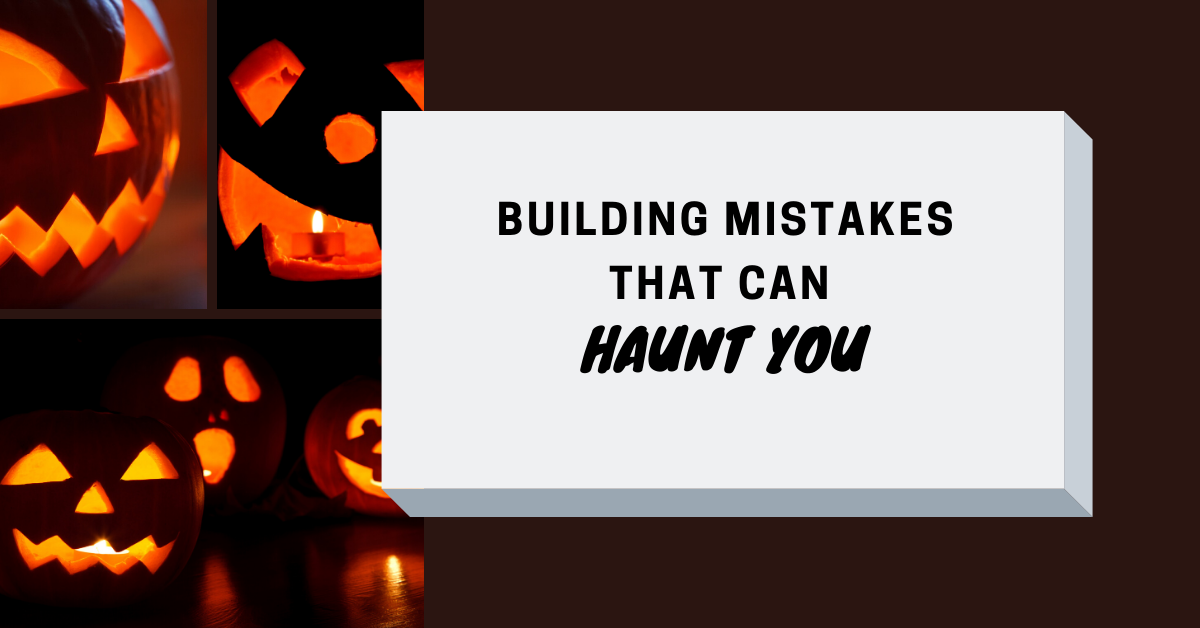 Building Mistakes that can Haunt You
Building a home is stressful. We know. It's tough on everyone. Don't worry, we're all in this together. If you've never gone through the process, it can be even more stressful. There are so many things that need to get done and it seems like the stages either come together too quickly or take way longer than it should. All of this just adds to the stress.
And then there is worrying that everything is going to be perfect for your dream home. You're investing more than money into your new home. You're putting time and energy into it. You're filling it with your hopes and dreams. Our goal is always to help make your dream home a reality. And we don't want you to fall victim to some common building mistakes.
Building Mistakes that can Haunt You
Each step of the process in building a new home has its own traps and pitfalls. And each situation is unique. What may be perfect for one family, may be complete chaos for another and vice versa. As we look at the stages of the building process, think about your family and what would be ideal for you.
Stage 1 – The Lot
The first thing you are going to be looking at when you are building a home is usually the land that the new house will be built on. It's going to be a huge part of whether your new home is going to be your dream home or something that you're going to grow out of quickly.
Amenities
My husband and I love living out in the boons. We don't mind having to drive into town to run errands or go to work. In fact, my weeks are usually structured around running errands or handling any minor shopping trips before I head home. We like it that way.
For other people, being close to the amenities is important. You may want to be within walking distance of a park or school. Or you may want to live closer to your job so you can get an extra 15 or 20 mins of sleep every morning.
Decide what is a make or break situation for you. Then look at the lot. Does it fit what you need? If you can't say with a definitive "yes" to this question, you might want to look elsewhere. This may not be the best place for you to build.
The Kids are Alright
One of the reasons that we moved to where we did was the school district. Even if you don't have children, check out the schools. Situations change and usually quickly and unexpectedly. If you do have children, this is going to be a big point of contention for you.
All school districts are not created equal. What one may be excelling in, another may be lagging in. Some schools offer more in the way of sports for extracurriculars. Others may offer more STEM opportunities, while still others offer more in the way of the arts. Deciding which school district you want your children to be in enrolled in is a huge decision.
Weather
Here in Arkansas, we have some really strange weather phenomena. Yesterday on Halloween, it was snowing in the Northwestern part of the state. Snow. In Arkansas. In October. That almost never happens. But then again, we did have the other 3 seasons in October.
You want to know what kind of weather you are going to have to contend with in the area where you are building. If you're a local, then you already know what to expect. If you are new to the area, then you are going to need to do some research.
Is it hot there? Is it cold there? Does it rain a lot? Does it snow a lot? How bad does winterpocalyspe snowmaggedon get in the area? These are all things that you will need to find out about the area before you decide to build there.
Another thing that you might want to look at is how the lot drains water. If you have an area that seems to collect water, then you may want to avoid building in that specific location or invest in building it up to where it doesn't do that.
What Direction Does Your Lot Face?
This is kind of an extension of the weather. You want to know where you are going to be coming in and out of your lot. This determines how you are going to put your house in. Another thing that you are going to want to look into is which direct the sun is facing.
You don't want to have the sun coming in your bedroom window first thing in the morning. You also don't want your garage to open to the north. Both of these contribute to a lack of enjoyment in the home.
Utilities
This is a huge consideration. If you are building somewhere where you need to have utilities run, this is going to be a huge expense. You are going to have to pay the utility companies to run anything that you are going to need. And if they don't service the area? That's a whole other problem.
Don't forget that your internet and wireless phone services need to be included in your utilities. If you can't get internet or cell service, you might as well be living in 1995. Which to today's kids would be the same thing as the stone age. Unless that's what you want.
Part 2 – The Design Process
The design process doesn't necessarily mean that you getting a custom plan or, even, that you are changing a plan. It may just mean that you are looking for the perfect plan. There are a ton of plans on the web these days. Narrowing them down or deciding to change one or have a custom one built can be a tough choice.
Architects Assemble!
OK not just the architect, but the entire team needs to be brought together from the get go. You want to be sure to know who your builder is before you get too deep in the process. Some builders can do small changes to a house plan while they are building it. Sometimes a change is something that needs to happen before the building process starts. Either way, you want to have everyone on the same page from the word "go".
Bargain Shopping
Don't just buy a plan because it's the cheapest option. Some house plans are not good blueprints. While that may not make perfect sense, it does sum it all up nicely. There are good companies out there who can get you good quality blueprints for your builders and contractors. There are also super cheap plans out there that are not up to code and have loads of information missing.
When you are buying a house plan, you are not just buying the floor plan. You are also buying a guide of where things go in the house and how to put them in. You are buying a plan that is cohesive and gives tons of information that experts, such as your builder, can interpret and give you exactly what you wanted.
Mapping out the Rooms
When you are planning on building a house, one of the things that you need to consider is where all of the rooms are going ot be. Normally you don't want to have kitchen be far away from an entryway. You don't want to have to lug groceries across the house.
You probably don't want your master bedroom to be right next door to the kids' rooms. Thinking about these thing in advance helps you to decide where in the plan the rooms need to be. Another thing that you need to consider is what rooms you will absolutely need to have because you use them and what rooms you may not need because you won't use them that much.
For my family, we would never use a formal dining room. Just wouldn't need it. We usually eat in the kitchen. For some families, that may be something that they use on a regular basis. I know I would rather have a huge laundry room rather than a formal dining room.
Planning for the Future
Here at Nelson Design Group, we are specialists in designing plans with the future in mind. We specialize in a type of design called Aging in Place. What this means is that we can design a home that will late accommodate someone as they grow older.
Rushing the Design Process
One of the things that you want to make sure that you don't do is to rush the design process. You want to make sure that everything that you need is included in the plan. You also want to make sure that all of your questions and concerns have been addressed before you move out of this stage.
Letting Someone Else Call the Shots
Lastly, you want to make sure that this house is YOUR home. Don't let anyone tell you what you should and shouldn't have in your home. We always make recommendations and try to accommodate everyone who comes to us. Just like any other good designer, we just want to make sure that your home is what you want it to be and that it is going to be perfect for you.
Part 3 – The Build
Taking the Lowest Bid
When you are trying to find builders or subcontractors, don't pick one based on the lowest bid. Yes, I know, it's a lot of money. But its more cost effective to make sure that you have a good builder or subcontractor before the process begins. On our website we have a Find A Builder Tool. These are builders that we have worked with and we know will do a good job.
If you are still having trouble finding one, make sure to interview them. Ask to see some of the houses that they have built. Ask for references. This is an important and integral part of your build. You want to make sure that it is someone you can trust.
Being Your Own Builder
Now, with that being said. One thing that you should not do is be your own builder or subcontractor. Unless you have decades of experience, this is something that is best left to the professionals.
Not Getting Insurance
Did you know that most subcontractors don't have their own insurance? Did you know that you are usually liable in any cases where they get hurt? Yep. Best to go ahead and get insurance on the build before you ever get a single board put in.
Cutting Corners
Yes, building a house is expensive. The numbers fluctuate depending on where you live but it usually comes to between $150 and $200 per square foot to build a home properly. This means that you may be tempted to cut corners on materials or labor. Don't. I know, its really tempting, but good materials and expert labor are expensive for a reason.
Think about buying something at one of those big box retail stores. You can go in there and get a pair of jeans for around $20. Or you can go to a nice store and get a name brand pair for around $50. And that $20 pair of jeans fits just fine and you can wear it 2, maybe 3, years and then you have a hole in a very compromising location. Well, time to patch them or get a new pair! Whereas the name brand pair might last twice to three times as long.
That's the same idea with the materials and labor. They are more expensive because the quality means that they will last longer. Instead of having to come back and do work on your home just a year or two after you built it, you'll be living there for 20 to 30 before you have to fix something. That's the price of peace of mind.
Part 4 – Finishing the Build
Not Getting an Independent Inspection
When you are buying or building a house, you want to make sure that you have it independently inspected. And you want to make sure that your inspector is lisenced. Inspectors usually find things that no one else is going to find.
When we bought our house, it had been inspected by the seller's real estate company. Our realtor recommended that we go ahead and have our own inspection done. Our inspector found numerous problems with the home. None of them were major, but she recommended that we get them fixed. It was worth the extra money.
Not Leaving an Overages Budget
Have you ever heard of "Murphy's Law"? Anything that can go wrong, will go wrong. The addendum to that law should be that it will all cost you money. Make sure you have money put aside for things that might go wrong.
Not Checking on the Work
Lastly, and very importantly, you should check on the work. You are the one who is going to be living in this home, you should definitely keep an eye on the progress. Just stop in. Ask questions. Make sure that all of your concerns are being met.
Maybe you're looking for something in particular? Don't worry, we have you covered. Come check out Nelson Design Group's collection of over 1,800 house plans. And come check out the past blog posts in our house plan series:
Here at Nelson Design Group, we are always ready to make your dream home a reality. If we don't have the plan that is right for you, we'll make one. We are experts in our field and have been doing this for over 30 years. Give us a call today and we will be glad to help.
If you are looking at building a house, check out our Building Your Dream Home blog series. This series walks you through step by step on how to build a house and is updated regularly.
If you haven't found a builder yet, we have a Find-a-Builder tool right here on our website. These are builders from around the country that we have vetted just for you! They are skilled in their professions and do a great job.
Nelson Design Group has over 1,800 house plans for you to choose from. If you're unsure about finding what you need, give us a call at (870) 931-5777. Our representatives are always happy to help.
If you are a builder looking to buy plans, sign up for our Builder's Program. We offer discounts you won't be able to find anywhere else.
We also have resources that are just for you like access to our Master Planned Communities and Marketing Services.