Corporate Partner Spotlight: FAKRO USA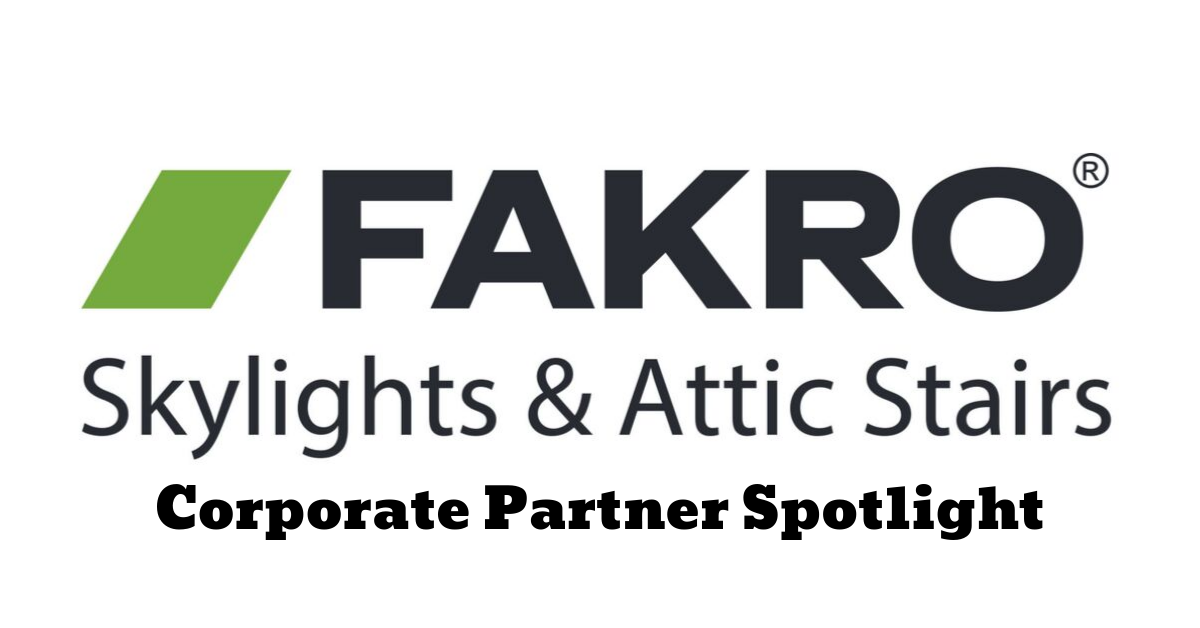 Corporate Partner Spotlight: FAKRO USA
Innovation is the keyword for FAKRO USA. FAKRO USA embodies the creative spirit and ingenuity that is a part of our modern world. With over 100 patent applications and numerous developments under their belt, this company continues to innovate and change the world.
From humble beginnings to a worldwide corporation, the inspiring principles of its founder and CEO continue to lead FAKRO USA to an even greater place in the world market. FAKRO USA is a world leader in skylight, roof windows and roof accesses. This gives them a unique edge on their competition and a growing market.
It's Getting Stuffy in Here
For hundreds of years, there just were not many windows in a home. Homes had to be built to be incredibly sturdy and so the walls were thick. There was also a problem with the mass production of glass for a long time. Glass was hard to manufacture and usually what most people could even hope to afford was wavy and full of imperfections. It was also hard to install.
The added trouble was that in most cities and towns, people were having to crowd into spaces that weren't intended to become a living space. For many of the working poor, they're home was the attic or garret of a home of someone who was wealthier. You can't just install a window in a roof. Or can you?
Early Roof Windows
In the early 19th century, most of the world had a housing problem. There just wasn't enough space in dwellings for traditional living space. So, people got creative. Roof windows had been used in the country for decade prior to this, but they usually didn't have glass in them. Instead, the roof was continued onto a shutter that was opened from the inside to allow light and air to pass through.
In the larger towns and cities, people borrowed this idea and added windows to the roofs of attic apartments. Because it was becoming easier and more affordable to get glass for windows, the practice of installing windows in the roofs of these larger buildings became more common.
Modern Techniques
Today we can't imagine finding a problem that we can't solve. Even things like cancer are slowly being conquered by the brilliance of the modern mind. So, the idea that there is only one of accessing and using a roof window would seem a bit ridiculous.
And that is exactly where FAKRO USA shines. This company specializes in skylights and roof accesses. They have dozens of products that are perfect for opening your home to the glorious light and air that otherwise couldn't be accessed.
All of their skylight and window units that can be opened can be used as an exit point in the case of an emergency. Per building regulations, if you want to turn a space into a bedroom it has to have two exit points. So, if you are redoing an attic to turn it into a bedroom, FAKRO USA's products are perfect. They give you the option of using what was once dead space and creating more living space. (Be sure to check local regulations as they are specific to your area.)

FAKRO USA holds 10 different product lines that give you a wide range of options depending on what you need. You aren't just going to find your run of the mill skylights on here. These are the state of the art, top of the line models that will give your home ease of access, character and style.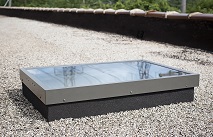 Skylights
This is where the company started in 1991. Skylights add a lot of character to a room. They can bring in up to 3 times lighter than a regular vertical window of the same size. FAKRO USA also ensures that your home is going to be as energy efficient as possible.
All of their skylights are Low-E which means that they filter out the UV rays from the sun. They also come standard with a tinted glass for increased thermal protection. This saves you a ton of money in energy costs. All of their skylights can either be used for new builds or as an addition to a remodel.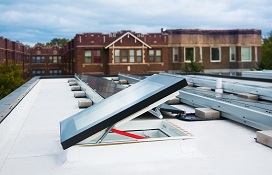 Flat Roof Skylights and Hatches
The standard skylight is made for a sloped roof, but FAKRO USA also gives you the ability to purchase a model specifically made for a flat roof. This is perfect for areas where you don't have a sloped roof or where you are trying to redo an area that has a flat part of the roof.
Additionally, if you are making a space that was not intended to be a living space into a bedroom, you have to have a secondary exit point. It's part of most building codes that this is required.
Thankfully, FAKRO USA has a whole line of hatches available that will make sure that your additional space is up to code.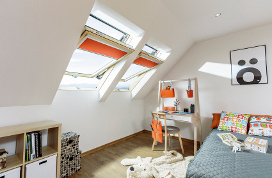 Roof Windows
Roof windows are designed to be fitted into a sloped roof to provide more light to an otherwise cramped and dark space. FAKRO USA's windows also open to allow air to come in. This allows you to take an attic from an otherwise unusable space and turn it into a comfortable living area.
Something you may not realize is that usually attics are not included in the total square feet of a space. This means that if you are able to take an attic from just a storage or bonus area and turn it into a living space, you are creating more square footage for your home. This increases the value of your home and gives your home a better resale value.
Flashings
Flashing is very important when you are putting a window into a roof. Flashing is where you add additional protection from moisture to an area that has been cut out of a roof or where they may be a gap. When you don't have adequate flashing, a roof modification can begin to leak and that will lead to a lot of damage over time.
FAKRO USA's flashing is specifically made to fit perfectly around their skylights and windows. This gives you added protection for your home that is made for just that purpose.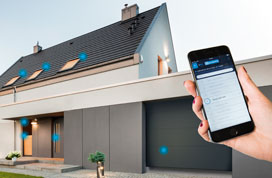 Control Systems
FAKRO has developed an innovated way to control their windows, skylights, hatches and attic accesses. They use a revolutionary technology called Z-Wave that will allow you to control your home through your smart phone.
This technology uses a shortwave radio protocol that allows you to control different electrical systems in your home. If you have ever used one of those talking AI devices to turn a light off, you have used something similar to the Z-Wave. This means that your FAKRO products can be controlled by a push of a button.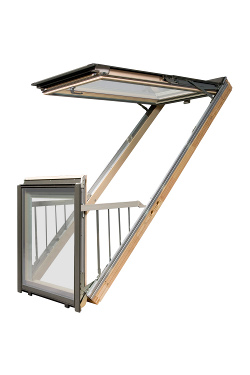 Balcony Windows
This has to be one of the neatest things that I have ever seen. This is a roof access window that opens up and turns into a balcony. This means that if you have a small home or if you have a space that would have a great view that happens to be blocked by that pesky roof, you can now see it all in living color!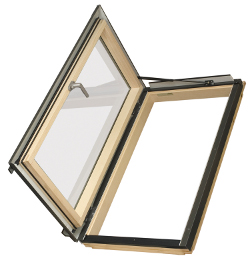 Roof Access Window
This window opens to the side and is officially and universally recognized as an emergency exit. This means that if you are remodeling or building that you can use this window as your secondary exit from the room and use the room as a bedroom.
It also means that you will have peace of mind with this window. You can rest easy knowing that in the case of an emergency, you are going to be able to get out.

Light Tunnels
A light tunnel is a small window that can be installed where other types of windows are not possible or when you need more light in a space. They are basically windows with a tube running through the space to reach where you need the light. FAKRO USA is a leader in this type of window.

Attic Ladders
This is one of the newest product lines from FAKRO USA. These are not your run of the mill attic ladder. These gives you a great sturdy ladder that can be swung back into the ceiling and hidden from view.
Not only that, but they are safer and easier to use than a traditional ladder. They also seal the rest of the home from the attic and help cut down on heating and cooling costs.
Skylight, Anyone?
Here at Nelson Design Group, we have many homes that have beautiful skylights. Willow Lane is one of my favorites because it's just charming.
Willow Lane (NDG 327)
This house plan gives you just under 3,000 square feet of living space with 4 bedrooms and 2.5 bathrooms. It also gives you a 2-car garage. This home just oozes European charm and is sure to make you love it with its large kitchen, a great room featuring both a fireplace and a built-in media center and its luxurious master bathroom.
This home has great curb appeal. The columns and gables in the front of the home just make you want to walk in and have a seat. It has a wonderful European Style. As you walk into the home you enter the Foyer with tall, 12-foot-high ceilings.
On the right of the Foyer you find Bedroom 2 which can also be used as a Study. This room features both high ceilings and a large window that faces the front of the home. To the left of the Foyer is the Dining Room. This Room is large enough for a table of any size and features both the high ceilings as well as a large window facing the front of the home.
From the Dining Room, you can make your way into the Kitchen. This Kitchen and Breakfast Room feature a great deal of counterspace to prepare any elaborate meals. It also has a small desk in the corner that would be an ideal space to sit and pay bills or look up recipes. The Breakfast Room features large windows that look out onto the Screened Porch and the rear of the home.
The Great Room gives you plenty of space to relax and features a fireplace and built in media center. The French doors on the back wall of the space open up to the Sunroom at the rear of the home. This space allows you to enjoy the great outdoors no matter the weather and features a French door opening into the backyard of the home, a long bank of windows looking in the same direction and two skylights.
This side of the home also features Bedrooms 3 and 4. These rooms give you plenty of space for kids or guests and feature large closets and windows. They share the hall bathroom on this side of the plan.
The Master Suite features high boxed ceilings and a private opening up to the Screened Porch on the rear of the home. The Master Bath can be accessed through a small hallway that runs between the large walk-in closets. It features both a whirlpool tub and a corner glass shower with a seat. This home also gives you plenty of attic storage.
Maybe you're looking for something in particular? Don't worry, we have you covered. Come check out Nelson Design Group's collection of over 1,800 house plans. And come check out the past blog posts in our house plan series:
Here at Nelson Design Group, we are always ready to make your dream home a reality. If we don't have the plan that is right for you, we'll make one. We are experts in our field and have been doing this for over 30 years. Give us a call today and we will be glad to help.
If you are looking at building a house, check out our Building Your Dream Home blog series. This series walks you through step by step on how to build a house and is updated regularly.
If you haven't found a builder yet, we have a Find-a-Builder tool right here on our website. These are builders from around the country that we have vetted just for you! They are skilled in their professions and do a great job.
Nelson Design Group has over 1,800 house plans for you to choose from. If you're unsure about finding what you need, give us a call at (870) 931-5777. Our representatives are always happy to help.
If you are a builder looking to buy plans, sign up for our Builder's Program. We offer discounts you won't be able to find anywhere else.
We also have resources that are just for you like access to our Master Planned Communities and Marketing Services.