Empty Nest Top 10 Design Elements: Part 3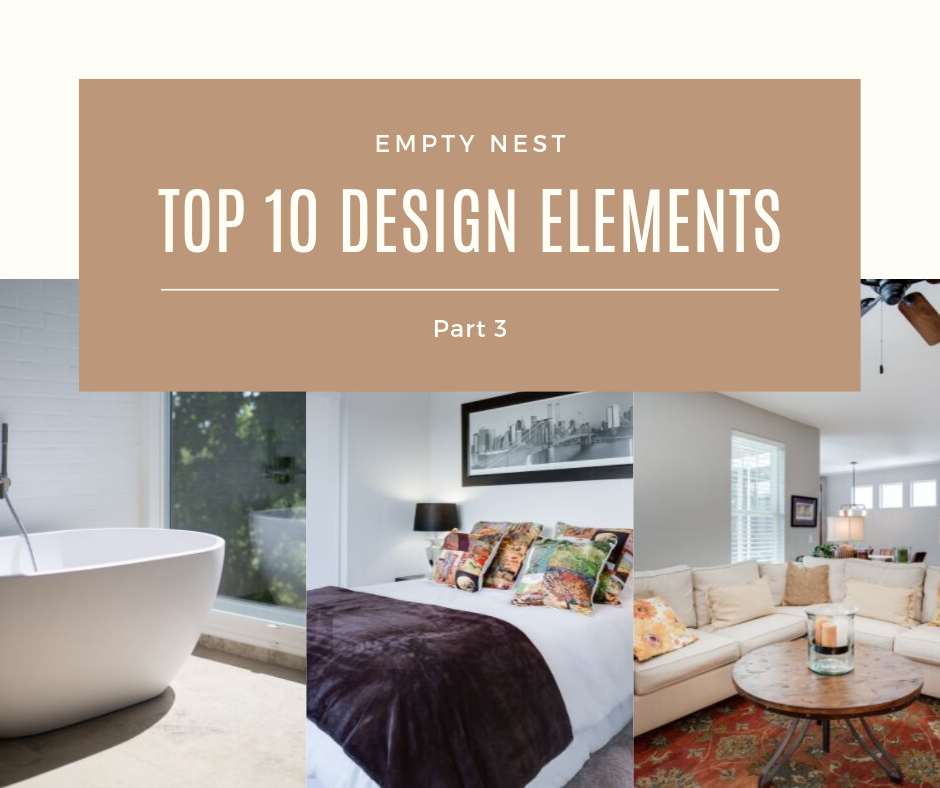 Empty Nest Top 10 Design Elements: Part 3
I always greet the beginning of the school year with an odd mix of nostalgia, excitement and dread. I miss going to school. I have always loved to learn and to challenge myself, which is probably how I ended up writing blogs full time, so school was great for me. I never really had a day when I didn't want to go to school. That makes me super excited for my kids. I know what they are going to get to learn and it makes me happy. I also kind of dread the new school year. New clothes to buy, that list of supplies that just gets longer and longer every year and soon I'll be dealing with teenage angst.
Then I remember that there are those parents who are sending their kids off for college or maybe just moving them out completely. It makes me wonder how they are feeling. Are they excited for the new changes in their lives? Or do they dread rattling around in that big family home?
Top 10 Design Choices Continued
As we get older, our environments need to reflect the changes that are happening in our lives. Some of the things that empty nesters are looking for are not just for convenience, but to increase their mobility as they get older.
Let's face it, we're all going to get to that point. I know there are days when I wake up and it sounds like a breakfast cereal when I start walking. Snap! Pop! Crackle! And I also know that its not going to get much better. There are things that we can do to make it easier on us as we get older.
Nelson Design Group specializes in Aging in Place. This means that we are experts at customizing homes to fit both your current needs and your future needs. We make sure that the house plan you are building is going to fit you in every stage of life.
3. Luxurious Bathrooms
I'm a firm believer that soaking in a nice tub full of steaming hot water is the ticket to better health and movement. It's one of those things that has been proven time after time. Why else would the Romans build their civilizations around bath houses? Let's not talk about the lead that the pools were lined in that made them feel euphoric.
Why shouldn't you have a wonderful bathroom that will give you a spa experience at home? Why shouldn't you be able to bath in an enormous bathtub and sing to your heart's content in a state-of-the-art shower? Haven't you earned it? I think you have.
Belle Maison (SMN 1011)
This plan was a custom home that our designer Seth M. Nelson designed for a local client. This home features 7,500 square feet of living space with 5 bedrooms and 6.5 bathrooms. It also features a 5-car garage. Now you might think who other than Jay Leno needs a 5-car garage? This gentleman loves exotic cars and loves to show them off.
This two-story home features not one but two Master Suites. The first Master Suite features a walkthrough fireplace that connects to the Great Room and the adjacent bathroom is to die for. It has a free-standing tub and a shower that is big enough to wash an elephant in. The Master Suite features two walk-in closets that are both bigger than my first apartment. Her closet features a bay window and an island in the middle of the room. His closet features a picture window. Natural light in a closet? Yes, this should be the new thing.
This home also features an open floor plan for the Great Room, Kitchen, Hearth Room, and Breakfast Nook. The Hearth Room has another walkthrough fireplace that connects to the covered outdoor living area. Remember that Second Master Suite that I mentioned earlier? It has its own bathroom and walk in closet. This home also features an in-house salon!
The second floor has 3 bedrooms, each with their own bathrooms and walk-in closets. One of the bedrooms has its own balcony overlooking the front of the property. Speaking of balconies, I would be remiss if I forgot to tell you about the balcony on the second floor that overlooks the Great Rooms or the Balcony that looks over the garage.
This home also features its own private theater. Back on the first floor, you'll find a Safe Room. This home is absolutely amazing.
2. Master Bedroom on First Floor
As we get older, climbing stairs just isn't worth it anymore. That Master Bedroom on the second floor was perfect with the kids were little and you needed a safe haven from the noise below. Now? Not so much. One of the main things that Empty Nesters are looking for now is a Master Bedroom on the first floor. They want to be able to have everything on one floor. I like the idea myself. Stairs are not fluffy friendly.
Corbin Manor (MEN 5199)
As a little girl, I always dreamed of living in a castle with a turret or tower. I have to wonder how many other people dreamed that way as well. Well I think this is the house for you if you had that one, too. This house, wait for it, has a turret. Yes. I'm for real.
That's the first thing you notice about this home and it gives it such a unique curb appeal. That may be the focal point when you are driving up to the home, but there is more to this plan than meets the eye. This plan gives you 4,700 square feet of living space with 5 Bedrooms and 3.5 Bathrooms. It also features a 3 car Garage.
Entering the home, you ascend the stone steps and through the porch into the Foyer. To the left of the Foyer is the Dining Room featuring the edge of the spiral staircase to the second floor and a stone wrap on the wall.
Moving further into the home, you find yourself in a large open floor plan featuring the Great Room, Kitchen and Breakfast Area. The Great Room features a gas fireplace on one of the walks and 2 sets of French Doors that open up to the Grilling Porch/ Outdoor Living Area in the rear of the home.
The Kitchen features bar seating for 7 at the island and plenty of counterspace as well as an inset Pantry. The Breakfast Area features windows on two sides that overlook the rear of the home. Moving further into the home, you find the Coffee Bar and the ½ Bath.
This part of the home features Bedrooms 2 and 3 which share a jack and jill style Bathroom and each have their own large closet. On the other side of the wall from Bedroom 2 is the Laundry area that features a soaking sink and access to the laundry chute from the second floor.
On the other side of the plan you will find the Master Suite. The Master Bedroom is large and features a boxed ceiling and sliding doors to access the Grilling Porch and Outdoor Living Area. The Master Bath features an absolutely enormous walk-in shower with a rain showerhead and a large walk in closet with room for a Gun Case.
The best part of this plan is being able to walk up your own spiral staircase in your own medieval style tower to the second floor of the home. As soon as you step out of the staircase, you find yourself in a large Game Room/Media Room. This is perfect for people who enjoy television as much as our family do.
The second floor also features a large upper Living Room that has built in shelving for a media center as well as storage for all of those DVDs you pick up on Black Friday. (Or is that just me?) The second floor is finished up by Bedrooms 4 and 5 which share a hall Bathroom, and each have their walk-in closet. Check out the photos on our website of this plan after it was built.
1. Open Floor Plan
The most sought-after design element for Empty Nesters is an open floor plan. Open floor plans are great for many reasons. They make smaller plans seem bigger. They give you more room to move around. They make it easier to decorate and redecorate as your taste and needs change over time. Open floor plans are great for any family in any stage of life, but they are especially great for Empty Nesters. This allows them to not only have a great home for a long time, but to enjoy it no matter what stage of life they are in.
Olive Street (NDG 256)
This home gives you just over 2,000 square feet of living space with 3 Bedrooms and 2.5 Baths and a 2 car Garage. This house plan is a great plan for just about anyone. This plan features a large open floor plan with the Kitchen, Great Room and Dining Room all in one section of the home. The home also features beautiful skylights in the Great Room. The Master Suite is a Mary Poppins space, nearly perfect in every way.
The first thing you notice about the home is the Covered Porch covering the front of the home. Wouldn't this be a great place to relax on a hot afternoon after work? The wood columns of the porch lend the home an air of county living even if this plan is nestled in the heart of the city.
Stepping into the home, you find yourself in the Foyer. Here you will find the half bath conveniently located near the door. Perfect for families with kids or after a very long car trip. The older I get, the worse it is, I swear.
Moving further into the home your find yourself in the open floor plan with the Great Room, Kitchen and Dining Room. Because this plan is so open, you find yourself noticing everything about it at once. The Great Room has a wonderful brickwork fireplace built onto the rear wall of the home as well as entrances to the Screened Porch.
The Dining Room features large picture windows that face out of the home and give you more of that gorgeous natural light. Speaking of natural light, this plan gives you space for skylights here. This opens the home up to all of those beneficial rays and helps to give this home some natural touches.
If you are looking for a company to provide the skylights for this home, don't worry. Nelson Design Group has your back there as well. Our Corporate Partner Fakro USA is a world leader in Roof Windows, Skylights, Attic Ladders and Balcony Windows. We recommend all of their products to our customers. They are a great company will go the extra mile to take care of you.
The Kitchen features a large island that gives you ample room for your dishwasher and sink. The Kitchen also gives you plenty of counter space as well as a Pantry and a Computer Center in the room. The Kitchen leads you to the Laundry Room.
The Laundry Room in this home is one of those combination Laundry Room – Mudrooms. This is also the entrance to the home from the Garage and side entrance. I love these kinds of multipurpose rooms. The Laundry Room features space for your appliances as well as hanging and storage space a large soaking sink for all of those super messy clothes that we will inevitably find at the bottom of the laundry basket. The Mudroom portion of this space features a Kids Nook with a bench and hanging storage.
Moving into the rest of the home, you find Bedrooms 2 and 3. Bedroom 3 has beautiful French doors opening into it and can also double as a Den if you don't need that many bedrooms. French doors are great for families that need more room for mobility.
Bedroom 2 is really a jewel of a room. It features a bay window that faces the side of the home with a window seat for those rainy days when you just want to sit and read. Both Bedrooms feature large picture windows facing the front of the home under the Covered Porch and large closets.
The Master Suite in this home is one of the best laid out areas I have seen in a house plan. The Master Bedroom features a vaulted ceiling and a private entrance to the Grilling Patio on the rear of the home. You move between the two walk-in closets to get from the Master Bedroom to the Master Bath.
The Master Bath features a very large soaking tub with a glass-brick wall as well as a corner glass shower. It even features a small window facing the rear of the home and a small linen closet to store all of your towels and necessities.
Maybe you're looking for something in particular? Don't worry, we have you covered. Come check out Nelson Design Group's collection of over 1,800 house plans. And come check out the past blog posts in our house plan series:
Here at Nelson Design Group, we are always ready to make your dream home a reality. If we don't have the plan that is right for you, we'll make one. We are experts in our field and have been doing this for over 30 years. Give us a call today and we will be glad to help.
If you are looking at building a house, check out our Building Your Dream Home blog series. This series walks you through step by step on how to build a house and is updated regularly.
If you haven't found a builder yet, we have a Find-a-Builder tool right here on our website. These are builders from around the country that we have vetted just for you! They are skilled in their professions and do a great job.
Nelson Design Group has over 1,800 house plans for you to choose from. If you're unsure about finding what you need, give us a call at (870) 931-5777. Our representatives are always happy to help.
If you are a builder looking to buy plans, sign up for our Builder's Program. We offer discounts you won't be able to find anywhere else.
We also have resources that are just for you like access to our Master Planned Communities and Marketing Services.