Final Days of Summer: Great BBQ Recipes and Summer Activities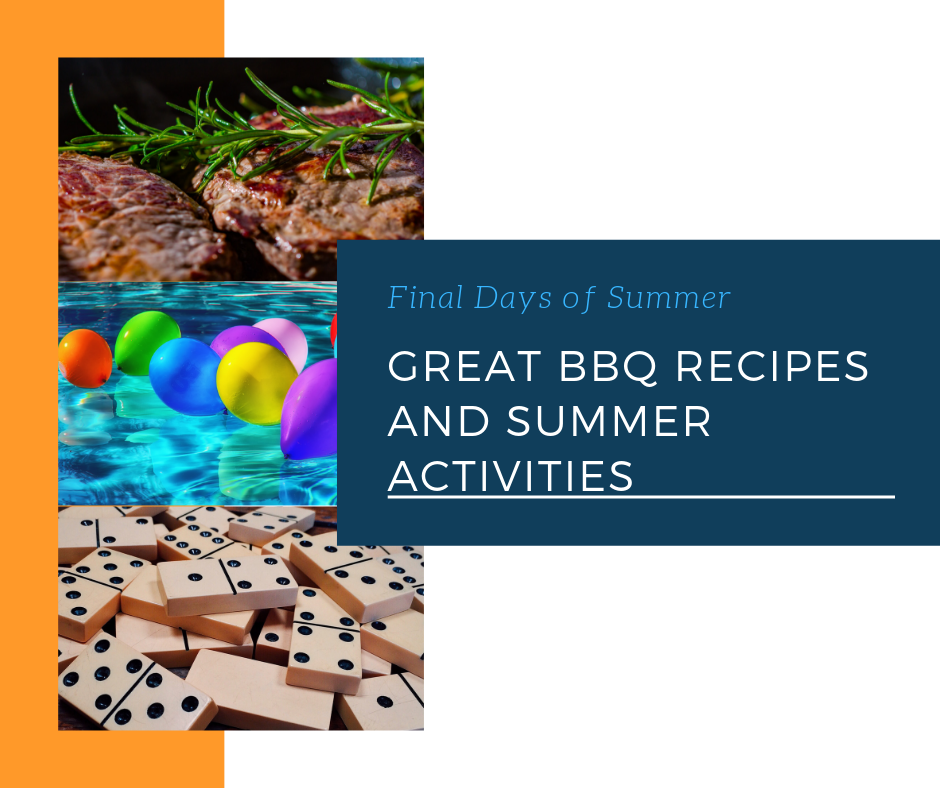 Final Days of Summer: Great BBQ Recipes and Summer Activities
I love to cook. I mean, I really, really love to cook. Cooking has always been something that has allowed me to make people happy in a very rewarding way. (I hate doing dishes, but that's why they invented dishwashers, right?) I have wonderful memories of cooking with my grandmother and mom. Cooking is one of those things that can help make a bad day better.
Labor Day is Monday. Traditionally, BBQ is the way to go. It's the last time that you really get to go swimming. It's the last time that you get to enjoy the traditional summer activities. It's also the last real break from school until the week of Thanksgiving. So let's make the most of it.
Great BBQ Recipes and Summer Activities
As a mom, I understand that sometimes we struggle to find something new and novel for our families. Especially for a big holiday. And don't get me wrong, I love doing special stuff with them, but I hate putting in too much of an effort. So, I look for dishes and activities that don't necessarily take a lot of effort.
Crock Pot BBQ
You'll have to forgive the non exact measurements of this recipe. This is one of mine. I found this recipe years ago and have done several variations over the years. It is highly adaptive and lets you decide which flavor profile you are going to do. I prefer to have a sweet and tangy sauce and pair it with a smoky dry rub. That combination gives you a nice sweet flavor with your meat and the smoke makes you think you cooked it outside.
Ingredients
5-8 lb pork roast
20 oz bottle of dark soda (shouldn't be diet)
1 Cup dry BBQ seasoning, divided
1 10 to 12 oz bottle of BBQ sauce
1 – 2 tbsp liquid smoke (be careful with this – it's potent)
Directions
As the name suggests, you are going to put this all in a crock pot. I suggest using a crock pot liner, because the soda is going to cook down and becomes very hard to clean. Place your roast in the bottom of your crock pot. Add in your dry seasoning, liquid smoke, BBQ sauce and soda. Mind the soda. It's going to interact with the salt from the BBQ seasoning and foam up, so you will have to add it slowly.
Turn the crock pot on low for 8 – 10 hours or on high for 4 – 5. I highly recommend that you cool this on low. It really allows the flavors to join together and give the meat a much more concentrated flavor. Once the meat is done, you can remove it from the crock pot. Shred and season however you wish. This makes a lot of meat, but the recipe can be scaled down for smaller households.
Kansas City Style Ribs
Something to note, this is not my recipe. I have used a similar one to this with spectacular results so when I turned this one up, I knew I had to include it. One thing you should remember is that country style ribs are not baby back ribs. They are going to be smaller and more tender and easier to cook.
Ingredients
1 1/3 C packed brown sugar
2 teaspoons garlic powder
2 teaspoons onion powder
2 teaspoons smoked paprika
1 ¼ teaspoons ground cumin
1 ¼ teaspoons coarsely ground black pepper
1 ¼ teaspoons cayenne pepper
12 bone-in country-style pork ribs (about 7 lbs)

Sauce:

2 tablespoons canola oil
1 medium onion, finely chopped
1 Cup tomato sauce
1/3 Cup dark brown sugar
¼ Cup ketchup
¼ Cup molasses
1 tablespoon apple cider vinegar
2 teaspoons Worcestershire sauce
1 teaspoon salt
1 teaspoon ground mustard
¼ teaspoon smoked paprika
¼ teaspoon cayenne pepper
Directions
In a small bowl, mix brown sugar and seasonings; sprinkle over ribs. Refrigerate, covered, at least 1 hour. For sauce, in a large saucepan, heat oil over medium heat. Add onion; cook and stir 5-6 minutes or until tender. Stir in remaining ingredients; bring to a boil, stirring occasionally. Remove from heat.
Wrap ribs in a large piece of heavy-duty foil; seal edges of foil. Grill, covered, over indirect medium heat 1-1/4 to 1-3/4 hours or until ribs are tender. Carefully remove ribs from foil. Place ribs over direct medium heat; baste with some of the sauce. Grill, covered, 8-10 minutes or until browned, turning and basting occasionally with remaining sauce.
Recipe found on Taste of Home.
Barbecued Beef Brisket
Brisket is THE barbeque of Texas. Here in Arkansas, we make some similar dishes, but it Texas they slice their brisket. Here we turn it into pulled pork. Either way, you are going to enjoy every bit of it.
Ingredients
1/2 cup packed brown sugar
1/2 cup ketchup
1/4 cup water
1/4 cup cider vinegar
1/4 cup canola oil
3 tablespoons dark corn syrup
2 tablespoons prepared mustard
1 tablespoon prepared horseradish
1 garlic clove, minced

BRISKET:

2 tablespoons canola oil
1 fresh beef brisket (2 to 2-1/2 pounds), trimmed
Directions
In a small saucepan, combine the first nine ingredients; cook and stir over medium heat 3-4 minutes or until brown sugar is dissolved. Transfer to a disposable foil pan. In a large skillet, heat oil over medium heat. Brown brisket on both sides. Place in foil pan, turning to coat with sauce. Cover pan tightly with foil.
Place pan on grill rack over indirect medium heat. Grill, covered, 2 to 2-1/4 hours or until meat is tender. Remove from heat. Remove brisket from pan; tent with foil and let stand 10 minutes. Meanwhile, skim fat from sauce in pan. Cut brisket diagonally across the grain into thin slices; serve with sauce.
Recipe is from Taste of Home.
Quick Barbeque Baked Beans
Every good barbeque needs to have a couple of good side dishes. Baked beans are a classic and this recipe is super easy. (Almost as easy as mine.)
Ingredients
1 can (16 ounces) kidney beans, rinsed and drained
1 can (15-1/2 ounces) great northern beans, rinsed and drained
1 can (15 ounces) pork and beans
1/2 cup barbecue sauce
2 tablespoons brown sugar
2 teaspoons prepared mustard
Directions
In an ungreased 8-in. square disposable foil pan, combine all ingredients. Grill, covered, over medium heat until heated through, 15-20 minutes, stirring occasionally.
Recipe is from Taste of Home.
Activities
It's not a barbeque or an outdoor party without some sort of activites. So I have scoured the web so you don't have to.
Activities for Kids
Kids are hard to keep entertained especially if you have many different age groups. Toddlers and babies are easy. Just break out some bubbles and they will be entertained until you hyperventilate. Tennagers and older kids are a bit harder.
Balloon Pop
This is the classic church basement game just moved outdoors. All you need is several balloons that have been blown up without helium. The object of the game is to be the one to pop the balloon by sitting on it. Bonus points if you fill the balloon with shaving cream!
It's so much fun to watch everyone try to sit on the balloon and make it pop. The older kids do have an advantage here, but the younger ones can make up for it with flexibility and energy levels.
Keep the Balloon Up
This is another fun game that is easy to set up and could potentially last long enough to wear some of the kids out. The object of the game is to not let the balloon hit the ground. Sounds easy enough, right? Just blow up some party balloons and let the excitement begin.
Other Activities
Some other activities for kids can be games like twister or ring toss. Just make sure that the kids that are playing them aren't too competitive. I think I still have some scars from a tragic ring toss accident at a church picnic when I was a teenager.
Adult Activities
If you are having a party that is going to only have adults, you may need to up the ante on the activities. Any one of the kid activities from above is a good choice, but you have some other options as adults.
Taste Test
This one is easy to set up and is great to play while the food is being finished. Just like in a blind taste test, you set the contestant up with a blind fold and have them try different foods. You want them to guess what they are eating so giving them foods that are not easy to recognize makes this more fun.
Some common combinations are different types of cheeses, different types of candies or different types of pastries.
Let the fun begin.
Other Activities
Other games that are better suited for the adult crowds include games like trivial pursuit, various card games and dominoes.
The best part about a barbeque is not going to be the food, though that can be great, or whether you get to play a certain type of game. Instead it is going to be about spending time with people and having a great time. Your family and friends are what make a house your home. Here at Nelson Design Group, we want to help you build that house so that it can become your home.
Maybe you're looking for something in particular? Don't worry, we have you covered. Come check out Nelson Design Group's collection of over 1,800 house plans. And come check out the past blog posts in our house plan series:
Here at Nelson Design Group, we are always ready to make your dream home a reality. If we don't have the plan that is right for you, we'll make one. We are experts in our field and have been doing this for over 30 years. Give us a call today and we will be glad to help.
If you are looking at building a house, check out our Building Your Dream Home blog series. This series walks you through step by step on how to build a house and is updated regularly.
If you haven't found a builder yet, we have a Find-a-Builder tool right here on our website. These are builders from around the country that we have vetted just for you! They are skilled in their professions and do a great job.
Nelson Design Group has over 1,800 house plans for you to choose from. If you're unsure about finding what you need, give us a call at (870) 931-5777. Our representatives are always happy to help.
If you are a builder looking to buy plans, sign up for our Builder's Program. We offer discounts you won't be able to find anywhere else.
We also have resources that are just for you like access to our Master Planned Communities and Marketing Services.