Home Town Love: Great Tailgating Recipes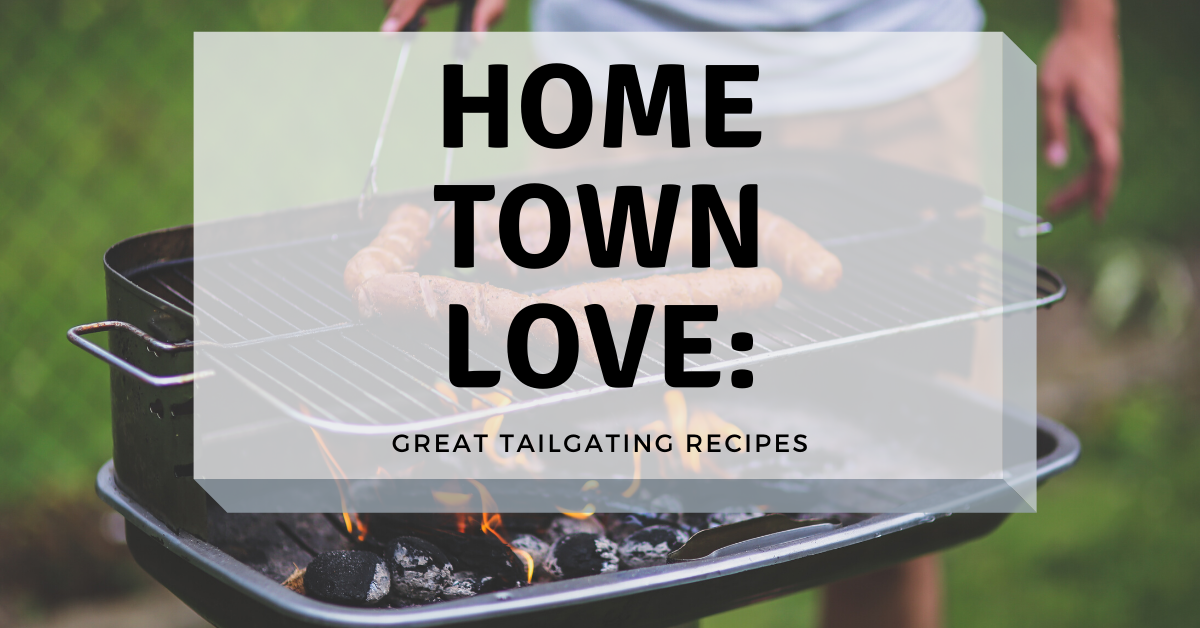 Home Town Love: Great Tailgating Recipes
This morning as I drove my girls to school, the sky was a cool iron-grey. You know that weird blue-grey color where the clouds are heavy and there's a light drizzle. This color only appears in this area when its cold. During the summer, rain clouds are dark and come on suddenly. When its cold they seem to creep in almost like fog. I hope it doesn't affect the game tomorrow.
Tomorrow is Arkansas State University's homecoming game. Its kind of a big deal around here. ASU is one of the biggest colleges in the state and its home base is right here in Jonesboro. I don't think Jonesboro would have grown to the size that it is today without two things: ASU and the interstate. Both of those have made this town an industrial and commercial powerhouse for this area.
Great Tailgating Recipes
And of course, football games make me think of tailgating. Well that and screaming until I'm hoarse. So, I gathered up some really tasty looking recipes that I thought would be perfect for the game tomorrow, or next week or dinner tonight.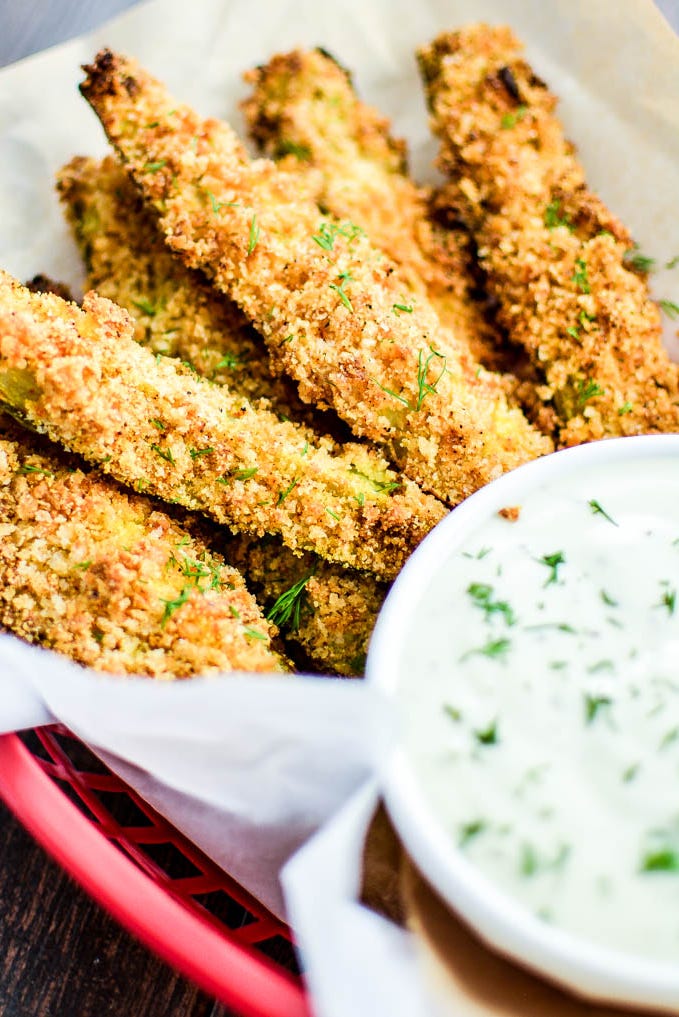 Oven-Fried Pickles with Homemade Dill Buttermilk Ranch
Recipe Here
Prep Time: 15 minsCook Time: 30 minsTotal Time: 45 mins
Ingredients:
Dill Buttermilk Ranch Dip
1 tbsp fresh baby dill
1/2cup mayo
1/2 cup plain Greek yogurt
1/2 cup milk
1/2 cup buttermilk
1 tbsp white balsamic vinegar
1/2 tsp onion powder
1/2 tsp garlic powder
1/8 tsp ground white pepper
Salt to taste
Oven-Fried Pickles
1 24-ounce jar dill pickle spears
1/2 cup all-purpose flour
2 large eggs
1/2 cup panko breadcrumbs
1/2 cup stone-ground corn meal
1/2 cup plain breadcrumbs
1 tsp finely ground parmesan cheese
1/2 tsp cayenne pepper (to taste)
1/2 tsp black pepper
Instructions
In the bowl of your food processor or blender, combine all of the ingredients for the ranch. Blend until smooth and creamy. Pour into a small bowl and cover. Place in the refrigerator until you are ready to use.
Preheat your oven to 450 degrees F and spray a large baking sheet with a non-stick spray. Set aside.
Drain the jarred pickles and place them on a paper towel-lined plate. Pat completely dry. Set aside.
In one shallow bowl, add the flour. In another shallow bowl, add the eggs and whisk to combine. In a third shallow bowl, combine the panko, corn meal, regular breadcrumbs, parmesan cheese, cayenne pepper and black pepper. Toss the ingredients until evenly distributed. You shouldn't need any more salt, as the pickles are already extremely salty. If you need more salt, then feel free to salt away.
Starting with one pickle, dredge in flour, then coat in the whisked eggs, and then transfer to the bread crumb mixture. Toss the pickle to make sure it is evenly coated, pressing to adhere where it is needed. Place on the prepared baking sheet and repeat this step for the rest of the pickles. Spray the pickles with a non-stick canola oil spray.
Place the pickles in the oven and bake for 25-30 minutes, rotating them halfway through. Spraying again with a non-stick canola oil spray. Make sure they are crispy before pulling them from the oven. This may take more or less time, so keep a close eye.
Serve immediately out of the oven with homemade dill buttermilk ranch.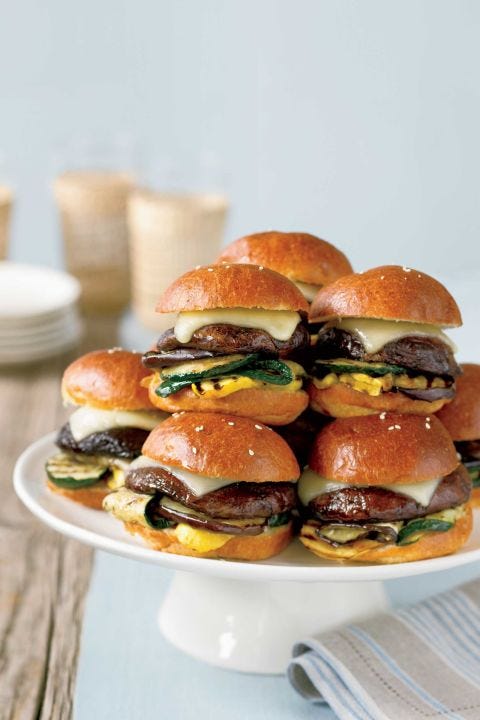 Mini Portobello Burgers
Recipe Here
Prep Time: 10 minsCook Time: 35 minsTotal Times: 45 mins
Ingredients:
12 medium portobello mushrooms
2 small Italian eggplants
2 yellow squash
2 zucchinis
1/2 tsp sea salt
12 mini brioche buns or dinner rolls
1 1/2 tsp sesame oil
1/2 tsp sesame seeds
9 oz Swiss cheese
Directions
Heat grill or grill pan to medium-high heat.
Trim the stems from the mushrooms. Slice the eggplant, squash, and zucchini into 1/4-inch-thick rounds. Brush vegetables with canola oil, sprinkle with salt, and grill until softened and grill marks have formed — about 10 minutes each side. (Brush with oil as needed to prevent sticking.)
Transfer to a baking pan. Heat broiler to low. Split the buns, brush the tops with the sesame oil, and sprinkle with sesame seeds. Layer the squash, zucchini, eggplant, and mushroom on the bottom bun halves. Top each with cheese and broil until cheese melts, about 1 minute. Top with remaining seeded bun tops and serve hot.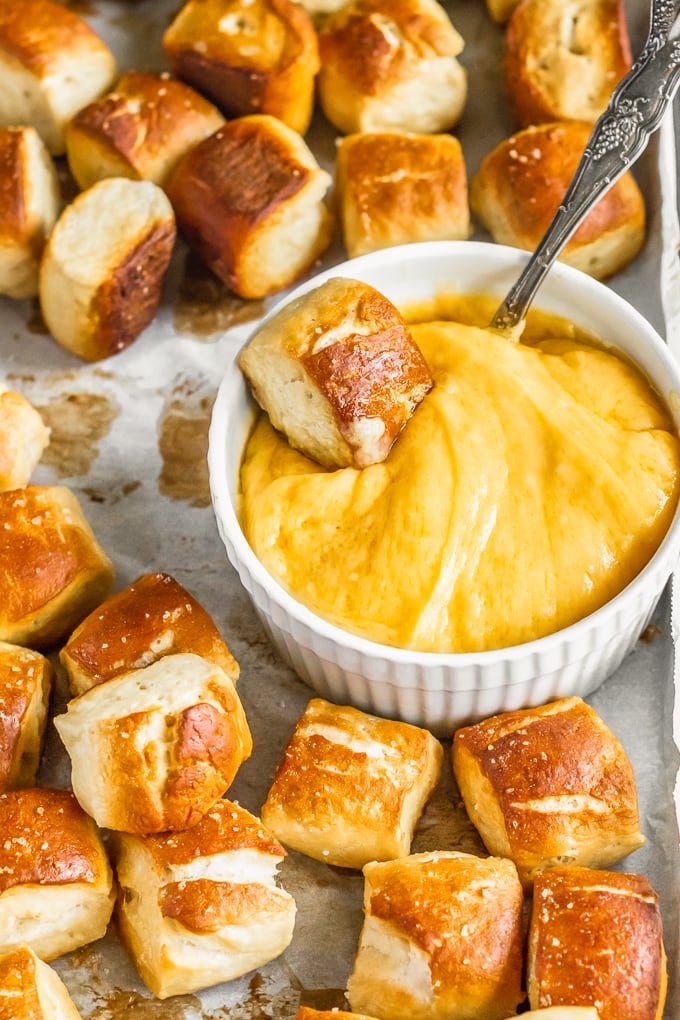 Easy Soft Pretzel Bites Recipe
Recipe Here
Prep Time: 10 minsCook Time: 20 minsTotal Time: 30 mins
Ingredients:
2 1/2 tsp active dry yeast
1 1/2 cups warm milk (microwave for about 30 seconds)
2 tbsp honey
4 cups all-purpose flour
1 tsp salt
1/2 cup baking soda
1/2 cup egg whites
1 tbsp water
1 tbsp coarse sea salt
Instructions:
Preheat oven to 450°F. Line a baking sheet with parchment paper and set aside.
Pour milk into the bowl of an electric mixer. Top with honey and the yeast and stir to combine. Allow to sit for approximately 10 minutes. The yeast will become like a foam, which means it's ready.
Fill a large pot about 1/2 full of water and allow to come to a boil over medium/high heat. Mix together the egg whites and water and set aside.
Add flour and salt to mixer. Mix on low with paddle attachment for about 3 minutes until the dough comes together in one ball. Add more flour if needed. The dough will stick together but will not be sticky on your hands.
Place dough on countertop and form dough into a ball. It's not necessary to flour your counter. Section the dough into four parts and roll each part into a long strand. Cut each strand into 1-inch sections using a butter knife. You should be able to make about 12-16 bites per strand.
Carefully, add baking soda to boiling water. Be careful, the baking soda will bubble up, so add slowly. Place dough bites into boiling water about 10 at a time, and "flash cook" for 20-30 seconds for each batch. Using a slotted spoon, take dough out of water and allow to cool.
Arrange all flashed cooked pretzel bites on parchment lined baking sheet so they are not touching. Brush each bite with egg white mixture and sprinkle with sea salt.
Bake for approximately 10 minutes or until the tops are browned. Remove from oven and allow to cool slightly.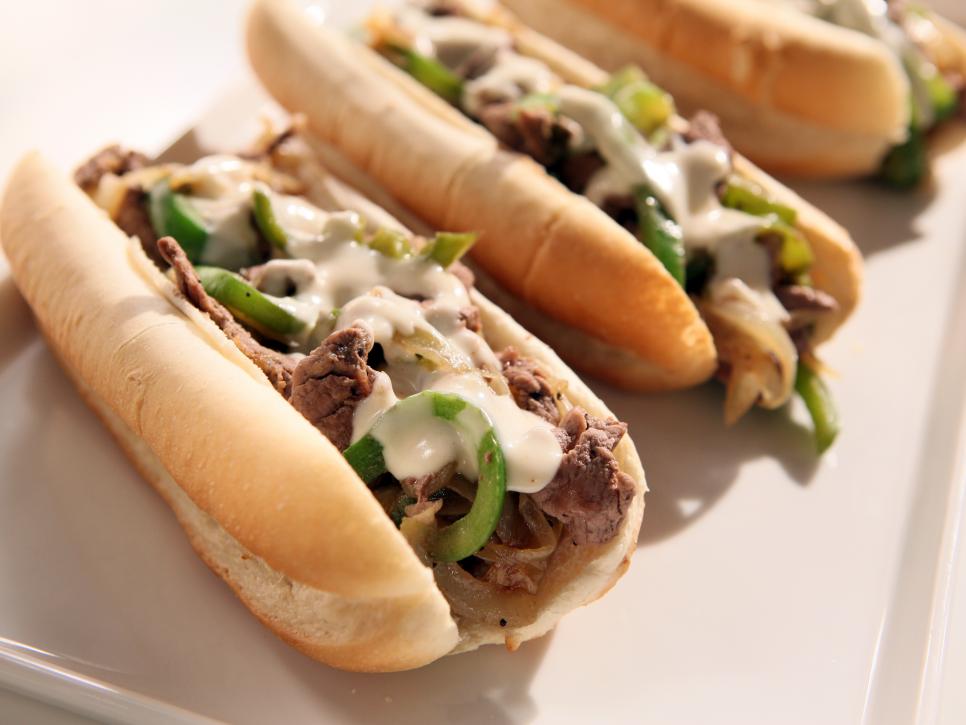 Philly Cheesesteaks
Recipe Here
Prep Time: 10 minsInactive: 45 minsCook Time: 20 mins
Ingredients:
1-pound top round London broil
3 tbsp canola oil
2 medium onions, sliced
2 green peppers, cut into strips
Kosher salt and freshly ground black pepper
1 tbsp all-purpose flour
1 cup whole milk, warm
1 cup shredded provolone
1/4 tsp cayenne pepper
Four 5-inch sub rolls, split
Directions:
Wrap the meat tightly in plastic wrap and put it into the freezer for 45 minutes. It should be firm but not completely frozen. Heat a large cast-iron skillet or a griddle over medium-high heat. Add 1 tablespoon of oil. Add the onions and peppers and season with salt and pepper. Cook until they are soft and lightly browned, 8 to 10 minutes. Reserve 1/2 cup cooked onions and peppers for another use, such as the Round 2 Recipe Chili Tostada.
In a medium pot over medium heat, add 1 tablespoon oil. Stir in the flour and cook for 1 to 2 minutes. Whisk in the milk and cook until it just starts to bubble and thicken, 4 to 5 minutes. Turn off the heat and whisk in the cheese and cayenne. Stir occasionally as the cheese melts. Cover and keep warm.
With a sharp knife, slice the meat into very thin strips. In a large skillet over medium-high heat, add the remaining tablespoon of oil and cook the meat until it is done to your liking, 1 to 3 minutes per side. Divide the onion and pepper mixture among the 4 rolls. Top with the meat and the cheese sauce.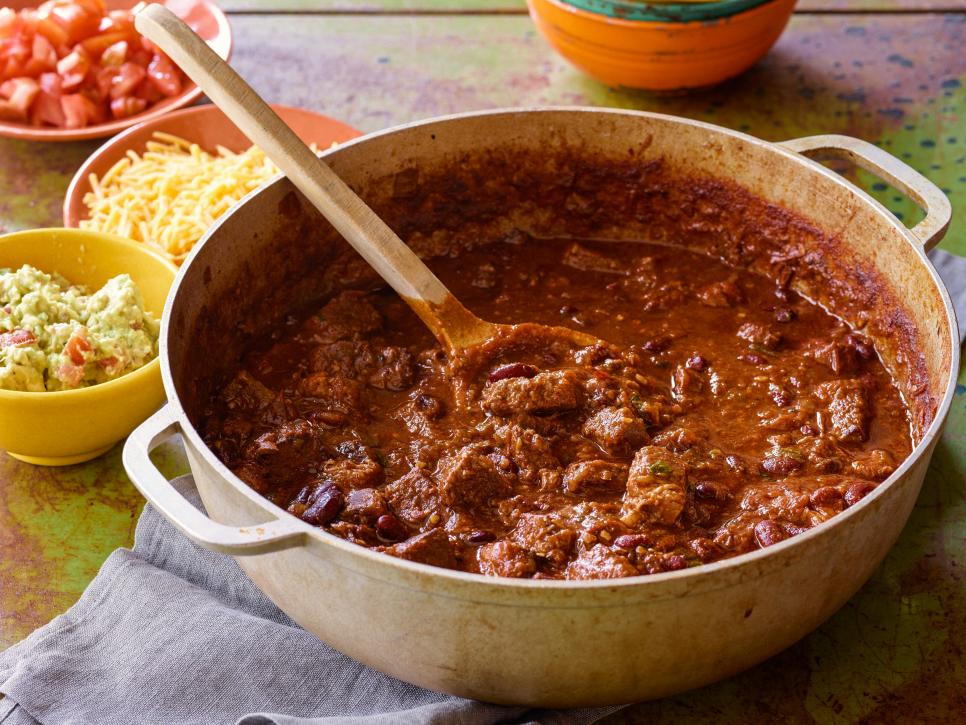 Devon's Award-Winning Chili
Recipe Here
Prep Time: 30 minsCook Time: 3 hr. 15 mins
Ingredients:
5 pounds beef brisket, cut in 1-inch cubes
1/4 cup olive oil
2 cups chopped yellow onions
6 large garlic cloves, minced
2 tbsps. chili powder
1 tbsp red pepper flakes, crushed
1 tbsp cayenne pepper, or to taste
2 tbsps. ground cumin
2 green peppers, seeded and diced
1 bay leaf
6 cups tomatoes, chopped with their liquid
Salt and freshly ground black pepper
1/2 cup strong coffee
Two 15-ounce cans kidney beans
2 tbsps. chopped basil leaves
Directions:
Pat the brisket cubes dry with paper towels. Heat the oil in a very large heavy-bottomed pot and quickly brown the meat, in batches, on all sides. Transfer the brisket to a separate bowl and set aside. Sauté the onion and garlic in the same oil over medium heat until limp, but not brown, about 8 to 10 minutes. Add the chili powder, pepper flakes, cayenne pepper and cumin and sauté for 1 minute. Add the green peppers, bay leaf, tomatoes with their juice, the reserved meat, 1 tablespoon of salt and 1 teaspoon pepper and bring to a boil. Reduce the heat, cover the pot with a tight-fitting lid and simmer for 2 1/2 hours, stirring occasionally. Taste and season with salt, to taste. Add the coffee, cover the pot and simmer for 1 more hour.
Add the kidney beans and basil, and warm through. Transfer the chili to a large serving bowl and serve with sour cream, grated Cheddar, diced tomato, tortilla chips and guacamole.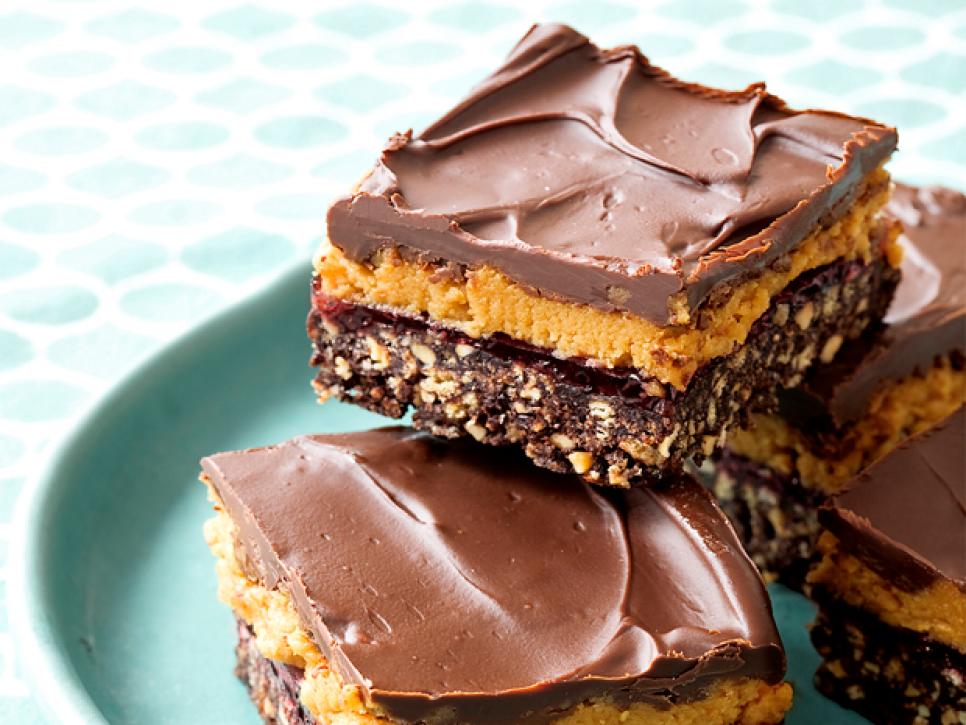 Sarah's PB and J Chocolate Bars
Recipe Here
Prep Time: 25 minsInactive: 30 minsCook Time: 10 mins
Ingredients:
For the base:
1 stick unsalted butter
1/3 cup granulated sugar
1/3 cup unsweetened cocoa powder
1 large egg, beaten
1 sleeve saltines (40 crackers, regular or whole wheat), finely crushed
3/4 cup finely chopped roasted peanuts
For the Filling and Glaze:
1/4 cup grape jelly
7 tbsp plus 1 teaspoon unsalted butter, softened
1/3 cup creamy peanut butter
1/2 cup confectioners' sugar
4 ounces semisweet chocolate, chopped
Directions:
Make the base: Line an 8-inch square baking pan with foil, extending it over the sides. Put the butter in a medium heatproof bowl; position the bowl over a saucepan of barely simmering water (the bowl should not touch the water). Once the butter melts, stir in the sugar and cocoa. Whisk in the egg; cook, whisking, until the mixture is warm and the consistency of hot fudge, 6 minutes. Remove from the heat; mix in the saltine crumbs and peanuts. Press the crust into the pan. Set aside the saucepan of water.
Make the filling: Spread the jelly over the crust in the pan; place in the freezer for a few minutes. Beat 5 tablespoons plus 1 teaspoon butter, the peanut butter and confectioners' sugar with a mixer until light. Spread over the jelly layer; return to the freezer while you make the glaze.
Place the chocolate and the remaining 2 tablespoons butter in a heatproof bowl; set over the pan of simmering water and stir until the chocolate is melted. Remove from the heat; stir until smooth. When cool but still runny, spread the glaze over the chilled peanut butter layer. Freeze for another 30 minutes.
Use the foil flaps to remove the bars from the pan; cut into squares while still cold. Serve cold and keep leftovers refrigerated.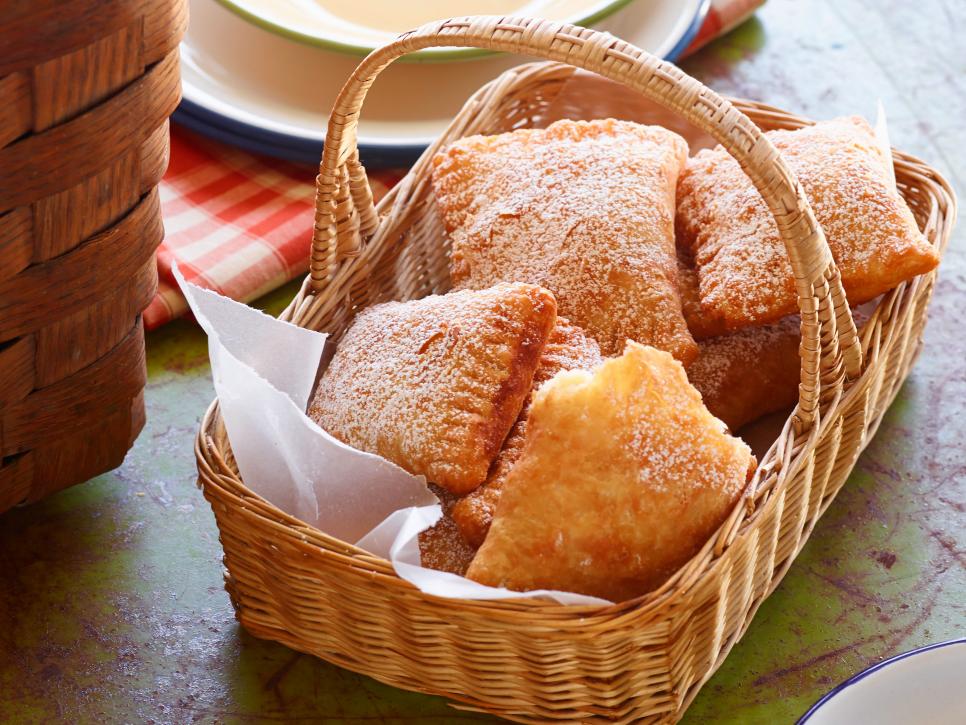 Fried Pies
Recipe Here
Prep Time: 20 minsInactive: 1 hr.Cook Time: 20 mins
Ingredients:
6 cups all-purpose flour
4 tbsp granulated sugar
1/2 tsp salt
1 cup shortening, plus more for frying
2 eggs, beaten
2 cups buttermilk, more if needed
Apple pie filling, canned
Cherry pie filling, canned
Powdered sugar, for sprinkling
Directions:
To make the pastry, mix together the flour, granulated sugar and salt. Cut in 1 cup of the shortening until the mixture resembles coarse crumbs. Add 1 of the eggs and the buttermilk and stir until it just comes together. Add a little more buttermilk if needed. Form it into a ball and refrigerate for at least an hour.
To make the pies, roll the pastry out into a large square. Trim the edges to make a rectangle. Cut into 8 to 10 long rectangles, using a butter knife.
Spoon a tablespoon or so of filling into the top half of one of the rectangles.
Use the remaining beaten eggs to seal the edges by folding the bottom half of the rectangle over the top. Then crimp the edges shut with a fork. Repeat with the other pies, filling half with apple pie filling and half with cherry pie filling.
Heat shortening in a medium, deep saucepan over medium-high heat to 350 degrees F. Fry the pies until golden brown, 2 to 3 minutes per side. Remove and immediately drain on paper towels.
Sprinkle with powdered sugar and serve.
Maybe you're looking for something in particular? Don't worry, we have you covered. Come check out Nelson Design Group's collection of over 1,800 house plans. And come check out the past blog posts in our house plan series:
Here at Nelson Design Group, we are always ready to make your dream home a reality. If we don't have the plan that is right for you, we'll make one. We are experts in our field and have been doing this for over 30 years. Give us a call today and we will be glad to help.
If you are looking at building a house, check out our Building Your Dream Home blog series. This series walks you through step by step on how to build a house and is updated regularly.
If you haven't found a builder yet, we have a Find-a-Builder tool right here on our website. These are builders from around the country that we have vetted just for you! They are skilled in their professions and do a great job.
Nelson Design Group has over 1,800 house plans for you to choose from. If you're unsure about finding what you need, give us a call at (870) 931-5777. Our representatives are always happy to help.
If you are a builder looking to buy plans, sign up for our Builder's Program. We offer discounts you won't be able to find anywhere else.
We also have resources that are just for you like access to our Master Planned Communities and Marketing Services.