Interior Design Trends of the Last Decade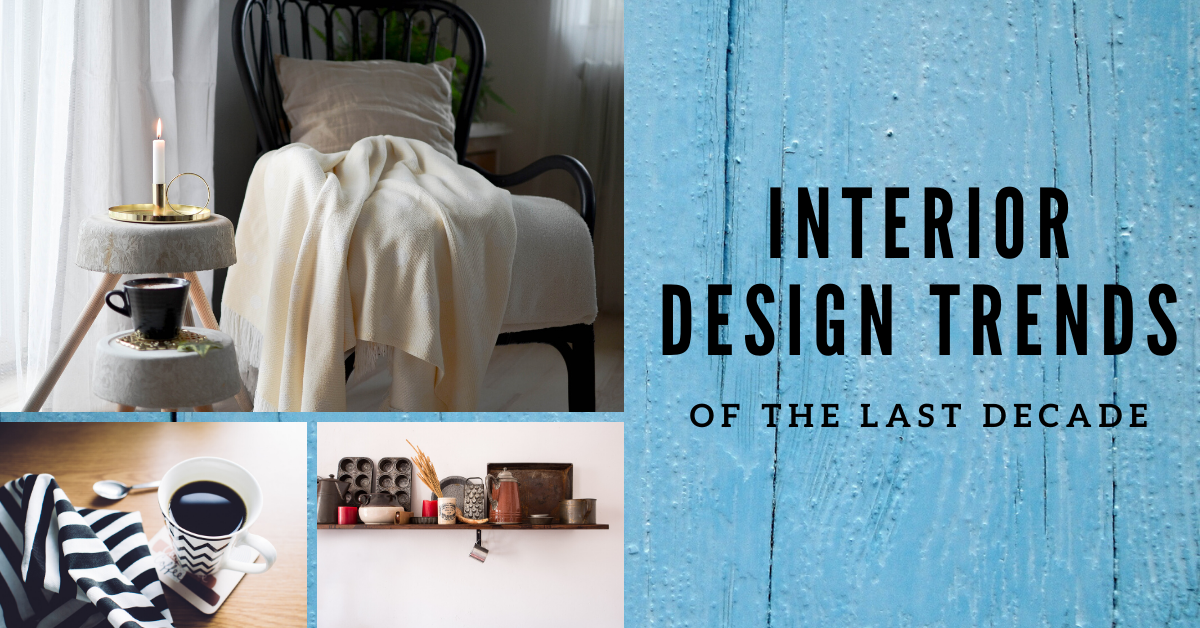 Interior Design Trends of the Last Decade
From eye catching chevron patterns in every color of the rainbow to the minimalist movement inspired by the Scandinavian winters, this decade has been a blur of interior decorating trends. While I think that the decade will be remember more for the Modern Farmhouse movement and the resurgence of the Mid-Century aesthetic, there were many other phases and styles that came through during this time.
Early 2010's
During the early part of the decade, the interior design industry found itself in a bit of a dilemma. The housing market that had crashed at the end of the previous decade was still affecting the lives and businesses of those who were in this industry. Then the internet came into play and revolutionized the way we all looked at making our houses look pretty.
In 2010, Instagram and Pinterest both launched. Both of these would become the inspiration of millions of people on how to decorate their homes. Interior design was now sponsored, influenced and perpetuated by these online platforms. People were now emulating everything they saw there.
And I was no different. I have several pieces in my home that were inspired by my Pinterest board. You would be amazed at the amount of pins I have on my personal board. I think I was in the first wave to get on to Pinterest so it's really no wonder.
Economy of Color
One of the things that really influenced the way people decorated their homes during this time was the economic recession. Most people couldn't go out and just buy everything that matched perfectly to their décor all at once. You ended up finding things that matched at different locations. So, retailers started offering things that would match anything!
You had loads of greys and blues and beiges. Nothing that would stand out and everything that would blend in with everything else. Blogs and early influencers helped with DIY solutions to taking something old or the wrong color and turning it into something that matched the rest of the décor.
There was still a huge market for the higher end of the spectrum. But the middle was gone. Either you were on the high-end of the market or you were on a tight budget. So traditional designers were having to change the way they approached businesses.
Scandinavian Minimalism
Another huge trend during the decade was that of hygge. This is a Danish word that is loosely translated to mean a cozy feeling. The idea of the Scandinavian Minimalist home was to imagine yourself being curled up in a blanket by a fire surrounded by your family and friends.
This style featured very stark interiors with loads of white, black and grey color schemes. It also included natural materials such as natural wood, sheepskin and knits. I think it combines the Rustic style and the Contemporary Modern styles.
Chevron Pattern
How many different colors did you see this pattern in? I think I saw it on everything from curtains to dresses to carpets and everything in between! The pattern was bold and helped to transform a room from very boring to very interesting in one quick move. This was perfect for the shopper on the budget.
Warm Metals
Its not often that you can look at a metal accent and think, "Well that warmed up the room quite a bit!" The traditional use of metal was for it to be stainless steel and evoke a very cold and harsh tone. The 2010's begged to differ! The use of brass and copper and other warm metals was huge during this time and I think this is something that people are going to be using for a while.
Mid-2010's
This was the beginning of the boom for influencers and social media. This meant that what was popular to the influencers was what became fixtures in our homes. The same colors, plants and rugs flooded our social media profiles. All of whom were trying to influence us to decorate our homes uniquely in the same way.
Soon the big brands started picking up on this trend. The most successful was HGTV. Grabbing your attention with Fixer Upper and the Gaines, they haven't let that go and it doesn't look like they are going to anytime soon. All of the big retailers soon started catering to the style choices that influencers were calling for. Amazon and Target both launched new interior design brands during this time.
Mid-century in the New Century
In the 1990's and early 2000's, this type of decorating was used in the most luxurious homes. Anyone who was anyone was decorating their home with the simple lines and clean looks of the mid-century modern look. In the early part of the 2010's, that look slowly began making its way to the rest of the world.
With brands like IKEA and Walmart promoting clean lines and easy to assemble pieces, everyone could own a piece of this look. It was no longer just the realm of the uber wealthy and rich and famous. While some of the brands that went for this type of look missed on the quality, they did open the door for bigger and better ones.
Modern Farmhouse
With white walls and simple decorations, the modern farmhouse look swept into our lives and homes like a hot wind on a summer day in the south. You can't go anywhere or look at anything dealing with the housing industry without seeing the influences of this style and it doesn't look like its going anywhere any time soon.
The modern farmhouse look is so appealing because of its simplicity. You don't have to have a lot of money or time to give your home this make over. In fact, this style lends itself to hodgepodge. Make sure your floors are hard-wood (or at least look like it) and that your walls are nice neutral shade and you're halfway to the look.
Airspace
This concept has really taken storm in the last couple of years. To me, Airspace is the love child of the industrial look and the contemporary modern look. With reclaimed wood furniture, powder-coated metal accessories, Edison style bulbs, plants and subway tiles, this look takes everything that is modern and gives it an edgy feel.
Unique Spaces
The most impressive design trend in the 2010's, to me, was the reach for a unique space for each home. I think that we are moving away from the trend of having everyone's house have this cookie-cutter style feeling and moving more towards having things around you that make you feel great.
So, no matter what style you decide to decorate your house in, how much of that style you want to use, make it your own. Its your space. Its your home. Make sure that it is appealing to you, first and foremost.
Maybe you're looking for something in particular? Don't worry, we have you covered. Come check out Nelson Design Group's collection of over 1,800 house plans. And come check out the past blog posts in our house plan series:
Here at Nelson Design Group, we are always ready to make your dream home a reality. If we don't have the plan that is right for you, we'll make one. We are experts in our field and have been doing this for over 30 years. Give us a call today and we will be glad to help.
If you are looking at building a house, check out our Building Your Dream Home blog series. This series walks you through step by step on how to build a house and is updated regularly.
If you haven't found a builder yet, we have a Find-a-Builder tool right here on our website. These are builders from around the country that we have vetted just for you! They are skilled in their professions and do a great job.
Nelson Design Group has over 1,800 house plans for you to choose from. If you're unsure about finding what you need, give us a call at (870) 931-5777. Our representatives are always happy to help.
If you are a builder looking to buy plans, sign up for our Builder's Program. We offer discounts you won't be able to find anywhere else.
We also have resources that are just for you like access to our Master Planned Communities and Marketing Services.