Now is the Time to Buy Your House Plans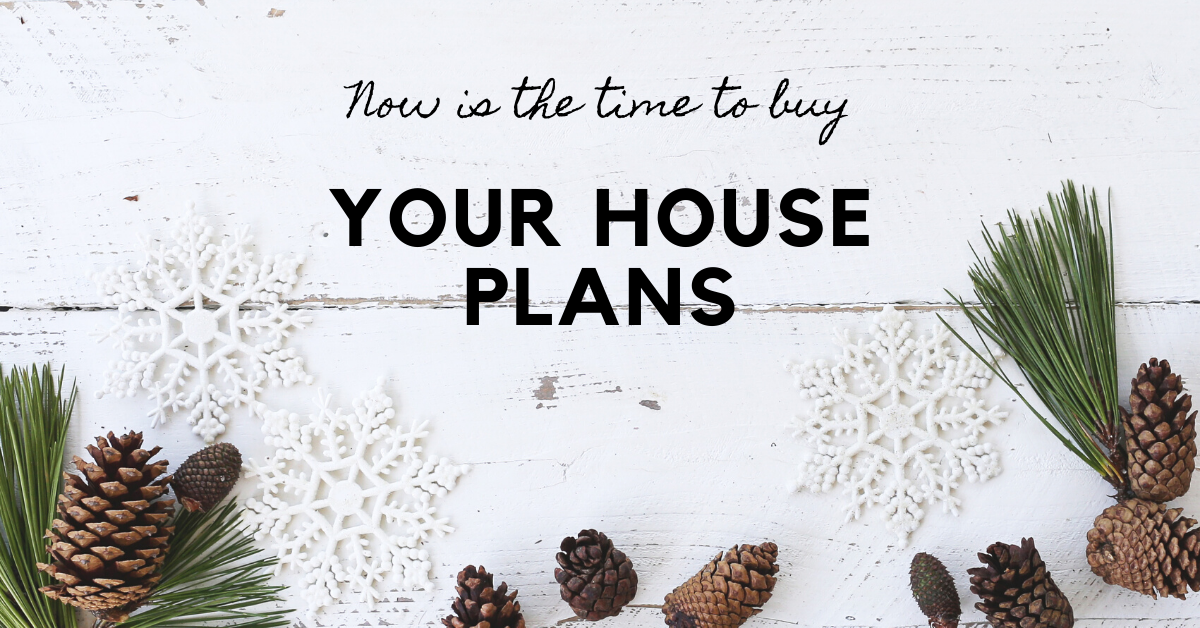 Now is the Time to Buy Your House Plans
Did you know that, under perfect conditions, it usually takes between 8 and 10 months to build a house from start to finish? That's under perfect conditions, with no changes being made in the field and with an experienced contractor leading the team. If you add in any complications, you are looking at more than a year before you can move into your new home. The best time for a professional builder to start a project is in the late spring and early summer. But there is a lot to do before your builder can get started.
Now is the Time to Buy
Now is the time to buy house plans and not just because we are running some fantastic deals for the holiday season. If you are building just a normal stock plan or spec house, then it will take at least 3 months before you can get started with the building process. And you want to be able to lay your foundation by late spring or early summer. That means that if you want to start building when the weather is nice, you should have your plans ready to go very soon.
Major Factors to a Build
There are several major factors to a build that can affect how long it is going to take to get that build completed. Any one of these can take a build from a very short timeline and add time to it. Some of these delays can be prevented with some preparedness.
Type of Home
Your build timeline depends greatly on the type of home you are building. The more complicated the build, the longer it is going to take. The simpler the build, the shorter time will be required. If you are building a spec house or a stock plan, it may only take a few months. The estimate for a stock plan or a spec home is usually between 4 and 6 months.
The timeline for these builds is shorter for a couple of reasons. Spec houses and stock plans are house plans that have been built before. Basically, all the bugs have been worked out before on these plans. They are easier to build.
Now if you are looking at building a custom house, the timeline for the build gets a bit longer. Custom houses take longer because this is the first time they have been built. Custom plans are usually more complicated than a stock plan or a spec house. They require a higher skill set. Custom house can take between 10 and 16 months under the best conditions.
Where You Are Building
Another factor that can determine how quickly you can finish a build is the location that you are building. The quickest build time is usually in a mountainous region. This is because there are fewer people building in those areas at a time and you can usually find the help you need to build your home quicker. In this type of terrain, it usually only takes about 6 months to build. Of course, that may be the only time you have to work on it depending on the conditions.
If you are building in a metropolitan area, it may take you a month or so more to build which puts your timeline in the range of around 7 months. That's still very quick build. It's usually that quick because you have access to all of the supplies and labor you could need. This moves the process up quite a bit.
If you are building in a rural area, you can bet that it will take a minimum of 9 months to build a house. So, if you or your spouse just got pregnant and you want to move into your new house around the time the baby is born, its time to break ground now.
The timeline that tends to be the longest is the time for the mid-Atlantic region. This area will take between 9 and 10 months. Again, if you want that new baby to spend its early days in the new home, you'll need to be breaking ground soon.
Pre-Construction and Permits
Here's something that most people don't take into consideration when they are building a house for the first time. There is an entire process that must take place before you can even begin on the foundation. The first thing that has to happen is that you have to have your house plans approved by the code enforcement office or land improvement office in your area.
If you live in town, you are probably going to have to adhere to a much stricter set of rules than you would if you are going to build outside of town. These rules have to be followed before you can begin building in your area.
Once you have followed those rules, you can now get a permit. Unfortunately, its not the same as getting a driver's license or a marriage license. You have to wait until the permit has been approved by the code enforcement. This may mean anywhere from a week to more than a month before you have permission to begin breaking ground.
If the code enforcement finds a problem at any point in the process, you are going to be dropped from the queue and will have to start the process all over again. Make sure you have everything you need for your specific area before you begin applying for a permit.
Another thing that is going to take time out of the build before the build even gets started is going to be prepping the site. Your site has to be ready before you can start building. The site needs to be clear of obstructions. Site prep can take anywhere from 1 month to 3 months depending on what all needs to be done.
If you don't have all of the necessary amenities on your lot, now is the time to put them in. Sometimes the locations of services determine how your foundation is put in. I know that on our property our septic system is behind our home and we can't build anything out more than a couple of feet from our house or we will be in the leech field.
Changes During the Build
This is one thing you want to avoid as much as possible. You don't want to make any changes to the build during the actual build. This can slow down the build by months and make it to where the progress just grinds to a halt. If the change is something that is stated at the beginning of the build or before the build has begun, it usually doesn't affect the build that badly.
Entire Timeline for Building a House
So, when you are looking at building a house, the timeline that you are going to be dealing will depend greatly on the different factors that affect your build. From start to finish if you don't have any issues and you are building in an area where the weather won't affect your build very much, you are looking at a minimum of 6 months from the time you purchase your plans until you are finished with the home.
Again, that is the perfect world scenario! And you know Murphy and his law! He will come in and try to slow you down a bit. And any of those obstacles can double your build time with ease.
How Long Does It Take to Get A House Plan?
This is an important decision especially if you are having changes made to the house plan. A standard stock plan or spec house plan is not going to take long at all. When we get an order for one, our CAD department goes through and makes sure there are no errors on the plan and that everything is up to date on it and that the recommended building codes have been followed. This means you can have the order in as little as a few hours if you are getting the .pdf.
If you are having some changes made to one of our stock plans, then it is going to take a bit longer. For most it will take between 6 and 8 weeks. That's if you get back to us to approve the changes that have been made to your plan. The only way to speed that process up is to purchase a rush option. That will ensure that if you get back to us to approve the changes that have been made, you will get your new customized house plan in as little as 2 weeks.
Maybe you're looking for something in particular? Don't worry, we have you covered. Come check out Nelson Design Group's collection of over 1,800 house plans. And come check out the past blog posts in our house plan series:
Here at Nelson Design Group, we are always ready to make your dream home a reality. If we don't have the plan that is right for you, we'll make one. We are experts in our field and have been doing this for over 30 years. Give us a call today and we will be glad to help.
If you are looking at building a house, check out our Building Your Dream Home blog series. This series walks you through step by step on how to build a house and is updated regularly.
If you haven't found a builder yet, we have a Find-a-Builder tool right here on our website. These are builders from around the country that we have vetted just for you! They are skilled in their professions and do a great job.
Nelson Design Group has over 1,800 house plans for you to choose from. If you're unsure about finding what you need, give us a call at (870) 931-5777. Our representatives are always happy to help.
If you are a builder looking to buy plans, sign up for our Builder's Program. We offer discounts you won't be able to find anywhere else.
We also have resources that are just for you like access to our Master Planned Communities and Marketing Services.