Craftsman-Bungalow: Then and Now Part 1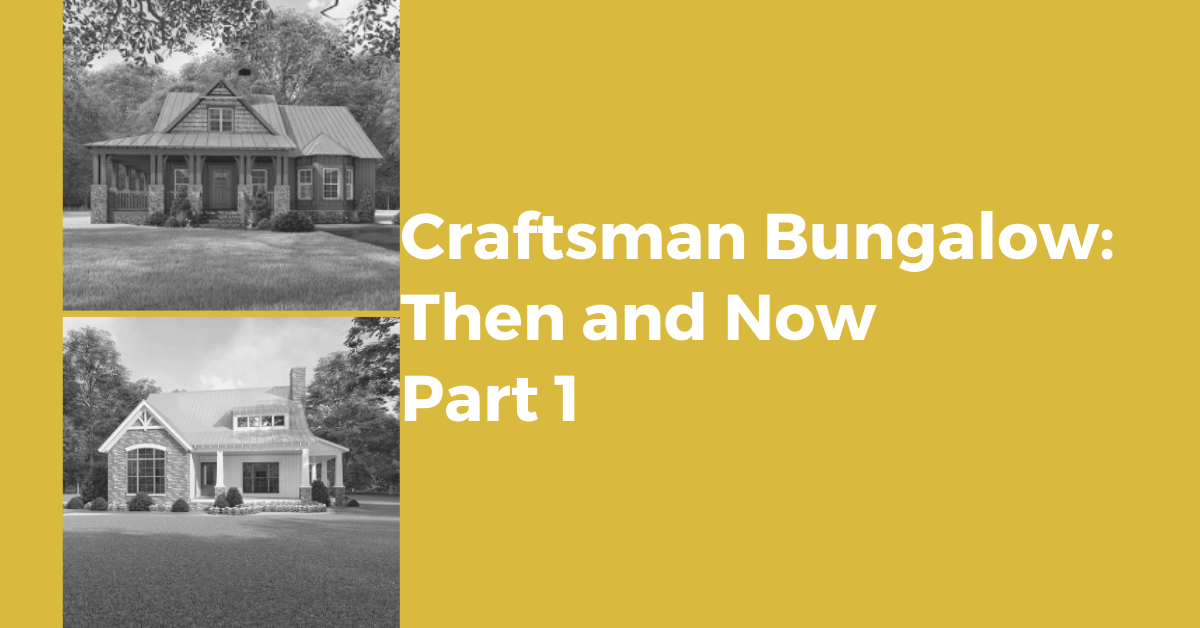 Craftsman-Bungalow: Then and Now Part 1
One of the things that I enjoy the most about writing the blogs is getting to do loads of research. I'm a history buff and I also love random trivia, so getting to find out new things about a wide range of topics is perfect for me. We have a unique opportunity right now to look at history from a different perspective. I love that exactly 100 years ago, it was the roaring 20's. When you look at house plans from the 1920's, one of the types that tended to stand out was the craftsman-bungalow style house.
The craftsman-bungalow style house plan became incredibly popular in the early 1900's because it was a type of plan that was readily available for a low price. You could purchase a kit to build your house for around $1000. That was cheap for a house! Some of the pricier kits even had all of the hardware and lumber that you needed to build the entire house from foundation to roof. Imagine, building a house for less than what it costs to buy a decent used car!
History of the Craftsman-Bungalow Style
When you think of a craftsman-bungalow style house, the first thing that you probably think of is an older house with a simple roof and wide columns under the covered porch. And that is exactly right! These homes were the response to a need for affordable housing. They were also a response to people yearning to get away from Victorian sensibilities and styles.
Picture this: you are part of the growing middle class in America. You have some means at your disposal, but you're not rich by any stretch. You want to start a family and have your own space. For your entire life, you have been held to rigorous social mores and rules and surrounded by an overabundance of decorations. What would you look for in a house plan?
The Victorian style of decorating was "More is More and More are Better". That meant that every chair and cushion was overstuffed, and every spare surface was covered in knick-knacks. (In fact, the word knick-knack was coined in the Victorian era.) So, the new movement for decoration was the opposite. Simplistic rather than flamboyant. Comfortable rather than overwhelming.
The word "bungalow" actually comes from a Hindi word, angla or bangala. The Hindi word referred to small, one story homes that were typical to the area. This word came to refer to the houses that were built for the British authorities.
Just like those original small houses, the bungalow became a very popular and easy way to solve a housing dilemma. With a growing middle class and urban centers blooming, people needed houses and they needed them fast and within a smaller budget.
The craftsman part of the craftsman bungalow style came from a magazine published in the early 1900's. Furniture designer, Gustav Stickley's magazine which was entitled "Craftsman" urged people to buy less manufactured goods and instead to buy things that were home made or made by small shops.
Stickley began to sell kits where you could build simple, 1 story houses at an incredibly low price. Sometimes the kits sold for as little as $1000! These bungalows became the perfect home for the working class. For next to nothing, you could have a good-sized home that was easy to care for, didn't have any wasted space and could be easily customized to what you wanted.
Other companies, including the mighty Sears, picked up the kit houses and started selling their own variations and designs. These kit houses were very popular and tended to be the preferred method of building a home for years to come. Did you know that some of these kit houses are still in good shape even after a century or more of use?
Craftsman-Bungalow Style House Plans: Then and Now
If you really want to look at how a style can evolve with the times, the craftsman-bungalow style home is the type of house plan you want to examine. The craftsman-bungalow style home was born in the time between the World Wars and fit a specific niche in the economic market.
This style of home was for those who worked for their livelihoods and didn't need to have extra space for servants or formal areas. As times have changed, the craftsman-bungalow style has morphed and evolved to keep up with them.
Exterior
The exteriors of the craftsman-bungalow style houses have not changed that much. Other than to move forward with new technology, there hasn't been much that needed to be changed. The exterior of these homes was built to withstand years of weather and trouble.
As these homes were built across the country, the materials used in their construction varied from region to region. So, one of the unique things about this style of home is that the local idea of what a craftsman-bungalow home will look like will change based on the area that you are in.
Overall, the craftsman-bungalow home is not a tall, imposing home. Rather, these homes are short and welcoming. They are usually 1 to 1 ½ stories and feature gable end vents to help vent heat from the home during the winter. This would be replaced in a modern craftsman-bungalow which would have access to modern air conditioning methods.
The exterior materials used in the construction of the home varied from region to region. You could find all types of exterior materials including wood siding, brick and even stucco used on the exterior of the craftsman home. Modern exterior materials can be used without harming the essential pieces of this style. Vinyl siding and metal roofing both look great on this type of home.
The Windows of the traditional craftsman-bungalow style home were double casement windows that were put together in the cottage style. This meant that there was a large single pane on the bottom of the window that took up 2/3s of the window and the top of the window was made up of 3 smaller panes that takes up the top 1/3s of the window.
The porch of the craftsman-bungalow home is one of the pieces of this style that doesn't change very much. The porch is usually deeper rather than longer and has columns that are usually made with a masonry or brick bottom and an exposed wood column that tapered as it moved toward the top.
The front door of the craftsman-bungalow was usually centered to the porch railings and supports were usually thick enough and sturdy enough for you to sit down and converse.
Riverrun (MEN 5207)
Take a look at our newest Rustic Style house plan! This home gives you all of that coveted rustic look with room for all of your modern amenities! This home gives you nearly 2,000 square feet of living space with 3 bedrooms and 2 full baths. This gorgeous plan would be great in the middle of the woods or in the urban wilderness.
As you approach the home, you notice the wrap around covered porch with stonework columns. A bay window immediately draws your eye to the right side of the home while a gabled window and chimney give the plan a good middle ground for curb appeal.
Walking into the home you are immediately met with an open floor plan featuring a Great Room with a fireplace and a stairway leading to the second floor. The stonework fireplace gives you ample warmth on those chilly, windswept nights and the perfect ambiance for a late night snuggle with your loved one.
Moving through the Great Room, you find yourself in a large open Kitchen. The Kitchen features a Dining Space as well as a bar with seating for 4. This kitchen gives you ample room for the largest of refrigerators and dishwashers and plenty of counter space. You even have a pantry built right in!
The Dining Room features large windows that open up to the rear of the home. From the Dining Room you can step out on to the covered Grilling Porch. This Grilling Porch has plenty of space for grilling and entertaining as well as a storage area for all of those pesky grill implements.
Stepping back into the Dining Room, you can take a look into the Supply Room that has built in shelving for all of your household goods. It can also be used as a pantry! To the right of the Supply Room you find a short hallway that gives you access to the downstairs Main Bath. This full-size bathroom features space for a linen closet.
Moving back into the hallway, you find space for a stacked washer and dryer. The last room on this floor is the Master Bedroom. Remember that gorgeous bay window I mentioned earlier? It is here in the Master Bedroom. It would be perfect for a window seat or to place a chair there for afternoon reading.
The second-floor features Bedrooms 2 and 3 each with their own large closet. The secondary Bathroom is also up here and it, too features a linen closet. This home is perfect for those wanting to step away from the hustle and bustle of urban life. Enjoy the simplicity of Rustic surroundings in your own living room!
Oakleaf Cottage (MEN 5204)
This 1,900 square foot home gives you 3 Bedrooms and 2.5 Bathrooms. This home is perfect for many stages of life including a new family starting out or an older couple who are rediscovering what they love. The first thing that you notice about this home is the Covered Porch that gives you a great entrance to the home.
The Covered Porch lends great curb appeal and the classic design means that this home will be gorgeous for years to come. Stepping into the home, the first room you enter is the Great Room. This room features vaulted ceilings and a large stonework fireplace. This room also gives you a stairwell complete with a small access door for storage.
The home features an open floor plan where the Great Room blends seamlessly into the Kitchen and Breakfast Room. The Kitchen is in a reverse "C" shape and features bar seating for 6 for entertaining and prep. It also features a wraparound countertop that gives you plenty of room to prepare the largest mean.
The Breakfast Room is adjacent to the Kitchen and features a back entrance so that you can step directly outside on those cool mornings with your cup of coffee. The Breakfast Room leads to the Mudroom which gives you a side entrance to your optional garage and breeze way. The Mudroom features a Bench with hanging storage.
The Laundry Room is large and features a built in Linen closet as well as a large soaking sink. This gives you plenty of room for even the largest loads. There is also a walk-in pantry and a half bath. Moving back into the Great Room, you find yourself in the Master Bedroom. The Master Bedroom features vaulted ceilings and a private side entrance for those long romantic walks right before bed.
Moving into the Master Bath you will find both a large free-standing tub and a shower as well as a walk-in closet. This finishes up the first floor. The second floor gives you space for Bedrooms 2 and 3 as well as the hall bathroom that they share. The second floor also features a balcony which overlooks the Great Room below.
Maybe you're looking for something in particular? Don't worry, we have you covered. Come check out Nelson Design Group's collection of over 1,800 house plans. And come check out the past blog posts in our house plan series:
Here at Nelson Design Group, we are always ready to make your dream home a reality. If we don't have the plan that is right for you, we'll make one. We are experts in our field and have been doing this for over 30 years. Give us a call today and we will be glad to help.
If you are looking at building a house, check out our Building Your Dream Home blog series. This series walks you through step by step on how to build a house and is updated regularly.
If you haven't found a builder yet, we have a Find-a-Builder tool right here on our website. These are builders from around the country that we have vetted just for you! They are skilled in their professions and do a great job.
Nelson Design Group has over 1,800 house plans for you to choose from. If you're unsure about finding what you need, give us a call at (870) 931-5777. Our representatives are always happy to help.
If you are a builder looking to buy plans, sign up for our Builder's Program. We offer discounts you won't be able to find anywhere else.
We also have resources that are just for you like access to our Master Planned Communities and Marketing Services.