Life of Luxury: European Collection Part 2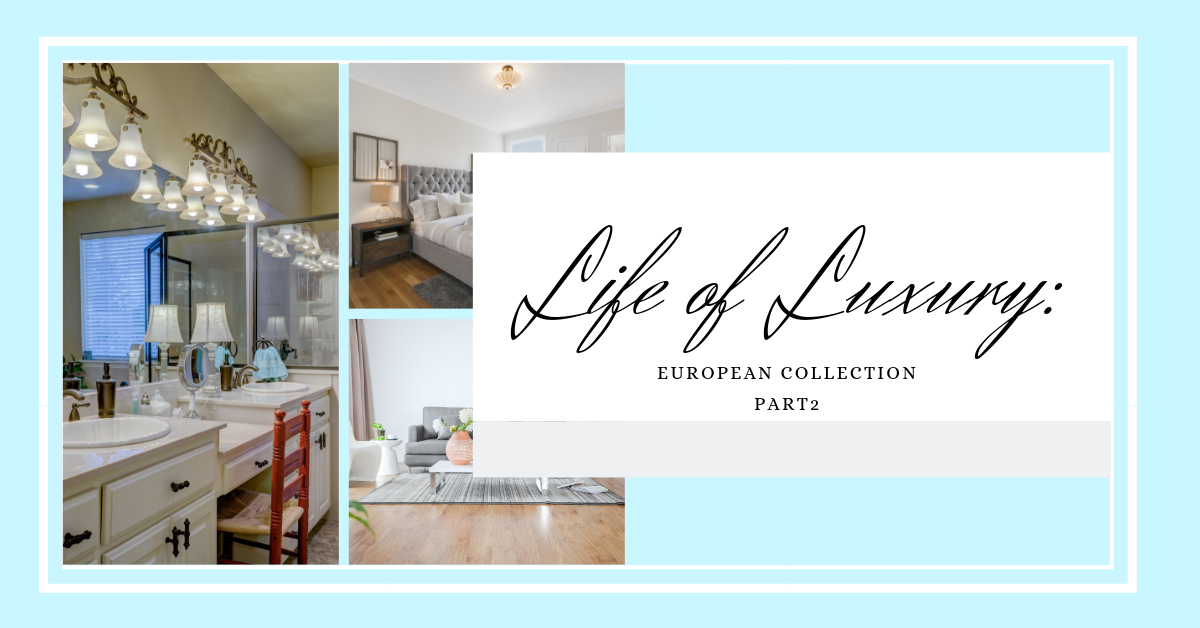 Life of Luxury: European Collection Part 2
What says "luxury" to you? Is it a beautiful bedroom or a sumptuous shower? Is it a large living room with plenty of space for that huge comfy couch? Or is it something different? I think that luxury to me would be having a bathroom large enough for the assortment of shampoos and conditioners my teenage daughter thinks she absolutely positively NEEDS. (Seriously, kid. How many do you have now?)
A great house plan can take your home from a normal abode to a luxury manor. It's not just about the size of the home or how many bedrooms it has. It's also about how things are placed and how much room you need.
European Style House Plans
When you are thinking about building a house that is primarily for comfort and luxury, the first sets of plans that you should look into are European plans. These plans are inspired by the architecture of the old world and have all of the luxurious touches.
As promised, I am giving you two more great European style house plans. Check out my blog later in the week for project ideas for a luxurious bathroom.
Willow Creek Circle (SMN 1028)
This beautiful home is designed to fit perfectly on a "pie" shaped lot. This house plan gives you just over 3,000 square feet of living space and features 3 bedrooms, 3 full baths and 1 half bath. It also gives you space for a 2-car garage in the rear of the lot. This plan is great as a starter home or just for your next home.
The first thing that you notice about this plan is the beautiful roofline. This house gives you some stunning views from the street and really amps up the curb appeal. As you enter the home from the Front Porch you find yourself in a Foyer with the Master Suite on your right-hand side.
This is perfect for blue collar families. I know my husband, who is a welder, doesn't like to track all over the house in his nasty work clothes, so having the Master Suite in the front of the home would be incredibly convenient.
The Master Bedroom features a large picture window facing the front of the home with built in seating just in front of it. As you move through the Master Bedroom you find yourself in the Master Bath. This Bathroom features a huge shower that lets you luxuriate after a hard day's work. The large Walk-In closet also doubles as a safe room and gives you plenty of space.
Moving back out into the rest of the home, you move down the hallway and find yourself in the large Kitchen and Dining Area. This Kitchen has two sides; a normal kitchen area and a prep kitchen area. Both parts of the space give you plenty of countertops for preparing your culinary masterpiece. The Kitchen also features a large island with bar seating for 4.
The Dining Room features large windows that open to the front and side of the home and room for a large table. Adjacent to the Dining Room is the Laundry Room. This space is large and features a soaking sink and built in hanging storage.
Moving further into the home, you find yourself in the large Great Room. This area gives you some gorgeous vaulted ceilings and features a large brickwork fireplace. The Great Room also features a large sliding door unit that leads out to the Covered Porch. The Covered Porch features a large outdoor fireplace and looks like the perfect place to snuggle on a cool Fall evening.
From the Great Room you can access the second Master Suite. This one features a large Master Bedroom. It also gives you a great Master Bath with both a shower and a freestanding tub. The Master Closet is also large enough to give you plenty of room.
The second-floor features Bedroom 3 with its own in-suite Bathroom. It also has a wonderful Balcony that overlooks the first floor and Foyer. From the Balcony you can access the Attic Space.
Corbin Manor (MEN 5199)
As a little girl, I always dreamed of living in a castle with a turret or tower. I have to wonder how many other people dreamed that way as well. Well I think this is the house for you if you had that one, too. This house, wait for it, has a turret. Yes. I'm for real.
That's the first thing you notice about this home and it gives it such a unique curb appeal. That may be the focal point when you are driving up to the home, but there is more to this plan than meets the eye. This plan gives you 4,700 square feet of living space with 5 Bedrooms and 3.5 Bathrooms. It also features a 3 car Garage.
Entering the home, you ascend the stone steps and through the porch into the Foyer. To the left of the Foyer is the Dining Room featuring the edge of the spiral staircase to the second floor and a stone wrap on the wall.
Moving further into the home, you find yourself in a large open floor plan featuring the Great Room, Kitchen and Breakfast Area. The Great Room features a gas fireplace on one of the walks and 2 sets of French Doors that open up to the Grilling Porch/ Outdoor Living Area in the rear of the home.
The Kitchen features bar seating for 7 at the island and plenty of counterspace as well as an inset Pantry. The Breakfast Area features windows on two sides that overlook the rear of the home. Moving further into the home, you find the Coffee Bar and the ½ Bath.
This part of the home features Bedrooms 2 and 3 which share a jack and jill style Bathroom and each have their own large closet. On the other side of the wall from Bedroom 2 is the Laundry area that features a soaking sink and access to the laundry chute from the second floor.
On the other side of the plan you will find the Master Suite. The Master Bedroom is large and features a boxed ceiling and sliding doors to access the Grilling Porch and Outdoor Living Area. The Master Bath features an absolutely enormous walk-in shower with a rain showerhead and a large walk in closet with room for a Gun Case.
The best part of this plan is being able to walk up your own spiral staircase in your own medieval style tower to the second floor of the home. As soon as you step out of the staircase, you find yourself in a large Game Room/Media Room. This is perfect for people who enjoy television as much as our family do.
The second floor also features a large upper Living Room that has built in shelving for a media center as well as storage for all of those DVDs you pick up on Black Friday. (Or is that just me?) The second floor is finished up by Bedrooms 4 and 5 which share a hall Bathroom, and each have their walk-in closet. Check out the photos on our website of this plan after it was built.
Maybe you're looking for something in particular? Don't worry, we have you covered. Come check out Nelson Design Group's collection of over 1,800 house plans. And come check out the past blog posts in our house plan series:
Here at Nelson Design Group, we are always ready to make your dream home a reality. If we don't have the plan that is right for you, we'll make one. We are experts in our field and have been doing this for over 30 years. Give us a call today and we will be glad to help.
If you are looking at building a house, check out our Building Your Dream Home blog series. This series walks you through step by step on how to build a house and is updated regularly.
If you haven't found a builder yet, we have a Find-a-Builder tool right here on our website. These are builders from around the country that we have vetted just for you! They are skilled in their professions and do a great job.
Nelson Design Group has over 1,800 house plans for you to choose from. If you're unsure about finding what you need, give us a call at (870) 931-5777. Our representatives are always happy to help.
If you are a builder looking to buy plans, sign up for our Builder's Program. We offer discounts you won't be able to find anywhere else.
We also have resources that are just for you like access to our Master Planned Communities and Marketing Services.